The Design Home is reader-supported. When you buy through links on our site, we may earn an affiliate commission.
In an ideal world, every entryway and mudroom would have a spacious closet to keep all of the items needed to stay warm and deal with the weather. But, especially in the thick of a January cold snap, one begins to wonder what can be done with all those coats, hats, boots, and umbrellas.  A coat rack is an ideal solution that can fit into a variety of design aesthetics that will keep all the winter clothing sorted and ready when it's time to walk the dog. 
To help you stay organized even in the dead of winter, we've curated a list of our 10 favorite freestanding coat racks.
Sale
Top Features:
Simple metal frame with six color options
A large variety of hooks for different purposes
Lightweight construction
Mind Reader is a clever moniker for this coat rack. It is simple but intelligently designed and offers a secure hook for just about every item in your foul weather repertoire. Poor design need not make a slushy winter commute any more miserable than it needs to be. With this coat rack, J-shaped hooks keep coats from falling and are ideal for umbrellas or even kids' backpacks and coats. 
View Mind Reader Coatrack 11 Coat Rack on Amazon
Sale
Top Features:
Full metal construction
Simple style
Easy to assemble
Want to know the styling hack that all minimalists keep up their sleeves? It's a pop of red.
Even the most prominent minimalist and devotee to black, white, and beige needs a little color. This affordable, lightweight option can infuse a load of personality into your foyer and will look more expensive than it is.
The key to styling this piece is to keep it in a place where it will be visible, even while in use. This rack might not be the best option for a mudroom where a coat rack would get festooned with coats, backpacks, umbrellas, dog leashes, and furs. It would be an ideal addition to a home office or formal entryway where this item will be visible and only used when guests are around.
View Simple Houseware Standing Coat Rack on Amazon
Sale
Top Features:
Classic design
Versatile style
Quality materials
This curvy classic coat rack is sure to evoke traditional vibes in your household. While it may remind you of an antique, it lacks the dust and fragility that usually come with that territory. Plus, it's super functional, complete with a built-in umbrella rack. If you enjoy the looks, the manufacturer makes several other similar organizational items for entryways that can be used in tandem with the piece or around the house to create a sense of unity.
Unlike other options on this list, this piece has some soft curves that can lend both height and interest in a space the way that others simply cannot. It is handsome and comfortable in any front hall next to the grandfather clock. It has an old-world charm that seems to provide warmth in a home. 
View Frenchi Home Furnishing Metal Coat Rack on Amazon
Sale
Top Features:
Heavy-duty construction
Space-saving
Adjustable size
This standing rack is a classic, and if it ain't broke, don't fix it. Zober gets the job done with this wooden tree-style frame with pegs placed on the bias in several attractive stains.
A minimalistic coat rack with a nice and natural look, it's an excellent addition to any room in the house, from children's bedrooms to bathrooms. The glory of this rack is that it is adjustable — it can stand tall at over six feet or it can be a bit lower, which makes it an excellent fit for young kids. 
View ZOBER High-Grade Wooden Tree Coat Rack on Amazon
Top Features:
Easy to assemble
Convenient shelves
Stable construction
This rack distinguishes itself with built-in shelves, which are ideal for placing a work bag or even a bit of decoration. Did we mention it offers all these functions while taking up very little floor space? Sometimes having a landing space for everything you need to run out the door is essential. This setup is great for any busy family or those who are constantly losing their keys.
The lightweight design and shelves make this an easy solution for an entryway and can even become a design feature. Just add some framed photos on the shelf, and like magic, you seem like you have it all together, at least for a moment.
View HOUSE DAY Entryway Coat Rack on Amazon
Sale
Top Features:
Alloy steel finish
Unique design
Great weight capacity
Nothing says sleek, clean modernity like alloy steel. While we might be living in 2022, this piece seems like it comes far in the future, with its cleverly designed pegs that mimic an evergreen tree. Mother Nature can always come through with brilliant designs.
This coat rack can take much more volume than one might think, and since it is one of the heaviest options on this list, it's less likely to tip over. With such a clean and modern finish, this would look spectacular in traditional foyer applications as well as those geared toward an industrial vibe. 
View Adesso WK2036-22 Evergreen Coat Rack on Amazon
Sale
Top Features:
Quality materials
Well-made design
Strong stylistic perspective
Much like the lava lamp, this coat rack exudes a sense of mid-century kitsch. It would look great next to a sunburst-style clock or even a Kit-Cat clock. A nicely-finished coat rack offers a lot of style and convenience to your home and a secure marble base. The heavy bottom, dark walnut wood shaft, and the round, enameled features on the hooks are a blast from the past. 
View Cortesi Home Lava Coat Rack on Amazon
Top Features:
Functional all-in-one design saves space
A 220-pound weight limit on the bench
A 40-pound weight limit on the coat rack
Are hall trees a little nerdy? Yes, they are. However, when something works, it works. This pick is a veritable mudroom in a box. The Milliard Hall Tree is excellent for anyone with a heap of shoes at the door.
This little wonder hardly takes up any space and does the job of multiple furniture pieces. As a result, it is ideal for apartment and condo living. It's attractive and has a modern finish that will fade away into the background of nearly any home.
View Milliard Hall Tree on Amazon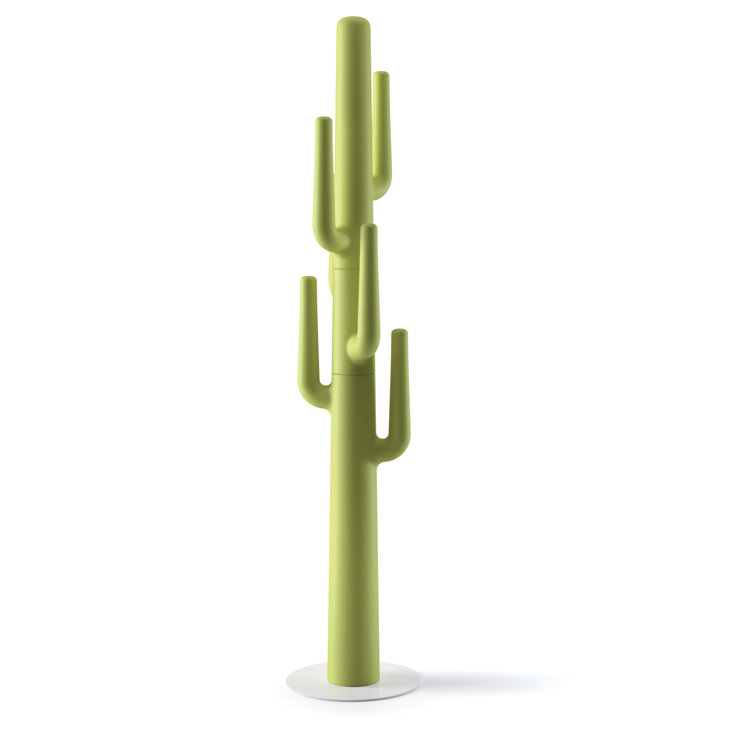 Top Features:
Six hangers
Wide variety of colored finishes
It's a conversation starter
Succulents and cacti are all the rage in home gardening and have been popping up in design as well. Who needs a plant you can kill when you can have an entire free-standing Saguaro cactus sculpture coat rack? It will be your very own piece of pop art. This piece is also capable of doing its intended job and will hold up to six jackets and accessories. 
View Saguaro Free Standing Coat Rack on Wayfair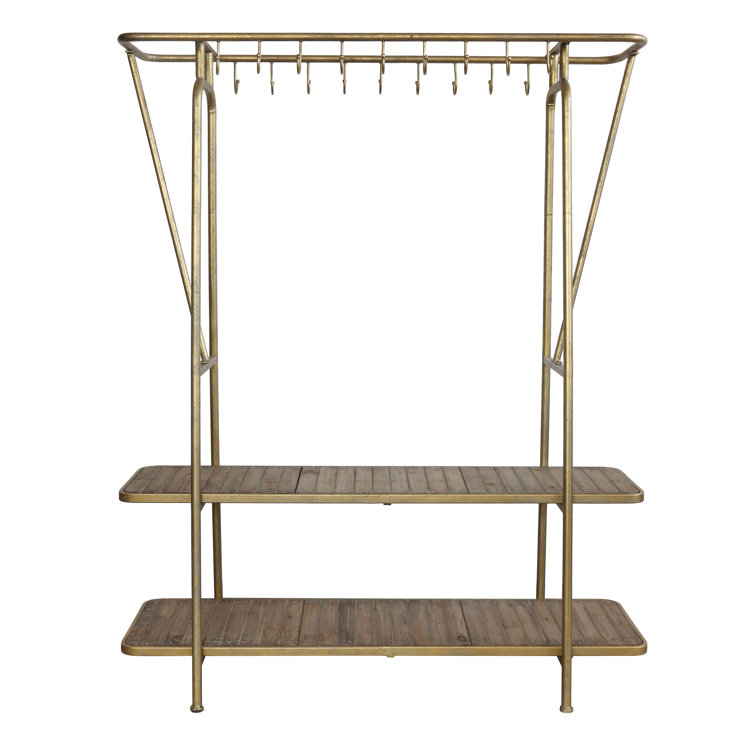 Top Features:
Gold metal finish
Inspired by the Caribbean
Very Sturdy

Who needs a closet with this coat rack up your sleeve? This option is the largest on the list but offers a ton of storage, wonderful for a large family. For the most part, organizational furniture can be functional but ultimately is an eyesore. However, we are no fans of sore eyes here, and this piece offers a fantastic compromise.
The shelving is long and wide, ideal for keeping all types of shoes easily in reach, including those clunky snow boots. In addition, there are small j-shaped hooks that can hold anything from a parka to a purse. The rack is so fantastic that it could supplement a closet or completely replace the wardrobe in the European style. It is a magnificent find that will make any home a bit more glamorous and organized.
View Bayou Breeze Alyssa 55.5" Freestanding Coat Rack on Wayfair
Freestanding Coat Racks FAQs
What should I look for when choosing a coat rack?
You must consider their needs and the size of their space. While some more extensive options are fantastic, they might overwhelm and hamper use in a small hallway. You should also consider if you plan on moving your coat rack or assembling it yourself. Sometimes lighter is better in these cases.
Do I need a coat rack for my home?
A coat rack can be an essential part of any entryway but need not be the only use for your coat rack. Plenty of spaces can benefit from vertical storage, like bedrooms, bathrooms, offices, and kitchens. With so many affordable options, a coat rack is worth a try and involves no construction, and it is virtually commitment-free.