The Design Home is reader-supported. When you buy through links on our site, we may earn an affiliate commission.
Liquor cabinets evoke a sophisticated 19th century aristocratic sensibility.
But they also come in all shapes and sizes.
Love modern farmhouse decor? There are liquor cabinets that match those.
Want something more boho chic? You can find that too.
Impress your guests with a fully-stocked super-luxe liquor cabinet.
Or opt basic model that safely keeps your stash of booze hidden away from your curious kids.
---
Either way, liquor cabinets might be the smart investment you've been missing. They can transform an entertaining room or they can sit quietly in the corner, hiding all of your goods. They'll store all those bottles, glasses, and more, so anytime you or your friends need a drink you'll know right where to look.
To help you find the right liquor cabinet for your home, we've curated a list for every budget. Whether you're a 9 to 5-er who looks forward to a simple whiskey every night or you want a liquor cabinet that screams luxury, we've found something for you.
Types of Liquor Cabinets and Bars
Before you decide on a final liquor cabinet, you should be familiar with the different types. Which one you choose should depend on your space – do you need portability or do you want something that sneaks into the corner for storage? Do you have a certain aesthetic in mind?
This graphic highlights some of the most common versions. Dive into the specifics below with our takes on the best options — we'll include many different types on our list.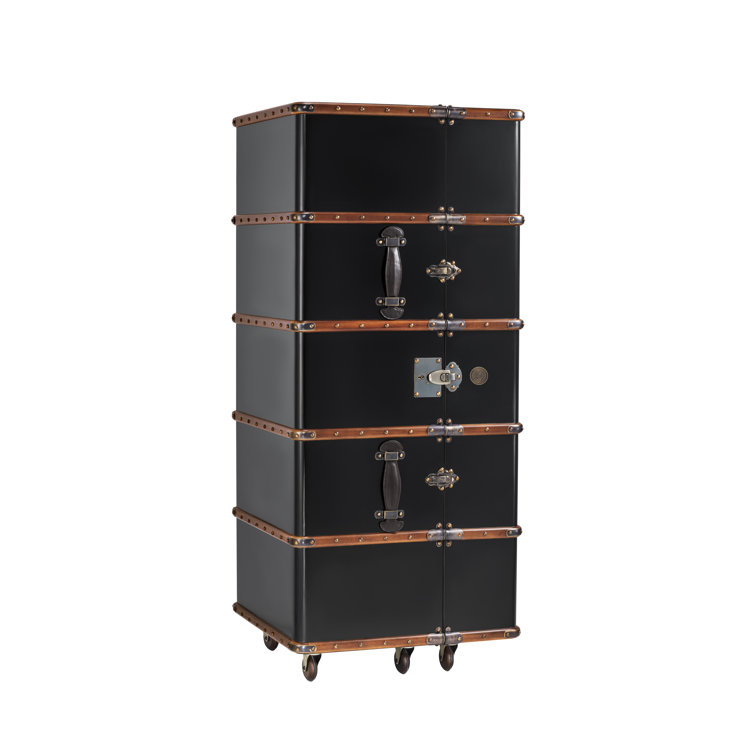 Top Features:
Horizontal and vertical bottle racks
Mirror
Solid brass hardware
If it's a feeling of old-school luxury you're looking for and you have the budget to pull it off, this travel-trunk-inspired bar with wine storage should do the trick — it looks like something that would be in the library of a world traveler and adventurer's mansion. In all, it can store 15 wine bottles and 10 liquor bottles. A top-quality liquor cabinet with old-world charm, it's also portable, sitting on wheels so it can roll right to whatever part of the room you're sitting.
View Sheldon Bar with Wine Storage by Bayou Breeze on Wayfair
Sale
Top Features:
Unique mesh design
Good amount of storage
Modern vibe
This eye-catching cabinet creates a beautiful mesh effect with industrial undertones. The openness of the design allows you to enjoy the benefits of a closed cabinet while still showing off your liquor collection. The classy wooden backsplash adds a bit of warmth and protects your wall from any splashes. This rolling cart requires some assembly and can be moved to different serving locations during parties or holidays.
View Walker Edison Malcomb Urban Industrial Metal Mesh Bar Cabinet on Amazon
Top Features:
Sleek tempered glass
Strong top base
Easy to assemble
The transparent design of this cabinet is a dream if you want to show off some beautiful glassware or aged bottles. An adjustable shelf allows you to customize how you display and organize your wares. The flared legs on this cabinet show off that characteristic mid-century look without hitting you over the head with the genre. More than just a decorative piece, this cabinet's top can hold up to 50 pounds.
View Walker Edison Margot Mid-Century Bar Cabinet on Amazon
Top Features:
Great for corners
Rustic color selection
Well-fitted glass rack
An excellent option if you're looking for a hutch design, this modern corner liquor cabinet packs in tons of space for storing all your bar essentials. Enjoy a mix of glass racks for holding wine glasses, cabinets, and cubbies that will make you feel like a real mix master. The shelving space on this cabinet makes it stand out from the crowd.
View Home Source Corner Bar Unit on Amazon
Sale
Top Features:
High mobility design
Spacious shelves
Industrial-style handles
A top choice if you're looking for a rough, deconstructed look for storing your wine, this liquor cabinet scores high on mobility, thanks to its four easy-rolling wheels. The use of pipe and solid wood is attractive if you're doing a farm-meets-industrial look. This obviously isn't as polished as some of the more refined cabinets on the list, and it uses an open look instead of closed shelves, but it shines as a rustic, simple cart.
View WGX Design For You Wood and Metal Wine Rack on Amazon
Sale
Top Features:
Versatile design
Classy style
Offers a lot of space
A great option if you have a good amount of space to work with, this vertical bar unit features a wine rack with room for nine wine bottles, three hanging wire racks, and a gorgeous marbled countertop. It has an open design that allows you to fit in lots of bottles and glasses without taking up a lot of horizontal space in a room. With a clean, modern look, this liquor cabinet is wonderful for anyone wanting to have a stunning place to keep their booze.
View Convenience Concepts Newport Wine Bar on Amazon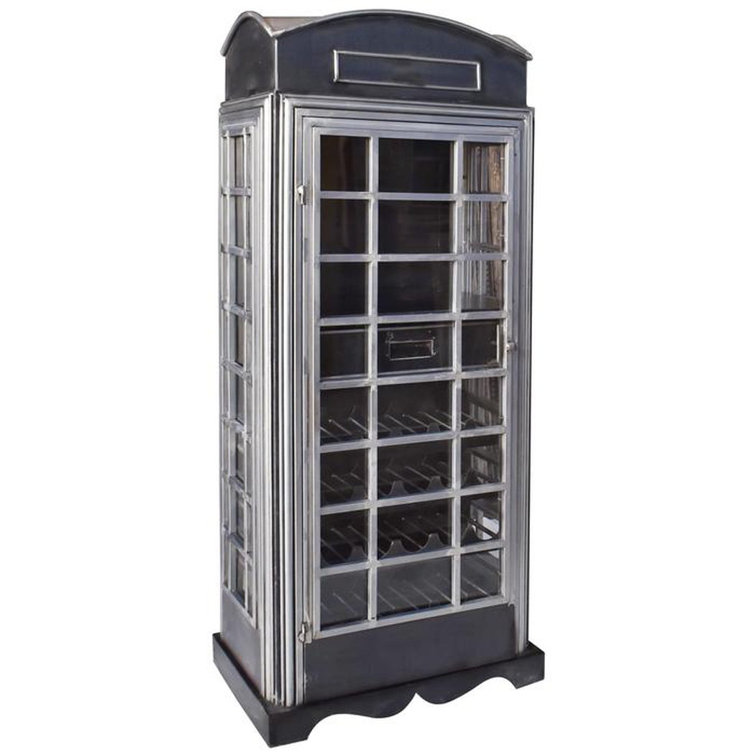 Top Features:
Amazing design
Gorgeous
Spacious
Sometimes you don't just want a basic liquor cabinet — you want a showstopper that will be the focal point of a room. The Jalaiah bar cabinet excels at offering you that. Repurposed from an old phone booth, this solid wood cabinet stands 77 inches high and offers storage for liquor bottles, glasses, a wine rack, and much more. This painted cabinet would look outstanding in a man cave, basement, sunroom, or living room.
View Jalaiah Bar Cabinet on Wayfair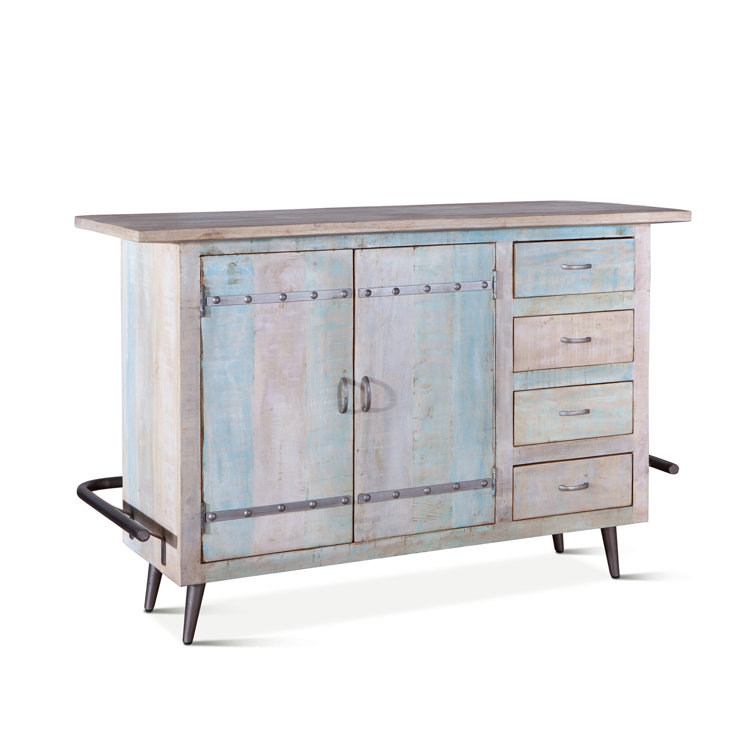 Top Features:
Fully assembled
Beautiful teak wood
Hand-carved accents
This teak bar cabinet is ideal for people who want a lighter, airier look to their liquor cabinet. Not everyone wants a dark, mancave feel — some people prefer a coastal-themed home bar or a liquor cabinet that would look outstanding in their she-shed to offer up backyard drinks by the pool.
The French-style doors open to show off lots of space for glasses and bottles. It features four drawers and metal footrests if you want to pull up a stool and use your cabinet as a table.
View Fleta Reclaimed Teak Bar Cabinet on Wayfair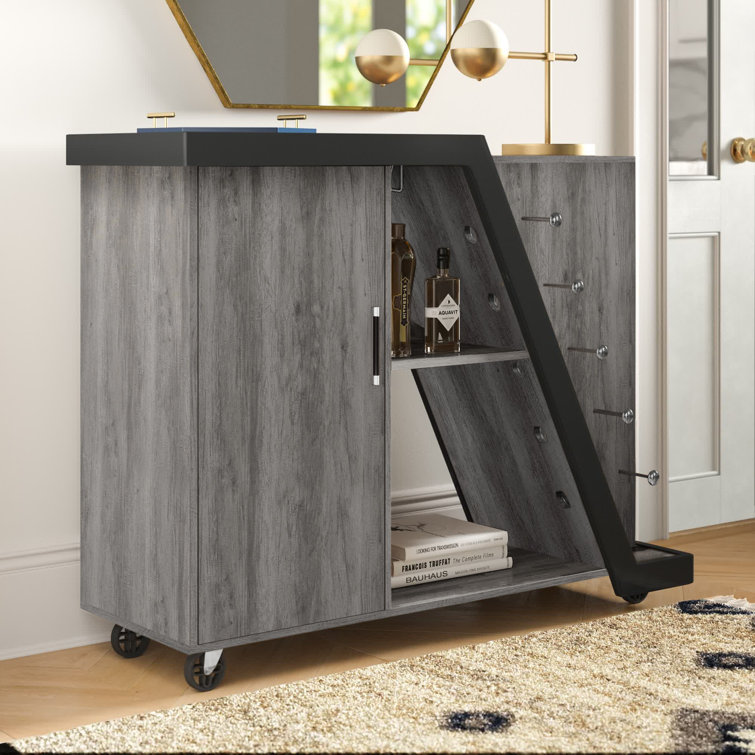 Top Features:
Unique design
Adjustable shelves
Holds five bottles
If you're looking for a unique-looking liquor cabinet that's sure to add an element of interest to any room, this Vilen cabinet is it. Made from manufactured wood and stainless steel, it looks sleek with its square silhouette. It has four interior spaces for lots of storage and a built-in area for five wine bottles.
View Vilen Mobile Bar With Wine Storage on Wayfair
Sale
Top Features:
Sturdy build
Flip-down serving board
Quality materials
If you're a light drinker or only have a little space available, this liquor cabinet gives you clean lines and a nice design at a good price. The top shelf pulls down to create a workstation and serving area. The gorgeous gold handles on the face of the cabinet create a high-end, refined look. When it's not in use, no one would guess this was a liquor cabinet, so it can be your little secret.
View Crosley Furniture Everett Spirit Cabinet on Amazon
Sale
Top Features:
Mobile design
Quality materials
Spacious and practical
While not a fancy pick, this wine cabinet offers a convenient, roomy way to enjoy a home bar. Showing off a contemporary look, this cabinet sits on four wheels that allow you to roll drinks smoothly from room to room. Its design features an exposed six-bottle wine rack, open center shelf, and door with stainless-steel pulls.
View Baxton Studio Wine Cabinet on Amazon
Sale
Top Features:
Well-made design
Sturdy materials
Spacious interior
Finished with a sophisticated tobacco-brown stain, this cabinet is made from solid pine with a special lacquer to bring out the unique grain of each piece. The front of the cabinet features two glass doors that open up to an interior with two adjustable shelves. While this design is often used as a liquor cabinet, it's multipurpose. You can use it from everything from holding dishes to electronics.
View SIMPLIHOME Bedford Cabinet on Amazon
Sale
Top Features:
Spacious design
High-quality materials
Nice compact size
A lovely buffet-style cabinet, this design allows you to enjoy a compact unit with tons of storage and ample surface area. It features storage for up to seven bottles, glass hangers, and a two-door cabinet. The adjustable interior shelf is ideal for holding napkins, cocktail plates, and more.
View Kings Brand Furniture Wine Cabinet on Amazon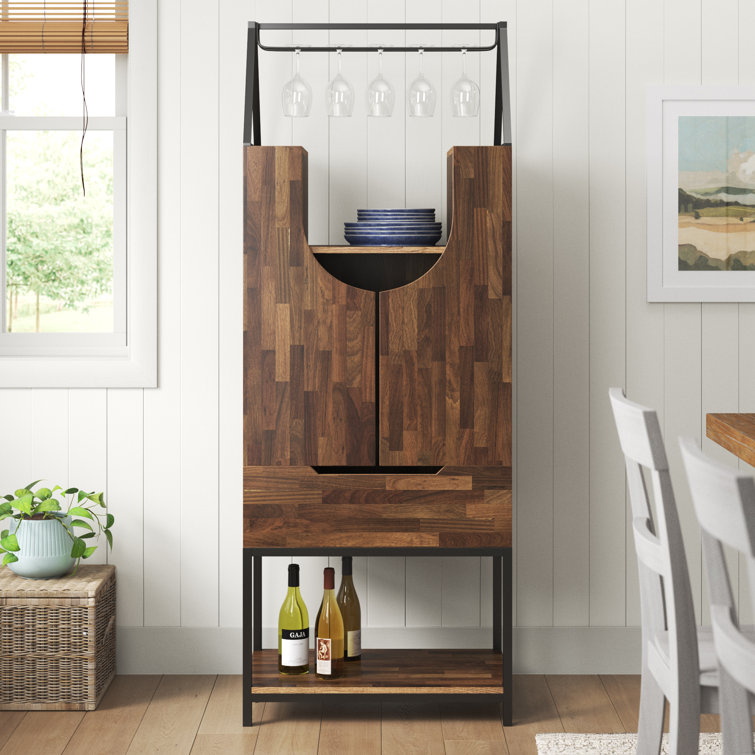 Top Features:
Two color options
Wine glass hangers
Interesting look
This wine cabinet features two U-shaped cutout doors that hide four open shelves which give you plenty of room for all your bar items. While this cabinet comes in a light hickory color, we prefer the vintage gray look, which would be a wonderful color for a beach home or a light and airy room.
View Frenchboro Bar Cabinet on Wayfair
A Quick Buying Guide for Liquor Cabinets
How do you put together a great "dry bar" in your home in a pinch? A good place for preparing drinks starts with a good base. That's why knowing how to shop for a home liquor cabinet is so important. Here are some tips to keep in mind as you consider your options for a future pouring station.
Portability
This is the first detail to look at when shopping for a liquor cabinet. Do you want to be able to wheel your cabinet around? If you're only looking for a stationary cabinet, wheels are probably going to drive you crazy because you might accidentally move your cabinet from time to time. Additionally, wheels can look a little bit sloppy. However, wheels are essential if you're looking for a cabinet-cart hybrid.
Visibility
Will your liquor cabinet be used as a display piece? You'll need to decide if your goal is to show off glassware and liquor bottles. Many cabinets have open designs that allow you to create beautiful displays. However, this does become a bit of a chore because you always have to make sure that an open-style cabinet is neat and orderly. Plus, it can add to how much dusting you'll have to do each week.
Theme
Do you want your liquor cabinet to be a conversation piece? You can find some unique cabinets that have industrial themes or barrel designs if you want to make a statement with your liquor cabinet. This is where looking around your home to see how each piece will fit into the overall theme you have already established is important.
Room for Repurposing
While you may be into entertaining today, it's important to consider how long that will last. For instance, you may want to choose a liquor cabinet that can easily be converted into a hutch in a few years if you intend to shake up your pristinely decorated home by having kids. Choosing a liquor cabinet that can easily be repurposed into something else can be a smart budget move.
Top Features to Consider when Choosing Liquor Cabinets
Besides looking at pricing, aesthetics, and basic features, what are the top overall features that should impact your decision? Here are the ones that are the most important to us.
Storage Space
This is an obvious one, but how much storage space do you truly need? Some cabinets have a ton of deep storage space for long-term holdings, with just a bit of visible display storage. Others are the opposite – all the storage is out in the open.
This depends on how much you have on-hand and how much you plan on acquiring – are you going to have 10 bottles total, or 50? Big difference there. Be realistic and add 30 percent padding so you don't get overstuffed.
Do you want the cabinet to blend into the room like a beautiful piece of furniture, but not be seen as a liquor cabinet? Or do you want to proudly display the labels of your favorite libations?
There may be an ever-so-slight stigma that those with proudly displayed liquor and wine cabinets may drink a little too much. So, it depends on your social group and their perspectives. Maybe it's cool to display your rare whiskey and French wine, and maybe you'd rather keep it hush-hush when the mother-in-law visits.
Glass Holders
Instead of taking up vital kitchen cabinet space, why not conveniently hang glasses upside down on the cabinet? It's super slick when people are visiting and you whip them off the glass rack like a 1980s bartender with too much swagger.
As with the other storage considerations, if it's just 2 to 4 people drinking wine, you don't need much glass holder storage space, but if you host 12 person wine and cheese soirées often, you'll want that extra space.
Wine Bottle Rack and Display
Are you a member of too many wine clubs that you can't cancel? Do you work overtime so you can afford thousand-dollar French wines? Then you want to display those prized bottles with all your might.
If you find a cabinet with some mood lighting to show off your labels, you've hit nirvana.