The Design Home is reader-supported. When you buy through links on our site, we may earn an affiliate commission.
Multi-purpose, multi-functioning furniture and home decor can save you some serious cash. And if you have a small home or apartment, it can be a wonderful space-saving solution. Why buy just an ottoman or just a coffee table, when you can have both? Many ottoman coffee tables even include storage options that can function as clutter hiders ("Quick, Grandma's on her way!"), basket holders (Hello, toys and magazines!) or beautiful shelving for displaying your favorite treasures.
Below are ten of our favorite options from French country to the mid-century modern, farmhouse to industrial, you'll be sure to find one that fits your home and lifestyle. 
1. SIMPLIHOME Owen 36" Square Ottoman Coffee Table
Sale
Top Features:
Faux leather
Hydraulic hinged lid
Large interior storage space
We are loving this square, mid-century modern ottoman coffee table. Its large exterior surface is excellent for resting your feet or setting down a tray of cocktails. Its equally large interior space is ideal for storing anything from pillows and blankets to toys and books. The hydraulic lift lid makes decluttering easy, and no fingers will be smashed in the process.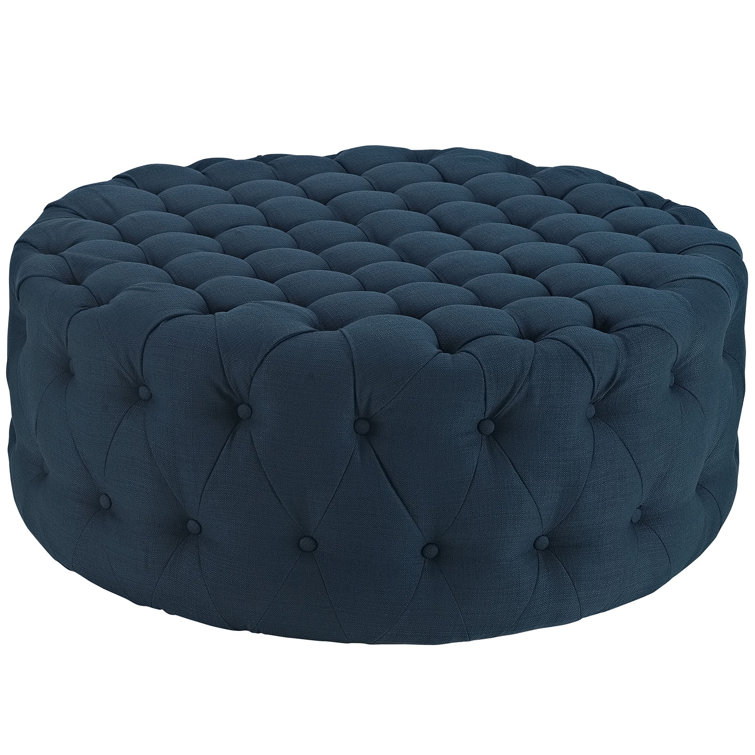 Top Features:
Available in a wide variety of colors
250-pound weight capacity
Dense foam padding
If you are looking for a large ottoman coffee table that can also double as seating, look no further. Although this elegant, round tufted ottoman does not provide additional storage, it is constructed with dense foam padding and fine upholstery. It has a weight capacity of 250 pounds. Available in a plethora of colors, you'll be sure to find one that fits your decor. 
View Tufted Round Pouf Ottoman Coffee Table on Wayfair
3. Nathan James Nelson Ottoman Coffee Table
Top Features:
Bench style
Easy assembly
Lifetime manufacturer warranty
Speaking of extra seating, this bench-style ottoman coffee table is great if you're looking to add some modern industrial flair to your living space. Its faux leather cushion and powder-coated base are both sturdy and welcoming. Although this option does not include enclosed storage, there is plenty of room below to store your favorite crates or baskets.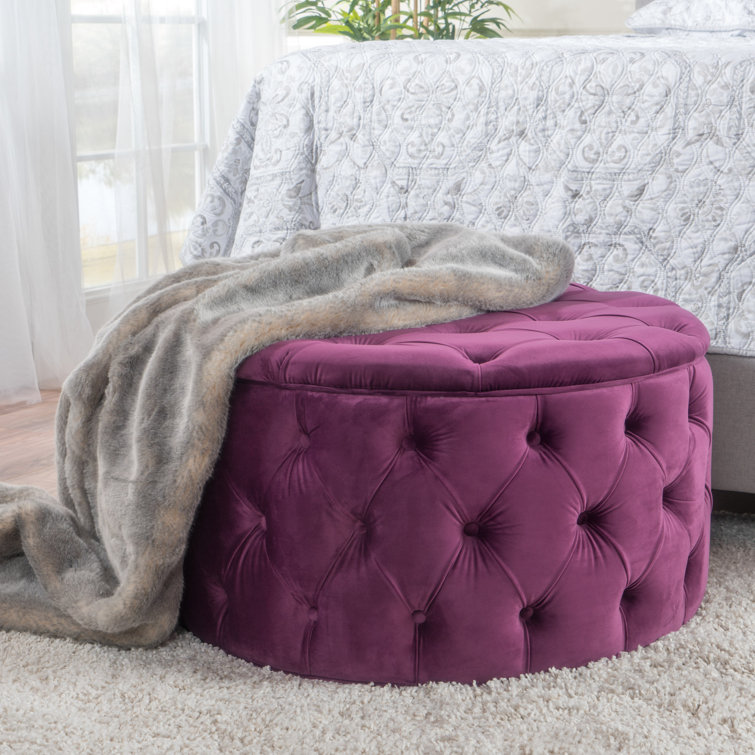 Top Features:
Don't let this petite ottoman coffee table fool you, its mere 29.5 inches can hold up to 300 pounds. It's a good solution for extra seating, displaying your copies of Vogue magazine, or placing your favorite cocktail tray. Add a little glam to your space with this luxurious ottoman featuring soft tufted velvet available in rich jewel tones and neutrals.
View 29.5" Wide Tufted Round Ottoman Coffee Table on Wayfair
5. Signature Design by Ashley Shawnalore Farmhouse Ottoman Coffee Table
Sale
Top Features:
Whitewash
Wood
Bottom shelf for storage
If farmhouse is your jam, this upholstered solid wood ottoman coffee table will fit right in. Its beautiful, plush top is comfortable for resting your feet or your bottom. Speaking of bottoms, its study bottom shelf is great for storing baskets, magazines, or decorating with your favorite farmhouse finds. If you are looking to coordinate your furniture, matching end tables, sofa console tables, and non-upholstered coffee tables are also available.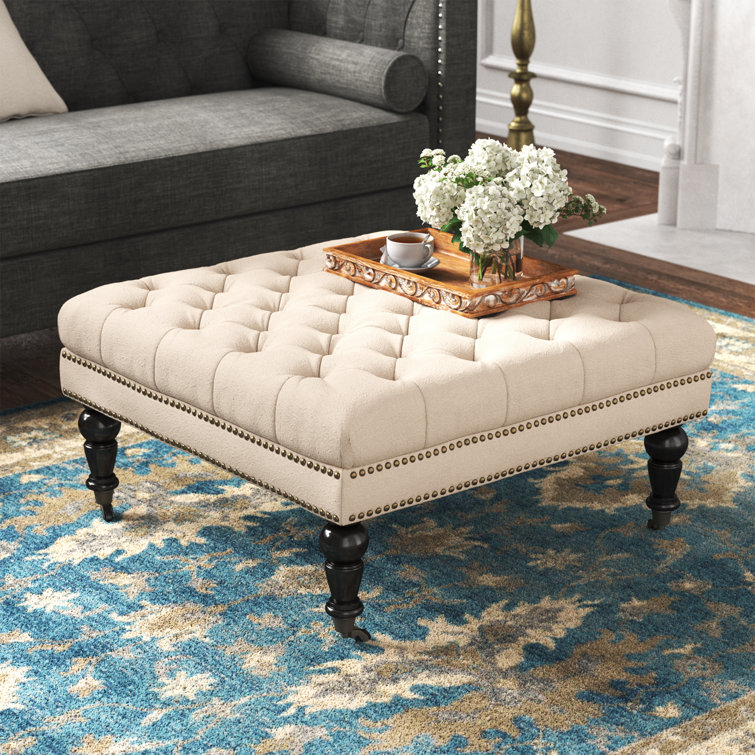 Top Features:
Wheeled
Decorative tacks
275-pound weight capacity
We just adore this square French country farmhouse meets traditional ottoman coffee table. Its petite casters make it easy to move from room to room for cleaning and or entertaining purposes. Again, don't let its elegance fool you. This delightful piece of furniture, with its lovely wheeled wooden legs, holds up to 275 pounds and easily doubles as seating. 
View Landis 34.63" Square Ottoman Coffee Table on Wayfair
7. Walker Edison Cambridge Modern Farmhouse Ottoman Coffee Table
Sale
Top Features:
Woven fabric
Powder-coated metal
Storage shelf
Linen, metal, wood…oh my! If you just can't decide on a material, why not get them all? This ottoman coffee table is a remarkably stylish way to tie all of your industrial farmhouse elements together. Its soft, tufted top holds up to 300 pounds, making it a versatile place to sit or rest your feet or favorite tray. Its lower shelf holds up to 75 pounds, which is plenty strong enough for storing magazines or board games.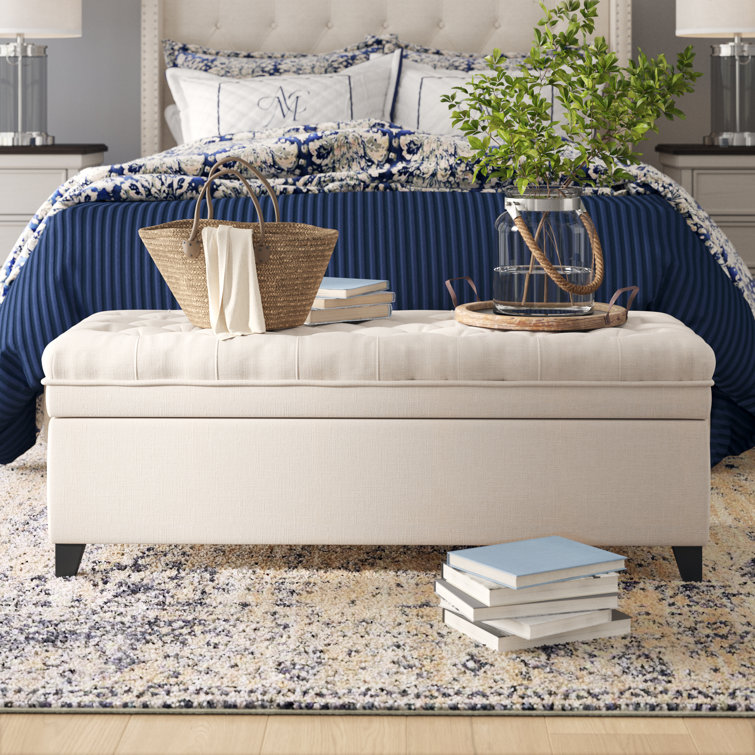 Top Features:
Interior storage
Bench-style
Upholstered
Storage galore! This rectangle ottoman coffee table will keep your home clutter-free with its large interior storage capacity ideal for magazines, blankets, toys, and more. Its traditional design, available in a rainbow of soft colors, will solve all of your sitting, resting, and storage needs in your living room, bedroom, or entryway.  
View Rolf 50" Rectangle Storage Ottoman Coffee Table on Wayfair
9. Christopher Knight Home Storage Ottoman Coffee Table
Sale
Top Features:
Leather
Study wood frame
Hydraulic hinged lid
We've covered everything from French country to mid-century modern, but how about a man cave? This square, leather ottoman coffee table makes us want to put on our smoking jackets (no cigars required!) or curl up in front of a toasty fireplace with our favorite book. This classic design, with ample storage, is well-suited for any living room, office, or den.
Top Features:
Available in a wide variety of colors
Durable
Space-saving
No ottoman coffee table list is complete without a pouf. Really, is anything in life complete without a pouf? These sweet, faux leather and leather ottoman coffee tables are available in every color under the sun and are semi-reminiscent of your Grandma's vinyl "hassock" (nostalgia goes a long way, folks!). They are ridiculously chic (hello, boho) and can fit into any decor from farmhouse to jungalow; Moroccan to mid-century. 
View Finchley 20" Wide Round Pouf Ottoman Coffee Table on Wayfair
Ottoman Coffee Table FAQs
Have some concerns before you figure out which ottoman coffee table will work for you? Check out our buying tips and answers to commonly asked questions.
Where Will It Live?
Before you commit to an ottoman coffee table, ask yourself: Where will it live? Are you thinking of putting it in a formal living room? An informal family room? A playroom? Office? Den? Parlor? Does anyone even have a parlor anymore?
Think about the space, the size, the style, and the shape before falling in love with something that just won't fit.
Material and Finish
Material and finish are a huge part of home decor. Not only do you want your ottoman coffee table to fit your aesthetic, but you also want it to fit your lifestyle.
For example, if you have kiddos, you will definitely want to consider the cleaning aspect. Upholstery is a wonderful way to avoid injuries from sharp corners, but it's not nearly as easy to clean as faux leather. However, there are upholstery protectors, sealers, and cleaners out there, so if upholstery is where your heart is, then go for it — just be prepared.
Do You Need Extra Storage?
Unless you are a minimalist or have a ginormous house with a place for everything, then you probably could always use the extra storage. That being said, do you want your ottoman coffee table to have interior storage? If so, are hydraulic hinges important to you and your family?
Or perhaps you are looking for a place for baskets or a simple shelf that you can decorate each season? Maybe you don't need the extra storage at all and you want this piece to serve solely as extra seating? Figure out the storage issue and proceed accordingly.
Assembly Required?
Is DIY your thing? Or do you not have a handy bone in your body? Do you want to tackle assembling your new ottoman coffee table, or do you just want it to come fully assembled and ready to enjoy? Either way, be sure to grab the magazines or cocktails so you can sit back and relax once it is all put together.
Before you invest, ask yourself all of these questions. That way, you'll be confident when you place your order.