The Design Home is reader-supported. When you buy through links on our site, we may earn an affiliate commission.
A great mirror can be just as impactful, if not more so than a piece of great wall art. Not only are wall mirrors functional, but they can also make your space look bigger and can bounce light from room to room. Oval pill mirrors are particularly good for narrow spaces in your living room, bedroom, bathroom, or hallway. But, not all pills are created equal and neither are all pill-shaped mirrors so don't discount round mirrors, rectangular mirrors, or square mirrors when making a decision for your home decor.
To help you out, we've rounded up ten trending pill-shaped mirrors – all shapes, all sizes, and all materials. Happy Decorating!
This metal frame, a bathroom vanity mirror is the first thing we think of when we think "pill-shaped mirror". Available in a sleek black finish, gold, bronze, or brushed nickel, this high-quality stainless steel frame is perfect for every modern bathroom.
Get ready to elevate your home decor with this beautiful oval wood wall mirror. A rustic take on the typical pill-shaped mirror, this beauty would be perfect for any entryway, above a living room sideboard, or over a bedroom dresser. Due to the nature of the wood, we would not recommend this mirror as a vanity mirror unless you have extremely good ventilation in your bathroom.
You definitely can't beat the price of this full-length mirror. Available in matte black or satin brass, this wall mirror would look phenomenal at the end of a hallway, in an entryway, or bedroom. It is recommended that you avoid moisture with this mirror, so this particular mirror probably isn't a great choice for a bathroom or sauna area.
While these are our top three picks, there are so many other great pill-shaped mirrors available. Here's our full list to help you choose.
1. Best Stainless Steel Pill Shaped Mirror: ANDY STAR Oval Mirror
Top Features:
Available in 2 sizes
Available in 4 finishes
Stainless steel construction
This sturdy pill-shaped oval mirror is available in two sizes, 20" x 33" and 24" x 36", and four finishes; matte Black, Brushed Bronze, Brushed Nickel, and Gold. Made of a premium stainless steel frame, a no-distortion high definition mirror – to deliver clear reflection and a 9mm thick anti-corrosion backboard – to strengthen the glass for safety. With a clean, timeless design, this pill shape mirror will create an attractive, modern look in any bathroom vanity, bedroom, hallway, or entryway area.
View ANDY STAR Oval Mirror on Amazon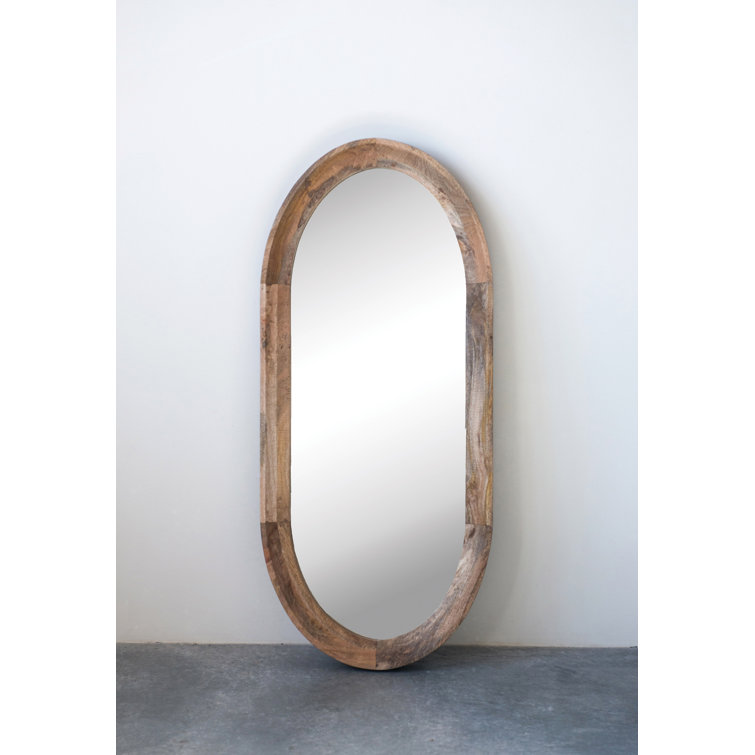 Top Features:
Wood frame
Vertical and horizontal orientation
Modern rustic design
Typically, when people think of pill-shaped mirrors, they think of ones with either chrome frames; popularized by mid-century modern design, or matte black frames that have been trending more recently – which is precisely why we love this wood frame mirror! Its modern, rustic appeal is totally unexpected; perfect for a modern farmhouse or industrial loft. And its natural wood grain variations mean that no two mirrors are exactly alike.
View Robillard Oval Wall Mirror on Wayfair
Top Features:
Available in 2 sizes
Available in 4 finishes
Attached shelf
You KNOW we're all about any additional organization, storage, and display anywhere we can get it here at The Design Home and this sweet mirror does not disappoint. Its adorable shelf makes it the perfect addition to an entryway (just think, never lose your keys again!), bedroom (a great place to set your jewelry at the end of the day), or bathroom (a neat spot for your toothpaste and toothbrush – no drawers, no problem!). This elegant pill-shaped oval mirror is available in two sizes, 11" x 24" and 16" x 38", and four finishes, matte Black, Bronze, Gold, and Silver. Two keyhole hangers built into the back make for a quick and easy installation.
View Kate and Laurel Estero Modern Metal Wall Mirror with Shelf on Amazon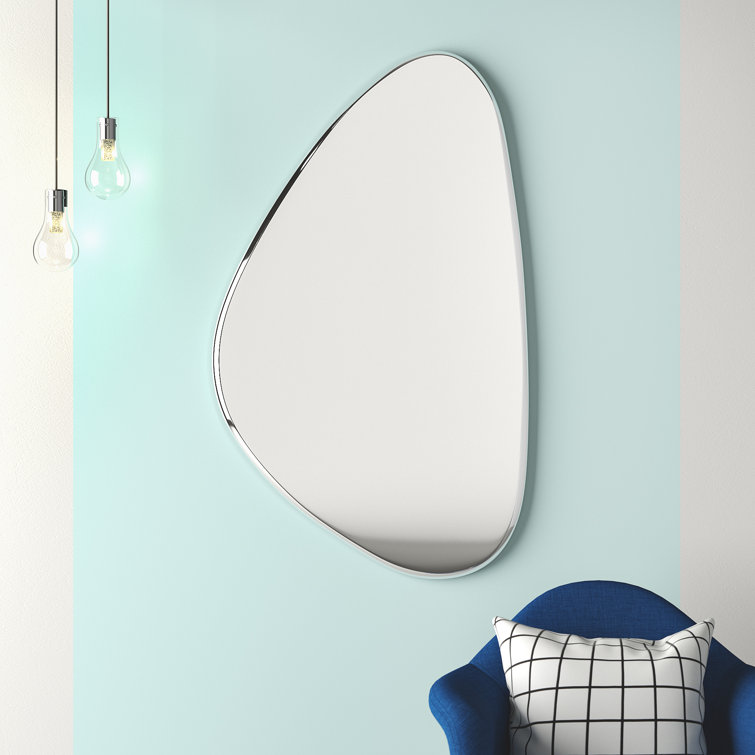 Top Features:
Vertical and horizontal orientation
Beveled glass
Environmentally friendly glass
Although not "racetrack" or oval-shaped, this triangular three-sided wall mirror is still pill-shaped, quite retro, and oh, so good! Perfect for the mid-century modern home, its frameless design, thick beveled edge, and kidney-shaped silhouette arrive ready to hang right out of the box from Wayfair.
View Deux Modern & Contemporary Beveled Frameless Accent Mirror on Wayfair
Top Features:
Available in 2 finishes
Full-length mirror
Handmade & hand-painted
Alright, first we're going to focus on the task at hand.* We love this pill-shaped, full-length mirror for, well…its length! This striking narrow satin brass or matte black metal framed mirror has a streamlined design that would look amazing in any bedroom, on the back of a door, or at the end of a long hallway. This elegant work of modern craftsmanship is 100% handmade and hand-painted. *OK, but seriously people, we would be doing you a great disservice if we didn't encourage you to scroll through the other shapes available too. So fun!
View Amazon Brand – Rivet Modern Oval Hanging Mirror, 39″H on Amazon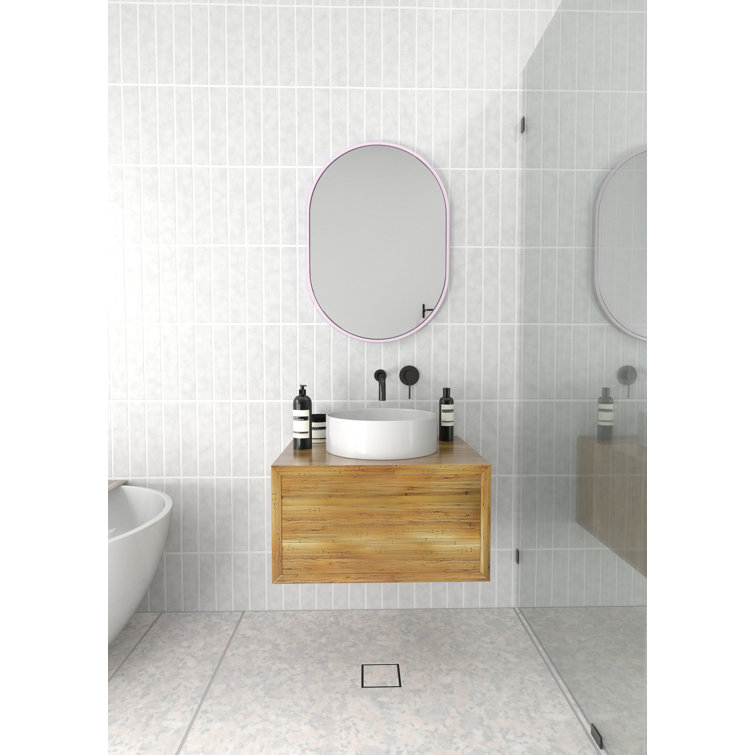 Top Features:
Available in 4 finishes
Available in 4 sizes
Stainless steel
One word…PINK! Yup, you read that right, not only does this mirror come in matte Black, Satin Brass, and White, but it also comes in Pink. How fun! Perfect for a kiddo's bedroom or bathroom vanity. Glass warehouse's stainless steel framed mirrors are manufactured using environmentally friendly, copper-free backing paint which prevents edge corrosion that happens over time with standard mirrors. Its stainless steel frame means that you can use this bathroom mirror in all wet areas without the worry of rust or swelling (that can happen with MDF frames).
View Modern & Contemporary Accent Bathroom/Vanity Dresser Mirror on Wayfair
Top Features:
Vertical and horizontal orientation
Beveled glass
Made in the U.S.A
If you are looking to go glam, you can't go wrong with a beveled edge mirror. This elegant, frameless style will look amazing over any bathroom vanity, bedroom dresser, or entryway sideboard. With an innovative ultra-flush hanging system and all of the hardware that you need, this mirror can be installed – either horizontally or vertically – in ten minutes or less. ¼" thick glass eliminates reflection distortion and premium silver backing improves durability in high-humidity environments.
View Better Bevel 24″ x 36″ Frameless Contemporary Oval Mirror | 1″ Beveled Edge on Amazon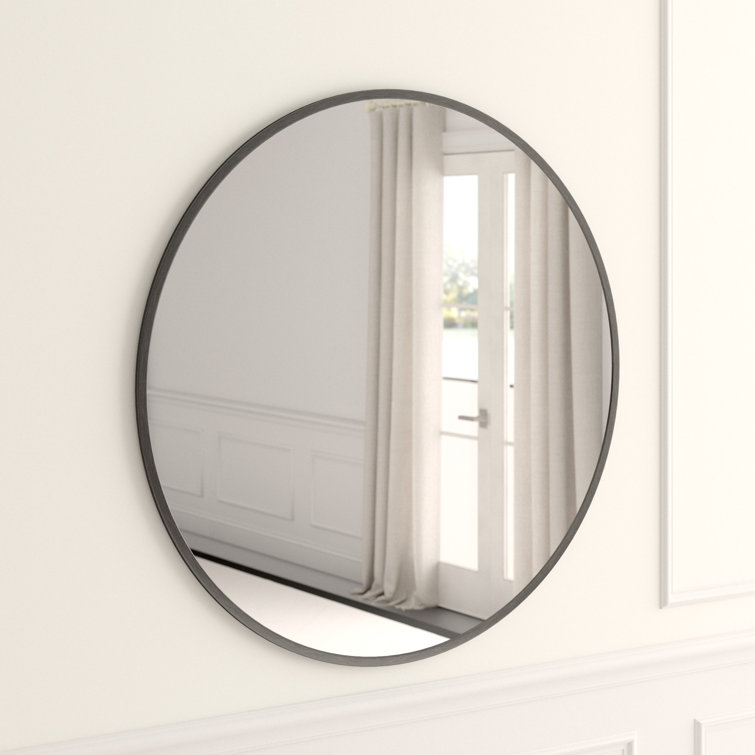 Top Features:
Available in 6 finishes
Available in 10 sizes
Vertical and horizontal orientation
Instantly open up any space in your home with this minimalist wall-mounted mirror. Crafted of metal, this round mirror strikes a sleek silhouette. Its streamlined frame boasts a classic finish, while the glass mirror within provides a brilliant reflection, letting the light bounce off to expand your space.
View Needville Modern & Contemporary Accent Mirror on Wayfair
Top Features:
Stainless steel
Safety backing
D-ring hanging clips
If you are worried about faucet height, a square mirror may be the solution. This timeless metal wall mirror, constructed out of stainless steel will compliment nearly any home decor. Use as a modern bathroom mirror or as a hallway wall mirror. Safety backing strengthens the glass surface making it less susceptible to breakages and comes with a reinforced D-ring hanging clip as well as wall hardware and screws to hang vertically.
View MOTINI Large Square Wall Mirror on Amazon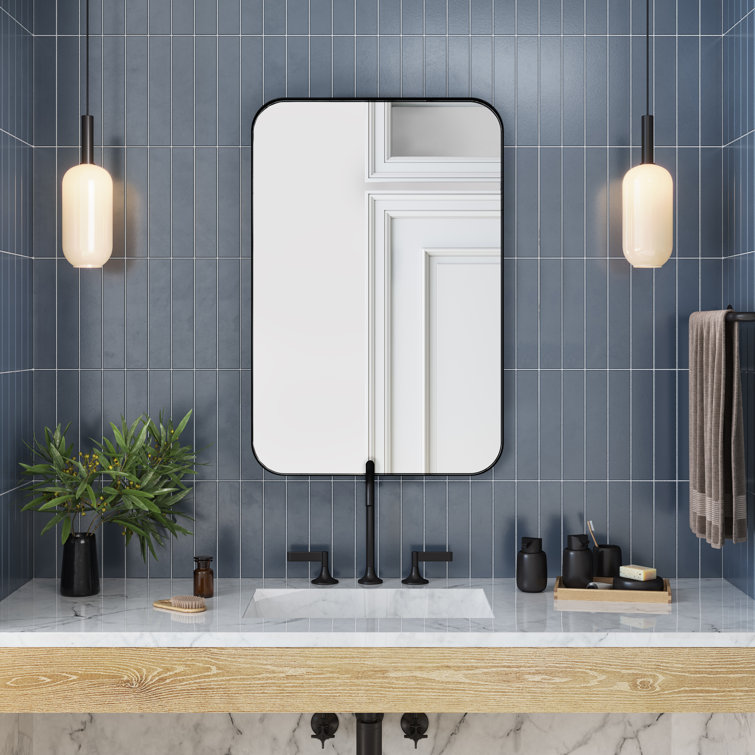 Top Features:
Available in 6 finishes
Available in 3 sizes
Vertical and horizontal orientation
This rounded rectangular mirror is ideal over a modern bathroom vanity but can also serve as an accent piece in an entryway, bedroom, or living room. Its frame is constructed of stainless steel, so it's more durable than aluminum and resists flaking, cracking, and water damage. Premium quality 1/4-inch glass eliminates distortion for the finest reflection, and the silver backing provides durability in high-humidity environments. Z-bars allow for easy, secure installation in either a vertical or horizontal orientation. Installation guide, drywall anchors, and screws are included for wall mounting.
View Weeksville Modern & Contemporary Bathroom/Vanity Mirror on Wayfair
Pill Shaped Mirror Buyer's Guide
Not only are mirrors functional, but they also serve as elegant wall decor. Of course, when debating home decor you always want to think about measurements and accessibility, but here are a few other things to ponder when purchasing a pill-shaped mirror.
Styles – Even though it is the most common, there is nothing traditional about a "race-track" pill mirror and even though we LOVE them, they aren't the only style available. From round mirrors to square mirrors, rectangular mirrors to oval mirrors there are so many options out there.
Materials – If you're going for a more formal, glam look frameless mirrors with beveled edges are where it's at! Modern or contemporary? Metal frame mirrors with stainless steel construction are right for you. Looking to go rustic? Opt for wood.
Variations – Size, shape, and finish are your biggest variations when choosing a pill-shaped mirror. Product weight is another biggie; make sure your wall can handle it and or you have the proper anchor and hardware.
One last reminder: check your pill mirror's product details, warranty, and return policy before you check out on Amazon or Wayfair!