The Design Home is reader-supported. When you buy through links on our site, we may earn an affiliate commission.
After a long day at work (or during your lunch break if you WFH) there's nothing better than melting into a plush recliner. But who wants those massive La-Z-Boys from the 1980s taking over their cute living room? Answer: not us, and probably not you. Many of us live in apartments or cute 1920s bungalows with living rooms the size of walk-in closets, and space-saving recliners that allow us to kick up our feet and still have room for a small coffee table.
The best part about modern compact recliners is that many don't even look like recliners. Instead, today's models play the role of a chic accent chair while still offering the comfort and function you need.
We've rounded up some of our favorite small-space recliners in a variety of styles from mid-century faux leather numbers to fanciful wingback chairs. You may just find your next great relaxation spot on this list.
Sale
Top Features:
High-quality materials
Luxurious design
Wide selection of colors
There are reasons that the mid-century modern style endures. It's classy, pleasing to the eye, and unlike some other decor trends of decades past, manages to not look dated. This Macedonia fabric tufted recliner is an excellent example of mid-century sensibilities in a petite, modern package. The button-tufted seat back adds an expensive-looking, tailored touch at a budget-friendly price, and the range of colors means there's definitely one that will match your decor. We especially like the cream and muted orange hues.
This small recliner, measuring about 34 inches deep by 27 inches wide by 38 inches high comes in at about 57 pounds — easy enough for one or two people to move and arrange in a room. 
View Macedonia Tufted Fabric Recliner on Amazon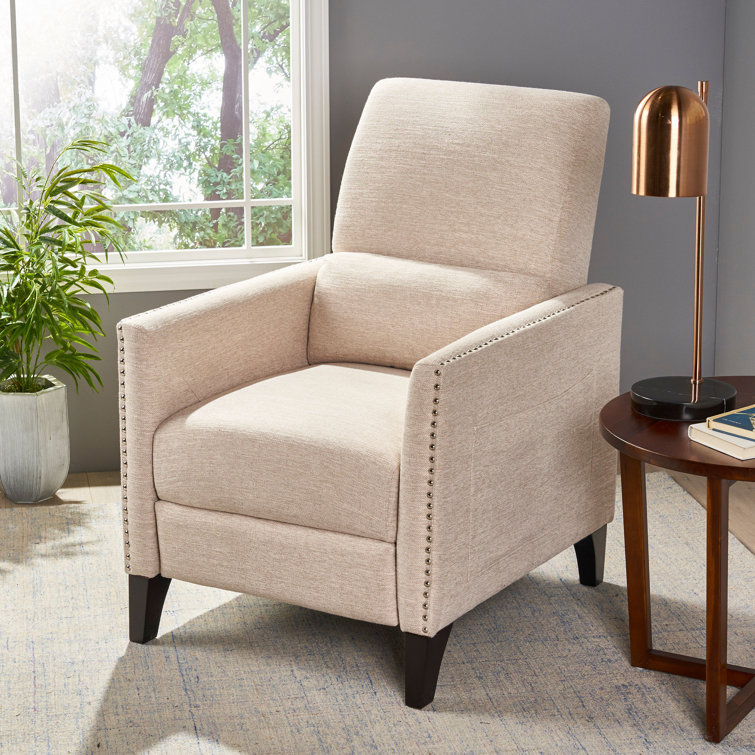 Top Features:
Manual recliner
Nailhead detailing
Selection of refined color options
We may or may not already be daydreaming about how we'll style this chic manual recliner in our home office. There's a lot to love about the Aresha model from Ebern Designs, including the sleek pushback reclining action, dreamy upholstery hues, and classy nailhead detail on the trim. While this recliner is big in style, it comes in a petite package, measuring just over 26 inches wide, 34 inches deep, and 39 inches high — the ideal size for squeezing into an unused corner or a reading nook. The recliner also features foam-padded polyester upholstery and a metal and wood frame.
View Ebern Designs Aresha Manual Recliner on Wayfair
Sale
Top Features:
Attractive design
Soft and comfortable
Well-balanced frame
Want a little old-fashioned romance with your reclining experience? Try the Elizabeth recliner from GDF studio, which offers a touch of classic style with its subtle wingback-inspired silhouette. You'll find that the high back, cushioned seat, and rounded armrests create a comfy nest for all the reading and relaxing you'll do in this recliner.
Measuring 34.75 by 28.5 by 41 inches, this compact recliner is just the size for smaller homes and apartments. However, you're likely to be so entranced by details like the tufted back, nailhead accent trim, and carved legs that you won't even notice the size. 
View GDF Studio Elizabeth Recliner on Amazon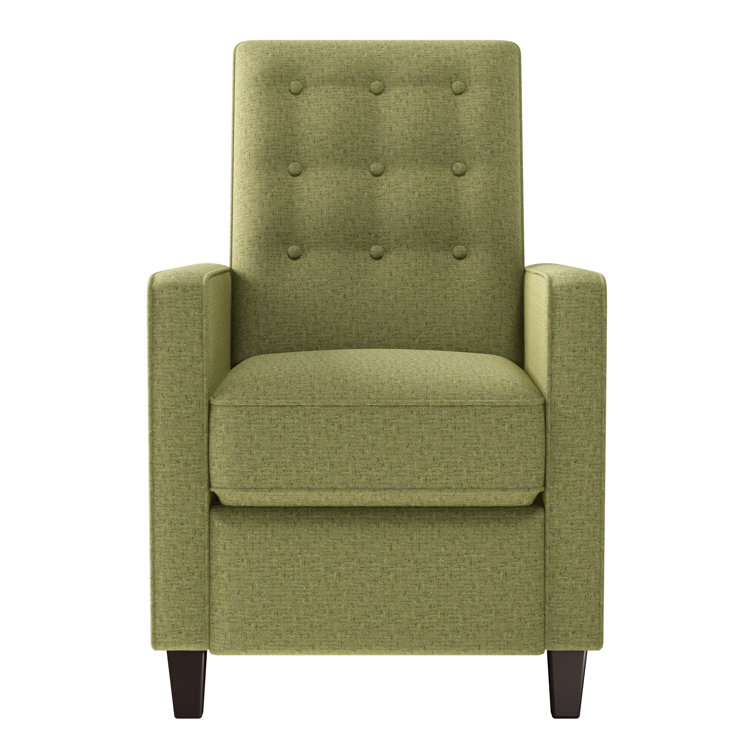 Top Features:
Petite size
Unique color choices
Supportive seat
A recliner can offer more than just a comfortable place to sit — it's also an opportunity to add a touch of color and style to your living room, office, or bedroom. This recliner from Hashtag Home offers all these things. Just 26 inches wide, 38.5 inches high, and 33.5 inches deep, this recliner features a boxy shape, tufted back, and polyester upholstery in your choice of apple or aqua green. Another thing to love about this chair? Features like the three-position reclining action and the springs and foam in the seat offer extra comfort. 
View Hashtag Home Lorenza Manual Recliner on Wayfair
Top Features:
Footrest included
Bonded leather upholstery
Lightweight
Go ahead, relax, put your feet up — literally. This bonded leather and walnut piece from BenchMaster encourages it with its cushy back, lever reclining function, and included ottoman. This recliner is plenty sturdy while still only weighing about 50 pounds, and with dimensions of only 40 inches high, 30 inches wide, and 28.5 inches deep when upright, it's a great pick for studio apartments and other small spaces. It's also wonderful for pet owners due to its slick, easy-to-wipe-clean upholstery. (Be honest: you know that your fur babies are bound to claim this cozy seat eventually.) 
View BenchMaster Swivel Recliner and Ottoman on Amazon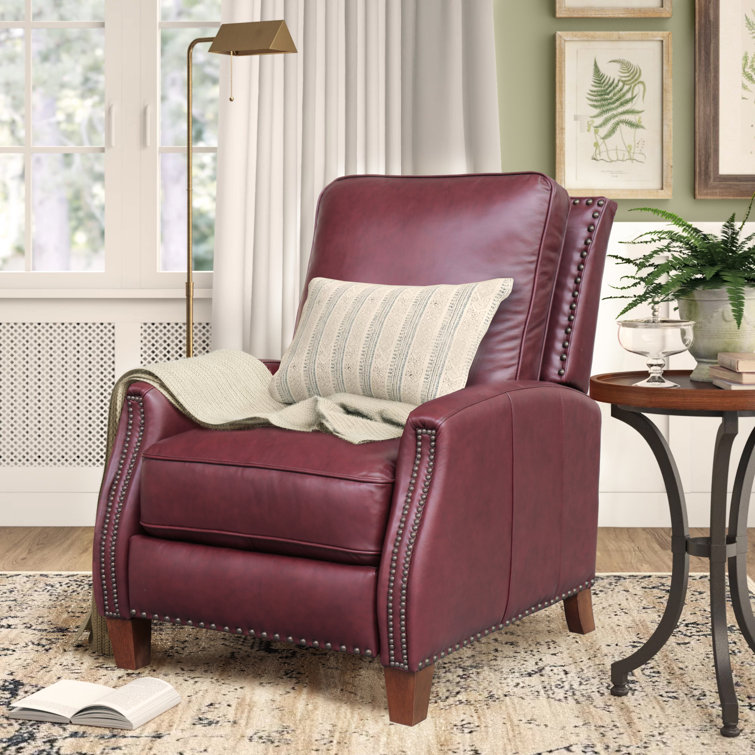 Top Features:
Down-filled upholstery
Traditional styling
Manual recline with three positions
If you've ever dreamed of chilling in the Gryffindor common room, this recliner is for you. Almost regal with its traditional silhouette, classy nailhead detailing, and real leather upholstery, this recliner could be the ideal piece to complete your cozy living room.
There's a lot to love about this space-saving recliner, but a few things stand out, including the high-quality, buttery soft leather, the comfort and capacity of the chair, and the easy assembly. 
View Birch Lane Dayse Leather Recliner on Wayfair
Sale
Top Features:
Red fabric upholstery
Distinctive wingback silhouette
Traditional style
There's something about a wingback chair that imbues a sense of glamor and old-world elegance to any room, from your home office to your living room. Bonus, the "wings" on either side of the headrest are designed to give you an even warmer, cozier experience in this bright red upholstered recliner.
Note that at 27.5 inches wide, this chair is on the small side, which you're probably prepared for if you're in the market for a space-saving recliner. 
View Christopher Knight Home Traditional Recliner on Amazon
Top Features:
High-quality fabric
Thick, soft padding
Sturdy design
If it's tons of padding with a tall back you're looking for, meet marshmallow-level comfort with this beige beauty. Upholstered in microfiber fabric, this recliner is cozy enough for any of your napping, gaming, or reading needs. While taking up a smaller footprint than some recliners, this one provides a soft space to collapse into after a long day with help from a supportive back and flared padded arms. You can get this chair assembled in about 15 minutes, and at 31 inches wide, it's roomier than some other options on this list. 
View Dorel Living Slim Recliner on Amazon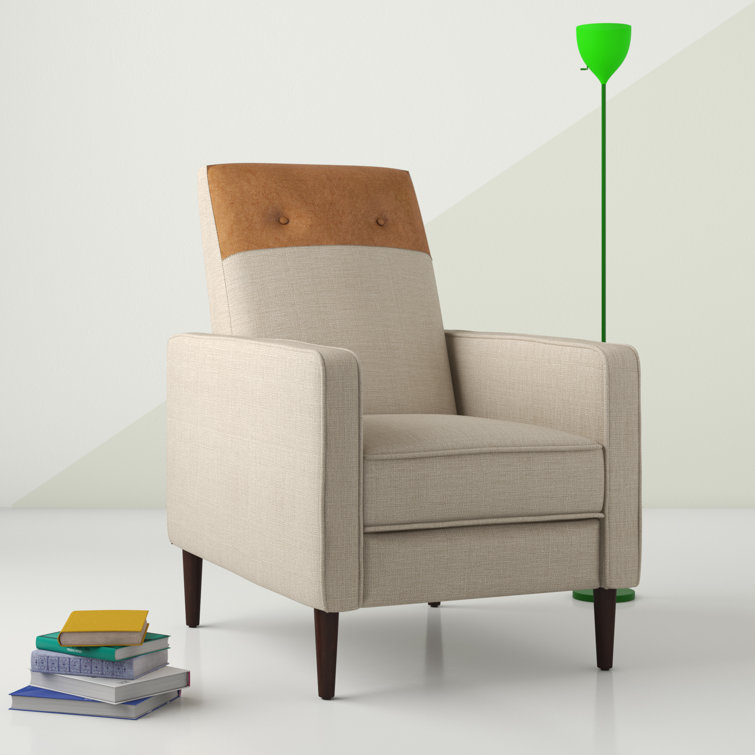 Top Features:
Faux leather headrest accent
Manual, two-position recline
Quick and easy assembly
Honestly, this chair made us do a double-take. The trendy-yet-classic mid-century modern silhouette married with an eye-catching blend of linen-look fabric and faux leather is just too good-looking not to feature in this list. The fact that it's a manual recliner with a small footprint (40.1 inches high by 26.7 inches wide by 38 inches deep) is just icing on the cake. 
View Hashtag Home Hastings Manual Club Recliner on Wayfair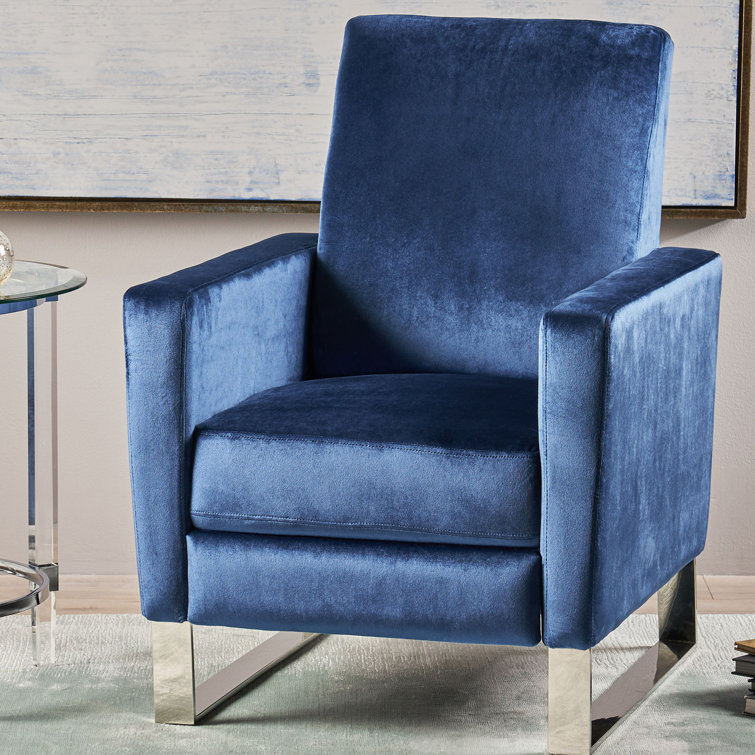 Top Features:
Stunning jewel-toned upholstery options
Art deco-inspired metal base
Push-back recline
If you need us we'll be staring at the gorgeous jewel tones of this Mercer41 Cesilie recliner. Definitely winning the "Doesn't-look-like-a-recliner-but-is-one" category, this plush-feel polyester recliner comes in a variety of deep hues that marry well with the boxy, modern stainless steel legs. Just 28 inches wide, this recliner offers manual reclining functionality with two positions. 
View Cesilie Manual Club Recliner on Wayfair
Buying Guide for Smaller Recliners
How do you pack a ton of comfort into just a corner of your living room? With a space-saving recliner. Like any furniture purchase, you have to be wise about picking the right recliner. Details like style, size, and the comfort factor all need to be considered. Here's a guide to buying a compact recliner that's going to let you put your feet up without creating a big footprint in your living room.
Dimensions
While you may knowingly be shopping for small recliners, you may unknowingly purchase a recliner that is simply too small if you don't pay attention to product descriptions. First, bring a tape measure to the area where you intend to place the recliner to find your max footprint. Next, look at all product dimensions on top-rated recliners to narrow down your options. There's a pretty big range among the category of small recliners, though, on our review list, most recliners fall around 30 inches wide or less.
Materials
Generally, choosing the material of your chair comes down to personal preference. While some people love the sleek look of leather, others can't get comfortable unless they're on a chair with plush upholstery. Also, if you'll be snacking on your recliner, keep in mind that soft fabrics can be tougher to clean than vinyl or leather designs.
Configuration
Take a close look at the recliner you're considering to spot any issues with the configuration that will ultimately drive you crazy. For instance, deep crevices between the seat and armchairs could mean that you'll constantly be fishing the remote control out from inside the cushions. Similarly, some people are fine with a manual recline option, though others like the experience of having a lever to adjust the angle of the chair. Finally, confirm that the chair's height is tall enough to actually provide you with back support.
Legs
While it's easy to get caught up on the upholstery and body of a recliner, you should also give the legs a nice examination. The composition of the legs could potentially clash with the rest of the wood furniture in your home. Consider the shape, color, and angle of the legs in relation to any other wood objects in your home to ensure that you're not improperly mixing themes.
Small Recliners FAQs
What should I look for when looking for a small recliner?
Determine the dimensions of your space. Then, consider the overall style and color scheme of your room. Finally, you'll want to be realistic about your budget and furniture assembly skills. All of these things can help you pin down the right recliner for your home.
What's the difference between a small recliner and a wall-hugger recliner?
A small recliner usually looks more like a chair when not reclined, and obviously takes up much less space than a standard recliner. A wall-hugger recliner does not recline backward. Instead, the whole unit shifts forward, making it possible for you to position it near a wall.
Do I really need a small recliner?
It mostly depends on the size of your living space. If you're interested in recliner chairs and you live in a small space, a compact recliner is a good idea to save room and sanity.