The Design Home is reader-supported. When you buy through links on our site, we may earn an affiliate commission.
Ready to add some flavor to your kitchen? You can spice up your cooking and the appearance of your kitchen with a wall spice rack. You'll have a large selection of spices at your fingertips, and it will instantly give your kitchen that warm, lived-in feel.
You'll no longer have to rummage around in dimly lit cabinets to find that one spice you know you have but can't seem to locate. You'll have fun experimenting with all your spices, and you'll have extra room to acquire a few more. Your whole family will be glad you made this purchase when they taste the dishes you create.
To help you easily narrow down a great spice rack, we've selected our eight favorites that fit a variety of budgets and spaces.
Sale
Top Features:
Easy to clean
Eco-friendly
Water-resistant
If you're an eco-warrior who wants to protect the planet which cooking up your favorite dishes, this bamboo spice rack might be your thing. Using organically-grown bamboo for the spice rack material creates a smaller environmental impact than other woods and plastics will.
This rack rests against the wall and can hold 18 good-sized spice jars. It's water-resistant and is easy to clean. It will look beautiful standing on your counter, and it's compact enough not to take up too much valuable counter space. 
View Pinnacle Cookery Bamboo Spice Rack on Amazon
Sale
Top Features:
Large capacity
Strong metal construction
Comes in three colors
Is cooking an art form for you? Then you'll need plenty of space for all your spices, and this rack delivers on that. With five tiers to use, you'll never run out of spices to flavor your food — it has room for as many as 64 six-ounce jars.
If you don't have much counter space, this rack is a winner because you can hang it. One of the best features is its adjustability. You'll be able to customize the shelves so they can fit your bigger spice jars. 
View X-cosrack Wall Spice Rack on Amazon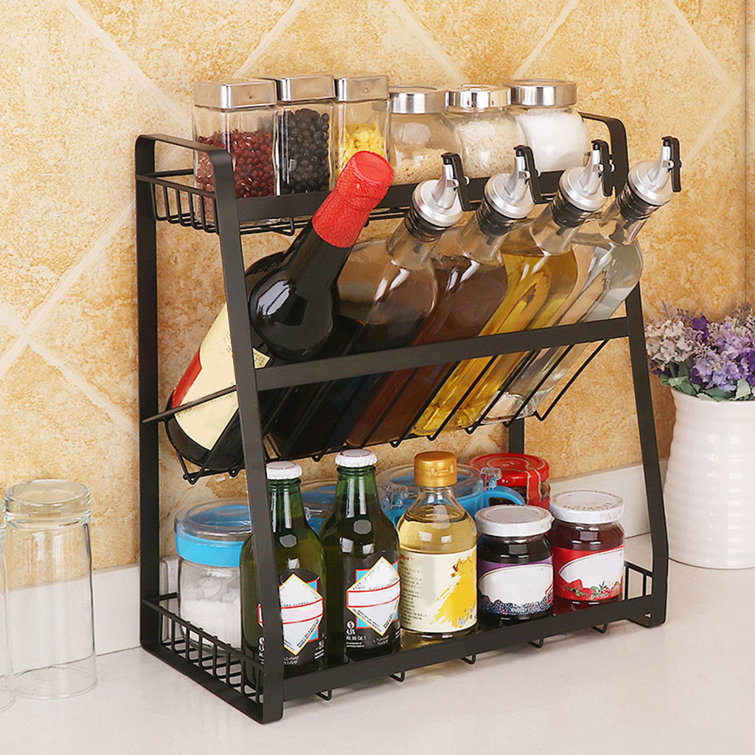 Top Features:
Room for bottles
Compact
Can be moved from counter to tabletop
If you love to cook with fancy oils and vinegar as much as you love using dry spices, this spice rack has you covered. The middle shelf on this three-tier rack has a spot to conveniently display your bottles, so they're always within arm's reach when you're cooking. 
The simple and understated design of this spice rack will work with many decors, including industrial, rustic, modern, or even traditional. 
View Prep and Savor Spice Rack on Wayfair
Top Features:
Plenty of space
Affordable
Easy to assemble
Looking for something affordable more than you're looking for something fancy? If you're trying to organize your kitchen on a budget, this two-pack of three-tier spice racks gives you plenty of options.
Since these are two separate spice racks, it gives you some flexibility about the layout. You can mount them side by side, or vertically if you'd rather. If you don't need quite so much storage space, you can use one of the shelving units to store small paint bottles in your crafting room.
View Two-Pack Simple Trending Store Spice Rack on Amazon
Top Features:
Two color options
Wall mounted
Four tiers
This Sorbus spice rack can help in a small kitchen — it easily mounts to the inside of cabinet doors to create a little additional storage space. If you're not the type to only buy one brand of spices, you should like that the shelves can accommodate all different sizes of bottles and jars.
 If you choose to display this one on a kitchen wall, it will work with your decor whether you're going for an old farmhouse style of kitchen, modern, or even industrial.
View Sorbus Spice Rack Organizer on Amazon
Top Features:
Comprehensive package
Jars are dishwasher-safe
Two different label types
If you're the matchy-matchy sort of person who can't stand having their spices in mismatched jars, you'll love this set. It comes with a four-tier spice rack, 24 glass jars and caps, 24 sift and pour shakers, 12 coarse shakers, two types of spice labels, and a funnel for a messy-free refill experience. You'll be able to have the organized spice rack of your dreams, with everything looking totally uniform.
Each jar holds four ounces, and the whole set is a big hit with reviewers. The only downside is that it only comes in stainless steel/silver type of finish.
View The Talented Kitchen Store Spice Rack on Amazon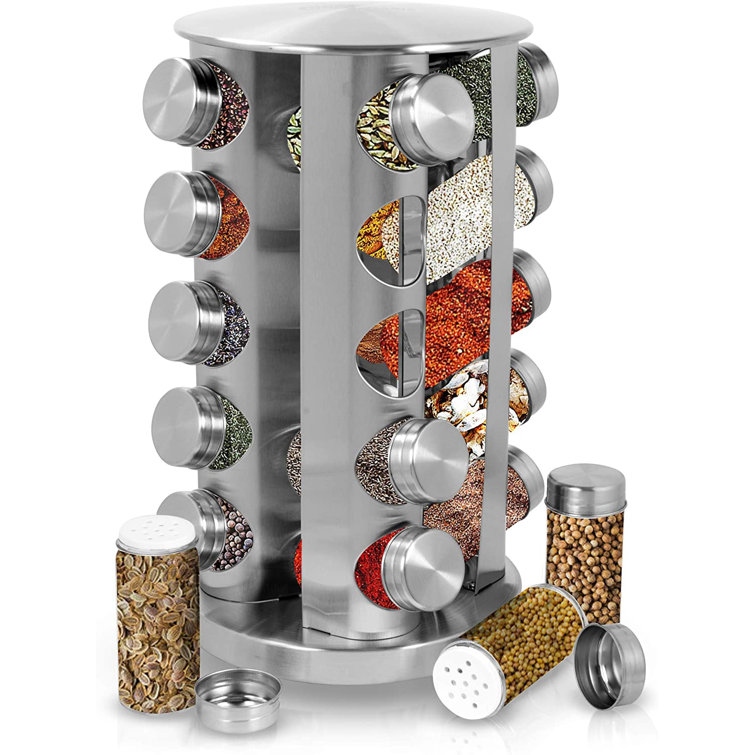 Top Features:
Comes with 20 jars
Easy to clean
Fits in narrow spaces
When you have a tiny kitchen, every inch counts. This gem will store 20 jars for you, while not taking up much counter or cupboard space due to its rotating design.
The set comes with 20 glass jars that have stainless steel caps. The one downside is that the jars don't come with labels. You'll either have to recognize the spices by sight or smell, or you'll have to make or buy your own labels. 
View Prep & Savior 20-Jar Spice Rack Set on Wayfair
Sale
Top Features:
Comprehensive set
Versatile
Two color options
Not sure yet if you'll prefer your spice rack to go on the wall or countertop? That's okay with this spice rack set — you can put it in either location. This set comes with a three-tier rack, 24 glass bottles, a chalk marker, 56 blank labels, and 340 preprinted labels. It also includes a funnel, which will help you avoid messes when refilling your spices.
View SWOMMOLY Spice Rack and Jars on Amazon
Questions to Ask While Spicing Up Your Kitchen Space
Before picking out the first spice rack that catches your eye, you should ask yourself a few questions to make sure you're getting everything you need with your purchase.
Is it big enough?
If you're a basic spice type of cook, a small set that holds 15 or 20 bottles will likely work for you. But if you're the kind of cook who loves to experiment with exotic spices and has a whole armload of seasonings looking for a permanent spot in your kitchen, you'll need a bigger rack.
Before ordering, count all your existing spice jars in your kitchen and see if the spice rack you're eyeing is big enough. If it's not, you should find another one or plan to order two.
Where will you put it?
Choosing a location for your rack before it arrives will help ensure you're not ordering one that will take up more room than you have available. Go old school and get out a tape measure to make sure your new spice rack will fit where you're envisioning it.
Does it have everything you need?
Are you looking for just the spice rack, or do you want a complete set that offers matching jars and labels too? Figuring that out now will help you avoid buyer's regret later.
Do you need a spice rack?
If you're only a salt and pepper type of person, you probably don't. But people who cook at all — even a little — usually have a lot more spices than that. And while you don't absolutely need a spice rack, it can definitely be a time saver.
Also, if you're the type of person who likes an orderly kitchen, you'll be much happier when you see all those clean, uniform bottles all standing in a straight row.
Does it fit into your kitchen aesthetic?
To some people, appearance doesn't matter much. They'd rather concentrate on how functional a space is. But to others, appearance is a big deal. Some homeowners spend a lot of time and money customizing their kitchen to a certain look.
The spice rack you choose should blend into that look. A sleek kitchen with lots of stainless steel needs a spice rack with clean lines and few decorative frills. A rustic kitchen can benefit from spice racks that include more design elements.
Does it fit your budget?
Some household items are worth stretching your budget to make sure you get something that stands out. For many people, though, a spice rack isn't the type of purchase to get carried away with — especially if it will sit inside a cabinet.
But if you're putting your spice rack on a prominent display in your kitchen or cooking is your favorite hobby, it may be worth spending more for a top-of-the-line one.