The Design Home is reader-supported. When you buy through links on our site, we may earn an affiliate commission.
Looking for creative couches & sofa ideas? These couches were created by independent top designers around the world. Note that not all of these products are available for purchase, and some are just prototypes, so use these for inspiration for new ideas. See our post on unique couches and sofas to view products you can buy online today!
1. Futuristic Slim Sofa
This futuristic thin modular sofa is designed by Stephane Perruchon. It consists of 3 seats attached in an angular mode. The pieces can be adjusted to suit the available space. This exciting furniture collection is available in black and metallic silver color. These colors give minimalistic look to the sofa. This furniture is not only comfortable and more modern but also provides a practical storage area for books and magazines. With this furniture, the living room will move two generations ahead in design and feel.
2. Flexible Curve Frame Sofa
This elegant and flexible sofa was designed by Cho Hyung Suk. The "Curve Frame sofa" consists of one lounge sofa, side table, and stool. A sofa and stool have three cushions and the frames have smooth curves and hold each cushion. It solves the structure of each of them. Check out the pictures.
3. Sofist Sofa
Istanbul based industrial designer Sule Koc has designed Sofist, a simple and minimalist sofa. In the designer's words, "Sofist comes in a form which is actually its basic framework. Stripped out of the unnecessary, the construction makes it possible to create space for storing books and extra pillows for comfort. The inner space can be a preferable place to sleep for pets."
4. Ploum Sofa
Ploum Sofa is comfortable living room furniture designed by Ronan & Erwan Bouroullec. Here is some information from the designer, "We tried to make a very comfortable contemporary sofa. Ploum is a form wide where the whole body rests on a soft surface and soft. Its seat is relatively low, it seems organic. Perhaps the use of a stretchable fabric is as a symbolic parallel to a contemporary lifestyle, where the flexibility of use and comfort seem essential.
It was conceived as a ripe fruit, voluptuous. It is so important that the comfort of the sofa allows relaxation of the body, all possible positions, the traditional sitting position the supine position. The 4-seater sofa also offers a very specific way a crescent shape that tends to turn people toward each other around a central common."
5. Rise Sofa
Sweden-based Note Design Studio have created the Rise Sofa for Swedish furniture company Fogia. The sofa is composed of two parts, a wooden base, and a cushion. The wooden base of the sofa extends outwards and becomes a side table.
From the designers, "Rise is a classic, elegant sofa with a strong individual expression. It carries the Scandinavian identity through its distinct base in wood, where the soft upholstered shape rests on top, with a characteristic tension in its high back. Its greatest advantage is how well it works in both public spaces as in a home.
The wrap-around back shields off a conversation in the sofa from an open floor plan in a typical office environment. Just as easily, it has a natural place in a home environment, where it is soft and inviting. It should be homely, friendly, and welcoming. The integrated side table opens up and becomes a bridge between Rise and the rest of the room. A surface for still life, a favorite book, plants, or whatever you choose to have close at hand. Rise is a piece of furniture with warm design and modern lines."
6. Moody Couch
Moody Couch, designed by Hanna Emelie Ernsting, was awarded second prize in this year's [D3] Contest for young designers at imm cologne. Following is the information provided by the designer, "With Moody Couch, the philosophy of the Moody Series is expressed in a way that allows a very wide range of different moods, while still making a link to the "standard" sofa. It can be an intimate napping spot or a representable couch. The size of the textile cover and its simple pattern enable all shapes and forms. For the textile cover, I chose a high-quality cotton upholstery material and lined it with wadding, making the material even more expressive. The size of the cover is 20m2 with a height of almost 4m. The base consists of a wooden part, covered with different layers of foam (170cm wide, 70cm high).
Moody Series Concept: Nowadays the separation between work life and private life is further disappearing in multiple ways. The special separation blurs out due to the fact that more and more people are using home offices – either for their own small business or because they are taking work home from the office. It seems that for many people it becomes more and more difficult to separate work life and private life emotionally. After everlasting working hours, the never-ending expectations of perfect appearance, and the constant need to function, people forget to calm down and how to let go. This has certainly become one of the major problems of modern society.
How can product design react to this challenge? How can forms follow moods – instead of functions only? Emotions, feelings, or moods are constantly changing: a person can be nervous, crabby, or sleepy at one point, and at the other, he or she might be in a comfy, playful, or naughty mood. So particular flexibility in design is needed. Also, those feelings are often kept hidden and people cannot really calm down – so the design should invite the user to be laid-back, express feelings, and let everything out. By doing so the product will resemble the moods of its user, looking crabby, sleepy, playful, or naughty – thereby creating a visual and intimate way of expression and communication. Ideally, the familiarity of those emotions would evoke a sense of coziness, well-being, and security. This is what I think of as "FORMS FOLLOWS MOODS".
With this idea in mind, I created a series of seating furniture called "MOODY". As a starting point, I looked at different aspects of common sofas: forms, proportions, and the way materials are used. I realized that seating furniture mostly looks static and stiff because the fabric is traditionally used in a way that does not allow the textile to unfold all its characteristics and abilities. In order to create seating furniture that follows its users' moods, I enlarged the dimensions of the fabric, detached it partially from the base frame, and started to decrease the dominance of the static base construction. By doing so, the furniture becomes as flexible as fabric. Through mixing the characteristics of bed, sofa and chair Moody is a series of cross-over furniture, called "MOODY COUCH", "MOODY NEST" and "MOODY BAG"."
7. Filo Sofa – Colorful Living Room Furniture
Filo Sofa is elegant living room furniture designed by London based designers Edward Barber and Jay Osgerby. The sofa features an exposed Oak framework with colorful layered quilts upholstery. This modern sofa will add fun and lots of colors to your living room interiors. In the designer's words, "The utilitarian, internal structure of a sofa is usually hidden from view and is therefore designed to support rather than to look attractive.
In contrast, the exposed framework of the Filo Sofa is handcrafted from solid oak, by skilled cabinetmakers. Rather than being used as a skin for the structure, upholstery has been used in the form of layered quilts to provide comfort. The quilts can be alternated to give variable color combinations." Take a look at the pictures.
8. Recycling Chair-Sofa System
Young German designer Stephan Schulz has created the Recycling Chair-Sofa system. The furniture collection is made of recycled foam. The chair-sofa system consists of two basic elements/panels fixed together by a simple framework. The size and shape of the furniture can be changed by adding or removing the panels, giving the furniture a variety of functionalities like couch, or sofa. The original color and finishing of the foam are retained to give the furniture a natural look.
9. Bucefalo Sofa With Storage For Books
The Bucefalo Sofa designed by Italian designer Emanuele Canova is useful furniture for modern living rooms. The inspiration came from the figure of Bucefalo, a legendary black horse that only Alexander the Great succeeded to tame. The sofa is ideal for small living rooms as it doubles as a storage area for books and magazines. Check out.
10. The Air Lounge System Sofa and Armchair
The Air Lounge System is a collection of modern sofa and armchair designed by Meritalia. Here is some information by the designer, "The sofas and armchairs of the Air Lounge System are in molded cold-cure flexible polyurethane foam. The padding completely incorporates the supporting structure, which is made of an electro-welded steel plate; the suspension in the seating consists of elastic straps fixed to the basic structure.
The unusual ring shape of this model makes the sewing and fitting of the upholstery especially difficult – so much so that the skill with which it has been accomplished is clearly evident even to non-expert eyes. The elements of this series may be upholstered either in leather or fabric, with the possibility of combining different colors and materials."
11. Sofista Modular and Stackable Sofa
Designer Fabrizio Simonetti has created Sofista for Italian furniture brand Formabilio. It is a modular and stackable sofa ideal for small living rooms and studio apartments. It is all in one, a 3 seater sofa, armchair, chaise longue and also an extra bed for your guests.
12. PS30 Puzzle Sofa For Kids
PS30 Puzzle Sofa designed by Designskin is a children's sofa that can be transformed into a mattress easily. Children can enjoy various puzzles with this flexible furniture. Two connected sofa frames and ten puzzles blocks compose PS30. When you fold, it becomes a sofa and when you unfold it, you can use it as a mattress. The steel frame is loaded inside the frame of the sofa to support its interior materials. PU urethane cover is used as an exterior, posing no health hazard to children. This also makes this sofa waterproof and easy to clean.
13. Origami Sofa
Designer Yumi Yoshida's Origami Sofa is inspired by the traditional Japanese paper-folding art origami. When folded, it becomes a comfortable two-seater sofa and when opened it is a flat mat.
14. Snoopy Sofa
Copenhagen-based design studio Iskos-Berlin has created the Snoopy Sofa for Danish furniture company Versus. Following is a description from the producer, "We wanted to design a compact but comfortable "family" of sofas that harked back to classic soft furniture styles – especially to the post WW2 period.
SNOOPY's sculptural language is simple and clear. There are just two elements – a horizontal "pillow" for a seat and a vertical "duvet" at the back that wraps around the seat, embracing it from the sides.
Upholstery details – marked piping is used to accentuate its shape in a natural way, giving it an easily recognizable design "signature". SNOOPY doesn't demand much space and fits easily into smaller rooms. SNOOPY is constructed and produced following the finest traditions of craftsmanship for this type of furniture. SNOOPY series consists of a pouf, a chair, a 2-seater, a 2,5-seater, and a 3-seater."
15. Brick Sofa Collection
Copenhagen-based design studio KiBiSi has designed the Brick furniture series for Danish furniture brand Versus. The series is consists of a puff, a chair, a two and three-seat sofa. The design of the furniture features a cushion pattern that resembles the classic brick bond. The cushions are tied together and fixed with tailor quality button molded of fiber concrete. The design makes a strong reference to the architecture.
Bjarke Ingels of KiBiSi says: "What is a sofa but a pile of pillows for maximum comfort? Turning the habitual modularity of sofa design into a virtue, the Brick explores the tectonic of bricklaying to stack sandbag like cushions into architecture for comfort."
16. Nest Sofa
Nest is a comfortable cushion sofa created by Barcelona-based Lagranja Design in collaboration with Valencia-based company KOO. The sofa is made of big pillows. Here is a description from the designers, "It's been a long while we're thinking about a comfy sofa made of big pillows, maybe because we don't like much minimalistic squared sofas or too skinny ones.
Achieving the balance between softness, roundness, and an elegant presence is been anyhow tougher than we thought. Finally, the project evolved into a big program ranging from the small easy armchair and the two-seat sofa to an eight-seat one, in different configurations."
17. Bend Sofa
Patricia Urquiola has designed the modern seating furniture Bend-Sofa for Italian furniture company B&B Italia. Following is some information by B&B Italia, "Patricia Urquiola has designed a surprising series of seats that transforms the traditional concept of the sofa. She has entitled the product bend-sofa due to its curvaceous albeit monolithic form. It gives the appearance of being manually molded from a supple material as if by a sculptor. In practice, it issues from a study of 3-d models and digital research.
Bend sofa effectively conveys the idea of motion by alternating full and empty spaces. Contrasting seams add to the intrinsic design on the surface. The backrest is irregularly shaped, but without compromising comfort. Curved modules – assembled starting with the seats, ottoman, and corner elements – form a sofa that breaks out of the usual visual schemes and differentiates from other contemporary pieces on account of its calculated eccentricity. Bend-sofa offers flexible composition solutions, including small linear versions, corner solutions, or a spectacular (non-necessarily domestic) version that can fill a space with double-sided seating arrangements, becoming the absolute center of attention with its iconic presence."
18. MyWorld Sofa
French product designer Philippe Starck has created the MyWorld sofa for Italian furniture brand Cassina. The modular furniture collection includes two and three-seater sofas, an armchair, chaise lounge, and pouf. From the designer, " We live in a schizophrenic society. Let's assume that. MyWorld is a cocoon, a nest, a world where we can be egocentric and comfortably commune with our own shadow or collect some snatches of news from the world, that is said to be real"
19. Floating Sofa
"Floating Sofa" is a cushioned seating furniture suspended by a steel tube exoskeleton frame. This unique sofa was designed by Philippe Nigro for Italian furniture company Comforty. In the designer's words, "The very clean, simple form is astonishing in its comfort of use. The innovative solution displaying the construction neither denies nor interferes with classic sofa typology. It is an innovation relying not on stylization but on the search for new solutions. There is a fascinating play between the external and internal elements."
20. Modern Flexible Sofa V-Two
V-Two is a flexible piece of furniture designed by Korean designer Juil Kim. In its closed condition, the sofa offers a seat for two and if you need, simply stretch the sofa to accommodate some more. Besides seating, the sofa also has storage space for your books, magazines, and other little things.
"It's the changeable furniture design letting users transform it whenever they want to make it more suitable to the organization of the space. It doesn't take a fixed shape but is unique customized furniture. Users can adjust the space as they need by pushing it in or pulling it out." – DesignJoo.
21. Grid Sofa and Stool
South Korean designer Kim HyunJoo has created the Grid sofa and matching stool. The sofa and stool are installed in the lobby of the SK group PR building in Yeosu Expo 2012. According to the designer, "'Grid' sofa shows modern style with the gridline instead of classic style with embossed leather sofa. The bright, highly saturated color of it makes a cheerful atmosphere. An unstructured cubic foot provides a visual pleasure such as blocks or Tetris game."
22. Bahir Sofa
Zurich-based designer Jörg Boner has created the Bahir Sofa for German furniture brand COR. The sofa is designed for relaxed moments in life. Designed like a large, inviting basin, the Bahir sofa provides a place "where you can sprawl and snuggle, a free zone for lounging and reading, playing and surfing the web." The absence of the classic division between the seat and the backrest makes this sofa a "private space in which you can arrange cushions, blankets, and biscuits just the way you like it." The quilted sofa cover is simple to remove and clean. The furniture collection also includes a chair and a stool.
23. The Dog House Sofa
The Dog House Sofa is a clever furniture unit that combines a comfortable sofa/couch, a small coffee table/side table, and a small house for your pets. Created by South Korean designer Seungji Mun, the Dog House Sofa is designed to enhance the harmony between people and their pets. The little dog house is connected to the sofa like a sidearm. You can communicate/interact with the pet via the gap between the dog house and the sofa. The roof of the pet house serves as a small coffee table.
24. Playful sofa design that looks like a huge and comfortable nest
Merav Salush Eitan and Gaston Zahr from "OGE Creative Group" were inspired by the structure of the nest, and therefore decided to create a playful space for recreation. This design called "Giant Birdnest for creating new ideas" consists of a circular wooden structure, filled with soft egg-shaped cushions. You can use the sofa to rest, work, or even use it as a mini socializing space.
This unconventional concept transcends the typical sofa and enables a new and fun way for relaxing and socializing. This product can be ordered in various sizes, ranging from a small nest for 2 to 3 people, up to a 4.5 m diameter nest which could comfortably accommodate 16 people.
25. Couch Sleeper
Couch Sleeper is a unique combination of daybed and sleeping bag designed by German designer Anne Lorenz. In the designer's words, "The design is based on the notice that people always use a blanket while lying on the couch. When it is closed, it can be used like a traditional daybed on which one can lie or sit on. In this situation, only the oversized zip locker suggests this special function. If feeling cold or tired, the softcover can be opened until the foot slip in. Couch Sleeper is a product that has a very playful character, but also refers to the human need for warmness and feeling of security." Take a look at this similar design Letto Zip bed by Florida Furniture.
26. Daja Sofa
German design firm Maly Hoffmann Kahleyss has designed the Daja Sofa in collaboration with Leolux. The robust outer shell and the soft upholstery of the sofa are designed after the back seat of a luxury limousine. Here is a description from the producer, "Sitting in the Daja is like settling down in the back seat of a luxury limousine. There too, you are cocooned by the strong bodywork while you melt away into soft seats covered in fine leather. The association with a car is reiterated at several points: elegantly curving, slightly domed surfaces are edged at specific points to create a stable and structured shape, so they lend the design a distinctive, almost streamlined look.
Daja offers sofas in two different seat depths (with or without cushions) and varying widths. Apart from that, there are various modular elements and a footstool. A program with countless possible variations and a choice of coverings."
27. Modern Take On The Traditional Kitchen Sofa
The På sofflocket, designed by Swedish students of Lund University Emma Nilsson, Johanna Westin, and Lisa Frode, is a modern take on the traditional kitchen sofa. Some information from the designers, "The old and traditional kitchen sofa is usually the favorite place in the house. That's where everything happens, from homework and naps to coffee and newspaper on a Sunday morning. This sofa offers the same functions as the traditional one but adapted to the modern way of living. The storage space is divided into two parts making it easy to reach and organize the content. With the open plan living area commonly occurring in today's homes, the back provides storage for books and/or newspapers.
28. Cat Tunnel Sofa
South Korean designer Seungji Mun has created the Cat Tunnel Sofa. The simple sofa has a built-in playground for your cat. A long tunnel runs from the armrest, back support, and side of the sofa. Here is a description from the designer, "Companion animals are no longer pets but positioned as companions of people. For this reason, the living space of humans is shared with a companion animal. Between humans' and pets' living space, ' the furniture' took the largest and the most important position.
We would like to use 'the furniture' as a tool to share emotions and feelings with pets. This Cat Tunnel Sofa is to communicate and share feelings with a cat. The "Cat tunnel sofa" is at the level of concept now and it was a collaborative project with Korean designer Yongjeh Park and Kangkyoung Lee.
Cat tunnel sofa is designed for a cat and the owner of the cat. After analyzing and observing cats' habits and behaviors through experts' opinion and sufficient research, we designed the structure and shape of the sofa to be fully in harmony with."
Very Unique Couches and Sofas from Elite Designers
The following are custom-designed sofas and couches from leading designers. These aren't available easily for purchase, but reach out to the designers if you find the perfect fit.
The Ayva Curved Loveseat is a high-end velvet sofa with a sleek and modern design. You can choose from four different colors: pink, cream, gray, and navy.
A lot of reviewers really love the design of the sofa. It's simple yet unique enough to turn a couple of heads.
The sofa's dimensions are 30.5" H x 67" W x 31.75" D. The leg material is metal, which makes the sofa sturdy. The weight capacity is 750 lb, which can seat a couple of people comfortable.
If you're looking for a modern yet unique designed sofa, then this one the best option for you!
View Ayva Curved Loveseat
The Esperanza Sofa has an old-fashioned carriage style design. It's unique appearance will absolutely make a statement on any room.
The sofa's dimensions are 36.00" H x 71.00" W x 24.00" D. The sofa's weight is 140 pounds. The weight capacity is 300 pounds, it could seat couple of people comfortably.
If you're looking for a sofa with an old-fashion design, then this one is a great option for you!
View Esperanza Sofa
The Eden Velvet Sofa is a curvy, bold, and aesthetically pleasing sofa. You can choose from six different colors to better fit your mood.
The sofa's dimensions are 30" H x 108" W x 36" D. It weighs 230 lb. The materials used are velvet, solid wood, and foam.
If you're looking for a bold yet elegant sofa, then this sofa is a great option for you!
View Eden Velvet Sofa
The Krupp Sofa has a futuristic design that is very pleasing to the eye. You can choose from two different color combinations to better fit your space.
The sofa's dimensions are 25" H x 82" W x 39" D. It weighs 138 lb. The materials used are faux leather and solid wood.
If you're planning on adding a futuristic look to your space, then this sofa is perfect for you!
View Krupp Sofa
The Herman Miller Eames Sofa is a gorgeous leather sofa that gives off a 90's vibe. The sofa has several different colors to choose from.
The sofa's dimensions are 33″ h x 80″ w x 30″ d. The seat height is 16.5″.
If you're looking for a classic 90's sofa, then this one is a great option for you!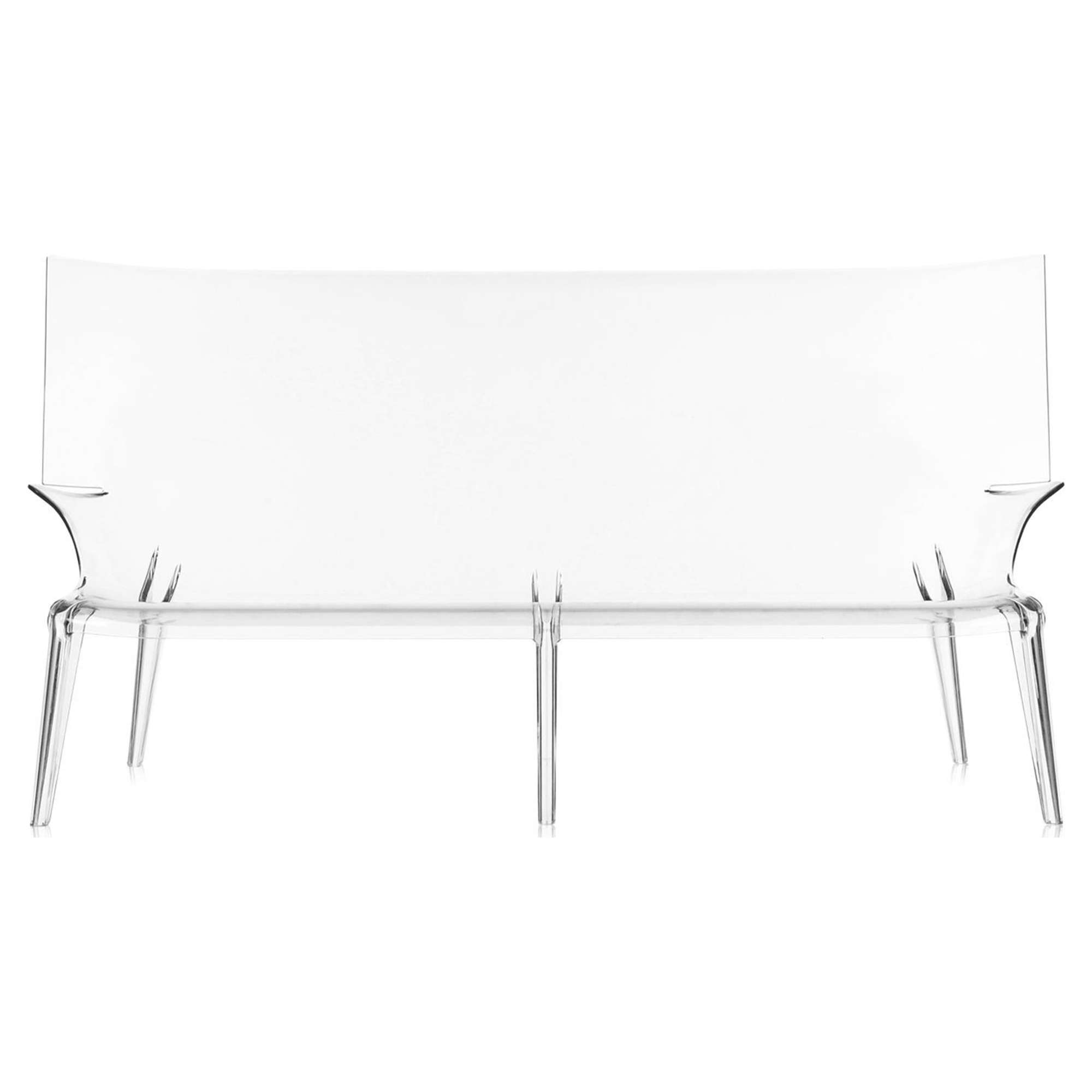 The Uncle Jack Sofa is a unique sofa that is made out of transparent polycarbonate. You can choose from two different types of finishes: crystal and smoke finish.
The sofa's dimensions are 38″ h x 74.75″ w x 29.5″ d. It weighs 58.9 lbs. The seat height is 13.25″ and the arm height is 22.75″.
If you're looking for an interesting sofa, then this one is perfect for you!
View Uncle Jack Sofa
The Pop Sofa is a beautiful sofa with unique patterns and designs. You can choose from a variety of colors and patterns.
The sofa's dimensions are 27.6″ h x 100.4″ w x 37″ d. It weighs 116 lbs. The seat height is 13.8″ and the arm height is 22″.
If you're looking for a colorful and vibrant sofa, then this one is perfect for you!
View Pop Sofa