The Design Home is reader-supported. When you buy through links on our site, we may earn an affiliate commission.
Chefs know that food is art, not just a form of sustenance. To help them create that art, they need tools, products, and equipment the average person may not have in their kitchen. 
We've researched the best ideas for gifts for chefs this year, and this is what we found.
There are more cool ideas and trinkets than ever!
The benefit of buying a great gift for a chef is that they might invite you over to sample what they've cooked with it. So, in a greedy sense, a gift for the chef in your life might be rewarding for you as well. Everybody wins. Check out this list of 20 items any chef would love to have in their kitchen arsenal.
Top Features:
Three oils
Gluten-free
Vegetarian
Truffle oil is a high-end product much appreciated by professional and home chefs. It's versatile, adding intense flavor to salad dressing, risotto, pasta, and pizza. This set of three oils comes with a garlicky white truffle oil, a nutty-tasting, but nut-free, English truffle oil, and an earthy black truffle oil.
View TruffleHunter Truffle Oil Gift Set on Amazon
Top Features:
Stainless steel
Comes with a finger guard
Blade guard and sharpener also included
Every chef wants a fancy, high-performance knife, and this one delivers on both points. A triple rivet design attaches the blade to the handle and won't give way, even after a lot of slicing and dicing. The chef you're buying this knife for will be able to protect their fingers with the included finger guard. And when that knife becomes dull, they'll be able to give it some love with the sharpener.
View MOSFiATA Sharp Professional Chef's Knife on Amazon
Sale
Top Features:
Refillable
Versatile
Security lock
Dessert chefs know that a culinary blow torch is a must-have for creating unforgettable creme brulee. But this handly little blow torch will do much more than that. It can toast bread crumbs, melt cheese, sear a steak, and more. No blow torch experience? No problem! It's easy to figure out how to use it.
View Tintec Culinary Blow Torch on Amazon
Sale
Top Features:
Versatile uses
Sustainable bamboo
Hidden slide-out drawer
A good chef knows that presentation is half the battle of cranking out an enjoyable meal. This cheese board set will allow you to make your food as pretty as it is tasty. Made of all-natural bamboo, it comes with an extra hidden slide-out tray, four cheese knives and utensils, and a wine opener. Even if the chef you're giving this to wants to use it occasionally as a cutting board, it's resistant to marks from the knives.
View Cheese Board and Knife Set on Amazon
Sale
Top Features:
Can be used for deep frying
Three-second reading time
LCD screen
Overcooked meat is a big no-no for any experienced chef. This meat thermometer will help them avoid that disaster. Plus, it can be used for candy making, baking, and even beverages. It's a super-fast way to tell if your food is done. You can set it to either Fahrenheit or Celcius, and all you have to do to turn it on is open and close the thermometer probe. If you forget to shut it off, it will automatically power down in 10 minutes.
View Kizen Digital Meat Thermometer on Amazon
Top Features:
Inclusive all-in-one kit
31-page recipe book
Stainless steel funnel included
For a new chef who is still learning as they are going along, this hot sauce-making kit can be a great teaching tool. With enough ingredients to make up to 14 bottles of hot sauce, your chef-in-training will be able to experiment with this new venture and find their signature sauce. With the included labels, you'll be able to remember which sauce is which. As your chef uses this kit, they'll learn from the instruction guide about the heat of different peppers and their origins.
View Millhouse Spice Co. Hot Sauce Making Kit on Amazon
Top Features:
Measurement sizes are engraved
Made of durable bamboo
Engraved in the U.S.
Chefs and cooking schools are quite particular about how things are sliced and diced. If you are buying a gift for a chef-in-training, this board shows the cuts and dicing styles they'll have to be accustomed to doing, including fine julienne, julienne, batonnet, fine brunoise, brunoise, and small, medium, and large dice. It's a kitchen tool that will help them perfect their prowess with a knife.
View Alpha Awards Precision Cutting Board on Amazon
Top Features:
Holds 11 ounces
Printed on both sides
Microwave and dishwasher safe
Half the fun of being a chef must be pointing it out to everyone else who isn't a chef. It must make you feel pretty superior to know how jealous others are of your kitchen skills. The chef in your life can rub it into other people by drinking out of this cup in front of them. And since it can go in the microwave and dishwasher, it'll be a low-maintenance addition to their kitchen.
View ThisWear Store Chef Coffee Mug on Amazon
Top Features:
Collectible
Small for displaying
Lots of accessories
Help your chef celebrate one of the most famous chefs of them all — the Muppets' Swedish Chef. This tiny figure and all the pieces it comes with can fit comfortably on any kitchen windowsill and serve as an inspiration and a source of amusement for your chef as they cook. Reviews rave about the details and all the accessories this figurine comes with.
View Diamond Select Toys Swedish Chef Figure on Amazon
Sale
Top Features:
Inexpensive
Dishwasher safe
Rust-proof
If your chef is used to handling large chunks of meat or is known for his love of the grill, these meat claws will come in handy. It allows the cook to pick up big pieces of meat safely, without dropping it or getting hot grease burns all over their hands. And when that meat is done cooking, these claws can be used to shred it like a wild animal.
View Grillaholics Store Meat Claws on Amazon
No products found.
Top Features:
Comes with a foil cutter
Includes recharging base
Removes cork in seconds
Wine is an important part of being a chef — they use it for cooking and for pairing with their meals to bring out the flavors. Opening all those corks by hand gets pretty tiresome. This electric wine bottle opener allows you to open up to 30 bottles on just one charge. As a bonus, it comes with a recharging base and a foil cutter.
View Oster Electric Wine Bottle Opener on Amazon
Sale
Top Features:
Elastic closure
Machine washable
Comes in multiple colors
There was no way we were going to make a list of gifts for chefs and leave off the most essential accessory of all — the classic chef's hat. This one is machine washable so any cook will be able to keep it clean. The elastic closure makes it adjustable, so it will fit a wide range of head sizes. Soon, your chef will look the part.
View Hyzrz Chef Hat on Amazon
Top Features:
100 recipes pages
Inspiring cover
Tool for creativity
Every chef dreams of creating a masterpiece — their one signature dish that nobody will ever forget. This book can help them get started on that path. With 100 blank recipe pages, this book is an ideal place to start dreaming and working on that unbelievable recipe.
View King Journals and Publications My Recipe Journal on Amazon
Sale
Top Features:
Different sized sets
Dishwasher safe
Withstands up to 600 degrees
You can choose whether to buy your chef a 5-piece, 7-piece, 10-piece, or 14-piece cookware set. With the quality of these pans and pots, they'll be blown away whether they get the smaller set or the largest. Each pot or pan has a tri-ply construction for even heat distribution and rapid heating.
Chefs will like knowing that these pieces were lovingly crafted in the U.S. by multiple employees. They'll be proud to do their cooking in them.
View All-Clad Stainless Steel Induction Cookware Set on Amazon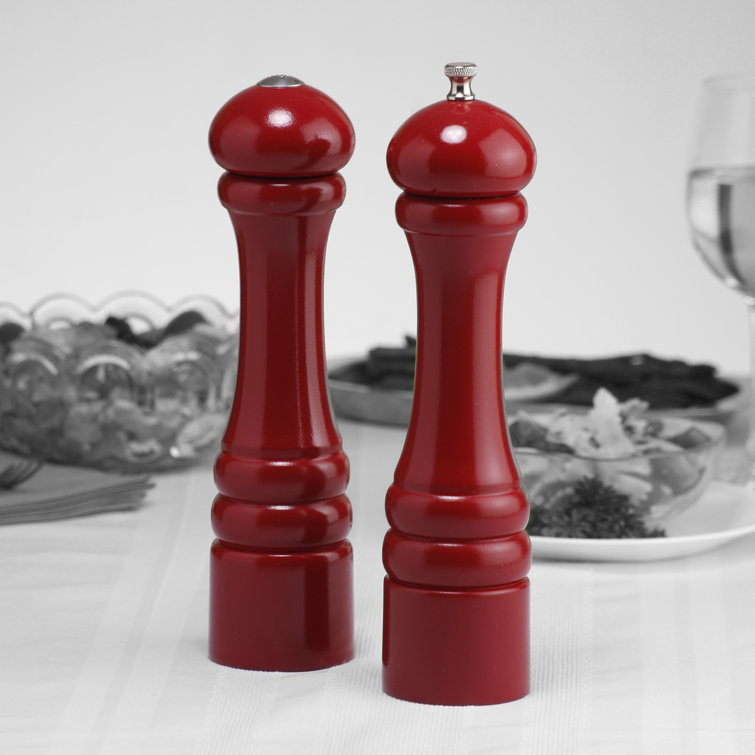 Top Features:
Beautiful
Several color selections
Adjustable coarseness
This salt and pepper grinder set is as beautiful as it is functional. Any chef should enjoy using these gorgeous grinders to put the finishing touches on their dishes. With a manual grinder and adjustable coarseness, they'll give the top-notch performance any high-quality chef needs.
Made in the U.S., these grinders are easy to refill with their screw-off tops. Keep in mind that these grinders are hand-wash only.
View Chef Specialties Imperial Salt and Pepper Grinder Set on Wayfair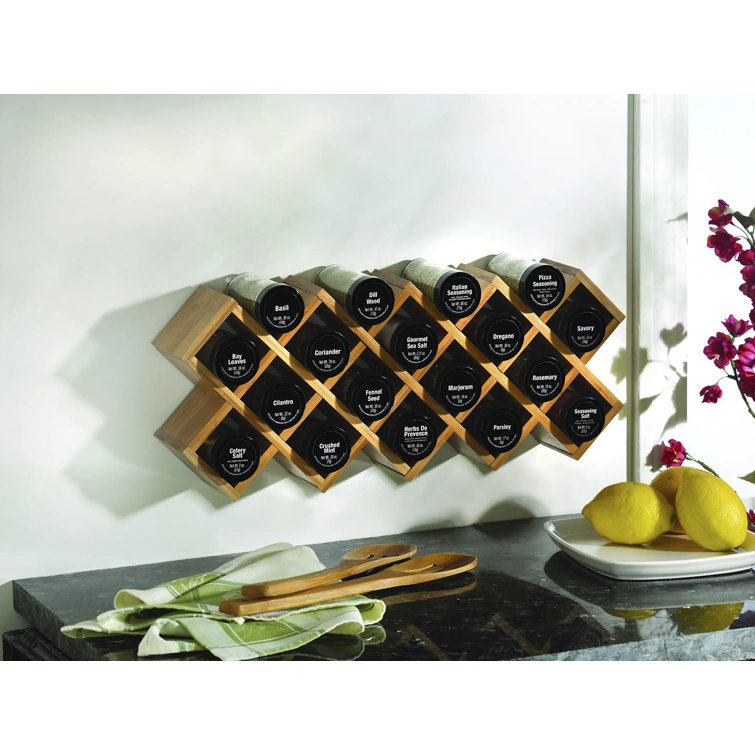 Top Features:
Eye-catching design
Free spice refills
18 jars included
Salt and pepper aren't the only seasonings a chef needs to create mouth-watering food. They'll also need countless other spices — and that's where this spice rack comes in. Made of bamboo in a cool criss-cross pattern, this set comes with 18 spice jars that are individually labeled. Your chef will also get free spice refills for five years to keep them happily cooking meal after meal.
View Kamenstein Criss Cross 18-Piece Spice Jar and Rack Set on Wayfair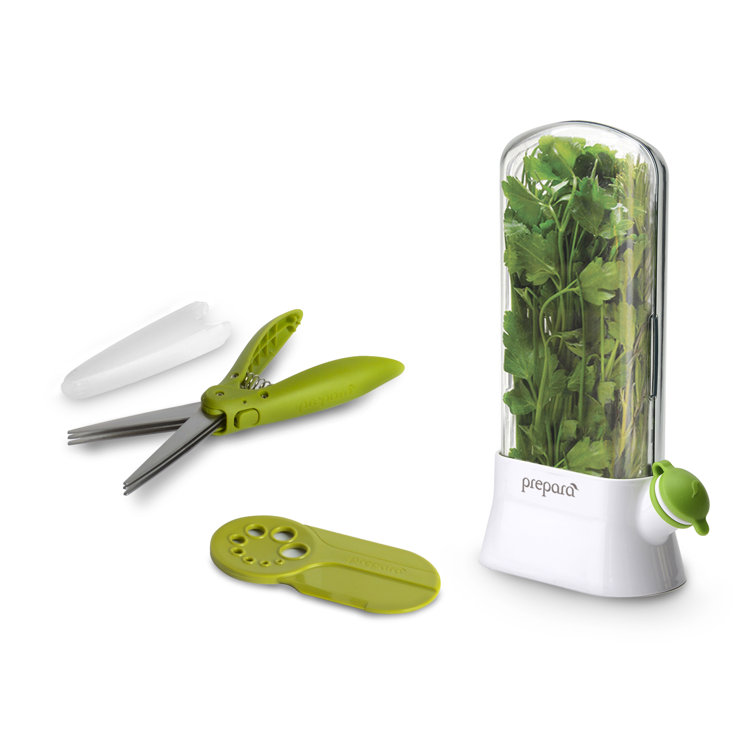 Top Features:
Preserves fresh herbs
Includes herb shear
Strips leaves off stems
Chefs use a large variety and quantity of herbs when cooking — and we're glad they do. Herbs are tasty additions to food, but unfortunately, they don't always last long in the refrigerator. This herb toolset can help preserve herbs so they last longer and don't spoil before they're used.
The set also comes with a cool tool that can be used on woody herbs such as rosemary and oregano — it effortlessly pulls the leaves right off. They'll also receive herb shears that cut but don't bruise the produce.
View Prepara 3-Piece Chef's Eco Herb Tool Set on Wayfair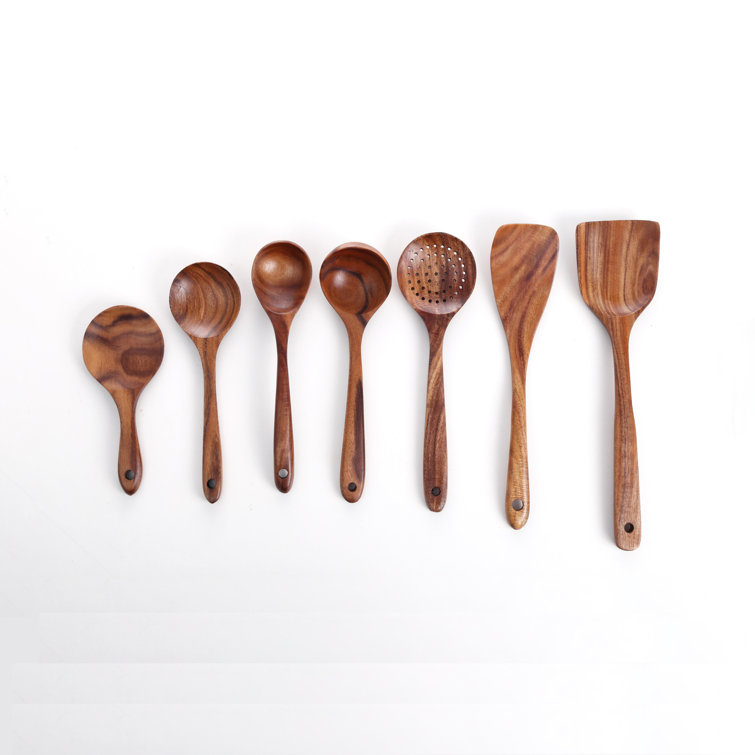 Top Features:
Beautiful teak wood
Chemical-free
Smooth feeling
Some chefs prefer using stainless steel spoons, but others can't imagine using anything other than wooden spoons because it reminds them of watching their grandmother cook for them. This teak wood spoon set will feel old-school enough for those wanting to honor their roots, while still being beautiful enough for them to show off with pride.
View Morena 7-Piece Wooden Kitchen Utensil Set on Wayfair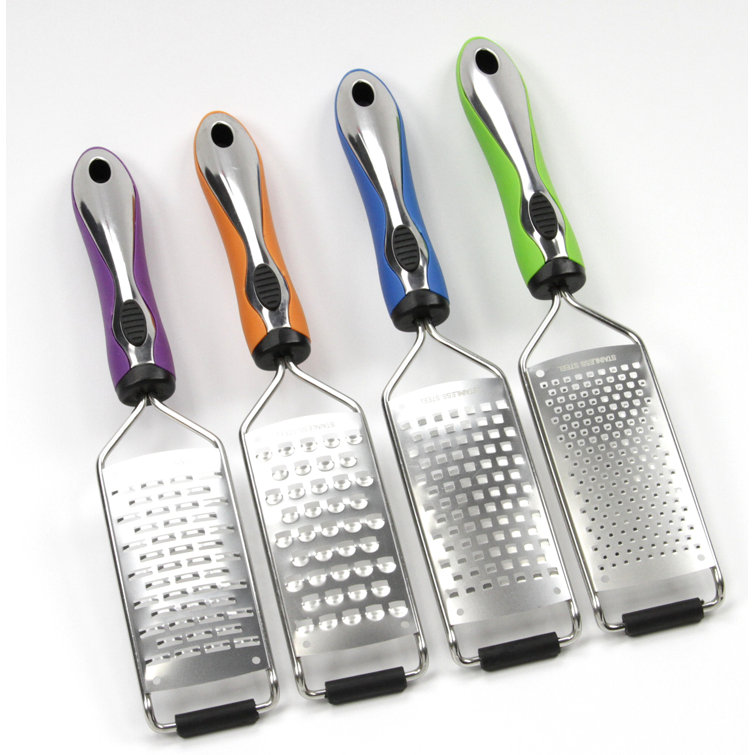 Top Features:
Four graters
Dishwasher safe
Soft hand grips for comfort
Chefs know all about the mysterious flavor powers of zest. Whether they're grating lemon or a big hunk of pungent cheese, the grating can be a kitchen chore if you don't have the right tools. This four-piece set includes fine, medium, ribbon, and coarse graters. They all have soft grips on them to make the task a bit more comfortable.
View Chef Craft Four-Piece Grater Set on Wayfair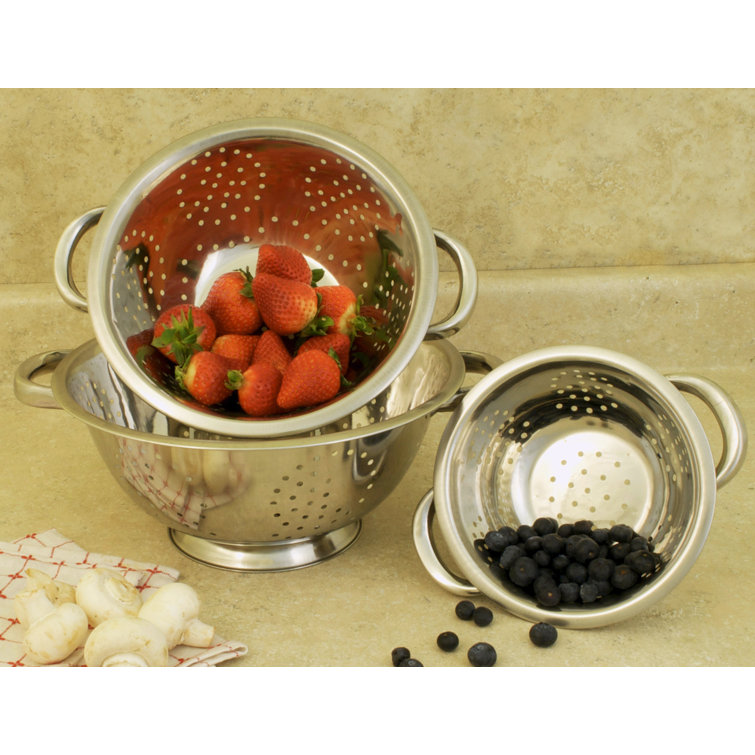 Top Features:
Three colanders
Nesting design
Dishwasher safe
No self-respecting chef would want to ever use a plastic colander — and they won't have to with this three-piece set. These strainers have large handles, giving the chef a firm grip on their food. With three colander sizes to choose from, there's one suited to handle the job — whether you have a lot of food or a little.
This set will work with potatoes, vegetables, meats, pasta, or anything else you can throw at it.
View Cook Pro Stainless Steel Colander Set on Wayfair
Bonus Idea Lists:
---
Researching the Best Gifts for Chefs this Year
Good Gifts for Chefs
Good gifts for chefs are items that will enhance their culinary skills, inspire creativity, and make their work in the kitchen more efficient and enjoyable. They might be high-quality kitchen utensils, unique ingredients, kitchen gadgets, recipe books, or chef-specific clothing. They should be functional, durable, innovative, and preferably unique to show appreciation for their passion for cooking.
I. Kitchen Gadgets
Immersion Blender
Great for making sauces, soups, and smoothies right in the pot or glass.
Saves time and reduces the amount of cleaning compared to a traditional blender.
Price range: $30 – $100.
Available on: Amazon, Walmart, and Target.
Sous Vide Machine
Offers precise temperature control, enabling the chef to achieve perfectly cooked meals.
Inspires creativity by allowing for new cooking techniques.
Price range: $70 – $200.
Available on: Amazon, Target.
Digital Kitchen Scale
Promotes accuracy in measuring ingredients, improving consistency of recipes.
Compact and easy to clean.
Price range: $10 – $50.
Available on: Amazon, Walmart, and Target.
Instant Pot
A multi-cooker that can function as a pressure cooker, slow cooker, rice cooker, and more.
Saves time and space in the kitchen.
Price range: $70 – $150.
Available on: Amazon, Walmart, and Target.
Bread Maker
Allows chefs to easily make homemade bread, providing control over ingredients.
Promotes the exploration of different types of bread recipes.
Price range: $50 – $200.
Available on: Amazon, Walmart.
II. High-Quality Kitchen Utensils
Chef's Knife
Essential for every chef; used in almost every dish preparation.
A high-quality chef's knife will be sharp, durable, and comfortable to use.
Price range: $30 – $200.
Available on: Amazon, Walmart, and Target.
Cast Iron Skillet
Versatile and durable; great for searing, sautéing, baking, and more.
Retains heat well, ensuring even cooking.
Price range: $20 – $200.
Available on: Amazon, Walmart, and Target.
Mandoline Slicer
Allows for quick and uniform slicing of fruits and vegetables.
Promotes efficiency in the kitchen.
Price range: $20 – $70.
Available on: Amazon, Walmart, and Target.
Dutch Oven
Excellent for slow cooking, braising, making soups, and more.
Durable and retains heat well.
Price range: $40 – $350.
Available on: Amazon, Target.
Microplane Grater
Perfect for finely grating cheese, zesting citrus, and more.
Enhances flavor in dishes.
Price range: $10 – $30.
Available on: Amazon, Walmart, Target.
III. Unique Ingredients
Gourmet Spice Kit
Expands the chef's palate and inspires creativity with new flavors.
High-quality spices can dramatically improve the taste of dishes.
Price range: $20 – $100.
Available on: Amazon, and specialty food stores.
Truffle Oil
Adds a gourmet touch to dishes.
Unique flavor can elevate dishes to the next level.
Price range: $15 – $40.
Available on: Amazon, Walmart.
Artisanal Sea Salts
Introduces a variety of flavors and textures to dishes.
High-quality salts can enhance the taste of dishes.
Price range: $10 – $50.
Available on: Amazon, and specialty food stores.
Exotic Dried Mushrooms
Brings unique flavors and textures to various dishes.
Great for expanding culinary creativity.
Price range: $15 – $50.
Available on: Amazon, and specialty food stores.
Premium Olive Oil Set
High-quality olive oil can make a difference in flavor.
Inspires the chef to experiment with different types of olive oil.
Price range: $20 – $100.
Available on: Amazon, and specialty food stores.
IV. Cookbooks
"The Joy of Cooking" by Irma S. Rombauer
An essential cookbook with a wide range of recipes, from basic to gourmet.
Great for inspiration and improving culinary skills.
Price range: $20 – $40.
Available on: Amazon, Target.
"Mastering the Art of French Cooking" by Julia Child
A classic cookbook for learning French cuisine.
Inspires mastery and exploration of new culinary techniques.
Price range: $25 – $50.
Available on: Amazon, Target.
"The Flavor Bible" by Karen Page and Andrew Dornenburg
Encourages creativity by detailing flavor profiles and pairing suggestions.
Helps chefs design their own recipes.
Price range: $20 – $40.
Available on: Amazon, Target.
"Salt, Fat, Acid, Heat" by Samin Nosrat
Teaches the fundamentals of cooking and how to balance key elements in dishes.
Provides a foundation for creating delicious meals.
Price range: $20 – $35.
Available on: Amazon, Target.
"Ottolenghi Simple" by Yotam Ottolenghi
Features approachable and creative recipes that still feel special.
Encourages chefs to experiment with flavors and techniques.
Price range: $20 – $40.
Available on: Amazon, Target.
V. Chef Attire
Professional Chef's Apron
Protects clothing from spills and splatters.
Often has pockets for carrying essential tools.
Price range: $20 – $60.
Available on: Amazon, Walmart, and Target.
Chef's Hat
Keeps hair out of the face and food.
Enhances the professional feel of cooking.
Price range: $10 – $30.
Available on: Amazon, Walmart, and Target.
Chef's Jacket
Provides a professional appearance.
Protects against heat and splatters.
Price range: $20 – $100.
Available on: Amazon, Walmart, and Target.
Chef Pants
Comfortable and designed for mobility in the kitchen.
Resistant to stains and splatters.
Price range: $20 – $80.
Available on: Amazon, Walmart, and Target.
Non-Slip Kitchen Shoes
Provides safety in the kitchen by preventing slips and falls.
Designed for comfort during long hours standing.
Price range: $30 – $100.
Available on: Amazon, Walmart, and Target.
FAQs about Gifts for Chefs
1. What do you get a chef who has everything?
If the chef seems to have every kitchen gadget under the sun, consider unique ingredients or cookbooks for inspiration. High-quality chef attire or a personalized chef's apron could also be a unique and appreciated gift.
2. Is it appropriate to buy cooking utensils for a professional chef?
Yes, a professional chef always appreciates high-quality cooking utensils. However, it's important to choose high-quality, durable items, as chefs require equipment that can withstand heavy use.
3. Are cooking books a good gift for chefs?
Absolutely. Even experienced chefs can find inspiration in a well-written cookbook. Look for books that delve into a specific cuisine, technique, or offer unique and innovative recipes.
4. Should I choose a practical or a fun gift for a chef?
It depends on the chef's personality and needs. If they're serious about their craft, they might appreciate a practical, high-quality tool. If they love to experiment, a fun gadget or unique ingredient could be perfect.
5. Can I give a gift related to cooking to a chef for their personal use?
Yes, just because cooking is their profession doesn't mean chefs don't enjoy cooking at home. A gadget that simplifies cooking or an ingredient that's a real treat can make cooking at home more enjoyable.
Framework for Buying Gifts for Chefs
Consider their needs: Look at what tools or equipment they currently have. Is anything missing or in need of an upgrade?
Consider their style: Does the chef enjoy traditional cooking, or do they like to experiment with flavors and techniques? This can guide your choice of cookbooks, ingredients, or gadgets.
Consider their comfort: Cooking often involves long hours on their feet. Gifts like chef attire and comfortable, non-slip shoes can be greatly appreciated.
Consider their taste: If you know the chef's favorite cuisines or flavors, these can be good indicators for ingredients, cookbooks, or specific cooking tools to buy.
Consider the quality: Chefs appreciate high-quality items. It's better to invest in one high-quality item than multiple items of lesser quality.
Remember, the best gifts come from understanding the recipient's passion and recognizing their needs. When you choose a gift that aligns with their passion for cooking, it will surely be appreciated.