The Design Home is reader-supported. When you buy through links on our site, we may earn an affiliate commission.
There's nothing better than waking up to the smell of freshly-brewed coffee.
And nothing worse than being woken up by a hair-raising loud coffee grinder when you're trying to get your 8 hours.
And worse than that? Waking up your baby.
The baby woke you up too many times last night, and the last thing you want to do is repay the favor by waking the little babe when you need your precious alone time to get ready for the day.
With many former office professionals working from home (perhaps in your backyard office), a silent coffee grinder that won't wake the other house members is critical to keep the peace.
The only thing better than any coffee is perfect coffee. And perfect coffee can only be made with freshly ground beans.
Your reliable daily coffee grinder makes it possible to grind whole beans like your local hipster barista immediately before brewing.
Freshly roasted and freshly ground coffee prevents premature oxidation, which means delicious coffee with the full-flavor the bean was brought to this earth to provide.
But coffee grinders can be loud and disruptive, especially first thing in the morning. In fact, I've had to resort to drinking bottled cold-brew on the rare days I got up before the baby.
Sounds hopeless?
Don't worry, we've done the research and found some that reduce that grind to just a purr.
We present to you: the 8 best quiet coffee grinders for 2023. Enjoy the perfect cup of coffee without a racket.
But first:
What actually affects whether a coffee grinder will be silent or loud?
The loudness of a coffee grinder can be affected by a variety of factors, including:
Motor power: The more powerful the motor, the louder the grinder may be.
Blade type: The type and quality of the blades can affect the amount of noise they produce during grinding.
Grinding speed: The faster the grinder operates, the louder it may be.
Size and weight: Larger and heavier grinders may produce more noise due to the increased vibration.
Enclosure and insulation: The design of the grinder's housing and the materials used for insulation can also affect the amount of noise it produces.
It's worth noting that different types of coffee grinders can also produce different levels of noise. For example, burr grinders tend to be quieter than blade grinders, as they produce a more consistent grind with less friction and heat. Additionally, the quality of the grinder itself can also impact the noise level, as higher-end models often feature better insulation and noise-reducing materials.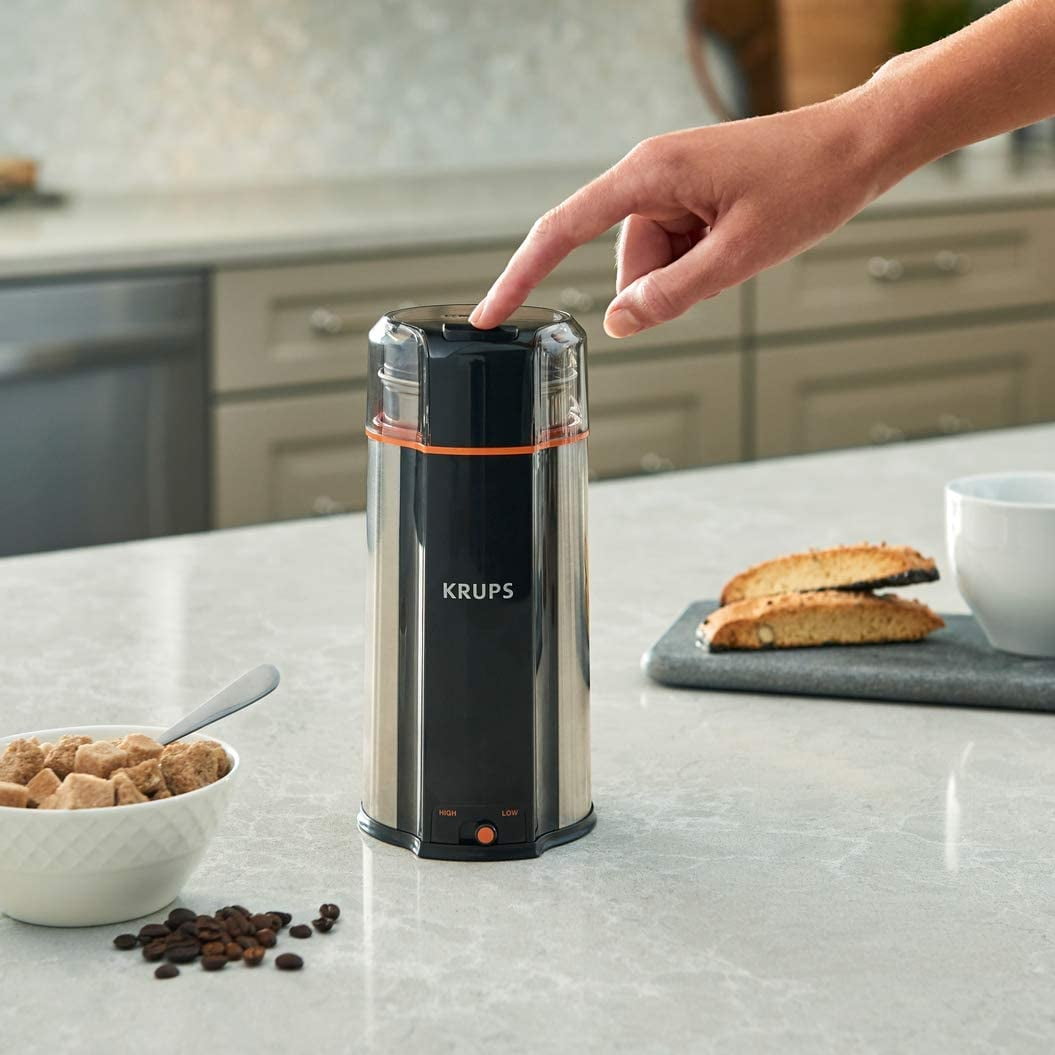 Top features you should care about:
Coffee capacity: 85 grams
Digital display: No
Material: Stainless steel
Grind operation: Automatic
Grind settings: None
Versatile: Yes
Warranty: Limited
Our top pick for the majority of brewers is also one of the best electric grinders available on the market.
A lot of reviewers believe that this grinder is one of the best if not the best grinder that they have ever purchased. Although small in size, this versatile grinder works perfectly in fine grinding coffee and spices.
The sleek and modern design of the grinder also attracted the attention of the reviewers and their guests. It has the perfect size and design that fits perfectly on the countertop.
If you're still not impressed, the silent vortex technology makes it the perfect grinder if you don't want to make a lot of unnecessary sounds. Technically you can still hear it, but it's much more quiet compared to other electric grinders.
Are there flaws?
Manufacturers have yet to create something that is perfect. It does perform wonderfully, but there are a few reviewers who complained that the grinder is a bit hard to clean inside and out. And the fact that there aren't any grinder settings is a bit too complicated for novice grinders.
You might be tired of hearing the cliche "nothing is perfect", but overall this is one of the best grinders that is available on the market.
View KRUPS Ultimate Super Silent on Amazon
View KRUPS Silent Vortex on Walmart.com
Coffee capacity: 99.6 grams
Digital display: No
Material: Stainless steel
Grind operation: Automatic
Grind settings: None
Versatile: Yes
Warranty: Limited
Silent Vortex.
Silent Vortex.
Is there a more enticing name for a coffee grinder? I think not. The marketing team came up with a name that perfectly describes our mission here: find a silent little high-tech beast to create a tornado of freshly-ground beans ready for your coffee maker.
One of the best pick for most people is also one of the cheapest coffee grinders available.
It's got patent pending Vortex Spin Technology to grind enough beans for 12 cups of coffee in just 15 seconds. That's more than I need for the first bump of the day.
Most reviewers agree that this machine is as quiet as the name suggests. While not perfectly silent – don't use it in the same room as a sleeping baby – it seems to be quiet enough for most reasonable consumers.
Users also love how easy it is to use, and can forgo some fancier features in favor of a simple machine.
According to KRUPS, it's "5 times more silent than KRUPS F203 Grinder." Calling you out, F203 product manager!
Bonus: not only will this grind those precious little caffeine nuggets, but you can throw in any type of herb in there and let this thing grind it up for your recipe. Boom – two for one action!
Downsides?
This thing isn't perfect. One reviewer said it's hard to clean out. Others complain about only having one grind setting – which is definitely important in our book.
At the end of the day, if you want a cheap and quiet grinder and aren't too fussy about all the top features, this is your go-to. But if you want something more full-featured AND quiet, continue reading.
View the Silent Vortex on Amazon
View Silent Vortex at Target.com
Coffee capacity: 40 grams
Digital display: No
Material: Stainless steel
Grind operation: Manual
Grind settings: 18 setting
Versatile: Yes
Warranty: 6 months
A surefire way to ensure a coffee grinder is quiet is to opt for a manual grinder.
We know, we know, what is this the 18th century?
But if you don't mind a bit of a workout in the morning, manual grinders really are among the quietest coffee grinder options out there. Think of it as a tricep warm up before you go banging on your keyboard for the rest of the day.
We bring to you the #1 ranked manual grinder on Amazon, with over 10,000 reviews.
The JavaPresse manual grinder features a ceramic conical burr for long-lasting durability. The conical burr pushes beans through the cone-shaped blades to provide a uniform ground. A total of 18 grind selector settings provides absolute control over the ground size.
Sleek Style
The grinder also features a cylindrical design and a brushed stainless-steel casing that makes for a sleek (dare we say svelte?) addition to your kitchen countertop. Grounds fall into an integrated cup that is easily removed, so it can be neatly emptied into a brewing vessel.
Overall a pretty easy to use manual grinder with amazing feedback from users. A no-brainer if you're considering the old-school method.
Coffee capacity: 226 grams
Digital display: Yes
Material: Metal, plastic
Grind operation: Automatic
Grind settings: 40 settings
Versatile: No
Warranty: 1 year
The Baratza Virtuoso conical burr coffee grinder means business. This powered grinder delivers professional-quality results and is built to operate quietly. The drive gear was designed with the specific purpose of being quiet without sacrificing a quality grind for a peaceful coffee grinding experience.
Versatile
The Baratza Virtuoso grinder boasts a total of 40 grind settings that range from 200 to 1200 microns. The removable catch hopper makes it easy to empty freshly ground coffee, and the stylish and professional appearance will make your kitchen resemble a top-notch coffee house.
5. Best Beast Mode Grinder: KitchenAid Contour Burr Coffee Grinder
Coffee capacity: 198 grams
Digital display: No
Material: Zinc
Grind operation: Automatic
Grind settings: 15 settings
Versatile: No
Warranty: 1 year
Modeled to look like their ubiquitous mixers, the KitchenAid contour burr coffee grinder is a serious contender when it comes to quiet coffee grinders.
The bean hopper can accommodate up to seven ounces of beans, and 15 grind settings let you easily dial into just the right size for your preferred brew method. Stainless-steel blades are durable and withstand regular use with ease.
Keeping It Cool
The KitchenAid grinder is designed to work cool. The benefits of working cool are twofold. Cool operation preserves the flavor of the beans, and it also delivers quieter operation.
This grinder will set you back a pretty penny, but if it fits the budget, it may just be worth it.
See the KitchenAid Contour on Amazon
Coffee capacity: 249 grams
Digital display: No
Material: ABS
Grind operation: Automatic
Grind settings: 10 settings
Versatile: No
Warranty: 1 year
What the Capresso Infinity burr grinder lacks in good looks it makes up for in quality and quiet performance.
This grinder has a very commercial look and is not as decorative as some of the other options available. Equipped with commercial-grade steel conical burrs, this grinder offers high precision grinding in 16 levels of fineness.
Built to Be Quiet
The Capresso Infinity grinder features a gear reduction motor that slowly and thoroughly grinds beans with reduced noise. The slow grind speed reduces friction and heat buildup which locks in flavor, and aroma for a more tasty brew.
Coffee capacity: 21 grams
Digital display: No
Material: Stainless steel
Grind operation: Manual
Grind settings: None
Versatile: Yes
Warranty: 1 year
Serious barista alert!
If you want more art gallery than disposable appliance, we've got one just for you.
Hand crank operation definitely contributes to the quiet operation of the Orphan Espresso Pharos manual coffee grinder. The stainless-steel burrs can easily be adjusted to deliver a variety of fineness settings.
Made by Hand
Each Pharos grinder is assembled by hand and delivers precision results. The grinder can also be taken apart for thorough cleaning. All of the parts are replaceable, too. Should there ever be an issue, you can simply swap out parts to get your OE Pharos grinder up and running again. This grinder also has a really sleek and modern look for added appeal.
Check out the Orphan Espresso Pharos
Coffee capacity: 510 grams
Digital display: Yes
Material: Stainless steel
Grind operation: Automatic
Grind settings: 60 settings
Versatile: Yes
Warranty: 2 years
Take your grinding high-tech with the Smart Grinder Pro from Breville. This thing might be smarter than your dog (sorry!).
An impressive 60 grind settings deliver a high level of precision for ultimate control.
Adjust the grind time in increments of 0.2 seconds with the electronic timer. As far as powered coffee grinders go this model is relatively quiet, making it a welcome addition in most homes.
Built to Last
Stainless-steel conical burrs reduce heat generated by grinding which protects the oils in the beans and preserves the taste and flavor. The bean hopper has a 16-ounce capacity, and ground beans are deposited directly into a portafilter for easy brewing.
See the Breville The Smart Grinder Pro on Amazon
9. Hario Ceramic Canister Coffee Mill
Coffee capacity: 120 grams
Digital display: No
Material: Steel, ceramic, natural wood
Grind operation: Manual
Grind settings: No
Versatile: Yes
Warranty: 1 year
The Hario ceramic canister coffee mill delivers both in terms of quiet operation and style. The manual crank design minimizes noise, while the burrs can be adjusted to create a range of ground sizes.
Instead of aggressively slicing beans like a ninja as a blade grinder does, a conical burr grinder gently shaves the beans with ceramic. It's a gentler, less machismo way of transitioning those coffee beans from whole plant product to human rocket fuel.
The grinding components are part of the lid that is attached via a hinge to a glass canister. The canister features a rubber sleeve on the bottom that keeps the grinder in place when in use.
Neat Storage
As coffee beans are ground, they fall into the glass canister. Extra grounds can be stored in the canister for added convenience. The lid features a rubber gasket, and a cork stopper can be placed in the lid to keep ground coffee fresh.
Get this tender little thing on Amazon
View on Hario (slower shipping)
Find the Right Coffee Grinder in 2023
You don't grind because you have to.
You grind because you want to.
It's a simple ritual you can do every morning as a silent revolution against every part of your day becoming commoditized and optimized.
The act of preparing fresh beans with real-time grinding before creating a magical warm elixir in your cup is just a sane way to transition from deep sleep to focused work.
Don't disrupt that flow with an outrageous machine that sounds like a power tool. Invest in a quiet grinder that makes it possible to enjoy freshly ground coffee without disrupting harmony.
Quiet Coffee Grinders Comparison Table
| | | | | | | | | | |
| --- | --- | --- | --- | --- | --- | --- | --- | --- | --- |
| Product name | KRUPS GX336D50 | Krups Silent Vortex | Javapress Manual Grinder | Baratza Virtuoso | KitchenAid Contour | Capresso Infinity | Orphan Espresso Pharos | Breville Smart Grinder Pro | Hario Ceramic Canister |
| Coffee capacity | 85 grams | 99.6 grams | 40 grams | 226 grams | 198 grams | 249 grams | 21 grams | 510 grams | 120 grams |
| Digital display | No | No | No | Yes | No | No | No | Yes | No |
| Material | Stainless steel | Stainless steel | Stainless steel | Metal, plastic | Zinc | ABS | Stainless steel | Stainless steel | Steel, ceramic, natural wood |
| Grind operation | Automatic | Automatic | Manual | Automatic | Automatic | Automatic | Manual | Automatic | Manual |
| Grind settings | None | None | 18 setting | 40 settings | 15 settings | 10 settings | None | 60 settings | No |
| Versatile | Yes | Yes | Yes | No | No | No | Yes | Yes | Yes |
| Warranty | Limited | Limited | 6 months | 1 year | 1 year | 1 year | 1 year | 2 years | 1 year |
What are the different coffee grounds types?
There are three main types of coffee grinder grinds: coarse, medium, and fine. Coarse grinds are typically used for French press or cold brew coffee, while medium grinds are used for drip or pour-over coffee, and fine grinds are used for espresso machines.
What are the different grinder types and which is best?
Canonical burr grinders are the best widely available grinder types.
A canonical burr grinder is a type of coffee grinder that uses two abrasive surfaces (called burrs) to grind the coffee beans to a consistent size. Burr grinders are known for producing a more uniform grind than blade grinders, which can result in better-tasting coffee. They also tend to be more durable and longer-lasting than blade grinders.
Other types of coffee grinders include blade grinders, which use a spinning blade to chop the beans, and manual grinders, which require hand-cranking to grind the beans. While these types of grinders can be more affordable than burr grinders, they may produce a less consistent grind and can be more labor-intensive to use.
What are the best coffee grinder brands?
The best coffee grinder brands depend on what your prefer. There are several common factors, including your specific needs, preferences, and budget. That being said, some of the most highly regarded brands in the coffee industry for their grinders include:
Baratza – Baratza is a highly respected brand that offers a wide range of grinders to suit various needs and budgets, from entry-level options to high-end models.
Breville – Breville is known for producing high-quality, user-friendly coffee grinders that offer precise and consistent grinding performance.
Rancilio – Rancilio is a brand that specializes in commercial-grade coffee grinders, but also offers some high-end options for home use.
Mazzer – Mazzer is another brand that is well-known for its commercial-grade grinders, but also offers high-end home models that are highly regarded by coffee enthusiasts.
OXO – OXO is a brand that produces a range of kitchen appliances, including coffee grinders, that are known for their intuitive design and user-friendliness.
Personally, I'd go with Baratza or Capresso for higher-quality Italian brands that are approachable. That being said, Breville and OXO are great mass-market, yet higher-end American brands that have great reviews.
I admit I bought an off-brand Chinese brand grinder off Amazon based on a bunch of shoddy reviews, and it's ok but the grounds get everywhere and it's a bit loud. I'd recommend sticking with a name brand.
Coffee Grinder FAQs
What decibel level should the coffee grinder be under to not wake up other people in the house?
Ideally keep it under 30 decibels. Noise levels of 30 decibels (dB) or lower are very quiet and are unlikely to disturb most people's sleep. However, keep in mind that some people (or babies) may be more sensitive to noise and sudden, intermittent, or high-pitched noises may be more likely to wake them up.
30 decibels may be unrealistic, so keeping it under the 50-70 dB range may be a better goal. Also, if you use a white noise machine in the room where the people are sleeping, that should additionally help drown out any additional noises.
How often should you replace your coffee grinder?
Some well-built coffee grinders can last 5-10 years or more. If you buy mass-market products, they usually break down at a certain point, and to be proactive we recommend replacing your coffee grinder every 3-5 years on average. If you're not sure, inspect the wire quality, blade sharpness, and listen to the motor sounds to determine if you need a new one.
How should you care for and replace the grinder blades?

Yep, the blades on a coffee grinder can get dull with overuse – they're not invincible like Superman after a triple espresso. If you want to sharpen them, you'll need to remove the blade and use a sharpening stone or file. But let's be real, if you're not skilled at sharpening, you might end up with more grounds in your coffee than a caffeine junkie's French press. So, it's probably easier to just replace the blade or upgrade to a new grinder. After all, a good coffee grinder is like a loyal friend: it grinds your beans, stays by your side, and never judges you for needing that third cup of joe.
What is your favorite coffee joke?
I used to drink coffee to stay awake, but then I realized that it just makes me jittery and anxious. Now I drink it for the taste – kind of like how I eat chocolate cake for the protein.
Complete your in-home cafe with a new coffee table too:
Bonus: This is a great gift idea.
Looking for a gift for a coffee-lover? Quiet coffee grinders are actually the perfect gift for them. They may be used to their old machine, but don't love it. With the quality of products upgrading all the time, they'll appreciate a new model to replace an older machine that's waking up the kids every morning.
Update June 29, 2020: Added a new #1 pick and clarified some details as well as adding product links.
Update Nov 5, 2020: Added a few more notes under a few products, edited link errors.
Update Feb 8, 2021: Added new #1 pick overall.
Update May 16, 2022: Reviewed products for quality, updating some data and links. Updated dates throughout.
Update Feb 21, 2023: Replaced dead images with new ones. Updated hero image. Updated review dates. Reviewed all product listings for quality. Added more helpful content for reader.