The Design Home is reader-supported. When you buy through links on our site, we may earn an affiliate commission.
Black, brushed nickel, oiled bronze, chrome — the possibilities are endless when it comes to metallic finishes. However, there is one that truly stands out from the rest — copper.
Copper is a timeless accent metal that is easily incorporated into any style of decor and mixes well with other finishes (like your stainless steel fridge). If it's good enough for the Statue of Liberty and Honest Abe's profile, it is most certainly good enough for us.
Here are nine great copper kitchen accent pieces to make your space shine.
Sale
Top Features:
Fits standard and jumbo-sized rolls
Features a handle for easy carrying
Durable
You want to try copper, but you're a little nervous? Totally understandable. Start small with this sleek paper towel holder. Although a modern, minimalist design, its simplicity will fit in with any style of decor. Its small footprint conserves precious counter space, and the sturdy construction makes it easy to tear off a paper towel without the holder tipping or leaning.
The round base keeps the holder vertical for stable support on tables, countertops, and bars. The easy-to-clean paper towel holder can be wiped off with a damp cloth and towel-dried, so there's no reason to worry about drips or splatters getting on the surface. Both standard and jumbo rolls of paper towels fit inside the holder, so you can choose your favorite brands with confidence. 
Easily transport the lightweight paper towel holder from counter to table by grabbing the loop at the top. This copper paper towel holder is ideal for the homeowner who wants to keep paper towels nearby for a quick cleanup without sacrificing style and sophistication. 
View Spectrum Diversified Copper Paper Towel Holder Roll on Amazon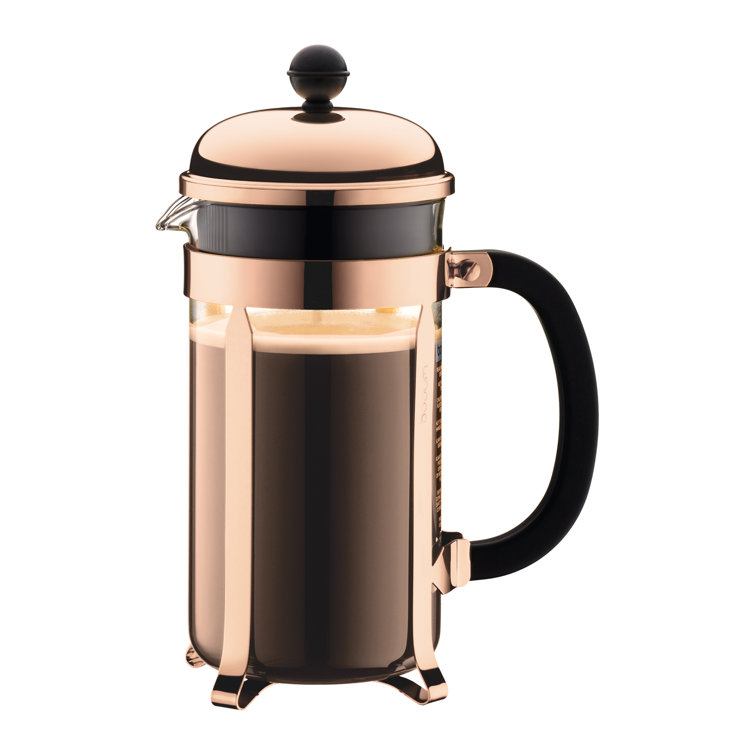 Top Features:
Tasty coffee in just 4 minutes
Comfortable handle
Timeless design
Bye, bye drip…hello, press. If you're a coffee-lover, look no further. This copper French press is what made us fall in love with copper kitchen accessories in the first place. Originally designed in the 1950s, this classic French press is utterly timeless and the model of elegance, sophistication, and, of course, perfect coffee. 
Its matte black handle not only gives a comfortable grip while serving but adds to the classic quality of the design. The French press system has always been the simplest and ultimate way of brewing an excellent cup of coffee and having this copper gem on your countertop will start your day off right. 
View Bodum Chambord Copper French Press Coffee Maker on Wayfair
Sale
Top Features:
Compact design
Precision nozzle
Includes one BPA-free water bottle
When you're finally done with your morning coffee, do you find yourself consuming an exorbitant amount of a certain popular seltzer throughout the rest of the day?! If so, perhaps, it's time to start making your own.
Making sparkling water at home has never been this elegant. This copper carbonator is designed from the inside out to be the slimmest, most compact sparkling water maker. The most striking new feature is the redesigned precision nozzle, which is a CNC-machined from a single piece of stainless steel. The result is a beautifully polished nozzle that produces a smooth, controlled spray beam. 
Forget the plastic soda makers of the past – when it comes down to performance, environmental impact, and standing the test of time, it's no contest. This copper kitchen appliance will bring your countertop to the next level.
View Aarke – Copper Carbonator III Premium Sparkling Water Maker on Amazon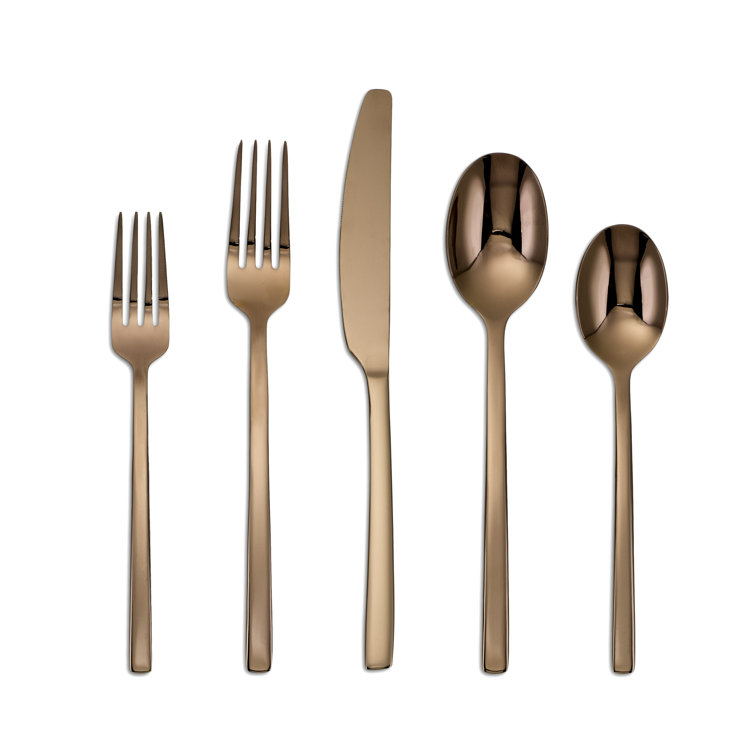 Top Features
Service for 4
Dishwasher safe
Sustainably sourced
We can't seem to break the habit of calling it silverware, even though that's clearly an oxymoron when discussing this beautiful copper flatware set. Flatware should never be an afterthought. Whether subtle or a standout, utensils help define your tablescape for both casual meals and upscale entertaining.
Take this 20-piece set, for example. It's perfect for a pop of style thanks to its matte metallic copper finish. This set includes a salad fork, dinner fork, dinner knife, dinner spoon, and a teaspoon for four, each crafted from dishwasher-safe stainless steel for quick and easy cleaning. Be careful while cleaning, however — some users complained of the finish coming off the flatware.
View HamLake 20-Piece Copper Flatware Set on Wayfair
Top Features:
Optimal organization
Quick dry
Durable
Copper is like sunshine on a cloudy day. There is just something so cheery about it, even when we're talking about something totally simple and utilitarian like this wire sponge holder. Whether you have a white farmhouse sink or a classic stainless steel sink, the pop of copper color from this sponge holder will make cleaning and organizing more fun.
This copper wire sponge holder keeps sponges and scrubbers organized right at the sink with suction cups to secure it in place. The smart, rust-resistant, open-wire design allows sponges to fully dry after use. To clean, simply hand wash with warm water and mild soap.
View Farberware Copper Wire Sponge Holder on Amazon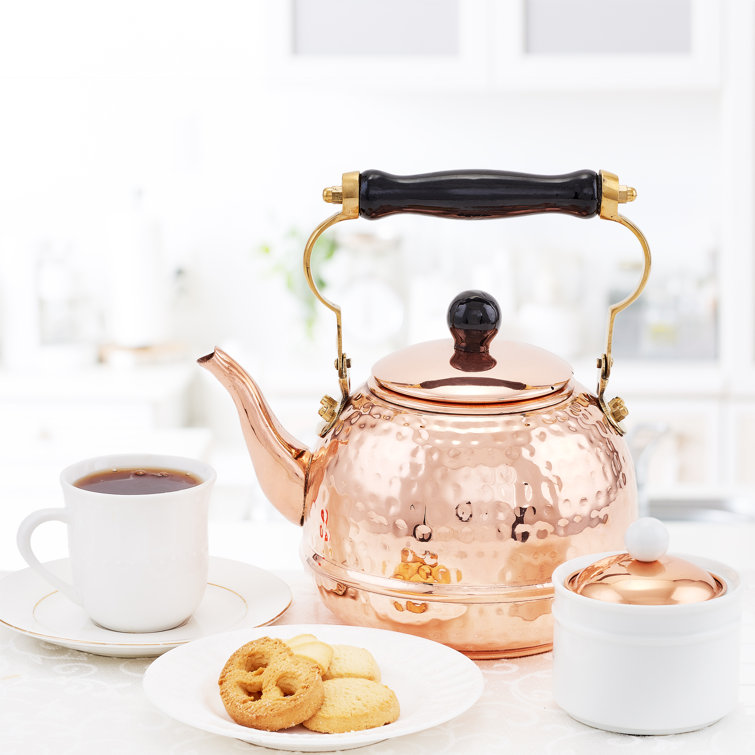 Top Features:
Polished copper
Rust-resistant
Durable
There is something so timeless about a copper kettle, especially this one with its old European design. Whether you're a tea lover, looking to heat up water for that beautiful French press that we discussed earlier, or just love the old-world style, this stovetop tea kettle is an amazing copper kitchen accent. 
This durable kettle is made using sturdy polished copper and is resistant to rust, stain, and warp. Its curved, gooseneck spout ensures no dripping and its black, heat-proof handle ensures a firm grip. To maintain this copper stovetop tea kettle, you can wipe it regularly with a clean cloth.
View Old Dutch International Two-Quart Copper Stovetop Kettle on Wayfair
Top Features
Premium stainless steel
Glass lids
Dishwasher safe
This elegant cookware set is the perfect marriage between stainless and copper and will look stunning on your stovetop or in your oven. Don't feel like washing serving dishes after your meal? Skip them all together — slap these suckers on a trivet and serve away. No one will even flinch, they are that pretty!
Easily prepare a variety of dishes from quick tasks to complete meals while you illuminate your kitchen with this copper stainless steel cookware set. A professional stainless steel interior with a copper exterior complements any kitchen. This set is dishwasher safe to make cleanup effortless. The sleek tempered glass lids allow easy monitoring of food during cooking and complete this classic design. 
View Cuisinart Copper Chef's Classic Stainless Cookware Set on Amazon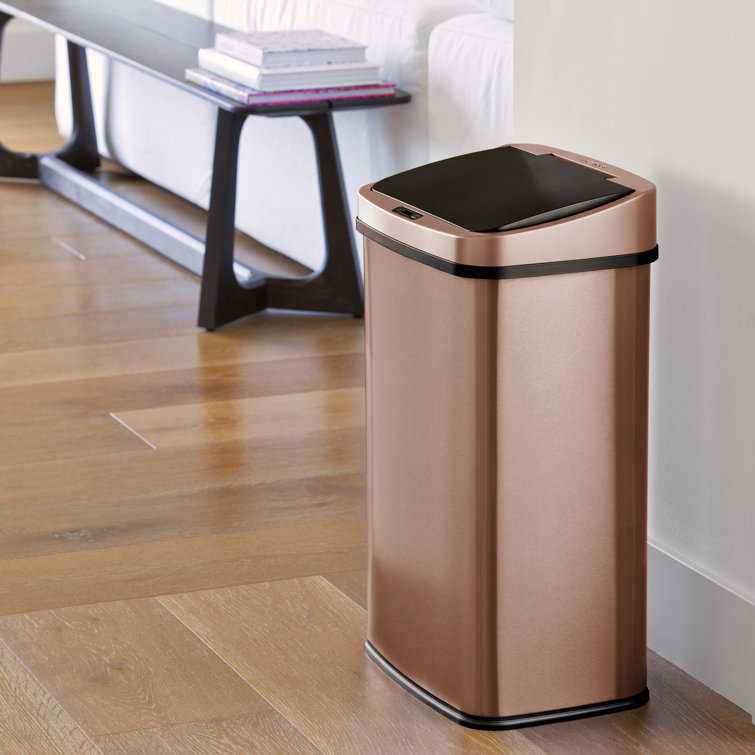 Top Features:
Battery operated
Hands-free design
Durable
We know, we know, trash cans aren't exactly glamorous, but they are so utterly necessary. This battery-operated copper trash can is ideal for kitchen use. Just place your hand in the sensor range and the lid will automatically open for you. No more worrying about nasty raw chicken hands (We get it! We've all been there!). When you are out of the sensor range, the lid will automatically close.
The best part is that two D batteries are good for a combination of 10,000 open and closes. This trash can also has a ring liner that will hold and conceal the trash bag within the trash can. Plus, there is absolutely no need to touch the trash can ever, but if someone does, the surface is fingerprint-resistant. Win, win!   
View Copper Stainless Steel 13.2-Gallon Motion Sensor Trash Can on Wayfair             
Sale
Top Features
Hanging holes
Vibrant luster
Durable  
Make your kitchen shine with this five-piece set of beautiful and functional copper cooking utensils. This stylish and sophisticated copper kitchen utensil set includes a serving spoon, pasta serving fork, slotted spatula, kitchen skimmer, and soup ladle. They are lightweight, easy to clean, and corrosion-resistant. However, the secret ingredient to cooking is always love, so please give these beauties some love by keeping them out of the dishwasher. It is recommended that you hand wash only to maintain their vibrant luster. 
Whether you use the hanging holes to display and help keep your kitchen organized, place them in an amazing crock on your countertop or tuck them neatly away in a drawer, this utensil set will certainly up your cooking and serving game.
View Copper Cooking Utensils on Amazon
How to Decide if Copper is Right for You
If you're attracted to the look of copper, then it is right for you. Whether you buy one piece, ten pieces, or go all-out copper crazy like Martha Stewart just did in her Bedford kitchen, copper is an elegant and timeless addition to any kitchen no matter what the style.
Food for Thought – Copper Kitchen Accessories
Solid copper anything is expensive, so many of the affordable copper kitchen accents, appliances, and accessories that are on the market today are actually stainless steel coated in a copper finish. That being said, if you are going for real, solid copper make sure that you prepare yourself for the investment and research, research, research.
If you are going for inexpensive, fun, copper kitchen accessories, then make sure you read the care instructions. Most of these items are dishwasher safe, but hand washing is always better. If the finish does contain even a percentage of real copper, you may need to polish it every now and then to avoid the patina look … unless, of course, that's your thing.