The Design Home is reader-supported. When you buy through links on our site, we may earn an affiliate commission.
From crystal chandeliers hanging in the Palace of Versailles to Sputnik chandeliers, inspired by the famous 1957 satellite launch these popular pendant lights have impacted interior design through the ages. We are currently loving the look of black metal chandeliers with modern forms and minimalist designs.
To help you out, we've rounded up ten trending modern black chandeliers. Some are new arrivals and some are old favorites (AKA fabulous mid-century modern designs) that you are going to love!
So sleek. This minimalist wagon wheel chandelier will fit in nearly every style of home decor. From modern farmhouse to industrial glam, this smart-enabled chandelier may look like a family heirloom but is modern all the way. Plus, if you happen to end up deciding that black metal is not right for your home decor, this chandelier is also available in ten other colors.
Whoa, Mama! This beaded chandelier is so incredibly unique. Even if you decide to go budget on every other item in your interior design, this splurge will elevate your home decor tenfold. Whether in your dining room as a farmhouse chandelier or over your kitchen island for some serious boho flair, this black chandelier with wood beads will make a total statement.
Our Best Budget Pick not only comes in one black finish, but TWO! Choose from a matte black, a two-toned mix of black metal and brass, OR if you decide against black altogether, polished nickel or brass. No matter what you choose, you can't go wrong with this linear chandelier and your wallet will be sure to thank you.
While these are our top three picks, there are so many other great modern black chandeliers available. Here's our full list to help you choose.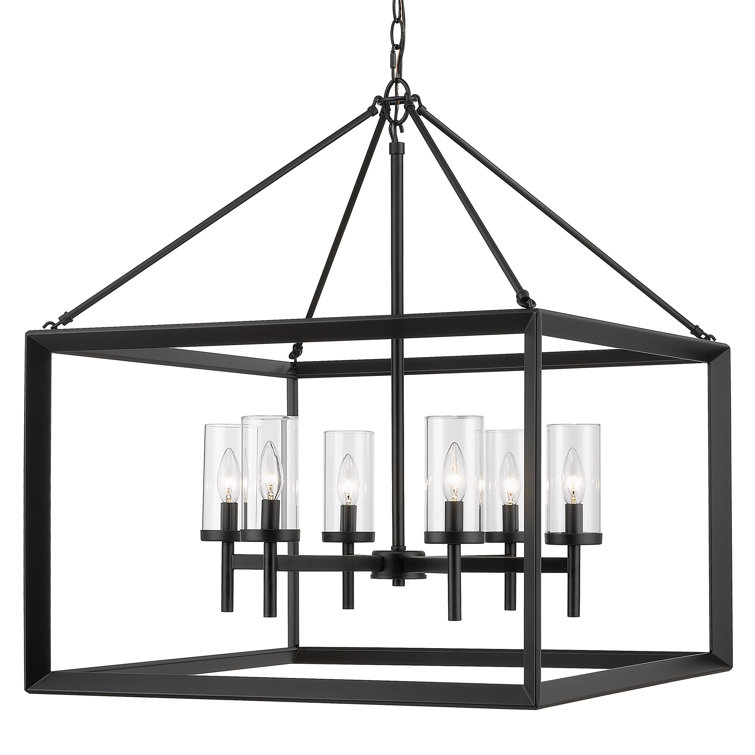 Top Features:
Adjustable height
Sloped ceiling adaptable
Dimmable
Rectangular chandeliers are perfect for long dining tables and also a great alternative to singular pendant lights above kitchen islands. We particularly love this black metal chandelier because it marries a modern farmhouse look with a more traditional modern look, making it an excellent choice for a more formal setting. The height of this 6-light chandelier is adjustable, it can be installed on a sloped ceiling, is fully dimmable, and will accommodate bulbs of up to 60W (not included).
View Laurent Lantern Rectangle Chandelier on Wayfair
Sale
Top Features:
Adjustable height
Smoked glass globes
Sputnik design
We can't get enough of this modern chandelier. Not only does it have an amazing atomic design, but its smoked glass globes also take it to a whole new level. It comes with six rods of varying lengths, making its hanging height fully adjustable. This LED chandelier uses eight medium-base light bulbs up to 60W. This fixture is NOT dimmable, but you could purchase a dimmer switch and dimmer bulb separately if that is a particular feature that you can not live without.
View 8 Light Chandelier Pendant Lighting Black with Glass Globes Classic Vintage on Amazon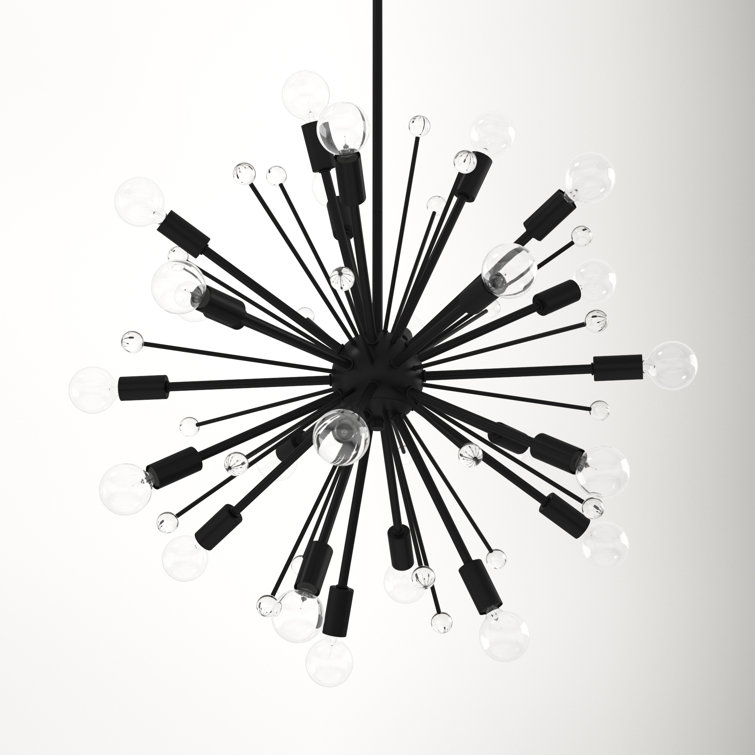 Top Features:
Adjustable height
Sloped ceiling adaptable
Dimmable
Oh, so retro! This 24-light sputnik chandelier will light up your room in every direction. Crafted from metal and glass, this piece provides a starburst effect with its multiple rods shooting out from the center with 24 candelabra-style bulbs (not included) and baubles alternating at their ends. A sleek adjustable down rod and rounded canopy give it a streamlined look.
View Lowery 24 – Light Sputnik Sphere Chandelier on Wayfair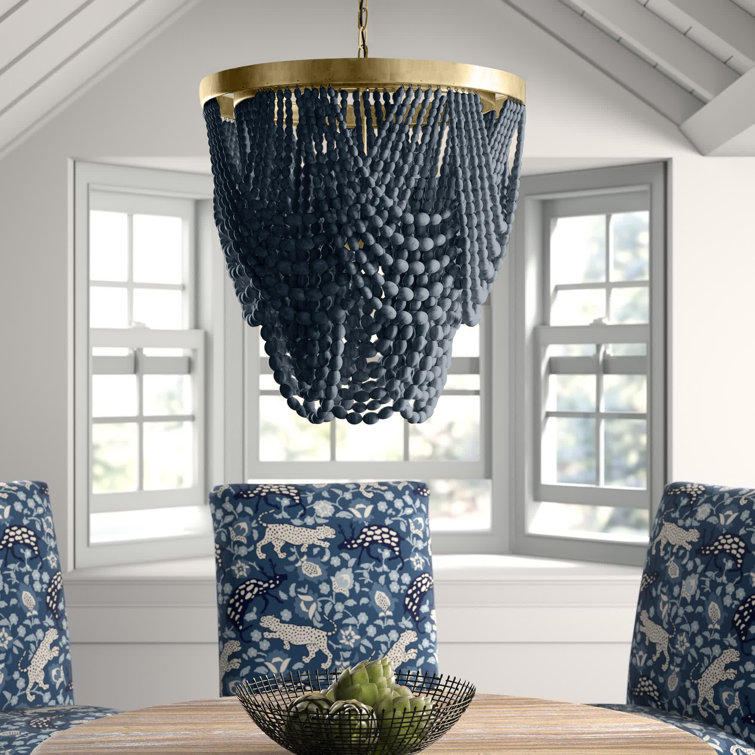 Top Features:
Fixed height
Sloped ceiling adaptable
Beaded
If you are looking for a statement piece, this modern chandelier is it! Crafted from black metal with a brushed, distressed finish, its circular frame supports three lights and a tiered shade consisting of cascading wood beads for a breezy, bohemian look. Note that the shape of the beads will vary from round to oblong and that this fixture is NOT dimmable.
View Hatfield 3 – Light Unique Tiered Chandelier with Beaded Accents Wayfair
Top Features:
Two-toned
Adjustable height
Dimmable
Can't decide between geometric and sputnik?? Why not choose both?! Create a retro-glam, modern industrial feel with this two-toned 9-light chandelier. Its height can be adjusted up to 72 inches with the use of its suspension rod kit, making it perfect for an entryway with a cathedral ceiling. This minimalist modern form fixture is also fully dimmable with the use of a compatible dimmer switch (not included) for even more ambiance.
View Artika Imperium Mid Century Light Fixture 9-Light Chandelier on Amazon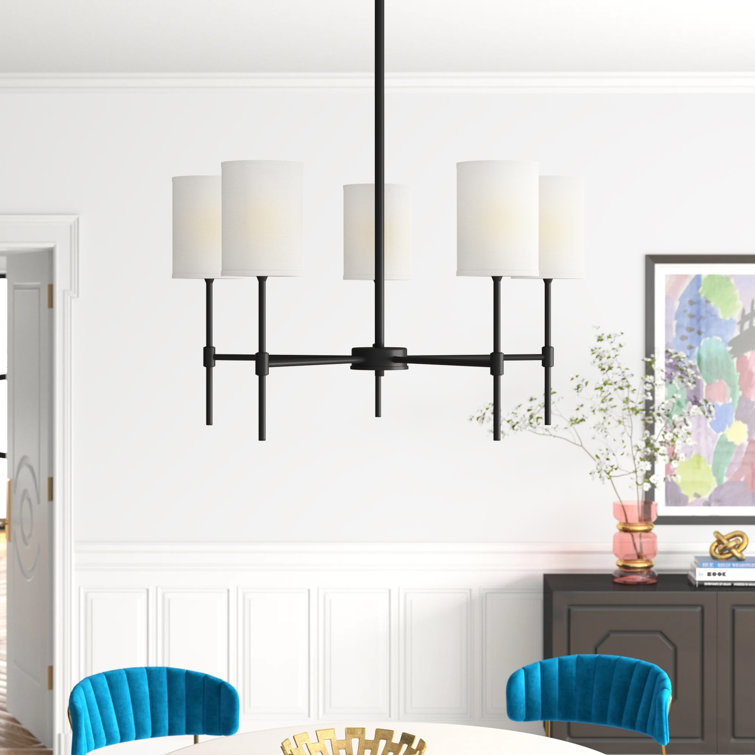 Top Features:
Adjustable height
Sloped ceiling adaptable
Dimmable
Industrial…modern farmhouse…mid-century modern, you've heard all of these words thrown around, but maybe you're not sure which category your home decor falls in. Or maybe your interior design doesn't fit into one little neat box because that is exactly the way that you like it. In any case, you can't go wrong with this transitional modern matte black chandelier. The perfect mix of modern and traditional, we're envisioning this piece as a dining room chandelier…perhaps with matching sconces on each side of a buffet? Feel free to send us an invite!
View Elijah 5 – Light Shaded Classic Chandelier on Wayfair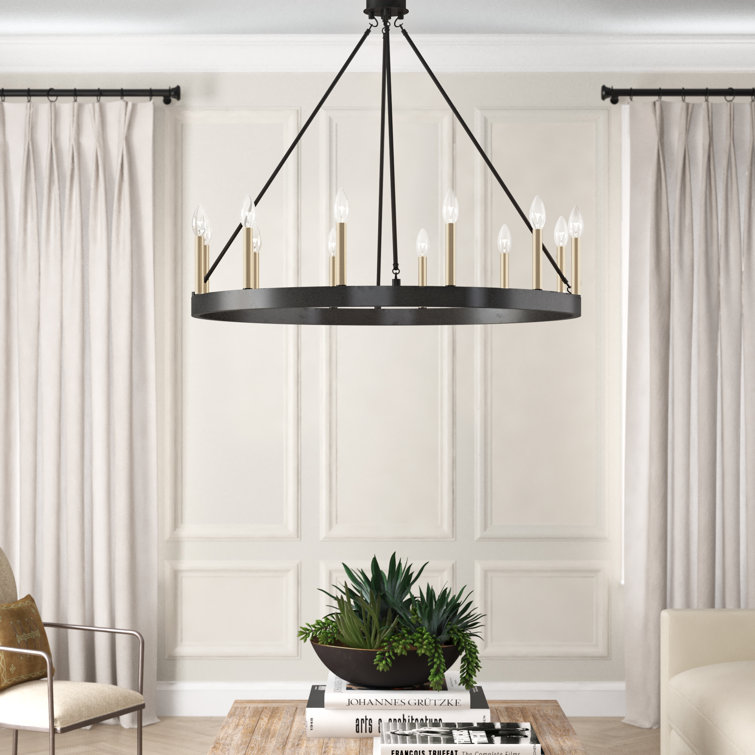 Top Features:
Adjustable height
Dimmable
Smart enabled
The term wagon wheel chandelier may be off-putting to some. We get it, thoughts of old Westerns and images of saloons pop into our heads too, but trust us…you would be doing yourself a huge disservice if you don't consider this minimalist style. Seriously, this black chandelier is stunning and actually nods slightly towards Scandinavian design. With 12-light "candles" and two-toned, hand-painted steel this linear pendant features a clean-lined silhouette with a 40" ring that balances the candle-style 60W candelabra bulbs (not included). Four down rods hold up the wheel and connect it to a simple chain and canopy that can adapt to sloped ceilings. We also love that this modern chandelier works with a dimmer switch for customized lighting levels in your living room, dining room, or entryway.
View Finchley 12 – Light Candle Style Wagon Wheel Chandelier Wayfair
Top Features:
Adjustable height
Dimmable
Modern farmhouse design
This simple geometric 5-light chandelier is the perfect pendant lighting for a kitchen island or oversize modern farmhouse table. With clear glass shades, a modern form in a matte black finish, and an adjustable height stem this streamlined piece will elevate your home decor no matter what your modern style.
View VINLUZ Farmhouse Chandeliers Rectangle Black 5 Light Chandelier on Amazon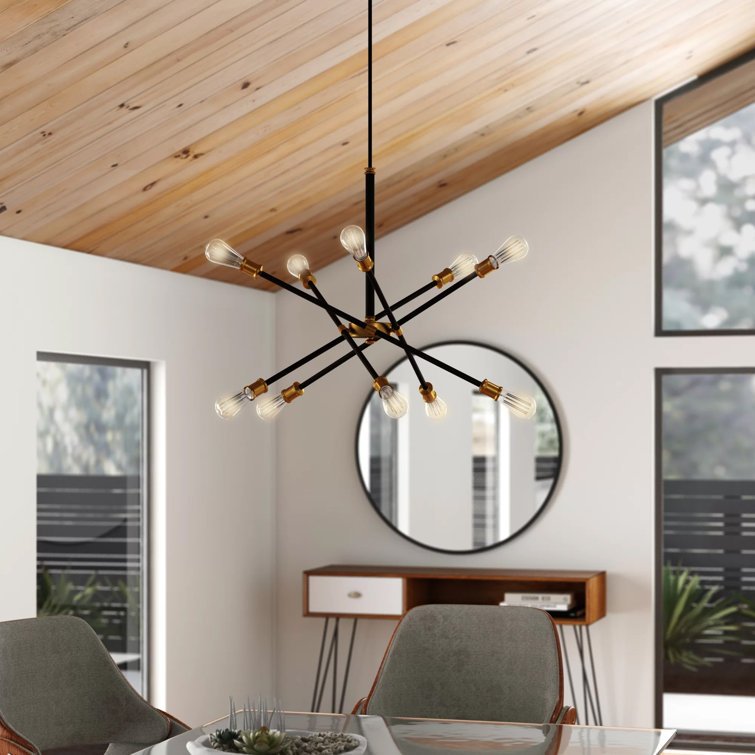 Top Features:
Available in black or two-toned
Adjustable height
Dimmable
Showcasing a retro silhouette sparked by the space race, this 10-light sputnik brings a splash of mid-century modern style as it boosts the brightness in any arrangement. Crafted from metal, this fixture features a round canopy, a slim rod, and adjustable crossing arms that you can rearrange to suit your needs. Ten compatible 60 W medium-base bulbs (not included) sit exposed at the ends to cast light in an ambient direction.
View Arachne 10 – Light Unique Modern Linear Chandelier on Wayfair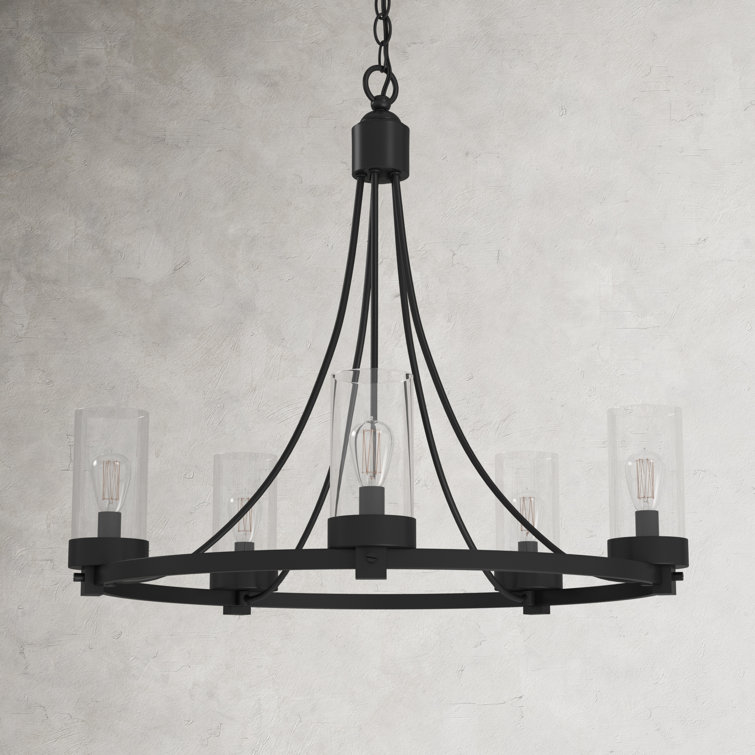 Top Features:
Adjustable height
Sloped ceiling adaptable
Dimmable
This 5-light chandelier is the perfect combination of traditional and modern. Its wagon wheel chandelier black metal base, swooping supports, and five hand-blown glass shades would take any dining room from boring to glam.
View Devoe 5-Light Wagon Wheel Chandelier on Wayfair
Modern Black Chandelier Buyer's Guide
Before we dig deeper into the ins and outs of buying a new ceiling light, we want to stress that any chandelier that requires hardwire installation absolutely requires professional help. i.e. do not try this at home!
OK, now that we've gotten that out of the way let's dig in and get you ready to checkout!
Styles – When choosing a chandelier, you will definitely want to consider accessibility. Yes, they are typically hung above a dining room table or kitchen island, but if your family members are particularly tall you may want to consider a semi-flush mount so they never risk hitting their heads. If the height is not an issue then a pendant chandelier might be the style for you.
Materials – There are so many amazing materials to choose from. Almost all, if not all of our choices incorporated black metal into their designs, but keep an open mind about crystal chandeliers, beaded chandeliers, or glass shade chandeliers. The possibilities truly are endless.
Variations – One of the biggest variations when it comes to chandeliers is the number of lights it has. Of course, you should always take your space into consideration, but if the chandelier fits will it be bright enough? More light bulbs don't necessarily mean more light either. Pay attention to the kind of light bulbs that the chandelier requires and what its maximum wattage is before hitting "buy now".