The Design Home is reader-supported. When you buy through links on our site, we may earn an affiliate commission.
Your bathroom vanity is the single most important piece of bathroom furniture. Once you choose it, everything – from your medicine cabinet to your bathroom mirror, your tub to your vanity lights – falls into place. Whether you're looking for a single sink vanity for your powder room or a double sink vanity for your master bath, there are so many great, modern vanity options on the market.
To help you out, we've selected ten modern vanities that will make you wish you had ten bathrooms to put them in!
We are absolutely loving this Fine Fixtures Bathroom Vanity. Available in gray, white, or walnut – in pretty much any size your heart desires – this modern industrial vanity is our all-around top pick. Its solid wood construction and ceramic sink are both water-resistant – ideal for busy households with kiddos or messy house guests.
This vanity is definitely a bit pricey, but oh so beautiful. Plus, its solid wood construction and honed marble top will make it well worth the splurge. Available in a wide variety of colors, this vanity would make an outstanding centerpiece for a new build or remodeled bathroom.
Small, but mighty the Lulsgate Vanity will give you the most bang for your buck. Available in teak or oak, this vanity would look amazing in a small powder room or doubled up in a compact master. Plus, it comes fully assembled so it truly is a win, win.
While these are our top three picks, there are many other great modern vanities out there, depending upon which features you most value. Here's our full list to give you more to choose from.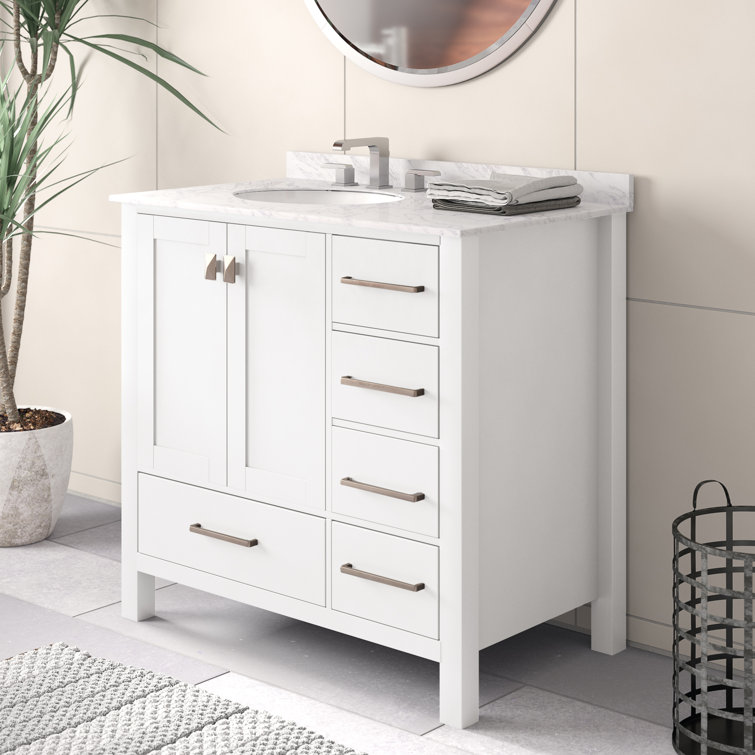 Top Features:
Available in three finishes
Softand doors
Fully assembled
This gorgeous modern bathroom vanity – a best seller, for sure – is available in white, gray, or espresso and is ideal for a powder room, guest bath, or master bath. With its sleek brushed nickel hardware, this piece can easily transition from modern design to traditional decor.
Crafted from a clean-lined solid wood base, this piece is capped with a white Carrara marble top surface and includes an oval ceramic under-mount sink. Four soft-close drawers and a two-door cabinet round this piece out with ample storage space for everything from toiletries to cleaning supplies.
View Karine 36″ Single Bathroom Vanity Set on Wayfair
Sale
Top Features:
Wood grain finish
Ceramic sink
Soft-close doors
Love, love, love the texture of this freestanding vanity – excellent for both mid-century interior design and/or bohemian decor. It features a durable MDF and particleboard frame with smooth walnut grain laminate, four tapered wood legs, and adjustable storage shelf behind two soft-close hinged doors. A curved ceramic basin and integrated countertop create sleek lines and a crisp design for an edgy style designed to meet your needs.
View Modway Render Mid-Century Bathroom Vanity With Sink in Walnut White on Amazon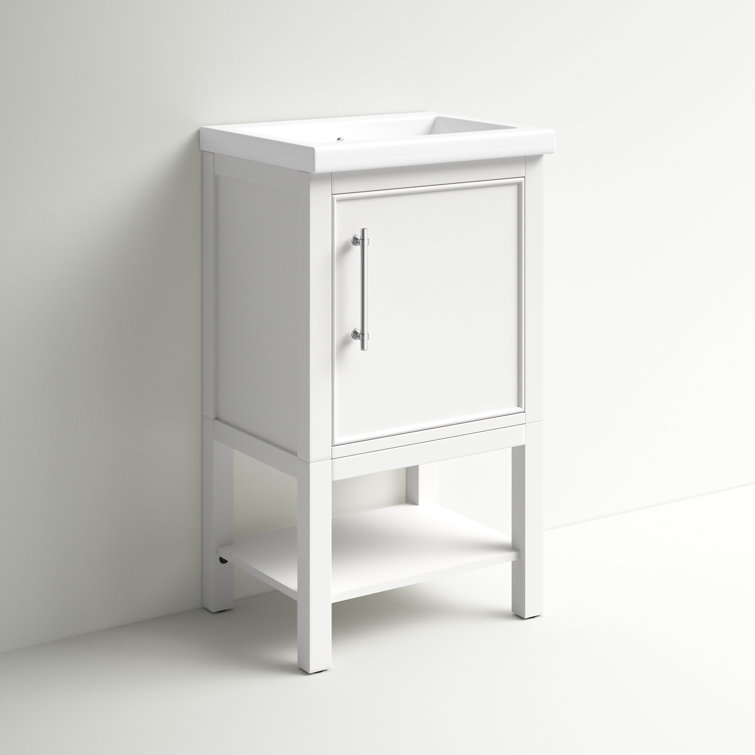 Top Features:
Available in five colors
Soft-close door
Space-saving
If you're looking for a petite bath vanity for your powder room or another small bathroom area, look no further. Available in five beautiful colors – matte black, navy blue, dark gray, forest green, and white – you are sure to find one that suits your modern decor. Its freestanding frame is made from engineered wood and is built on tapered legs.
The ceramic vanity top surface accommodates the included rectangular sink in a crisp white finish. On the front, a cabinet door with wooden inlays and a sleek metal handle opens up to reveal space for cleaning supplies and other toiletries. And the open shelf is ideal for tucking away bath towels and facecloths. Plus, we love that this vanity set comes with tool-free assembly.
View Jewell 20″ Single Bathroom Vanity Set on Wayfair
Sale
Top Features:
Hardwood construction
Variety of sink options available
Glass doors
This gray vanity is well-suited for the modern minimalist. Its two, soft-close glass doors force you to be neat and clutter-free, while its two ample drawers maximize storage and provide privacy for your towels and toiletries. A variety of sink options are available from a clean, white ceramic to a funky, blue vessel sink – giving you room to flex those design muscles and customize your decor.
View eclife 24" Bathroom Vanity Sink Combo on Amazon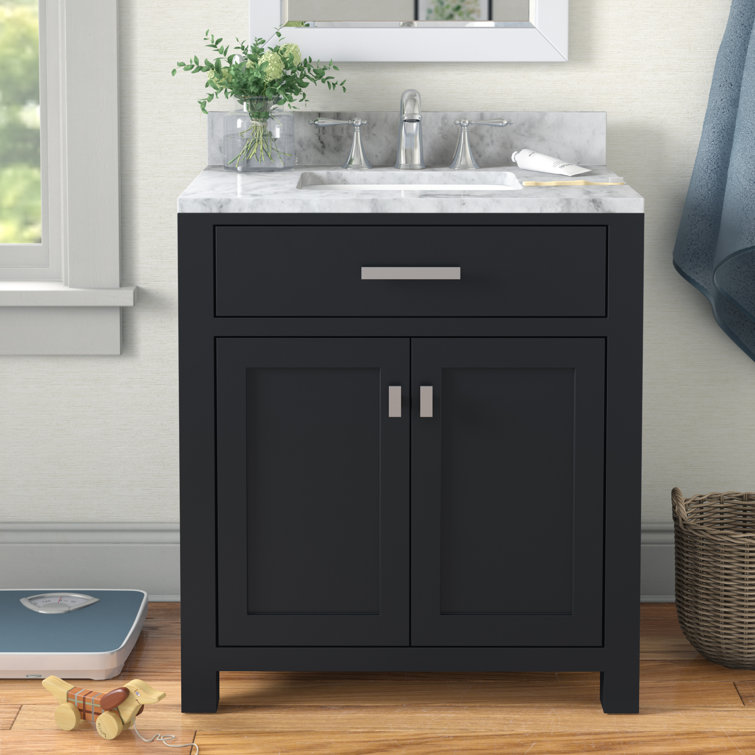 Top Features:
Available in five colors
Soft-close doors
Solid wood construction
This single vanity would be a chic addition to any half bath or twice as nice doubled up in your master. Constructed from 100 percent solid hardwood, its frame features a clean-lined silhouette available in five neutral solid finishes for a variety of looks that work well in both classic and contemporary aesthetics. Its under-mount sink is surrounded by a stone countertop and backsplash with a Carrara white finish, and it's pre-drilled to fit a standard-sized faucet.
View Minnetrista 30″ Single Bathroom Vanity Set on Wayfair
Top Features:
Available in a variety of sizes and finishes
Modern or industrial aesthetic
Heavy-duty construction
Available in a wide variety of colors and sizes, including both single sink and double sink bathroom vanity options, you may want more than one of these modern industrial vanities. Constructed from high-quality wood with a durable vitreous ceramic sink and spacious cabinets, this meets all your bathroom requirements. All hardware is included, including soft-close door hinges, but the faucet and drain are sold separately, so be prepared for that.
View Fine Fixtures Bathroom Vanity and Sink on Amazon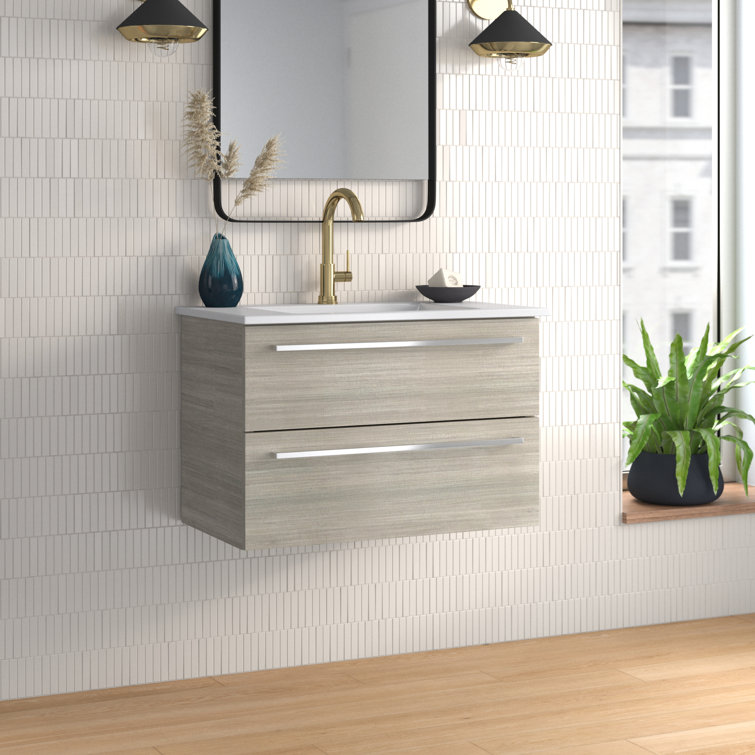 Top Features:
Wall-mounted
Available in four finishes
Soft-close
This 30-inch wall-mounted contemporary bathroom vanity is the epitome of ultra-modern. So clean, so sleek, you'll enjoy looking at this one every time you're in the bathroom. Its two soft-close drawers provide ample storage for towels and toiletries, while its space-saving design complements even the most minimalist aesthetic.
View Akron 30″ Wall-Mounted Single Bathroom Vanity Set on Wayfair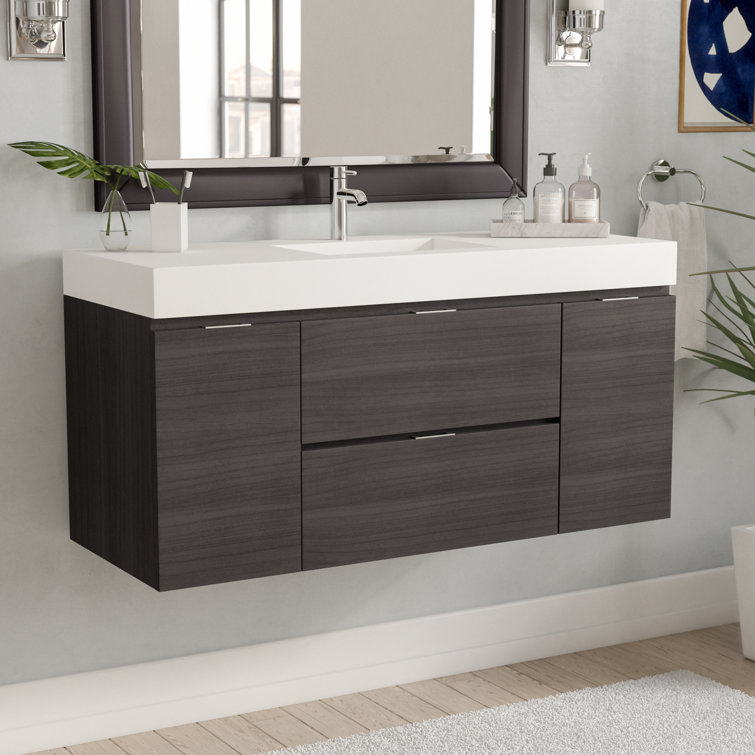 Top Features:
Wall-mounted
Available in six finishes
Ample counter space
Speaking of a wall-mounted bathroom vanity, go big or go home with this 47" model. This vanity is totally minimalistic, yet offers a ton of counter and storage space. This single vanity set is crafted of wood, with a reinforced acrylic composite top and integrated acrylic sink. It features two cabinets and two drawers for plenty of concealed storage of crisp towels, cleaning supplies, and more. This wall-mounted base has a single-hole faucet installation type. Faucet, P-trap, and drain assembly are not included.
View Royka 47″ Wall-Mounted Single Bathroom Vanity Set on Wayfair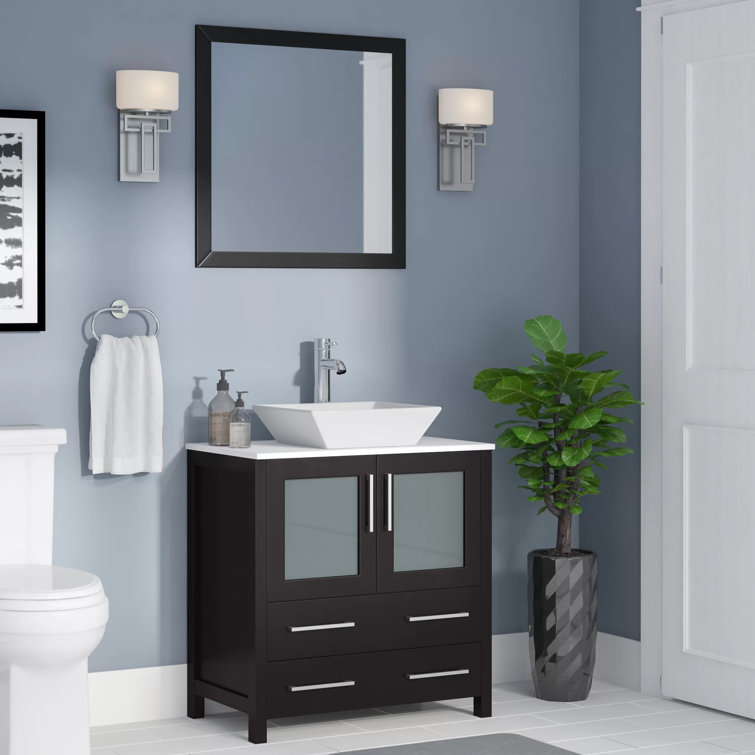 Top Features:
Glass doors
Available in four finishes
Soft-close
This 30″ vanity cabinet set – available in espresso, gray, blue, and white – has an abundant storage capacity and beautiful frosted glass doors that not only mask your personal items but also complement nearly any style of bathroom decor. The coordinating vanity mirror, which is included, reflects (see what we did there?!) the contemporary style of this collection.
View Karson 30″ Single Bathroom Vanity Set with Mirror on Wayfair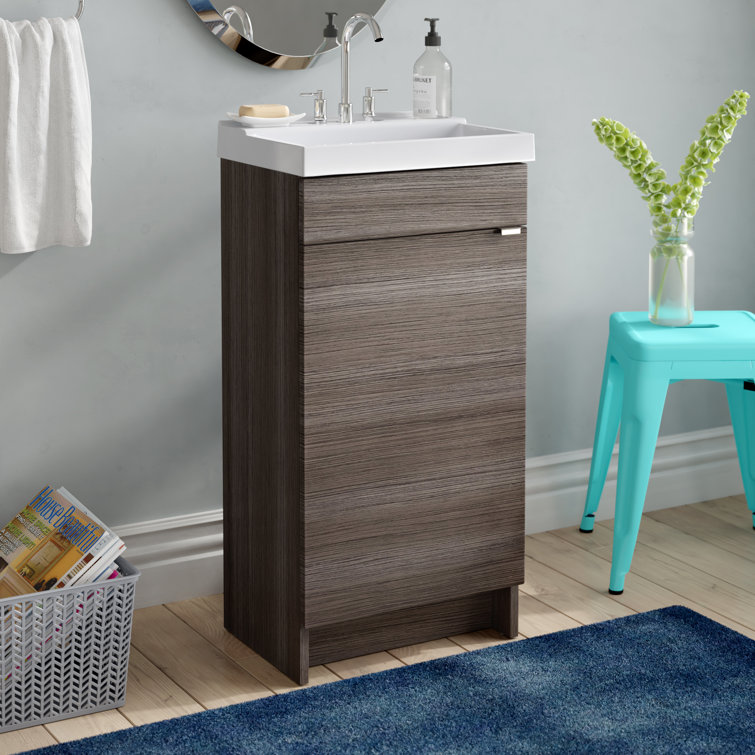 Top Features:
Space-saving
Available in two finishes
Mounting hardware included
This bathroom vanity set shines in compact spaces. Available in agora teak or ebony oak, this sleek and durable wood vanity maximizes storage space with its ample bathroom cabinet. It features an easy-to-clean, non-porous stone top that is bacteria, mold, and mildew resistant with a single slab door and minimal satin nickel pull for a clean, modern vanity design.
View Lulsgate 17″ Single Bathroom Vanity Set on Wayfair
Modern Vanity Buyer's Guide
Here are some things to consider before purchasing a modern vanity.
Style: Modern is not just modern. When designing your modern bathroom, it's important to ask yourself what kind of modern you are going for. From traditional modern to modern industrial, mid-century modern to boho modern – there are definitely differences. So, although your vanity should be the showstopper, you will want to take other factors into consideration when shopping around.
Materials: Materials play a huge role in vanity design. Although less expensive, you may want to steer clear of vanities that are made out of particleboard. Seriously, paper and water don't mix, so why they even make them that way is beyond us. If budget allows, go for the solid wood option or prepare to be extremely diligent about keeping resting water off of your new vanity.
Variations: There truly is a lot to consider when choosing a vanity. Like almost every other element of design, sizing is key. Measuring twice and ordering once will save everyone involved a huge headache.
Ask yourself: Do you want one sink or two? If the answer is two, are you willing to sacrifice the additional counter space the second sink will take up? Do you want a freestanding vanity or a wall mount? What kind of storage do you need? Will it just be holding toiletries, or do you need storage for linens as well?
No matter what, have fun! Educate yourself, weigh your options, and research, research research. Don't make any quick decisions because your new bathroom vanity will be around for a long time. It's much easier to change out towels and mirrors, so be sure you absolutely love the modern vanity before making the commitment.