The Design Home is reader-supported. When you buy through links on our site, we may earn an affiliate commission.
Whether you are shopping for your little kid's bedroom, your teen's dorm room, or a guest room for your grandchildren there is a piece of bedroom furniture for you. Goodbye futon, hello loft bed! But wait, there's more! There are so many great loft beds that have desks included – the perfect way to add an instant play space/study loft in your child's bedroom.
From twin size loft beds to full-size loft beds we've rounded up nine of our favorite loft beds with desks available on Amazon and Wayfair.
There is one simple feature that sets this twin loft bed with desk apart from the rest…A "hanging nightstand". Seriously, so brilliant…yet this is the only highly rated loft bed with a desk that we have come across that has a nightstand built right in making it a no-brainer for Top Pick.
Whoa, Mama! This sucker is the mother of all loft bed/bunk beds. It truly has it all! A twin-size bed, a full-size bed, a desk, AND steps with storage space. If floor space is not an issue and you have more than one kiddo in a room this solid wood bunk bed is TOTALLY worth the splurge!
You can't beat the price on this metal loft bed. Not only is it solidly constructed, but it is also a low bunk bed which means that you don't have to worry about your little one being up super high off the ground. PLUS, its desk is on casters so your child's bedroom can easily be rearranged for maximum floor space at any given moment.
While these are our top three picks, there are many amazing loft beds with desks available from our favorite retailers. Here's our full list to give you more to choose from.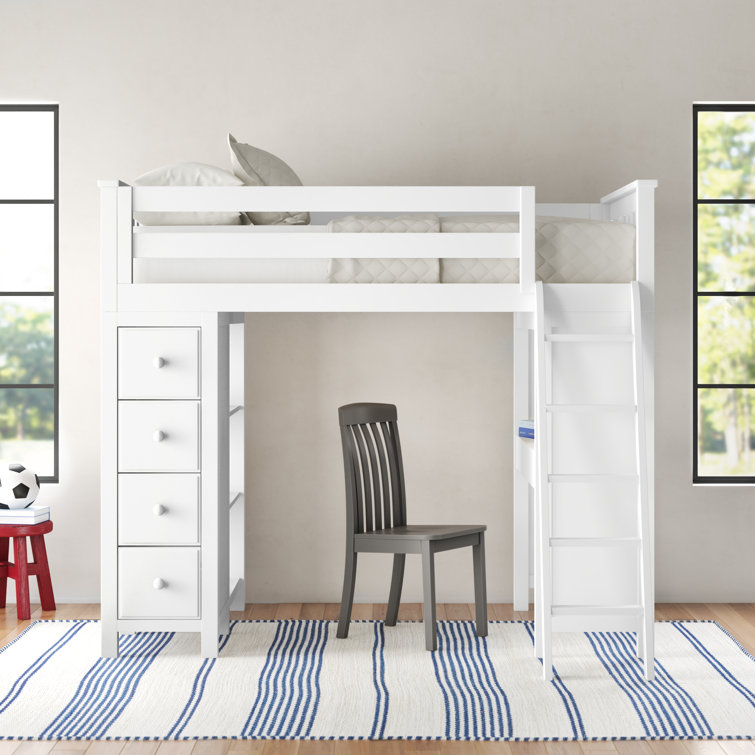 Top Features:
Available in 6 finishes
Open and closed storage
Solid wood construction
Love, love, love this loft bed with a desk. Available in six beautiful colors (we are definitely partial to the blue), this solid wood loft bed is truly all-in-one. Not only does he have a desk with a drawer; it also has four spacious drawers for clothing, toys, etc., a built-in bookcase, ladder, and guardrails. The best part?! The design is fully reversible, so the desk can be arranged on the inside or outside AND the drawers and ladder can be placed on the left or right. This piece of furniture is the closest thing you are going to get to a custom loft without actually buying a custom loft.
View Tyree Twin 4 Drawer Solid Wood Loft Bed on Wayfair
Top Features:
Available in 6 finishes
Available in twin or full size
Metal construction
With a compact footprint, this ideal space-saving metal loft bed is the perfect addition to any bedroom, dorm room, or studio apartment. Featuring full-length guardrails and two integrated ladders – one on each end – its sturdy, steel frame promises stability and support. This loft bed also includes a detachable desk with a sliding keyboard tray and two shelves for additional storage. This loft bed with desk ships from Amazon ready-to-assemble with easy step-by-step instructions.
View Walker Edison Timothee Urban Industrial Metal Double over Computer Desk on Amazon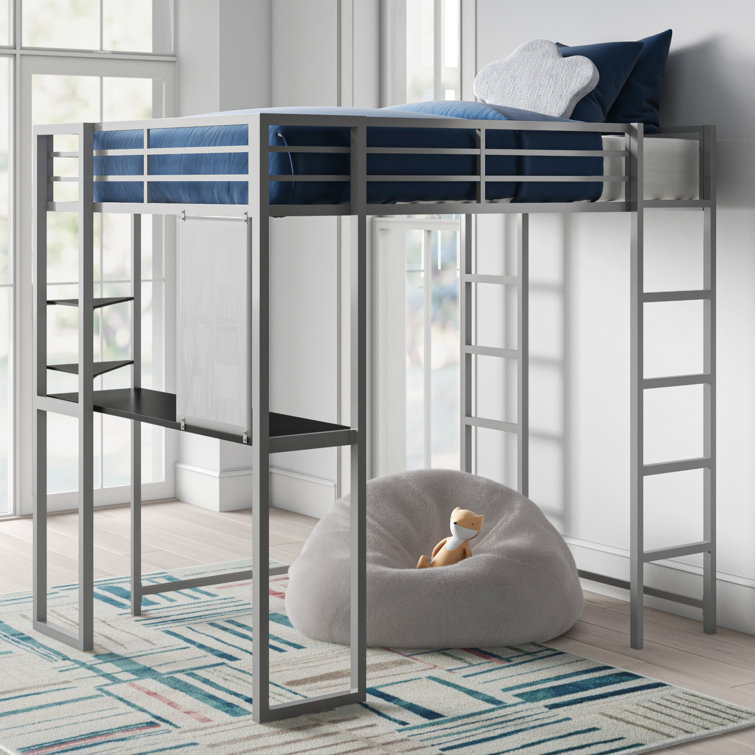 Top Features:
Available in 3 finishes
Available in twin or full size
Metal construction
This contemporary style loft bed – available in twin or full size – is crafted out of metal with a sleek painted finish. Featuring a spacious desk, two display shelves, a horizontal slatted headboard, footboard, and matching guard rail, a slat system that accommodates your preferred mattress (not included) without the need for a bulky box spring, and a built-in ladder that lets you access the top bunk with ease. This loft bed has a trendy and sturdy design that will easily fit into any small space.
View Cato Loft Bed with Bookcase on Wayfair
Top Features:
Available in 3 finishes
Wraparound desk
Solid wood construction
Available in a wide variety of amazing styles, we're personally fixated on the wraparound desk version of this solid wood loft bed. The ultimate multi-tasking space, the wraparound desktop is perfect for artwork or Lego construction, while the bookcases provide ample storage for supplies. Featuring an angled ladder that can be installed on the left or right side, with anti-slip rounded rungs that provide comfortable access to the loft. Clean modern lines, neutral finishes, and flush, color-matched hardware give this bed a classic look that will work with any style or decor. For planning purposes, take note that this bed does ship in two boxes, so it may arrive on two separate days. 
View Solid Wood Loft with Wraparound Desk on Amazon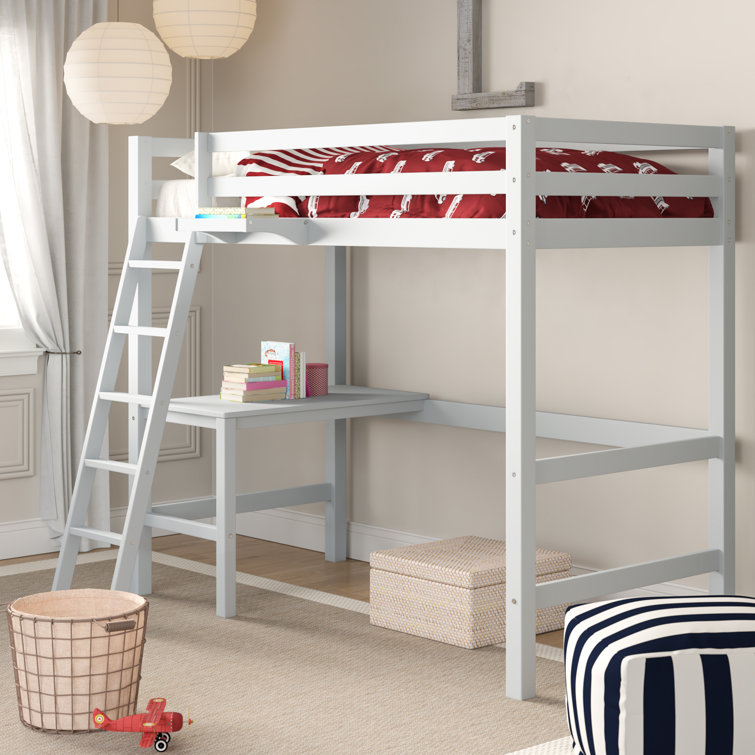 Top Features:
Available in 2 finishes 
Hanging nightstand 
Manufactured and solid wood construction
If you have ever slept in a bunk bed or loft bed, one of the first things that you probably noticed was that there was nowhere to put personal items like eyeglasses, an alarm clock, or a glass of water. That is precisely why we LOVE this loft bed. Its simple "hanging nightstand" is such an invaluable feature, as is its small desk area, full-length guardrails, integrated ladder, and secured slats.
View Fluellen Twin Loft Bed with Built-in-Desk on Wayfair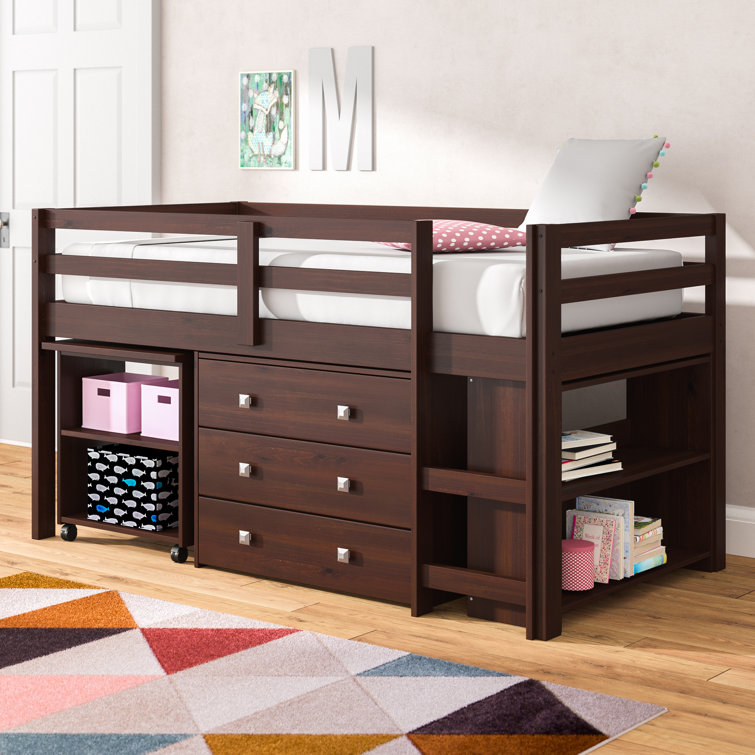 Top Features:
Three drawer dresser
Bookcase
Retractable desk

When most people think of loft beds, they usually think of a bed that is super high off the ground – which can be daunting for a kid's room – with lots of empty space underneath. But that is not always the case. Take this loft bed for example. Its space-saving design doesn't waste an inch of floor space. Constructed from pine wood in a beautiful espresso, gray or white finish, this twin loft bed features a three-drawer chest, two ample bookshelves, and a desk on casters that can easily be tucked away when not in use.
View Bintou Twin Platform Loft Bed with Desk on Wayfair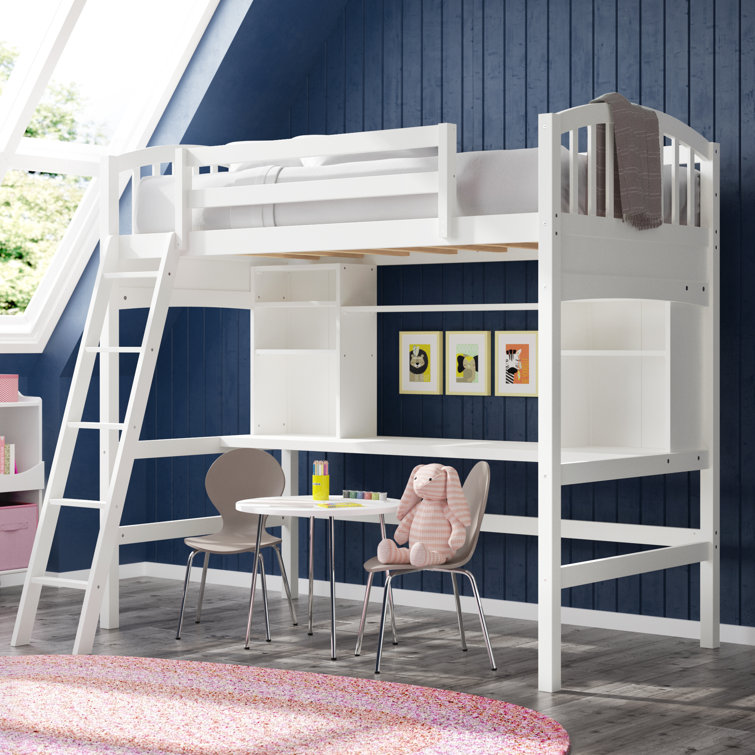 Top Features:
Available in 3 finishes
Rounded headboard & footboard
Manufactured and solid wood construction
If you've got a bookworm on your hands, look no further than this lofted bed with a plethora of built-in bookshelves, desks, and storage. Up top, its twin-size bed frame with a slat kit (no box spring required!) is just the spot for a great night's sleep, while down below your child can study, play and create. Crafted from a blend of manufactured and solid wood and available in white, gray, or espresso finish, this sturdy piece of bedroom furniture is not only space-saving but also sturdy and timeless.
View Stoutland Twin Solid Wood Platform Loft Bed on Wayfair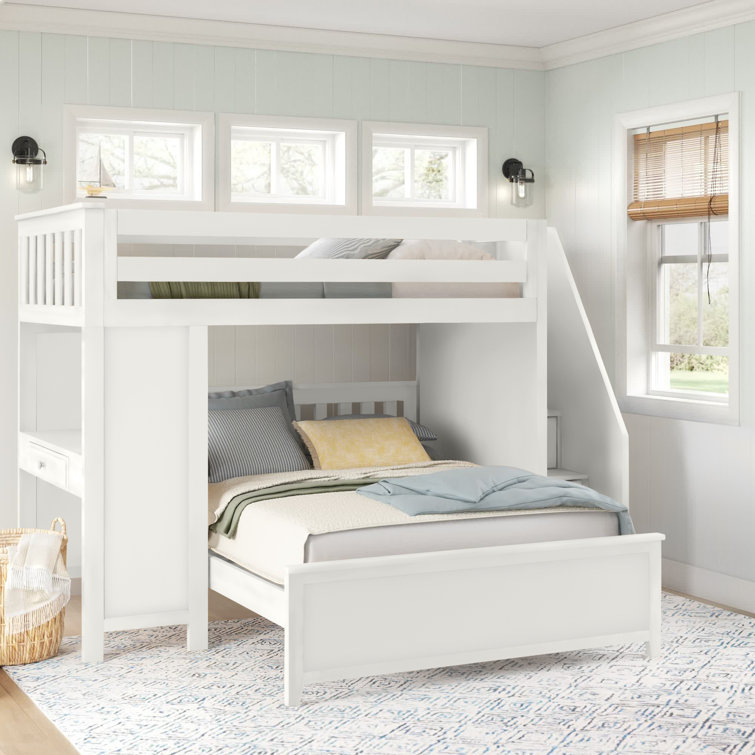 Top Features:
Available in 6 finishes
Built-in stairs
Solid wood construction
If you are looking for bedroom furniture for more than one kiddo to share, this classic twin over full bunk bed is the perfect solution. Crafted out of solid wood with a full-size bed on the bottom and a twin-size bed (with detachable guardrails) on the top, this loft bunk bed is available in a wide variety of colors including espresso and gray. Looking for a desk and storage? Look no further, its side stairway to the top bunk maximizes storage space with drawers in each of its four steps, while the built-in desk on the opposite side provides the perfect study spot. Both beds come with slats that do not require a box spring (mattresses not included).
View Cavallo Twin Over Full Solid Wood L-Shaped Bunk Beds with Built-in-Desk on Wayfair
Top Features:
Pull out desk
Low loft bed
Metal construction
Ideal for space-saving needs, this metal loft bed is the perfect addition to your child's bedroom. Featuring an integrated step ladder that doubles as a bookshelf for added storage space, this low loft bed has full-length guardrails and is constructed out of durable steel for your child's maximum safety. Our favorite feature is its pull-out desk on caster wheels that can easily be stored in the under-bed area when floor space is needed for play.
View Walker Edison Metal Twin Low Loft Bunk Bed with Desk on Amazon
Loft Bed with Desk Buyer's Guide
You may have already eliminated the idea of a futon, daybed, or twin bunk bed, but like all big furniture purchases, there is a lot to consider when buying a loft bed. Before you enter your credit card info, here are a few last things to consider.
Styles – the style of most loft beds is extremely versatile. We'll get to material in a few, but if you're leaning more towards an industrial look or are on a tight budget a metal loft bed is the way to go. If you are looking for something more traditional or a piece that could easily be handed down to the next generation, then solid wood is your best bet.
Materials – as we said, most loft beds are constructed out of either metal, solid wood or a mix of manufactured and solid wood. Once you make a decision on the main material, make sure to be mindful of other small details such as hardware, the type of paint/stain that is used, etc.
Variations – as you can see from our list there are A LOT of variations out there. We, personally, love the idea of having a desk built-in, but there are a ton of loft beds out there without desks too. Weigh your options, think about your lifestyle, and decide what you need.