The Design Home is reader-supported. When you buy through links on our site, we may earn an affiliate commission.
It's where you nap, where you socialize, and where you decompress. It can function as a workplace, a bed, and even a dining area, all in one.
Yes, we're talking about your couch. This focal point of your living room is one of the most important pieces of furniture you'll buy for your home—and in some cases one of the most expensive too. For those who want a couch that's as classy as it is comfortable, online shopping can feel like a never-ending quest.
That's why we're here to help with eight modern couch picks that display a number of different styles, colors, and upholstery options at both high- and low-end price points. Browse on to find your next great modern couch!
Quality leather couches that won't break the bank are hard to find. Believe us, we've tried. For that reason—and based on the superior reviews and ratings—we've selected the Pratt leather sofa from Birch Lane as our overall top pick for modern couches. The clean lines of this simple couch make it current but capable of blending with multiple decor styles. The leather upholstery gives a relaxed, comfortable vibe.
If you've got a little more room in your budget, don't pass by this Elberton sofa from Wade Logan. While the priciest pick on this list, the cost is by no means unreasonable for couches of this caliber, and the item offers leather upholstery, a modern look, a range of attractive neutral hues, pillow-top armrests, and chrome-accented legs.
Sometimes you need a good-looking couch to round out your guest bedroom, office, or starter apartment, but you don't want to make the significant investment that often comes with quality modern furniture. For those situations, we recommend the Perdue sleeper sofa from Mercury Row. In addition to being a standout vintage-inspired piece, it comes in multiple colors, features velvety upholstery, and unfolds into a twin sofa bed for maximum flexibility.
These three couches stood out in some way to us, but these aren't the only options that caught our eye. The full list includes several other couch options with an even greater variety of styles and other features.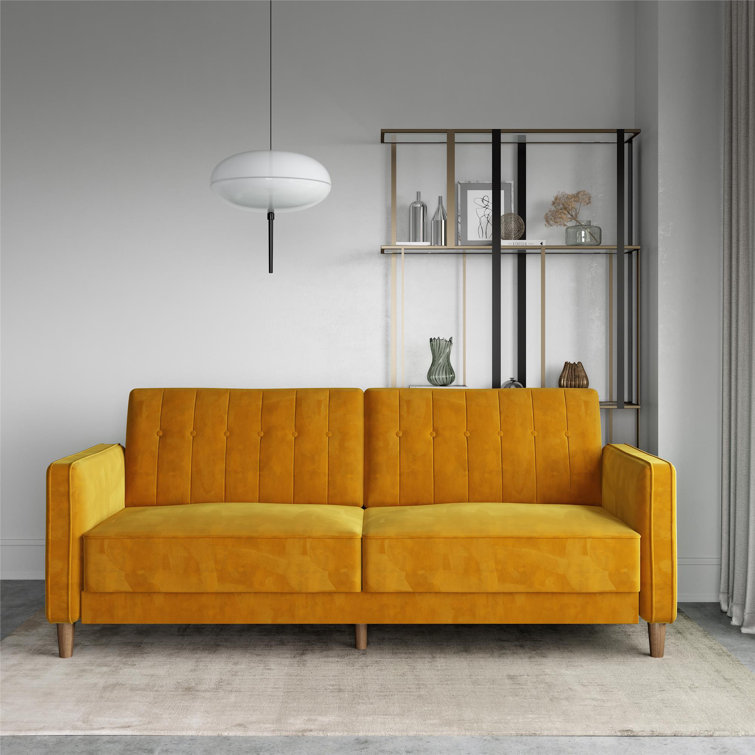 Top Features:
Unique color options
Soft velvet upholstery
1950s-inspired
Technical Details:
Upholstery: Velvet polyester
Frame: Manufactured wood
Weight: 109 pounds
Overall Dimensions: 34" H x 81.5" W x 34" D
Sleeper: Yes
Instead of draping yourself in velvet, why not buy a couch that's draped in it? (Seinfeld fans will get the reference.) We love everything about this sofa, from the vibrant color options to the simple shape and classy seams. Measuring 72.5 inches wide and 23 inches deep on the seat, this retro-inspired piece perfectly seats two when upright and converts into a twin-sized bed as needed, with the extra flexibility of being able to lower each side of the back separately.
Value is key when buying a couch, and this budget option is worth the money, according to thousands of reviewers who adored the value, punchy colors, and throwback style. This couch is on the firm side, and the assembly will be much smoother with backup help.
View Perdue Square Arm Sleeper on Wayfair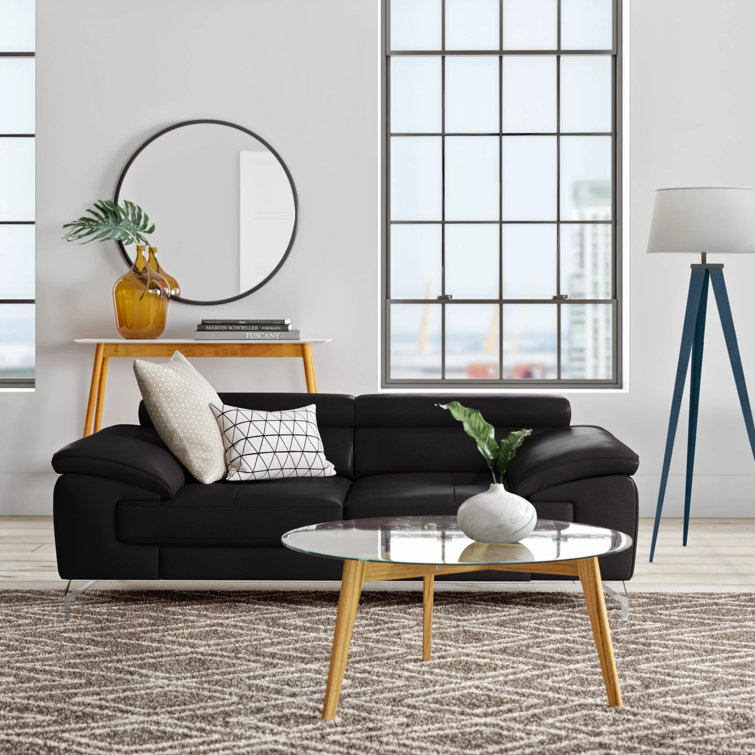 Top Features:
Pillow-top arms
Genuine leather upholstery
850-pound capacity
Technical Details:
Upholstery: Genuine leather (top grain)
Frame: Solid and manufactured wood
Weight: 161 pounds
Overall Dimensions: 28" H x 77" W x 42" D
Sleeper: No
The perfect leather sofa for your couch and your budget may seem out of reach, but believe us—it's not. The first genuine leather option on this list features a modern silhouette, a subdued and sophisticated range of colors, and chrome-finished legs.
This easy-to-clean, relatively low-profile piece adds an elegant touch to any mid-century living room and with comfy, thick upholstery that softens with time, it's a great value piece. Reviewers also loved the adjustable headrest. It's fairly wide at 77 inches overall, so you should check all dimensions carefully before you purchase.
View Elberton Genuine Leather Pillow Top Arm Sofa on Wayfair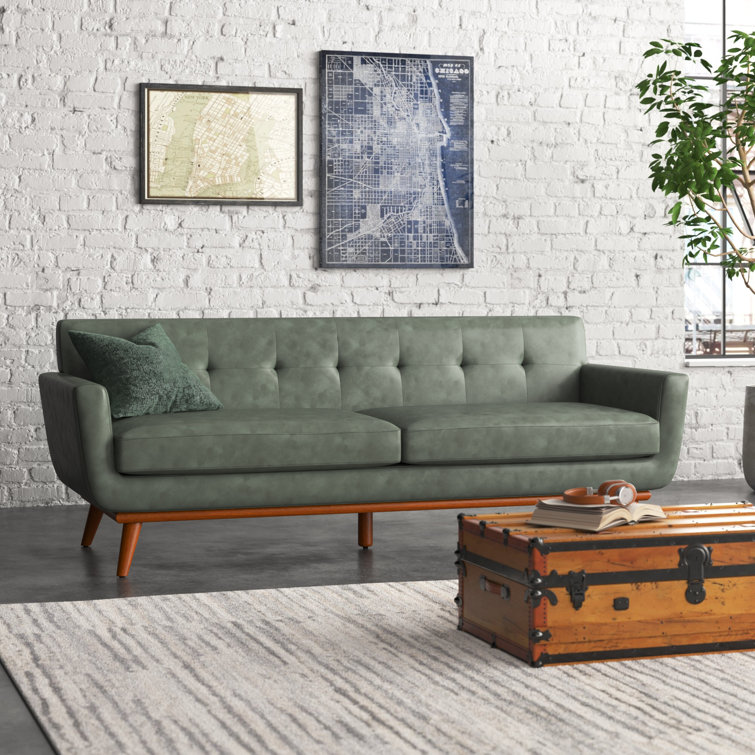 Top Features:
Unique silhouette
Faux leather upholstery
Reversible cushions
Technical Details:
Upholstery: Faux leather (PU)
Frame: Solid rubberwood
Weight: 118 pounds
Overall dimensions: 33.9" H x 90.6" W x 35.3" D
Sleeper: No

So, you want a couch that turns heads. We've got you covered. The whole vibe of this mid-century modern couch is uncommonly cool, from the gray-green, tufted faux leather upholstery to the solid rubberwood frame to the slanted arms and legs. This sturdy sofa has a weight capacity of up to 1,600 pounds and seats three.
This beautiful, extra-long piece is great for tall loungers and offers superior longevity, according to reviewers. While some may love this, it's important to note that the color of this sofa, advertised as gray, can look greenish at times. Reviews were mostly positive for this unique piece, but some thought the faux leather material showed scratches easily. Given this detail, this may be a better couch for non-pet owners.
View Jamison Faux Leather Flared Arm Sofa with Reversible Cushions on Wayfair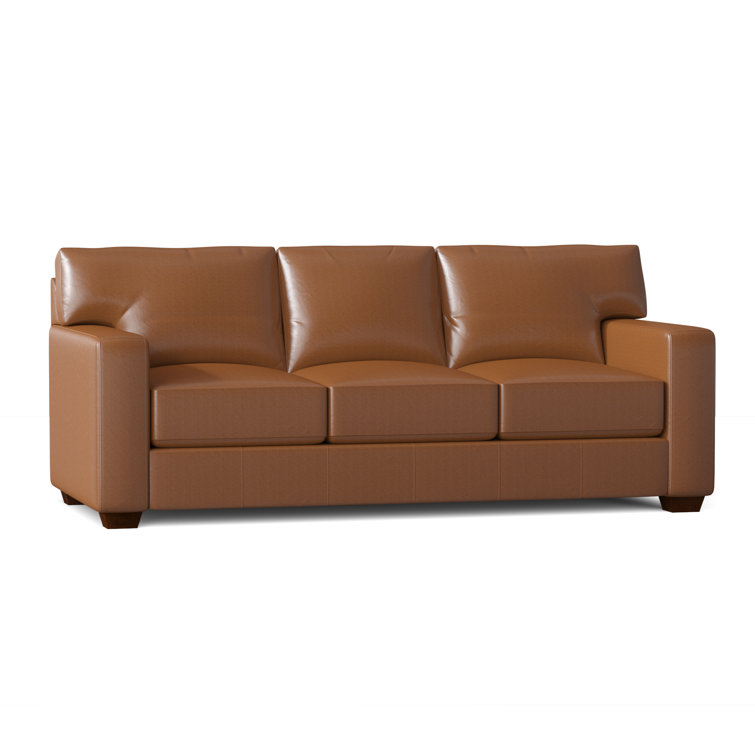 Top Features:
750-pound weight limit
Removable polyester/down-filled cushions
High-quality frame
Technical Details:
Upholstery: Genuine leather (100% cowhide)
Frame: Manufactured wood
Weight: 149 pounds
Overall dimensions: 37" H x 88" W x 40" D
Sleeper: No
If you like leather, we've got options. For a boxy, simple silhouette, consider this modern couch from Birch Lane. We love how this piece is basic yet modern and appreciate the extra-comfortable down and polyester-filled cushions. Reviewers attest to the high-quality look and feel of the leather upholstery and say that this sturdy, easy-to-clean piece lasts and lasts.
View Pratt Genuine Leather Square Arm Sofa Sofa on Amazon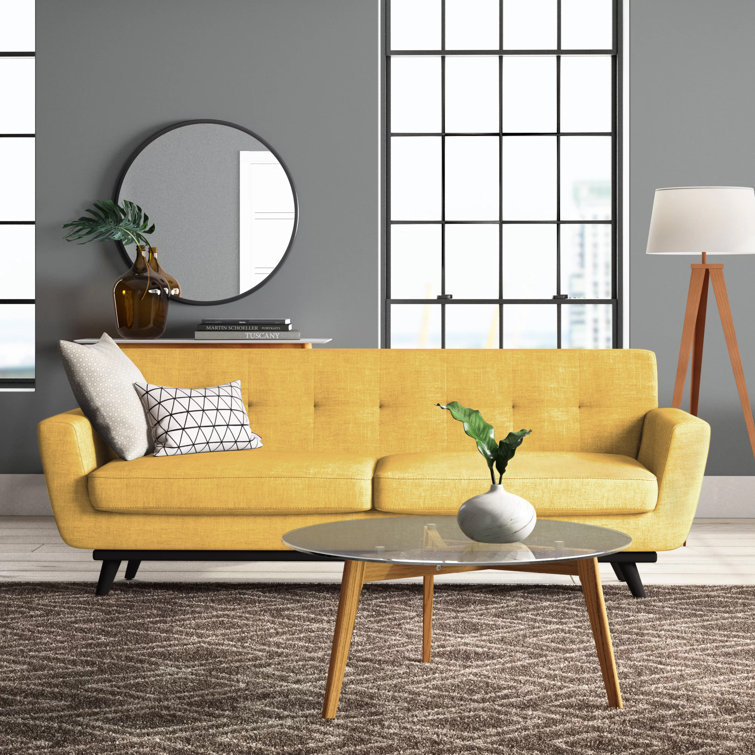 Top Features:
Mid-century modern style
80-inch seat holds 4
Solid wood frame
Technical Details:
Upholstery: Polyester (linen-look)
Frame: Solid birch wood
Weight: 109 pounds
Overall dimensions: 33.9" H x 90.55" W x 35.25" D
Sleeper: No

There's a reason mid-century style has so much sticking power—it's unique yet versatile, and minimal while still offering thoughtful details such as tufted upholstery and slanted legs and arms. This fabric sofa has all those things plus several great color options. This extra-wide sofa seats four, making it the ideal destination for movie nights, naps, family get-togethers, and more.
Reviewers loved a lot about this piece, including its stylish design, firm seat (often a matter of preference), low weight, and bright yellow color option. With any frequently bought and much-reviewed product, there are bound to be downsides, and some reviewers experienced fabric pilling and ill-fitting legs. With any piece, it can be helpful to look closely at the pictures and read through several reviews to decide whether issues are deal-breakers or no big deal.
View Mcgahan Flared Arm Sofa on Amazon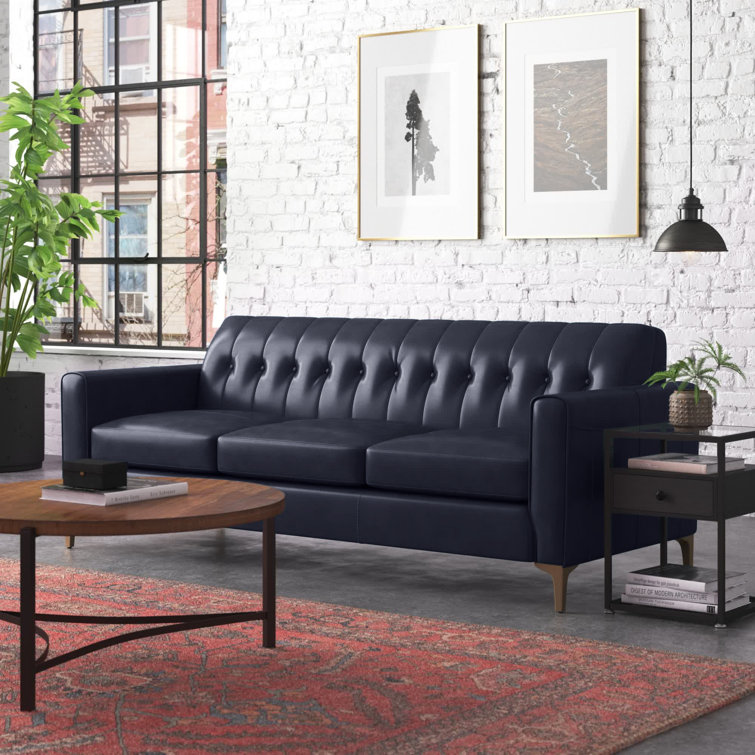 Top Features:
Water/mildew-resistant
Button-tufted back cushions
Supports up to 1200 pounds
Technical Details:
Upholstery: Genuine leather (Top grain)
Frame: Solid and manufactured wood
Weight: 125.6 pounds
Overall dimensions: 33" H x 86" W x 36" D
Sleeper: No
First impressions matter—and this couch knocks them out of the park. Modern yet refined, this sofa features real leather upholstery, sturdy metal legs, and easy assembly to boot. Unlike some leather couches that only come in brown hues, this chesterfield-inspired sofa offers multiple genuine leather upholstery color options. Reviewers loved the quality and color options of this comfortable couch, which is also water- and mildew-resistant. Some were so impressed, they even bought multiple.
View Cornwall Square Arm Sofa on Amazon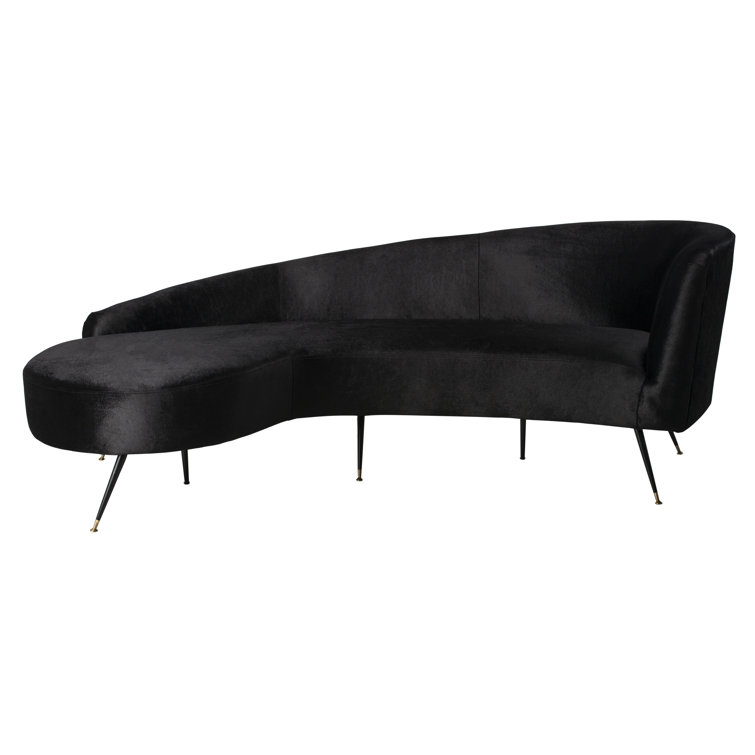 Top Features:
Unique shape
Velvet upholstery
Sturdy metal frame
Technical Details:
Upholstery: Velvet
Frame: Metal
Weight: 66.7 pounds
Overall dimensions: 31" H x 86" W x 40.5" D
Sleeper: No

Looking to turn heads with your next sofa? Look no further than this unique piece from Mercer21. With an uncommon sloped back, armless edge, and curved seat, this chaise works just as well in a large office or bedroom as it does in a living space. The foam-filled couch body is upholstered in velvet and supported by a solid metal frame.
You might be worried about visible dust or pet hair on a velvet settee like this, but reviewers say that while this can happen, it's easy to vacuum the couch clean. Reviewers also loved the sturdiness, softness, and ease of assembly of this unique piece.
View Frankie Velvet Tuxedo Arm Sofa on Amazon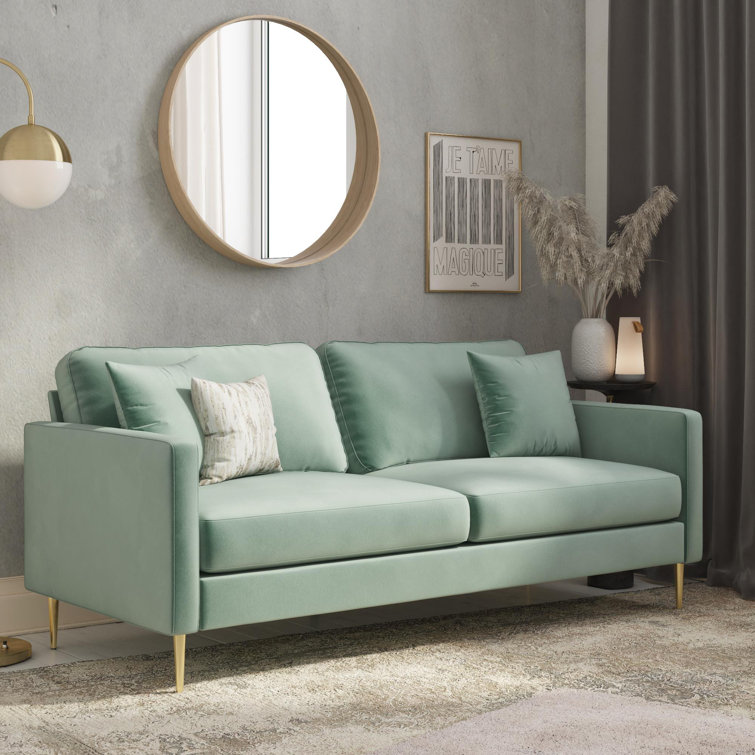 Top Features:
Trendy color
Gold-look, metal-finished legs
Two accent pillows
Technical Details:
Upholstery: 100% polyester
Frame: Metal; solid and manufactured wood
Weight: 90.39 pounds
Overall dimensions: 31" H x 72" W x 33" D
Sleeper: No

Remember the green velvet couch meme? This piece from CosmoLiving, upholstered in velvet-like polyester, is here to make it come true for you. This modern couch, which comes in both sea green and gray, offers a lot in a simple, streamlined silhouette, from its included throw pillows to gold-look legs to the removable seat cushions. This is the smallest sofa on the list, but if you're fine with something closer to a two-seater loveseat than a full couch, that's not a con. This cute couch is a great value, easy-to-assemble, and fairly roomy for its compact size.
View Highland Square Arm Sofa on Amazon
Modern Couches Comparison Table
Modern Couches FAQs
Do I need a sleeper sofa? 
You'll notice in this list and your overall research that some couches have the added functionality of converting into a temporary bed. This can be helpful if you frequently have guests but have limited sleeping space, or if you want your guest room to serve more than one purpose. If you need a more permanent fixture for sitting, lounging, and general relaxation, a non-reclining couch can provide a sturdier sitting area. 
How much do modern couches cost? 
While there is some variation among the couches on this list, many of them are priced affordably when you keep in mind how many years you'll use them. You can get budget couches, though you should always read multiple reviews to ensure you're not sacrificing on quality. 
How should I pick a modern couch?
When you're looking for a modern couch, think about both your wants and needs. For example, are you more concerned with comfort or style? What's your budget? Where will the couch be placed, and how much space do you have to work with? How does the couch need to blend with your existing decor?
Knowing these things will help weed out some couches right off the bat, then help you sort through what's left. Before buying, make sure to also check the dimensions (and double-check them!), read up on the upholstery material, and peruse both positive and negative reviews. 
Buying Guide: Modern Couches
Couch-buying can be an overwhelming experience, which is why we're here to walk you through what's important so you can make the most informed decision. In this guide, we'll unpack some of the terms and marketing speak you'll see again and again in product descriptions and offer some helpful interior design tips on styling your new modern sofa in your living room, bedroom, or office.
Upholstery Options
Most of the upholstery options on this list are either some variety of polyester, genuine leather, or velvet. Let's walk through all three types of upholstery so you know what you're getting.
First, let's talk polyester. As you'll see on this list, polyester can vary in color and texture, offering multiple looks from velvet to linen. But while polyester can look like these types of fabrics, it can offer additional durability and affordability and can be relatively easy to clean. While synthetic fabrics offer many benefits, the materials used to make them don't always hold up well to heat and could worsen static electricity.
Another common upholstery option is genuine leather. Genuine leather is considered to be the most basic leather option available, the others being top-grain and full-grain, but it's also the most budget-friendly. That said, many people on this list love the look and feel of the genuine leather, so don't necessarily let the label scare you away. Top-grain leather and full-grain leather do offer higher quality, though the additional quality can add a lot to the price tag.
Lastly, velvet makes an appearance on this list. Prized for its luxe feel, velvet is a great finish for couches, though it may require extra upkeep to remove dust and pet hair.
Couch Cushion Fill
What's inside matters—and that's definitely the case for couch cushions. Most of the options on this list feature foam-filled couch cushions, but not all foam is created equal. High-density foam will be firmer to the initial feel, while low-density foam offers a softer seat. The latter may initially sound better, but high-density is the option to go with for more long-lasting comfort. More expensive couches may also include down in addition to foam as a filling, which can provide a more luxurious seat.
Styling a Modern Couch
Now for the fun part. Once you've bought and received your modern sofa, how do you style it to get the most out of your purchase? We have a few home decor tips to make any room you put your couch in look like a Dwell spread.
Tip 1: Pile it with throws and pillows
Couches should be so comfortable you never want to leave them. We love the idea of layering multiple cushy throw pillows and blankets onto your modern couch. If you're keeping things neutral, play with texture instead of color, and add in knits, macrame, fringe, and other eye-catching elements.
Tip 2: Pair it with contrasting chairs
Matchy-matchy can be great, but a quirky mix of sofas and chairs is our preference. Pair a velvet couch with a rattan footrest, for example, or add in a boucle armchair alongside a leather couch. Pro tip: If you don't have room for a large sectional sofa, a footrest can replace that functionality while taking up less space.
Tip 3: Position it on a standout rug
Even if you have the trendiest couch imaginable, a room isn't complete without a rug. We love the idea of taking a neutral couch and setting it on top of a vibrant boho rug for a perfectly balanced mix of minimal and maximal.