The Design Home is reader-supported. When you buy through links on our site, we may earn an affiliate commission.
We can all be grateful that the taboo of TV trays is gone. While the TV tray was once thought of as a guilty pleasure enjoyed by people who liked to chow down on microwave meals in front of the television, the TV tray has turned posh. Yes, you'll now find TV tray tables that are attractive and ergonomic. Shoppers will find beautiful TV trays that make snacking while Netflix binging a cinch.
Of course, TV trays are also handy for other things, like being a great work spot for laptops. In the work-from-home age, TV tray tables are more important than ever before among people who like to watch a little content while getting work done. Before you turn on your remote control, though, browse through our list of the ten best TV tray tables to find the right one for you.
Sale
Top Features:
Multifunctional design
Stable construction
Easy to assemble
This adjustable TV tray table works beautifully when used as a dinner stand, snack holder, or portable workstation. It has the ability to perch on the edge of a bed or sofa, and it also folds easily into a compact size for storage. With a sleek design and a balance pole that adds extra stability, it's an all-occasion tray table that's light enough to move around easily.
View HUANUO Adjustable TV Tray Table on Amazon
Top Features:
Multifunctional design
Adjustable
Easy to assemble
This table solves one of the most frustrating problems to go along with using TV snack trays. How many times have you dropped a drink on the floor when adjusting on your sofa or bed? For clumsy me, it is a daily occurrence that leads to mopping water up in the middle of the night. To solve this common problem, this tray features a spill-proof built-in cup holder. The lip on the edge of the table catches any spilled liquid before it gets to your sofa, clothes, or bedding.
This table is easy to move with its "slide and glide" design. With six different height options with three different angles, this versatile table brings sturdiness via powder-coated steel legs holding up a food-rated top. 
View Table Mate II Folding Tables on Amazon
No products found.
Top Features:
Spacious top
Easy to setup
Rustic design
Bringing the style, this gorgeous folding table set combines weathered wood with black iron legs for that industrial-farmhouse look we all want in our homes. These are a great option for anyone looking for wood TV trays that enhance the look of a room instead of being used for only necessary purposes. Overall, the frame is durable on this design. While it folds easily, the attractive look of this tray table means you may never feel compelled to tuck it away when company comes over.
View HOOBRO Folding TV Tray Tables Set of 2 on Amazon
Sale
Top Features:
Solid materials
Nice walnut finish
Convenient design
As one of the more grown-up-looking TV tray options, this set has a walnut finish and offers an attractive way to snack while watching your favorite programs. This set is heavy, solid, and well-constructed. The engineered wood has a nice shine to it. Even though it is strong and sturdy, it is just under 40 pounds. It can also make a nice extra "buffet" table at parties. The added perk of this design is that it provides water protection.
View Winsome Wood TV Tray Set on Amazon
Top Features:
Easy to move
Nice marble finish
Good weight limit
This faux marble Linon decorative TV tray set includes four tray tables and a storage holder. It has a rich-looking design and is constructed from ecologically sourced rubberwood with a dark-brown finish that's finished off with silver-toned hardware. While the patchwork faux marble top adds some heft to this design, it's still easy to carry with help from a built-in handle. 
View Linon Home Decor Tray Table Set on Amazon
Top Features:
Adjustable height
Sturdy construction
No assembly required
This Soundance TV tray is easy to fold and doesn't require any assembly. It comes packaged fully ready to use with four adjustable heights. The steel legs create a triangle formation that adds to the sturdiness of the table. The thoughtfully-designed curved corners on the tabletop portion help to reduce the risks of bumps and bruises. The legs of the table have non-slip features to keep your floor safe from scratches.
View SOUNDANCE Small Folding Table on Amazon
Sale
Top Features:
Modern style
Eco-friendly materials
Multifunctional design
If you're looking specifically for bamboo TV trays, this well-constructed table should be on the top of the list. While this is a great option if you want sturdiness, it does not have any adjustable features. It makes a great petite workstation for a bedroom, dorm, or small apartment because of its Z-shaped design. Overall, the Zoopolyn TV Tray is an elegant TV tray that's well suited for smaller spaces.
View Zoopolyn Bamboo TV Tray Table on Amazon
Top Features:
No hassle assembly
Convenient and multifunctional
Sturdy design
This NNEWVANTE TV tray table is sturdy with a versatile design. It gives a rustic-meets-refined aesthetic that makes a wonderful dining table for one, writing station, or work desk for anyone living in a compact space. Its Z-shaped design delivers stability and ergonomic support. A top pick among bamboo TV trays, this particular design is made from high-grade natural bamboo that is more durable than plastic.
View Sofa Table TV Tray on Amazon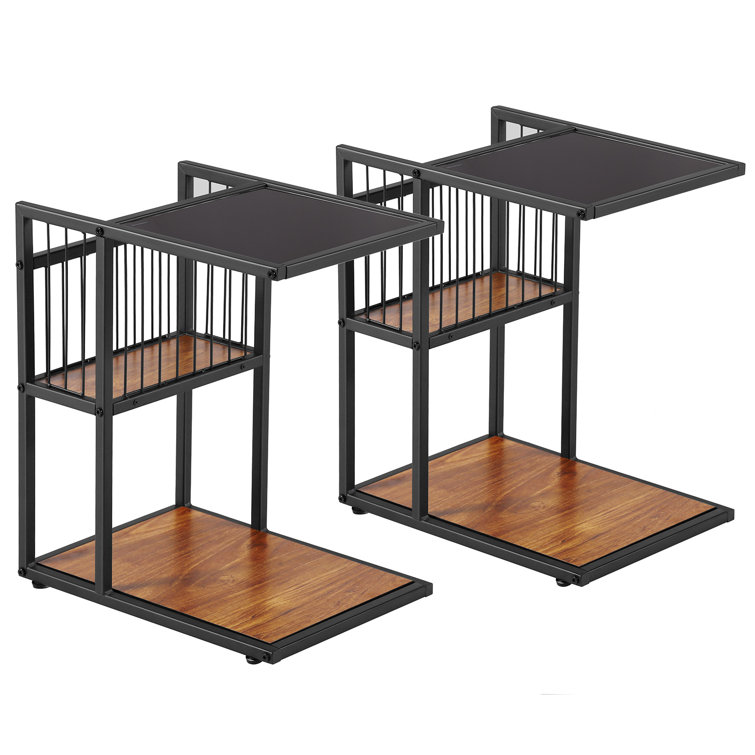 Top Features:
Basket storage
Quick set-up
Compact and lightweight
This TV tray table is unique in that it comes in a set of two, offering the opportunity to have matching tables on both sides of a bed or couch. This is ideal for couples who want to work or eat together in a convenient location. It also has a basket built-in for storage, creating a great spot to place chargers or cables for easy access. With an industrial design, it can easily mesh with a plethora of design styles.
View Accent Tray Table Set (Set of 2) on Wayfair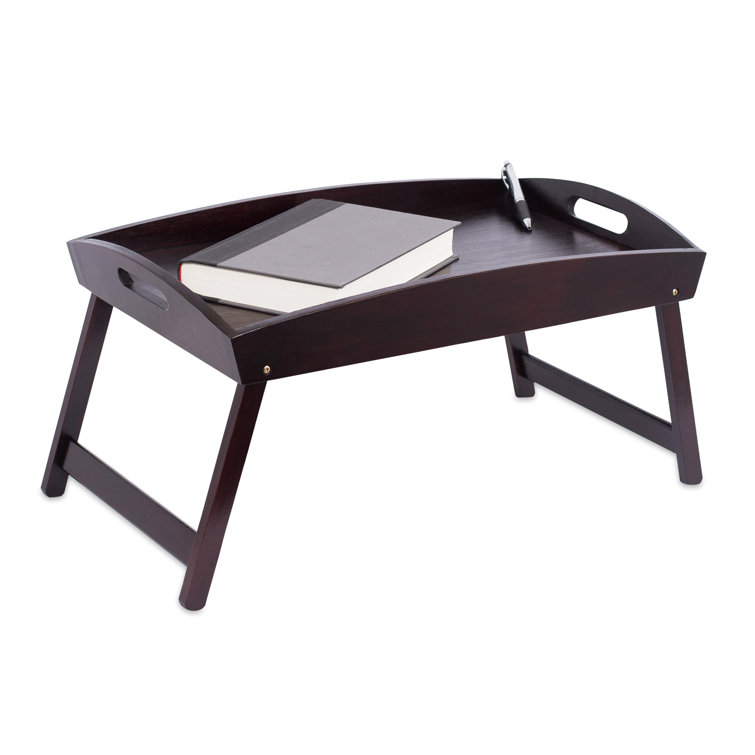 Top Features:
Easy to store
Fold up design
Two color options
The Birdrock bamboo tray table is small so it fits right on the bed, couch, or your lap. This makes it extremely versatile in being able to move around when needed, and it also removes the tripping hazard that the legs of other TV trays can sometimes pose. With two different colors to select from, you'll be able to find one to mesh with your current style.
View Birdrock Home Bamboo Bed Tray on Wayfair
A Buying Guide for TV Tray Tables
The TV dinner tray has undergone a serious upgrade. There's no need to try to balance a tray on your lap when you move up to a "mini table" that provides the space, durability, and ergonomic considerations you need to enjoy every last bite while watching your favorite shows. Take a look at the following questions before settling on a new TV tray table, so you'll be sure to find one that meets all your needs.
Portability
If your tray table is going to be doubling as a portable workstation when you're not chowing down, consider how frequently you'll be moving the table. A table that will be moved from room to room based on how you're using it should be capable of folding. You should also take a close look at the specs to see if there's a built-in handle before settling on a table. Don't forget to check product weight. Some "small" TV tray tables weigh up to 40 pounds.
Finish
Some finishes can absorb stains easily. Others may be hard to clean thoroughly because they are so delicate. Do your homework on the finishes that are available to discover what works best in terms of stain prevention and easy cleaning. If you're purchasing a TV tray table for a child who will be eating snacks directly from the surface of the table, look for non-toxic, food-grade tabletop finishes.
Adjustability
Many of the mature-looking TV tray tables are stationery designs that don't fold or adjust. While they look amazing enough to keep out all the time, they can be frustrating if you need different heights for various activities. For instance, you may find that a non-adjustable tray causes you to hunch while you're typing on your laptop.
If you're purchasing a table to be a multi-use table, you might want to focus on finding an adjustable TV tray table. The same is true if multiple members of your household will be using the table because everyone will have a different height preference.
Surface Size
Confirm the surface area of the top before making a commitment based on product photos. All of the TV dinner trays and tables on our review list have tops that cover between 18 and 25 inches. A difference of 7 inches is a pretty big deal if you have larger hands, tend to use bigger plates, or need room for a large laptop.
TV Trays FAQs
Do I need a TV tray for my home?
It's not a necessity per se, but if you enjoy eating while sitting on the sofa, then a TV tray would be a great investment. TV trays have a versatile design that can also be used as a desk for studying.
What should I look for when buying a TV tray?
The size of the desk is the first thing you should look for. The type of legs is also important when looking for a TV tray, and the overall weight of the tray can be a big deal if you'll be carrying it to multiple locations.
How can I check the quality of the tray before buying it?
We highly suggest that you check out the reviews section on Amazon. A lot of reviewers share their experience with the product and that can help you choose the best one for you.