The Design Home is reader-supported. When you buy through links on our site, we may earn an affiliate commission.
by Savannah Phillips
Now that we've spent over a year in our makeshift home offices, we are starting to feel it. Our spaces look stale, and we're figuring out what has been working for us, and what hasn't.
It's pretty safe to say that at this point we are here to stay. That means it's time to get something that is both functional and aesthetically pleasing instead of trying to make that old wobbly table with the bad leg our permanent workstation. Whether you're the only one working from your home or you're sharing an office with your spouse, a height-adjustable home office desk or a height-adjustable desktop might be right for you.
Best Height-Adjustable Desktops 2021
So, you have your home office setup exactly the way you want with your hand-picked desk with matching bookcases, but months after using it, your back is killing you? You definitely cannot justify to your checking account that you need an entirely new setup, but the ergonomics of your office are really important. What to do?
Lucky you, there are these fantastic pieces that give any standard desk the adjustability that is needed. A height-adjustable desktop is a piece of equipment that sits on top of an existing desk. They offer a lot of customizable options to suit the needs of the user. There can be arms to hold the monitors, cupholders, pen slots, keyboard trays, and more.
Height-adjustable desktops can be made with a variety of different mechanisms and levers to change the height of the desktop unit.
One of the best adjustable desktop units is by Uplift. It's more attractive than some of the other options since it comes in a beautiful wood tone that can coordinate with the desk it is placed on. This version is also electric-powered, making it extremely functional for the user over a hand-powered version.
Top Features:
No clamping needed
Offers 21 inches of adjustability
Can lift 110 pounds
View Uplift Desk Electric Standing Desk Converter on Amazon
This adjustable desktop is a standard ergonomic desk, allowing for a plethora of great features for the user. This unit comes in a solid black that is easy to coordinate with any existing furniture pieces. The VariDesk is weighted for stability and has a keyboard tray as well as a curve for ideal posture.
Top Features:
Two tiers
11 height settings
Comes fully assembled
View VariDesk Essential 36 Standing Desk Converter on Amazon
This height-adjustable desktop unit is larger than some of the other models giving space for multiple screens and a keyboard. Though it is a simple option, it offers the ability to sit sometimes and stand at others. With its lower price, it can be a budget-friendly option when it comes to purchasing an in-home unit.
Top Features:
Affordable
Air pump assist
Comes fully assembled
View Stand Steady Standing Desk Converter on Amazon
Best Height-Adjustable Desks 2021
A height-adjustable desk, also known as a sit-to-stand desk, is a standalone desk that can be used for better ergonomics for the user. These can be straight surfaces, multi-levels, or even different shapes such as L-, C-, or U-shaped.
If you're in the market for one of these, here are three great choices.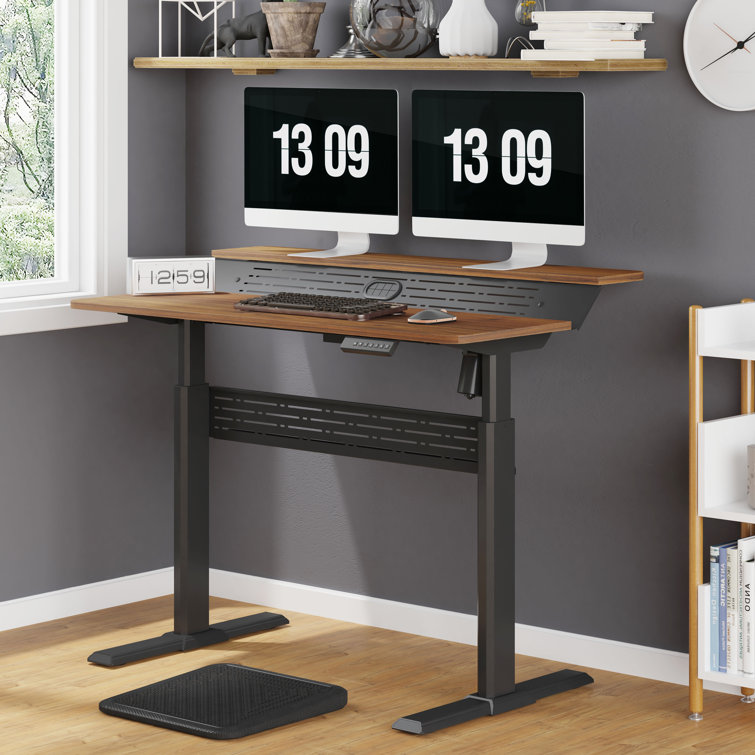 The Fitueyes height-adjustable desk from Wayfair has amazing features. With multiple levels of surfaces, this desk offers an extra level of comfort for the user's neck and wrists, which can be a huge issue for people who are constantly at the computer typing. Additionally, these height desks have outlets built in to help with the number of cords that are hiding around the desk to trip over.
Top Features:
One button electric lifting
Quiet motor
Easy to assemble
View Fitueyes Height-Adjustable Desk on Wayfair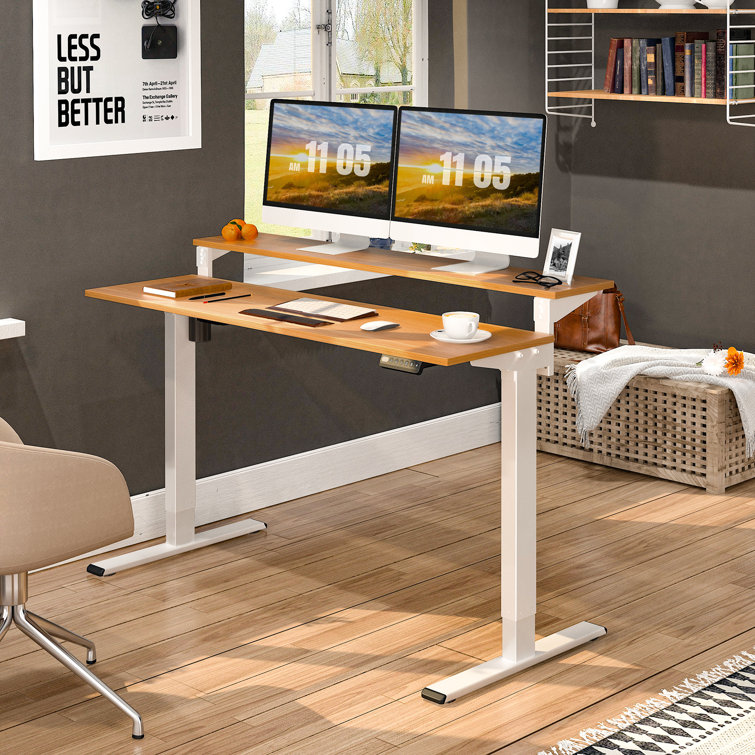 The Twillery Co. desk has dual zones that allow workers to spread out over two tiers or to solely work on one. It lets you customize how much space you need — if you're doing a project that takes a lot of unbroken space, use only one-tier. Otherwise, you can switch to two tiers.
The memory buttons can save four various heights that you can easily switch between by pressing the buttons. The desk works for a wide range of heights, from 5'2 to 6'6.
Top Features:
Can fit two monitors on the top tier
Different color options
Weight capacity of 132 pounds
View The Twillery Co. Height-Adjustable Standing Desk on Wayfair
A favorite with buyers because of its features and color options, one of these desks should blend in well with whatever decor you currently have in your home office. Your color options include a reclaimed wood look, black, white, butcher block, or dark wood.
You can program your favorite positions and switch between them with the press of a button. If you're not the handy type, you may love that the assembly is simple and can be done in less than five minutes.
Top Features:
Electric powered
Beautiful finishes
Quiet motors
View Vari Electric Standing Desk on Amazon
Getting Acquainted With Height-Adjustable Desks and Desktops
If you've never used one of these before, you may be wondering exactly how they work and what the benefits are. We've answered some commonly asked questions to help you decide what you want.
How does a height-adjustable desk work?
An adjustable desk is typically powered with a cord plugged into an electrical outlet. There is commonly a controller on the front of the desk where the user can select a height for the desk or adjust it by arrows until it is the height they desire. This varies by manufacturer, but instructions are included when purchased.
Though height-adjustable desks are most often powered with electricity, there are some versions that you can adjust by hand, often using a slat system and moving the surface of the desk between those slats. This typically requires removing all items from the desk before changing the surface height.
What benefits does a height-adjustable desk give?
There are many benefits to using these types of desks. They are great for multiple users as they allow each one to choose a height that is comfortable for them. Using height-adjustable surfaces also allows for the space to be used for different tasks if the members of the household have different jobs or functions.
Ergonomics is one of the primary benefits. Switching from a sitting to a standing position can improve posture as well as overall health for users' bodies. Using a sit-to-stand desk can help to keep a body in motion.
Also, these desks can give users more energy and decrease fatigue. You'll likely feel better and less stiff even though you're still putting in a full day of work. Thanks to the energy you feel and need to take fewer breaks to move around, your productivity should increase as well.
How does a height-adjustable desktop work?
This kind of desktop can change from standing height to sitting height, allowing the user to easily transition throughout the day without losing work time. This works with a series of interchangeable components to optimize customization. These are typically hand-powered, so they do not require any outlets or any form of electrical connections.
While it meets the same end objective as a desk, you can put it on top of your existing desk so you don't have to buy another one. In a space-challenged environment, you could use it on your kitchen table or dining room table if you don't have a desk.
Which is better: a height-adjustable desk or a height-adjustable desktop?
They both have pros and cons in certain situations. A height-adjustable desk can be a better option, especially when you get to start fresh. These desks can give a great new look to the space and give you a lot of choices when it comes to finish, space, and function. They are generally sturdier than the desktop versions.
Height-adjustable desktops are fabulous choices when it comes to cost and using existing items. They can easily adapt themselves to your current home office and even be used throughout the house. If you want to work outside on your patio table to enjoy the nice weather, you can with one of these.