When you're pregnant, your to-do list and must-have list are never-ending. It's hard to relax because there are so many things on your checklist, and the number of essential items you'll need once the baby gets here is enormous.
Any comprehensive list of gifts for pregnant women should offer items geared toward relaxation, safety, and baby preparedness. If you're struggling to come up with the right item to give the pregnant lady in your life, we're here to assist with these 20 winners.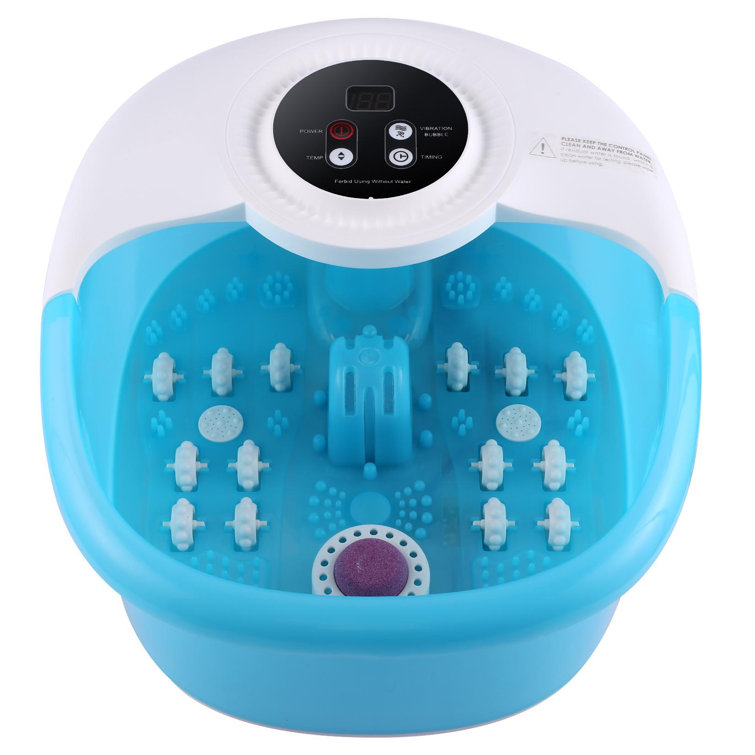 Top Features:
14 massage rollers
Built-in pedicure stone
Adjustable water temperature
One of the biggest discomforts of pregnancy is the huge, swollen feet and ankles moms-to-be get when they are on their feet too much. The problem is, life doesn't stop just because you're pregnant, and being on your feet is a necessity most of the time. The Timeable Foot Spa will give pregnant ladies ' feet a soothing massage when they most need it. They will be able to adjust the water temperature to keep it as warm as they'd like.
View Timeable Foot Spa Misiki Foot Bath Massager on Wayfair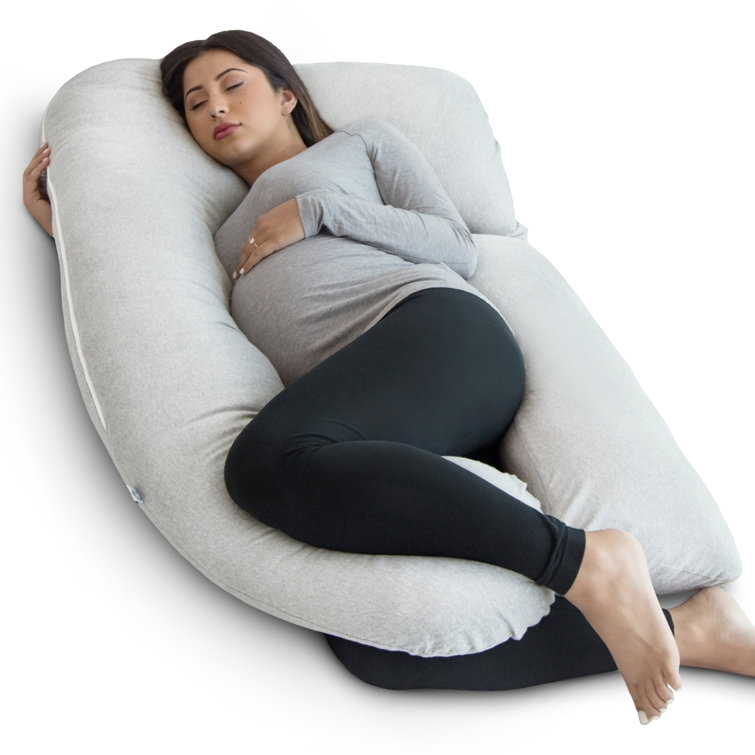 Top Features:
Removable cover
Detachable extension
Machine washable
Pain and discomfort are a normal part of pregnancy, especially in the third trimester. It can be difficult to sleep when you can't find a comfortable position to ease your back pain. By gifting this U-shaped pregnancy pillow, you'll give a pregnant woman the gift of sleep and pain relief. It's super soft and big enough to support any of her body parts that are aching. It'll continue to be comfortable after pregnancy, too, for all members of the family.
View U-Shaped Pregnancy Pillow on Wayfair
Top Features:
Informative
Reassuring
656 pages
Being pregnant can be incredibly stressful because you're constantly wondering if you're doing everything right. Who knew things like deli meat and hot tubs could be so scary as a pregnant lady? What To Expect When You're Expecting is a comprehensive guide that will help you realize what you can and can't do while pregnant and address any concerns you're having. Pregnancy is a magical time, and this book will help take some of the worries away so you can enjoy it. 
View What To Expect When You're Expecting Book on Amazon
Top Features:
Even if you're not a fan of actress Jenny McCarthy, her pregnancy book, Belly Laughs, is a must-read. McCarthy isn't embarrassed to share some of the most intimate and embarrassing pregnancy stories she went through. It'll make most pregnant women laugh or realize they aren't the only ones going through these feelings and experiences. 
View Belly Laughs Book on Amazon
Top Features:
Small
Breathable
Great for travel
Not everyone has the space in their apartment for a body-sized pillow. That's where a small wedge pillow can come in handy. This pillow will wedge under the part of your body that needs support, whether it's your back, belly, or knees. One side has soft memory foam for a comforting touch, while the other has firm foam for more support. It comes with a cover that can be tossed in the washing machine. 
View OCCObaby Store Pregnancy Pillow Wedge on Amazon
Top Features:
Sentimental
Beautiful
Inspiring
Every mom-to-be wonders at some point if she's up to the all-encompassing task of motherhood. This necklace will remind her of the amazing journey she's embarking on, and the beautiful eternity circles showcased will give her some big feelings. The design is simple but beautiful, and it's sure to be appreciated by any pregnant woman in your life. 
View Mama To Be Necklace on Amazon
Top Features:
Made with natural ingredients
Recyclable packaging
Great for tight skin
This set contains belly butter, a soothing foot and leg cream, and beeswax lip balm — everything a woman needs to combat the dry, itchy skin of pregnancy. These products contain none of the bad things you want to avoid, like parabens and phthalates, and they use botanicals that are natural and good for your skin. The belly butter is likely to be especially appreciated because its soothing blend of cocoa, shea, and jojoba butter will help ease the itch of skin that is too stretched out to be comfortable.
View Burts Bees Pregnancy Gift Set on Amazon
Top Features:
For a variety of eating styles
100 recipes
Nutritional to support baby's development
Eating right while pregnant is a constant struggle. You want to devour every ice cream flavor insight, but you know you and your baby need to intake a lot of nutrients. The Feel-Good Pregnancy Cookbook will help pregnant women figure out what nutrients are essential to take in, offer delicious recipes, and provide recipes for targeting certain issues such as nausea and cramps. And best of all, the recipes are easy to make, which is important since women don't always have the time and energy to cook while growing a baby. 
View The Feel-Good Pregnancy Cookbook on Amazon
Top Features:
It can't be stressed enough how much a lady's feet ache during pregnancy. The weight gain and the effects of extra fluids in your body can be intense. These socks will give a gentle reminder to a lady's partner that her feet could use a little extra TLC right now. These are a practical gift as well, helping to keep feet warm and safe from the germs on the hospital floor during delivery. Plus, with their grippy bottoms, they will prevent sliding and falls. 
View If You Can Read This, Rub My Feet Socks on Amazon
Top Features:
Some women feel hot during later pregnancy, but others still feel cold all the time, particularly if they're pregnant during the winter months and live in a cold climate. If the pregnant lady in your life is always cold, this oversized Bedsure wearable blanket hoodie will be a big hit. It has deep pockets, a hood, and super snuggly fleece. It'll be big enough to wear throughout pregnancy, and she'll be able to continue wearing it afterward as well. 
View Bedsure Wearable Blanket Hoodie on Amazon
Top Features:
Great for surrogates
Plays music and voices
Discreet
Not everybody's pregnancy journey is the same. Some women have surrogates, and BellyBuds is a wonderful gift to give when a woman isn't carrying her baby — or even if she is. Either way, women will enjoy getting to record and playing messages to their babies with these BellyBuds that can be placed against the stomach to convey messages or play soothing music. 
View Wavhello BellyBuds Baby-Bump Headphones on Amazon
Top Features:
Holds 32 ounces
Marked reminders on bottle
Comes with an extra lid
Hydration is more important than ever when you're pregnant — two lives are counting on you drinking enough. That's what makes this an ideal gift for pregnant women. They'll be able to mark how much water they should have ingested by a certain time of the day, and the bottle has a reminder on it to refill the bottle when they're done. Made out of borosilicate glass, it comes with a removable silicone sleeve to help protect it from breaks or cracks. 
View FIT Strong and Healthy Store Water Bottle on Amazon
Top Features:
Funny
Dishwasher safe
Stemless
For moms-to-be who are in their last trimester, the countdown is likely on for not only when they get to meet their baby, but also when they can once again have an alcoholic drink. If they are a wine drinker, they'll get a chuckle out of this glass. It holds a generous 15 ounces and can be cleaned in the dishwasher, which will be a big deal once the workload of becoming a mom begins. 
View I've Waited 9 Months For This Wine Glass on Amazon
Top Features:
Beautiful
On-the-go aromatherapy
Washable refill pads
Morning sickness is a big struggle for some women throughout their pregnancy. If you know a woman who has had trouble with this ailment, this essential oil diffuser bracelet might work. The bracelet is beautiful all on its own, but it has a trick up its sleeve — it stores a pad that can be scented with a woman's favorite essential oil. Some essential oils, like peppermint, are known to help with nausea. As a bonus, the pads are different colors so she can color-coordinate the pad to her outfit. 
View Romanda Store Essential Oil Diffuser Bracelet on Amazon
Top Features:
Adorable
Super soft
Many colors
Help that mom-to-be embrace her new role as a fierce, protective mama with this super cute mama bear shirt. Soft and cuddly, it's a lightweight sweatshirt that will work on any cooler day. With many sizes and colors to choose from, it'll likely become a staple in any mom's wardrobe.  
View Blooming Jelly Store Mama Bear Sweatshirt on Amazon
Top Features:
Soft
Several styles
Lots of colors
Every pregnant woman goes through that phase where she is starting to gain weight but doesn't look pregnant yet. For times like that, it helps if you have a pregnancy announcement shirt like this one. It'll fit most pregnant women through the first trimester and, in some cases, beyond. If you know about pregnancy during its early days, this is a great gift to give an expectant mama.
View Eating Tacos For Two Shirt on Amazon
Top Features:
Week-by-week documentation
Share the journey with your baby
Room for ultrasounds and photos
Pregnancy is one of the most emotional times a woman can go through. Let her fully feel each moment and document them for her unborn baby to read later with this beautiful baby journal. It gives you two pages of room for each week of pregnancy, as well as room for the birth story and a mama's wishes for her baby. 
View Dear Baby Journal on Amazon
Top Features: 
Sentimental
Prompts for letters
Serves as a time capsule
This set comes with 12 envelopes for letters you can write now for your baby and give to them later as they reach specific milestones in their lives. You'll be able to express your love, hopes, and wishes for them, and seal it away for them to see when they become more mature. 
View Letters To My Baby on Amazon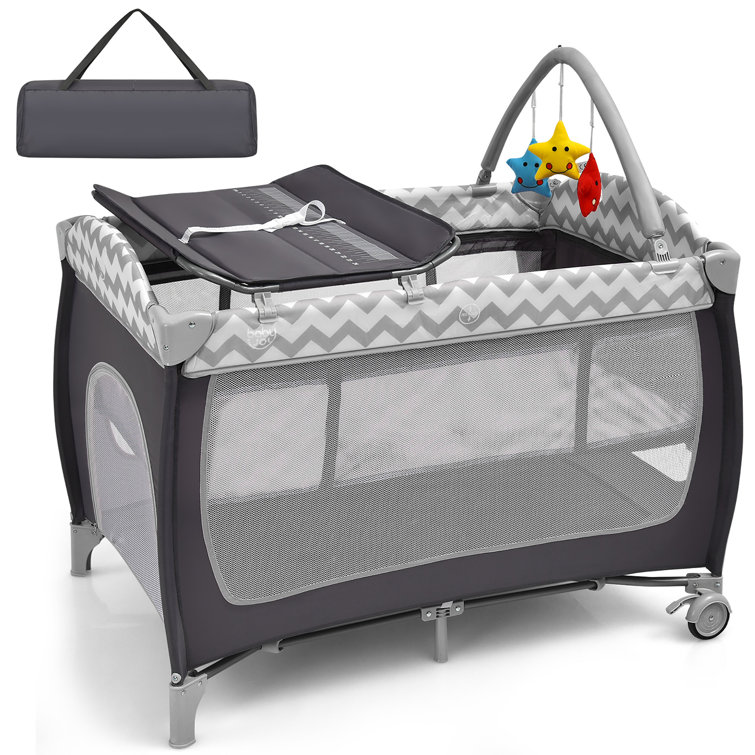 Top Features:
Useful up to 36 months
Practical
Sturdy
Pregnant women are under a lot of strain — and a lot of that strain can be financial. They have to buy baby gear and face medical bills. Why not take some of the strain off of them with a baby gear gift they'll get a lot of use out of? This baby playard can be set up in their living room or any other place they'll spend a lot of time in. It gives them the option of keeping their baby in their sight instead of putting them in the nursery when the baby is napping. 
View Cheshire Moses Basket with Bedding and Stand on Wayfair
Top Features:
Plays 10 melodies
Six swinging speeds
5 soothing sounds
Baby swings are a luxury if a pregnant woman is on a tight budget, but they are immensely helpful to have once their baby is born. This Graco swing sits low to the ground, plays 10 classical melodies and five sounds, and uses a slow side-to-side swaying to help babies settle down. It's a cozy place for a baby to relax with a deep seat and head support. 
View Graco Simple Sway Swing on Amazon