The Design Home is reader-supported. When you buy through links on our site, we may earn an affiliate commission.
by Savannah Phillips
You know more about your boyfriend than anyone else, but when it comes to gift time, you're stumped. After all, isn't being your boyfriend everything he could ever want? Luckily, we're here to help you find a great gift to keep you in good standing with your boo.
We have curated a list of 20 gifts for boyfriends of all types, so you're sure to find the right fit for your significant other without ripping your hair out.
Sale
Top Features
Pain relieving
Promotes posture improvement
Adjustable
"Come crack my back, baby." With this gift, you can finally have a good response if you have ever heard this before. Getting your boyfriend this back stretcher benefits both of you in the long run.
It can be set up in almost any room in the home where one could lay on the floor. From there, your boyfriend can stretch out over the board where it safely cracks or stretches his back, relieving stress and sparing you from making his back pain worse. This back stretcher is durable for a lifetime of uses as well as adjustable based on the needs of the user (which means you could take a "crack" at it, too!).
View Jumpow Back Stretcher on Amazon
Top Features
No wrapping required
Variety of colors
Works for many functions
For your next black-tie event, a neck tie and pocket square set is ideal to have at home. This tie set can be used for work, interviews, formal events, or even date night. Not only that, but with the attractive gift set packaging this set comes in, you can use it in a closet or dresser display. You can't go wrong with a set like this for your upscale boyfriend.
View KissTies Store Tie and Pocket Square Set on Amazon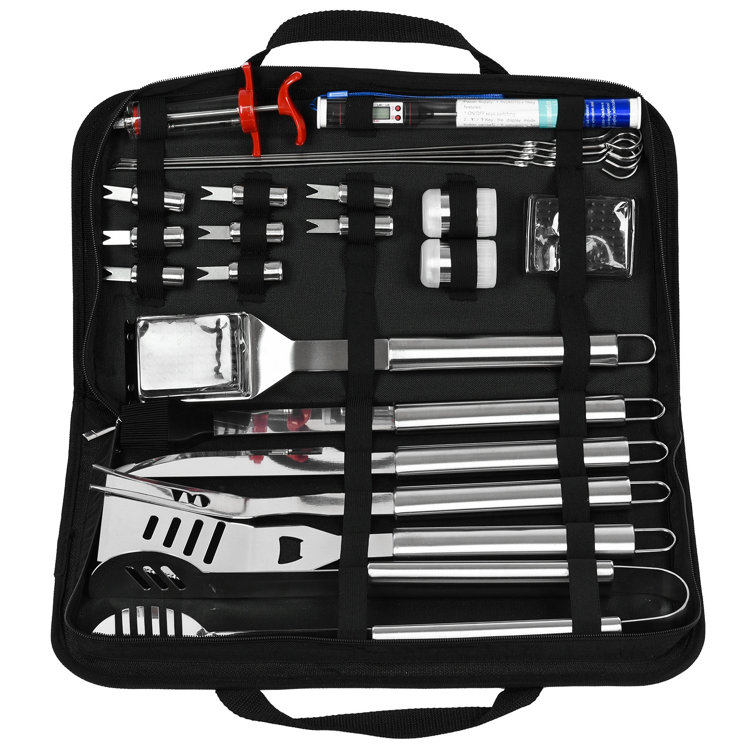 Top Features
Stainless steel
Includes carrying case
Durable
A barbecue set with a carrying case is a nearly universal hit with men. You'll also benefit from this gift because your boyfriend can make delicious meals for you. Plus, he can grill on the go at parks, campgrounds, and the neighbor's house.
This set includes 25 pieces to provide all the tools your boyfriend may need when grilling a variety of different foods. The tools are extremely durable and cleanable for a long life span.
View Felix Barbecue Tool Set on Wayfair
Top Features
Comfort
Versatility
Rubber sole
Everyone needs a good pair of slippers around the home, and getting a new pair is almost always welcomed. A new pair of slippers will help keep your sweetie's toes warm, as well as keep him from tossing pairs of socks around every time the weather changes.
You may even catch him wearing these slippers to the gas station when the late-night cravings hit. That makes the rubber soles on these slippers important so the slippers don't get wet when trudging through the snow.
View BEARPAW Slippers on Amazon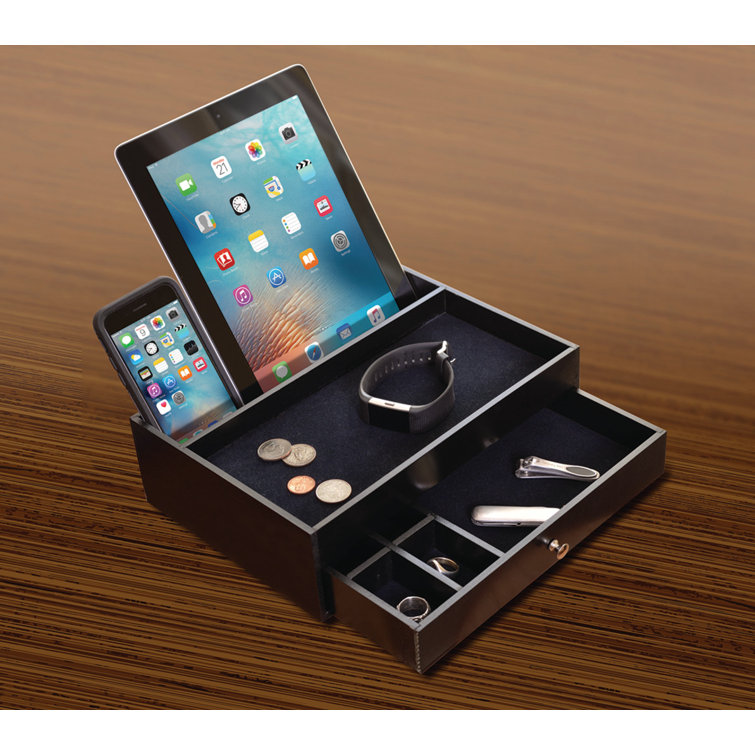 Top Features
Space for phone and tablet
Drawers for accessories
Small footprint
Keeping your boyfriend charged up and organized makes leaving the house much less of a hassle. A charging station is great for on top of nightstands, dressers, or even desks depending where they usually tuck in their electronics at night.
Charging stations are an excellent way to make a boyfriend who does not live with you feel welcome and like they have a place to put commonly needed items without putting too much pressure on the relationship. It is great for more established relationships as well by giving them a more convenient space to conduct their morning and evening routines.
View Rebrilliant Charging Station on Wayfair
Sale
Top Features
USB charging port
Comfortable and safe
Durable and sturdy
A travel backpack is another one of those essentials everyone deserves a quality version of, and the Matein travel backpack fits that bill. This pack is great for hiking, airplane rides, train trips, or even just a trip to IKEA. It pays attention to the crucial details, like USB ports for instant charging, padded shoulder straps for comfort, and a plethora of pockets for easy organization.
View Matein Travel Backpack on Amazon
Sale
Top Features
Durable cover
Pen holder
Room for recipes
Encourage two hobbies with one present. This homebrew journal lets your boyfriend brew his own beer while learning which flavors or recipes he likes best. The journal lets your boyfriend track and log his batches, where he can make notes about what works and doesn't to help him hone in on his craft. It contains guidance to help beginners know which factors are important to focus on.
View Homebrew Journal on Amazon
Sale
Top Features
Long-lasting battery life
Charging coaster included
Controlled with an app
Getting your boyfriend a regular mug is so last year. It's time for an upgrade. Get your boyfriend current with an app-controlled, temperature-controlled mug.
This Ember mug can keep his hot drinks hot and his cold drinks cold. It should soon reign supreme over his other mugs. You might be able to finally get rid of those old and dated mugs that have been collecting dust in the cabinets.
View Ember Temperature Controlled Mug on Amazon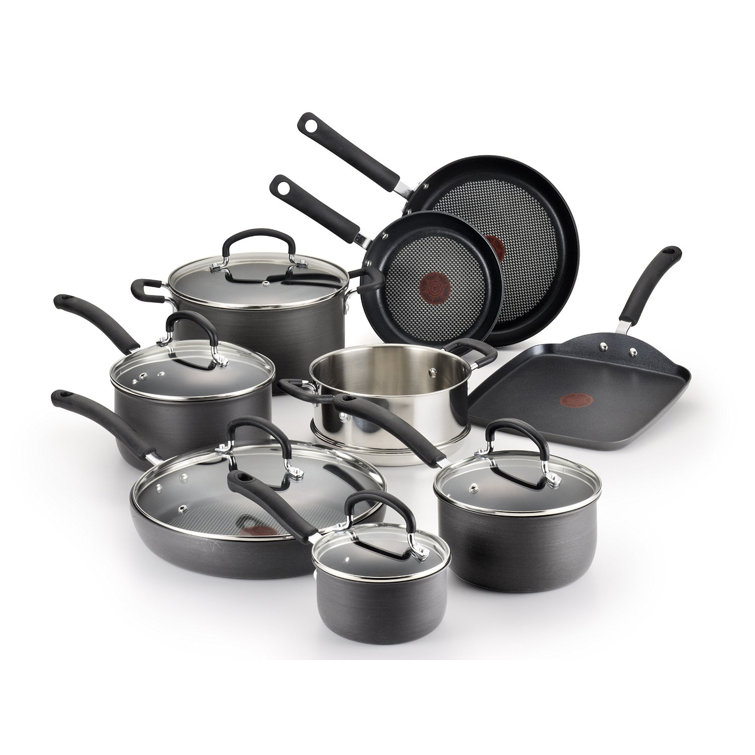 Top Features
Anodized aluminum
14-piece set
Oven and dishwasher safe
I don't know about you, but my man does way more cooking than me, and boy, does he have something to say about my mismatched set of pots and pans. This holiday season a 14-piece set like this that can check off all the boxes is essential.
The nonstick qualities and the ability to put this cookware set in the oven and the dishwasher should make him fall in love with this set. Combine that with the array of shapes and sizes in this set, and you've found him a winner.
View T-fal Pan Set on Wayfair
Top Features
Comfortable
Machine washable
Moisture-wicking
I know, I know, who wants socks as a gift, right? Pretty much anyone over the age of 25, that's who. And with a nice pair of Carhartt boot socks, I promise you nobody is going to be complaining.
These boot socks may be ideal for wearing boots for manual labor type of activities or working in the cold weather, but they are overall comfortable for any occasion. These socks are revered by men in the same way as slipper socks are by women. Your boyfriend better wear these around the house 24/7 or he may just find them on your feet in the winter.
View Carhartt Boot Socks on Amazon
Sale
Top Features
48 hour battery Life
Lag-free
Compatible with most devices
For a gamer boyfriend, this gaming headset is a fantastic gift. These headphones have a phenomenal sound quality and are comfortable for long durations. The microphone cancels out background noise for clear speaking between users. This is ideal when there are multiple things happening in the same home.
A wireless headset can help with cord control as gaming systems often need a lot of cords and can easily get tangled if not properly managed.
View Binnune Gaming Headset on Amazon
No products found.
Top Features
Can hold 60 cans/50 bottles
Sturdy
Built-in bottle opener and drain
Need a monster of a gift? We've got your back with two words: Foosball cooler. You read that right, a Foosball table with a built in cooler. This could quite possibly be part of every boyfriend's wildest dreams. This is a great gift for date nights, tailgating parties, family nights, or pretty much any type of gathering. This cooler is 68 quarts and holds enough drinks for an evening of fun and games.
View Clevr Foosball Cooler on Amazon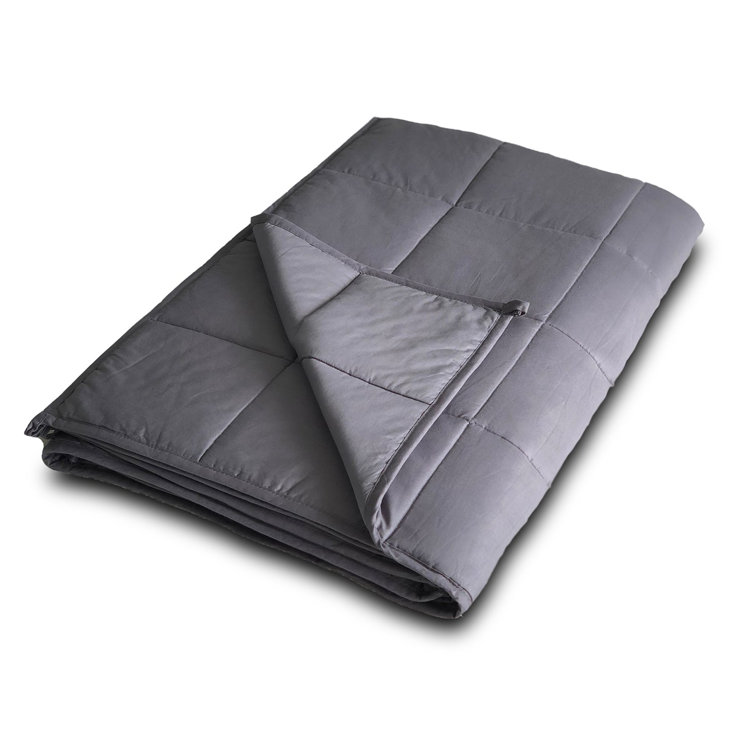 Top Features
Anti-anxiety qualities
Multiple weight options
Cozy
Let's be honest, sometimes we can be a handful, so our boyfriends could use some good old rest and relaxation. Weighted blankets can jump start the relaxation that sometimes our boyfriends won't take for themselves. With the Deep Pressure Touch Stimulation that this blanket offers, there can be added physical and mental benefits.
View Latitude Run Weighted Blanket on Wayfair
No products found.
Top Features
Simple, clean design
Durable
Two money bands
Who needs a wallet when you can have a broccoli wad? A broccoli wad is a basic band that holds your cards and cash in one easy spot. With the underabundance of cash and coin being used, the broccoli wad is more popular than ever. There are no added bells and whistles, and sometimes that is just how your boyfriend likes it.
View Wise Guy Productions The Broccoli Wad on Amazon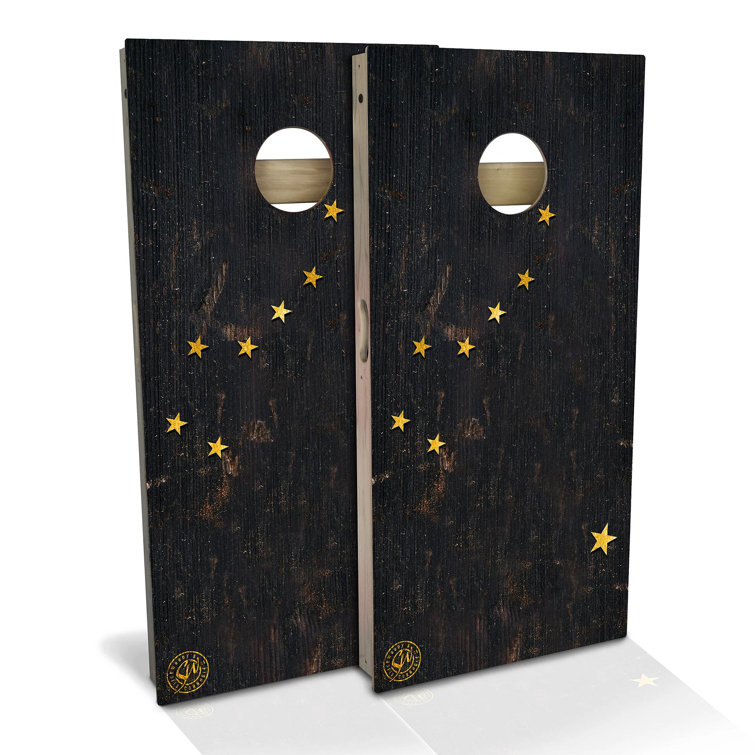 Top Features
UV resistant
Portable
Warranty included
Whether tailgating, backyard parties, or camping are your boyfriend's thing, a new cornhole set could be an excellent gift. This cornhole set is easily brought from place to place with folding legs. The solid wood base and the added UV protection make for a long lasting set.
You can show your love for your home state by getting your boyfriend one of these cornhole sets that showcase state flags.
View Skip's Garage Cornhole Set on Wayfair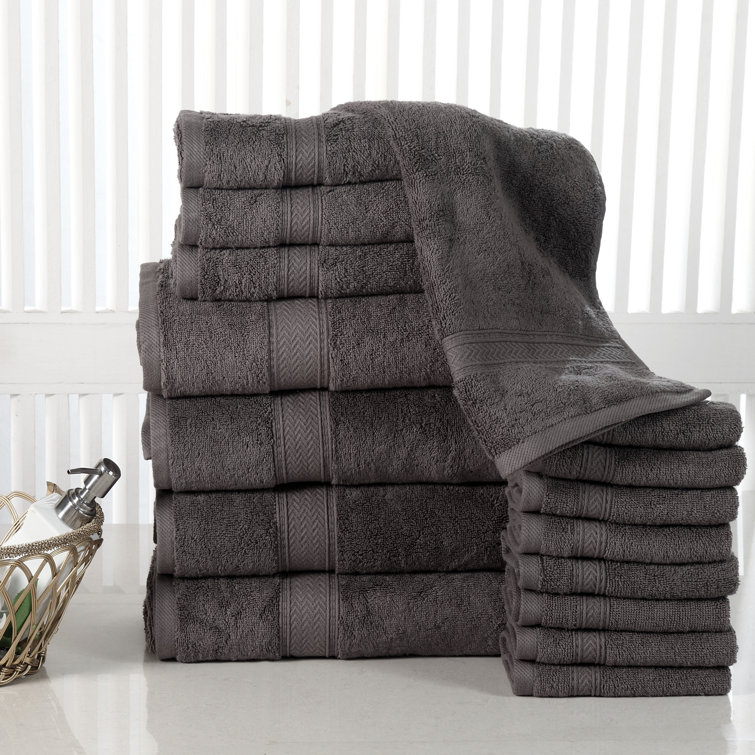 Top Features
16 piece set
Variety of color options
100 percent cotton
A fresh set of towels can make for a completely new space. Getting a new set of towels for your boyfriend is a great idea when they are spending more time at your place, or even living there permanently. They can also be a wonderful gift when looking for a bathroom upgrade or change in the color scheme. Even if none of these are the case, it still feels pretty great drying off with some brand new towels.
View Latitude Run Towel Set on Wayfair
Sale
Top Features
Compact design
Fast charging
Compatible with many devices
I am not saying all boyfriends lose their chargers and let their phones die, I am just saying mine sure does. Having an extra backup charger is one of the handiest little inventions of the 21st century. In all seriousness, these are great for long trips and limited access to electricity such as hikes or traveling, or being too lazy to move to the other side of the couch with the outlet close by.
View Miady Portable Charging Box on Amazon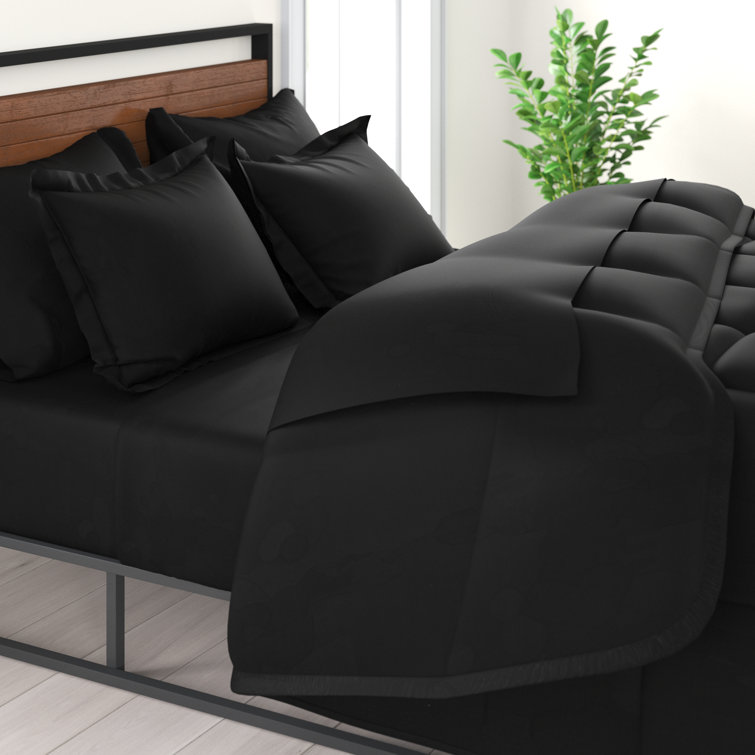 Top Features
Multiple color options
Multiple size options
Includes comforter, sheets, and pillowcases
Does your boyfriend have those standard boy sheets? You know, those navy blue sheets that look like they haven't been washed since 2012? Well, this could be the time to make a huge change.
A new comforter set with limitless options can be a great addition to a shared bedroom or a bedroom where you spend a little bit of your time. This breathable but cozy bedding set can be used year-round.
View Winston Porter Bedding Set on Wayfair
Top Features
Stores 10 cans
Easy to use
Good for organization
A creative and practical gift, this fridge mat may seem boring, but if your boyfriend constantly tries to store a lot of cans of soda or beer in his fridge, this is a great gift. It is easy to use and will help him stay organized. If you're looking for a stocking stuffer, this might make your list.
View Cooks Innovations Fridge Mats on Amazon
Top Features
Personalized
Video instructions
Project to do together
Sometimes quality time is as much of a gift as something tangible, and this memory box is a little bit of both. Starting with a blank slate, you and your boyfriend can add a bunch of photos and mementos and spend the day. A memory box is a fantastic gift for new or old boyfriends.
View Alloyseed Memory Box on Amazon