The Design Home is reader-supported. When you buy through links on our site, we may earn an affiliate commission.
Imagine this – you step out of the warm shower reach for a towel…and it's cold and wet.
Happens to me more than I prefer.
But there's a solution within your grasp: a heated towel rack & warmer.
Trust me – nothing feels like hotel luxury more than a heated towel rack.
It seems like something that only exists in high-end hotels in foreign lands. But this game-changing technology is available to consumers at an affordable price. You are just a few keystrokes aways from solving winter's most significant dilemma: Do I hop out of the shower and freeze, or keep roasting in the shower drying out my skin? Worry no more; you can jump from the shower right into the cozy embrace of a fluffy, warmed towel.
Without further ado, we present you with a list of the best-heated towel racks currently available on the market.
Top Features:
Output of 131 degrees Fahrenheit
Energy efficient
Plug-in or hardwire to bathroom wall
The JSLOVE towel warmer is a premium quality warmer that is easy to use and install with the flexibility to choose a wall-mounted hardwire or simply plug into an outlet. The outlet option is ideal for homeowners looking to upgrade a bathroom without doing major electrical work.
This rack is great for houses with kids, pets, or clumsy adults. The stand heats to 131 degrees Fahrenheit but will not burn anyone who accidentally comes into contact with the bars. Although this towel rack can run all day at a low energy rate without running up a massive bill, it can heat to its maximum in 25 minutes, just the right amount of time to brush teeth and hop into a steamy shower.
View JSLOVE Towel Warmer on Amazon
Top Features:
Attractive design with a variety of finishes
10 bars increase drying surface area
Stainless steel construction
This towel warmer offers a clean and warm way to freshen up your bath towels after you've had a shower and get them nice and toasty before you hop into the tub. It comes in three different colors, so you're sure to find one that works with your bathroom's decor. The stainless steel construction will make sure no rust ever develops.
View Brandon Basics Towel Warmer on Amazon
Sale
Top Features:
User-friendly
Intelligent temperature control
Great for small spaces
We love this towel warmer for its clever, serpentine design. Not only does it add function to a bathroom by providing a place to hang, dry, and warm towels, but it also adds visual interest that more simplistic bar-style warmers simply can't. When design items are fun and functional, it is hard to resist.

A favorite feature this particular model touts is intelligent temperature control. It helps to warm the bathroom, your towel, and even a bathrobe for the cozy overachievers in the crowd, but it won't hurt to the touch. Having a hazard that can inflict burns is always a style no-no, in our opinion.
View BILLY'S HOME Wall-Mount Electic Towel Warmer on Amazon
Top Features:
Includes a remote-control timer
Great heat distribution
Durable materials that won't rust
Who doesn't like a handy remote control? It might sound lazy, but being able to preheat towels, even for a perfunctory morning shower sounds like pure luxury. What's even better is that this nifty towel warming rack will last a long time. It's specifically designed not to rust in the humid atmosphere of the bathroom.
This warmer works great and could fit into various design aesthetics with its finishes that range from shiny chrome to matte black. It does it all and can be modern or classic with excellent, well-considered functions like the timer and remote control.
View bbee.tech Towel Warmer on Amazon
Top Features:
Fast heating
Unique curved design
Space-saving
This heating rack looks like something out of the Jetsons in the best way. Who needs Rosie the Robot when this nifty rack can heat a towel perfectly in just minutes? The groovy curved edges help evenly distribute heat and keep your towels from slipping. There is nothing sadder than a towel falling off the heating rack while you are scrubbing away.

This curvy wonder will fit in well with most decor, even into that 1960s bathroom with the busy basketweave tile you don't have the heart to replace because you want to keep the deep, cast-iron tub.
View HEATGENE Towel Warmer on Amazon
Top Features:
Overheat protected
Durable materials
Power-saving
This pick is an energy-saving towel warmer specially designed to warm up without much electricity. You can choose from three different colors. In addition to being a wallet-conscious addition, it also has clean, modern edges and substantial proportions that make it stand out on the bathroom wall.
This warmer stands out instead of blending in, making your bathroom look spaceship chic.
View SHARNDY Electric Heated Towel Warmer on Amazon
Top Features:
Sturdy, spray-painted iron construction
Modern style
Fast heating time
This towel warmer strikes a balance between whimsical design and function. As a result, the piece punches far above its class in value and expense. Tangkula has produced one of the least expensive towel racks on our list, but you would never know it. This warmer is fun, on-point, and works as a stand-alone while also having the capability to be wall-mounted.
It would be an excellent addition to a kid's bathroom, even if the occupants never turned on the warming elements. The lightweight material and low dimensions make it easy for little ones to grab a towel all by themselves. With any luck, they might not flood the bathroom with some practice.
View Tangkula Towel Warmer on Amazon
No products found.
Top Features:
Built-in on/off switch
Tarnish resistant
Optimized heating

This warmer offers ten crossbars that can heat up quickly, and it only utilizes 150 watts of power for it to heat up. In terms of looks, not everyone wants a flashy towel warmer — some people want a plain but functional towel warmer that lets other design components of the bathroom shine. This one will work in the background without having to command attention.
Having the power switch close at hand gives the user peace of mind that they have turned off the device. There is nothing worse than leaving the house and wondering if you shut off your curling iron or heated towel rack.
View Amba RWH-CP Towel Warmer on Amazon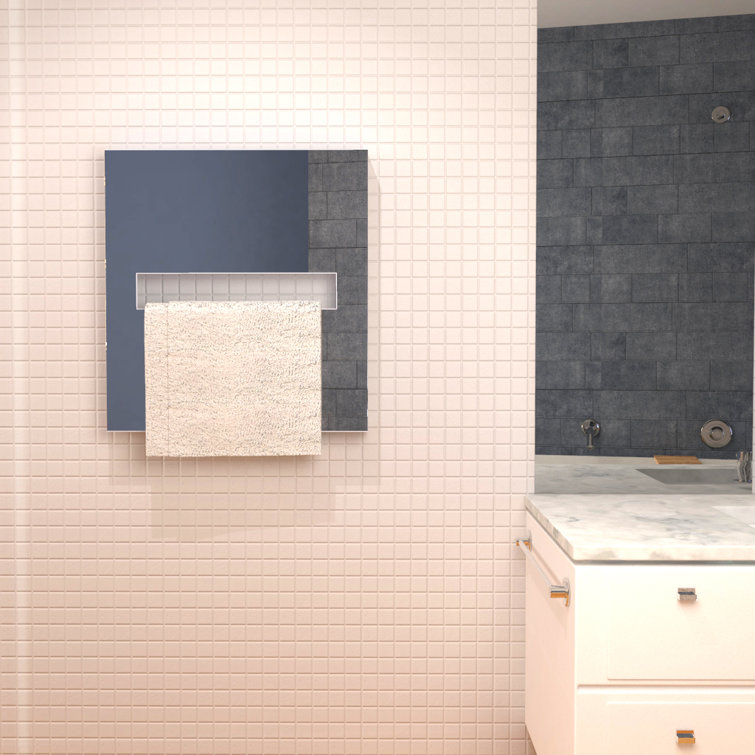 Top Features:
Nine heat settings
Unit compatible with external timers for increased control
2007 Monaco Design Award Winner
If you're after total luxury, the unique flat design of this towel warmer offers a top-of-the-line warming and drying function. In just a few minutes, you have a warm, dry, and fluffy towel. You'll have access to nine different temperature settings over a broad expanse of options to experiment with offer comfort for the whole family. The sleek design looks nice on the wall and is relatively unobtrusive.
Elory is a wonderful addition to a modern, streamlined bathroom. The polished finish would be especially beautiful among stainless steel and marble finishes. In addition, the ability to use external timers gives this warmer endless options. It is an excellent add-on for the homeowner who has it all or the bachelor in your life who could do with a bit of pampering.
View Elory Heated Dual-Function Wall-Mounted Towel Rack on Wayfair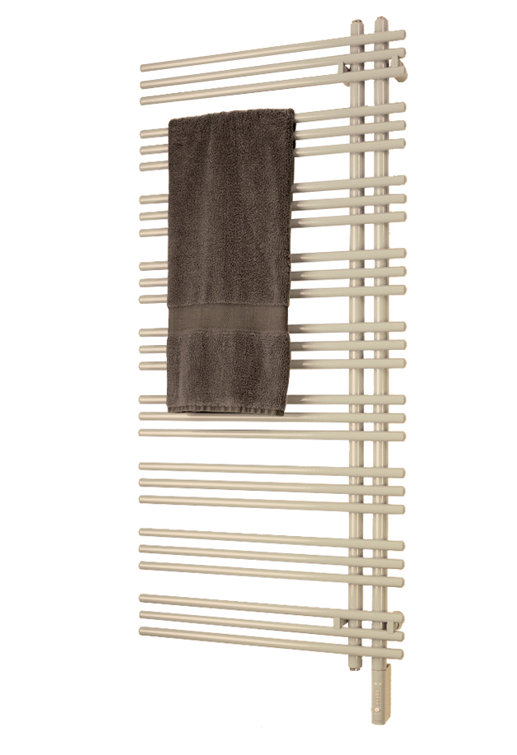 Top Features:
Quiet operation
Popular in bathrooms and mudrooms
Unique open design
Another luxury pick, this model runs quietly, with no bubbling, rattling, or squealing disturbing the atmosphere in the bathroom. The open edge makes it easy to heat nearly anything, not just towels. The thin, elongated lines would lend themselves well to an eastern-inspired design. The five settings let you choose exactly how hot you want that towel to be.
View Runtal Radiators Versus Electric Towel Warmer on Wayfair
Heated Towel Racks FAQs
Is the idea of installing a heated towel rack a new idea to you? We'll go over some of their basics so you can decide if they might work in your home.
Are heated towel racks expensive?
These racks can vary in price, ranging from low-end to high-end. Some are priced low enough that you can experiment with them and decide if they are a valuable asset to your home before committing to a more expensive model. Then that budget warmer can be placed in a guest or kid's bathroom, while you spend more to upgrade your en suite bathroom.
Are heated towel racks safe?
If you're a safety-obsessed person like me, you're probably wondering if a heated towel rack could be a fire hazard. As long as you use it as intended, it's absolutely safe. Like any type of technology that heats up, you need to be careful in using it and purposeful about keeping it on or off. Thankfully, most contemporary warming towel racks offer safety features like auto-turn off or will only heat to an intended temperature, not above.
Are these heating towel racks efficient?
Efficiency has been a focus of most modern manufacturers. Several models on this list disclose their efficiency. Here's to low electric bills.