The Design Home is reader-supported. When you buy through links on our site, we may earn an affiliate commission.
"A place for everything and everything in its place" is a great motto to live by when you want a clean and clutter-free living space. Starting your kids off with proper storage when they are young may lead to a lifetime of neat, organized living. Also, teaching them how to properly care for jewelry — even if it may only be plastic or plated now — will give them the knowledge and appreciation later in life when they actually acquire the good stuff.
Here are eight great jewelry armoires to consider when you want to elevate your kiddo's bedroom storage.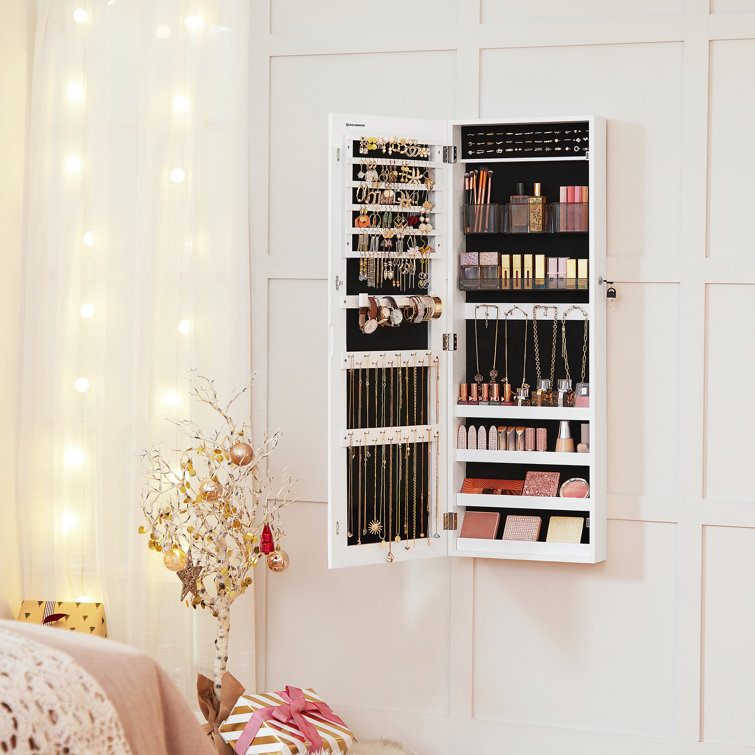 You want to give your child a deluxe armoire, but you may just not have the space. This Songmics jewelry armoire can be hung over the door or mounted on the wall, using either the brackets or the screws that are included. Either way, its slim design offers a ton of storage without taking up a lot of space.
With 108 slots and 36 holes for earrings, 36 hooks for necklaces, 39 places for rings, one bar for bracelets, and four shelves, their jewelry will be organized in one place rather than scattered around. There are also two removable, easy-to-clean plastic cosmetic trays that contain three deep compartments for brushes, two compartments for powders, and eight slots for lipsticks or lip balm. It's a top-notch 2-in-1 organizer for makeup and jewelry.
Plus, its lockable design with two keys (one for you and one for them) protects their possessions from dust and the inquisitive siblings. As a bonus, it doubles as a full-length mirror — win, win, win. Don't be surprised if your daughter loves this armoire and its space-saving features so much that she takes it to college with her.
Top Features:
Full-length mirror
Door or wall mount
Two removable trays 
View Songmics Over The Door Jewelry Armoire with Mirror on Wayfair
Sale
Looking to add a splash of color to your child's decor? The Bailey armoire has a beautiful turquoise finish, lovely metal hardware, and a unique rounded shape. The ultimate storage solution, this armoire houses everything your child could possibly need tucked away and protected.
The seven divided drawers are lined with anti-tarnish felt to protect everything they put inside them. Each side door has 10 hooks for hanging necklaces. The top compartment lifts open to reveal a mirror, ring rolls, and more divided compartments lined in felt. Due to its premium wood construction, there is a great chance that this piece of furniture will be used by your child well into adulthood and perhaps even passed on to the next generation.
Top Features:
Freestanding
Mirror top lid 
Anti-tarnish material
View Hives and Honey Turquoise Bailey Jewelry Armoire on Amazon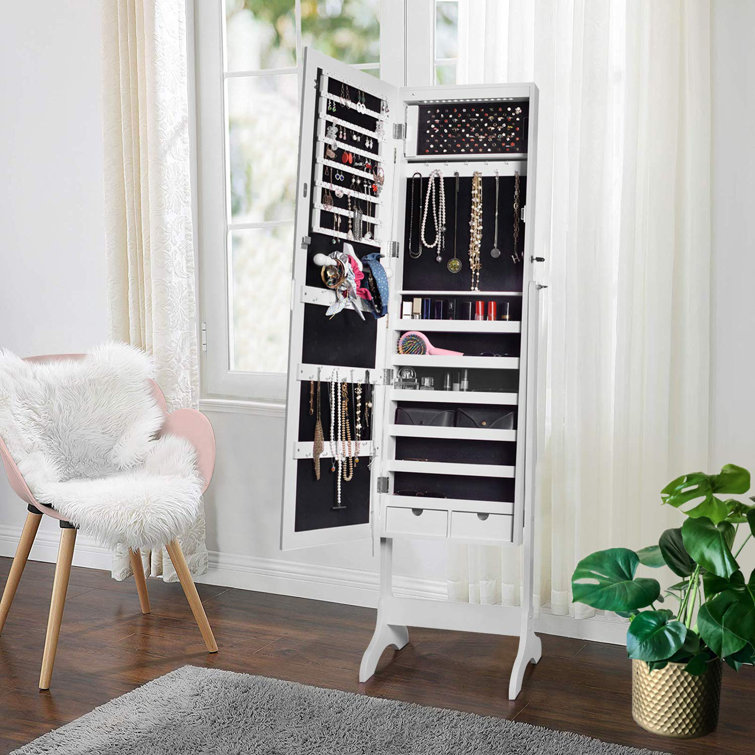 Available in pink or white, the Nouvelle free-standing jewelry armoire doubles as a full-length, cheval mirror. This is a practical jewelry organizer for your child's storage needs. It features a velvet lining to protect the jewelry from scratches, 15 interior lights when the cabinet door is open, and a lock with two keys. 
An important thing to note, this armoire does not come with an anti-tipping restraint. So, depending on the age of your child, as well as personal choice and safety, you may want to consider getting one. However, when choosing your restraint, be mindful of how it affects the design of the armoire. For example, if you were to tether this particular armoire to the wall, the four-angle positional tilting of the mirror may no longer be functional. Food for thought! 
Top Features:
Full length mirror
Velvet lining
Lock
View Ebern Designs Nouvelle Jewelry Armoire on Wayfair
Sale
Available in cherry or dark walnut, the Morgan armoire is a timeless, traditional classic. This armoire features six, spacious pull-out drawers in a vertical row down the front. Three of them have divided compartments, and there are jewelry hooks within each side door, a hinged lid with a mirror, and ring rolls.
The non-compartmentalized drawers can provide storage for undergarments, clothing items, or larger treasures. On either side of the top five drawers, there are vertically grooved columns carved into the corners of the armoire, adding a subtle neoclassical flair to the overall design. Its wood finish and antique bronze hardware will give your daughter's room a grown-up feel and allow them to use this armoire for many years to come.
Top Features:
Neoclassical design
Antique bronze hardware
Mirror top lid 
View Hives and Honey Morgan Jewelry Armoire on Amazon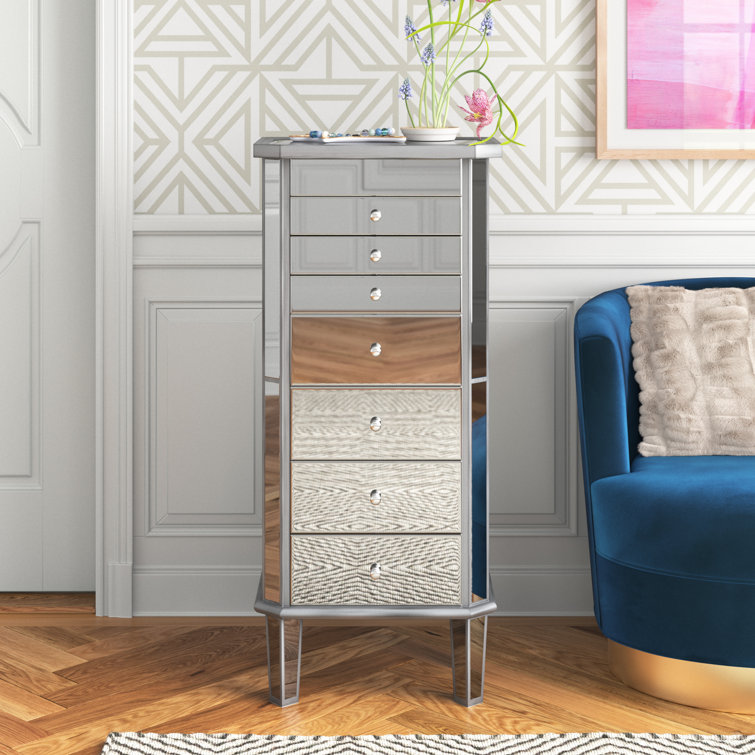 If your kiddo is going for a glam, you've found it in this stunning, freestanding armoire. Made from solid and engineered wood, it features your choice of silver or gold finish, mirrored inlays, and steel ring pulls for luxury overload. There's also a lift-top compartment with an interior vanity mirror and extra storage space, seven felt-lined drawers, and 12 necklace and bracelet hooks in two-side cabinets. This particular armoire does come with a tip-over restraint device, so safety shouldn't be an issue if installed properly. 
Though stunning, there are a few things to consider before ordering a mirrored armoire for your little diva. The first pitfall is fingerprints. It's one thing to have an armoire that doubles as a mirror, but an armoire that is made of mirrors will definitely require precaution, proper instruction, or a lifetime supply of glass cleaner,
Top Features:
Freestanding
Restraint device included 
Mirrored surface
View Etta Avenue Caila Jewelry Armoire with Mirror on Wayfair
If your little one wants an armoire, but you're worried that they'll outgrow it, the LUXFURNI armoire may be a great compromise. Its soft blush color, stitched faux leather exterior, glass crystal knob, and rose gold hardware will most likely outlast its bubblegum-colored competitors. 
This armoire features a full-length mirror, an anti-tarnish velvet interior, 96 earring slots, 12 necklace hooks, 98 ring slots, two bangle knobs, a three-level cosmetic display rack, and a high-contrast interior cosmetic mirror. Limited space? No problem! This armoire can be hung either on a door or mounted to a wall.
Top Features:
Faux leather exterior
Full-length mirror
Rust resistant
View LUXFURNI Mounted Jewelry Armoire on Amazon
Lights! Camera! Action! Do you have a budding actor or thespian? This black armoire features a full-length mirror and 18 LED lights that will turn their bedroom into a mock backstage setting. 
Specially designed with a protective black fabric lining, it has seven hooks for hanging necklaces and bracelets to prevent your child's jewelry from being scuffed, scratched, or tangled.
It also includes three-lined shelves for holding earrings, 40 ring slots, 16 lipstick/lip balm slots, and four storage racks to organize jewelry and other personal belongings. The mirrored jewelry cabinet is constructed of high-quality and durable medium density fiberboard, and the exterior is processed with an exquisite finish to prevent moisture and resist corrosion. With complete hardware, this jewelry cabinet is lightweight, easy to install, and moveable if your daughter wants to eventually take it with her to her college dorm. 
Top Features:
18 LED lights
Ample storage
Lightweight 
View Giantex Black Standing Jewelry Armoire with Lights on Amazon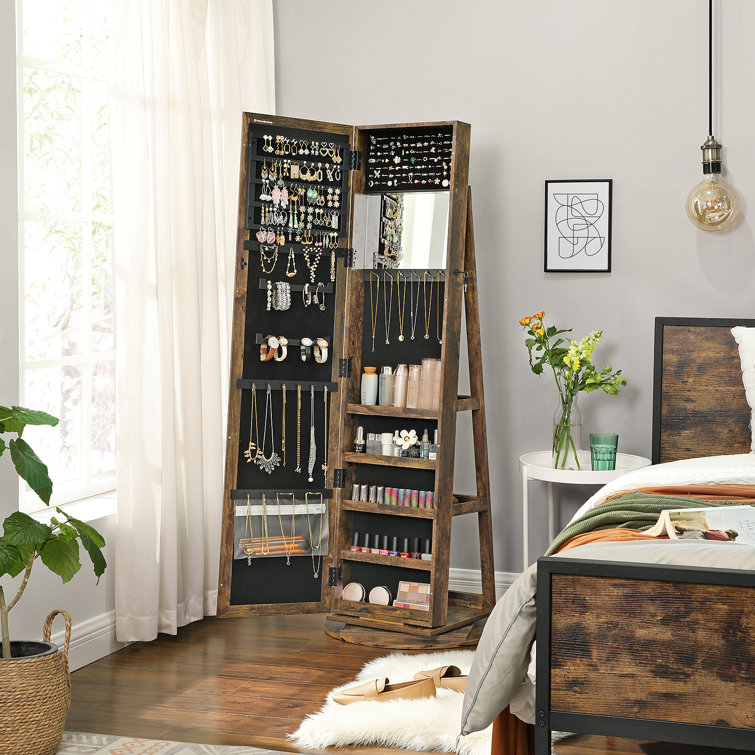 If you've got a little Justina Blakeney (Boho Chic) or Joanna Gaines (Farmhouse Glam) on your hands, this spacious armoire will be sure to capture their heart. Available in three finishes, white/light gray, brown, and rustic brown, this armoire accommodates over 200 pieces of jewelry. It has 100 earring slots, 30 stud holes, 30 necklace hooks, 91 ring slots, one pocket, and two scarf rods.
This beauty is good for more than just jewelry though. It also includes five compartments that can store perfume, watches, glasses, nail polishes, or any other treasure a girl might possess. Two shelves and the base can hold bags, shoes, folded clothes, books, plants, or stuffed animals. This armoire has a full-length mirror and is safe and reliable due to the high-strength fiberboard and lockable design. Finally, it has a 360-degree swivel base so your little one can easily access either side. 
Top Features:
Several finishes
Ample storage
360-degree design 
View Ebern Designs Quakertown Jewelry Armoire on Wayfair
How to Decide on the Best Armoire for Your Child's Space
The first question you should ask yourself and your child is where will this armoire live? If you have ample space for a new piece of furniture, by all means…invest. If not, get creative. There are so many space-saving options on the market that you can get an armoire to hang on their door or mount on their wall.
Here are a couple of other considerations to keep in mind.
Material and Finish
Does your child have their heart set on a certain color or style? Do you want this piece to be an investment that lasts well into adulthood or will you re-home it at some point? Do you want it to match their existing furniture, or do you want it to be a statement piece?
Do They Want a Full-Length Mirror?
Purchasing an armoire that doubles as a full-length mirror will kill two birds with one stone, but perhaps your child already has a full-length mirror or is simply not interested in that feature. Most armoires that are not also full-length mirrors typically have interior mirrors. It's worth a discussion before making a decision.
Keep in mind, if you're buying this for a young girl, a mirror might not be important now. But as she nears her teenage years, you may regret not buying an armoire with a full-length mirror.
Safety Features
As a parent, safety is always your number one priority. That being said, when researching armoires or any furniture for that matter, take into consideration whether the piece needs to be restrained in any way, especially when you're buying for a child.