The Design Home is reader-supported. When you buy through links on our site, we may earn an affiliate commission.
As a society, we are spending more and more time at home. Many of us are looking for new and improved ways to expand our living spaces — especially outdoors. A pergola is a wonderful way to create a resort feel to your backyard, giving you more outdoor living space to work with.
A framework structure that provides partial shelter and shade, a pergola allows sunlight to shine through its slatted roof. The first known pergola dates all the way back to 1400 BC in ancient Egypt. Talk about timeless. Not only will a pergola extend your living space, it will also increase the market value of your home.
Here are eight great pergolas to consider when you want to incorporate a classy gathering space in your backyard.
No matter what your design style, the Purple Leaf pergola will add elegance and ambiance to your outdoor living space. Available in three different sizes (10' x 10', 10' x 12', and 10' x 13'), this pergola will create an upscale, yet relaxed outdoor space for dining or entertaining in your garden, pool area, deck, patio, or yard.
The Purple Leaf pergola frame is made out of strong, durable, and rust-resistant powder-coated aluminum. It's easy to assemble and comes with a safe-locking, adjustable canopy which will provide you a fully customized shade level throughout the day for optimal comfort. The canopy is made out of a durable, UV-resistant, fade-resistant, and water-repellent polyester.
Due to the lightweight nature of the aluminum, It is highly recommended you, anchor, your pergola to a concrete pad or footer in order to increase its wind-resistant capacity.  
Top Features:
Comes in three sizes
UV-resistant
Water-repellent
View PURPLE LEAF Outdoor Retractable Pergola on Amazon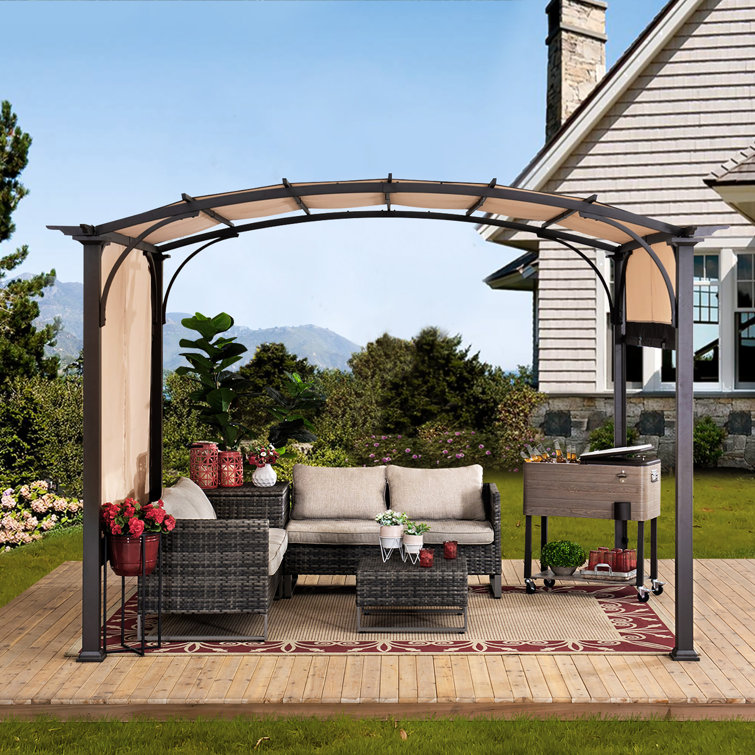 If the squared-off design of a traditional pergola isn't your jam, check out the rounded top on the Sunjoy Meadow pergola. This ready-to-assemble, arched pergola is an easy way to create an (almost) instant outdoor entertainment space. The brown rust-resistant, powder-coated steel frame pairs perfectly with the tan adjustable weather-resistant canopy trimmed in a rich chocolate brown. The shade can be easily adjusted by pulling down the two handles on either side.
All you'll need to complete your cabana-type atmosphere is a load of sand, a steel drum band, and your favorite fruity beverage. 
Top Features:
Freestanding
13 to 18 miles per hour wind rating
Adjustable canopy
View Sunjoy Meadow 10' x 8' Metal Pergola with Canopy on Wayfair
Sale
The Aurora pergola's contemporary design elevates and transforms your outdoor living space with a modern look. Sturdy yet lightweight, this Roman-style shade canopy provides superior UV block. The weather-resistant knitted fabric is breathable and light-filtering, providing both airflow and privacy while reducing heat generated by the sun.
The Aurora pergola is lightweight and easy to maintain. Simply rinse off with a hose and air dry. However, because this pergola is manufactured out of aluminum it is recommended that it be taken down prior to high winds.
Top Features:
Freestanding
Easy to install
UV blocking
View Coolaroo Aurora 9' 8" x 9' 8" Light Filtering Pergola on Amazon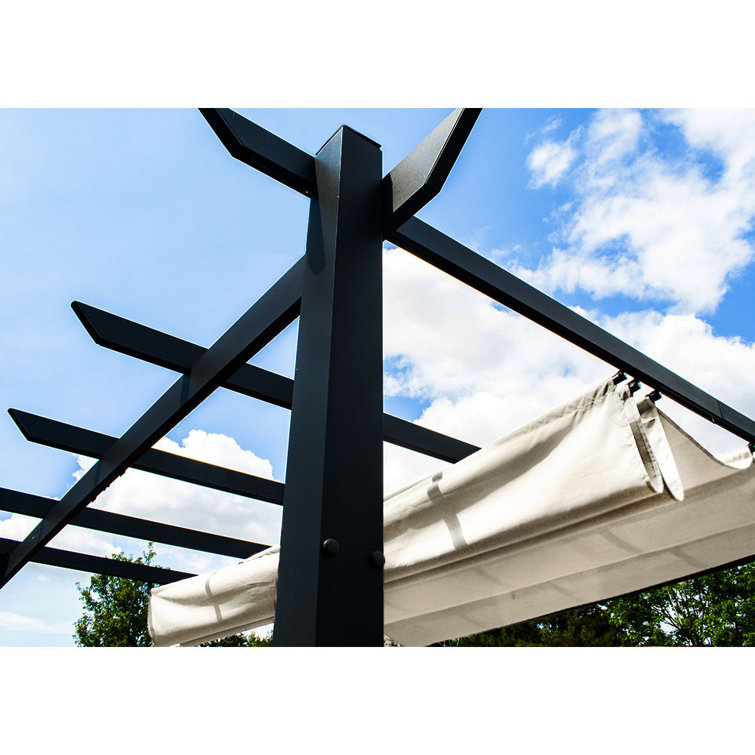 If you're looking for a splash of color, look no further than the ALEKO Pergola. The rainproof polyester canopy is available in three shades — white, burgundy, and sand, making it perfect if you're looking to insert a little added flair. It can also be easily retracted or removed for storage.
A real statement piece for your outdoor space, this pergola will define your garden, deck, patio, pool, yard, or backyard. You can provide shade for your dining table or patio furniture while also avoiding harsh UV rays and sudden rain showers. The ALEKO pergola is a sturdy and attractive addition to your outdoor space. A versatile, stylish, and elegant addition to your home, this pergola is made with a high-quality, rust-resistant aluminum frame. 
Top Features:
Weather-resistant
Rust-resistant
Easy to install
View 9' x 9' ALEKO Aluminum Pergola with Canopy on Wayfair
The SUNA pergola adds a touch of elegance and refinement to your backyard while providing ample room — more than 100 square feet — for outdoor living or dining room furniture. Its adjustable sling canopy can be pulled down, using a handle on either side to provide additional shade. The pergola canopy cover is made of a durable fabric that is fade-resistant, water repellent, fire-retardant, and easy to clean and maintain.
It should take you, and maybe two of your closest friends, approximately 35 minutes to install this pergola. Its powder-coated steel frame guarantees great stability. It also has holes in the footer for a ground nailing option, which can help you get extra strength against strong wind.
Top Features:
Steel frame
Ground nailing option
Water-repellent
View SUNA OUTDOOR 12' x 9' Pergola with Retractable Canopy on Amazon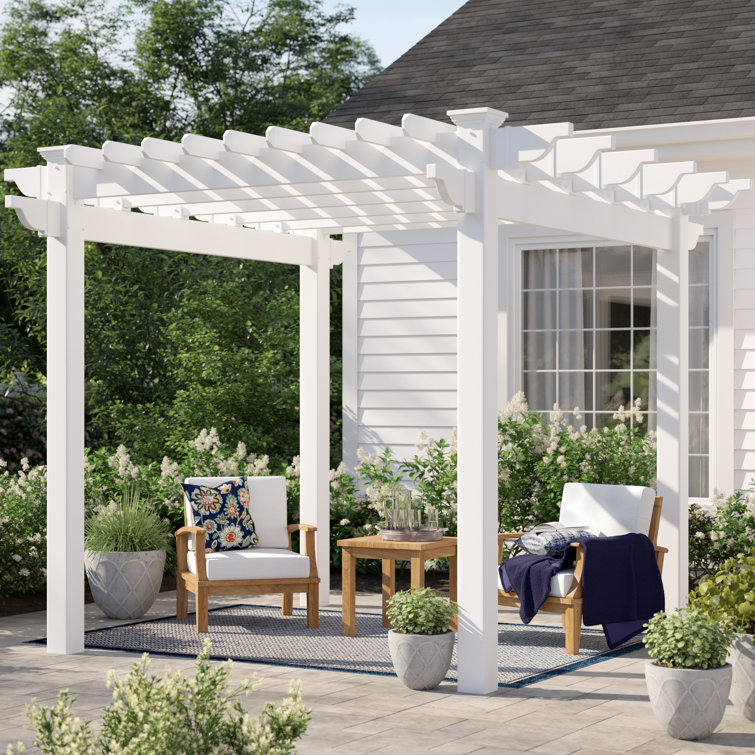 You know what they say — vinyl is final. Vinyl allows you to spend more time enjoying your outdoor space. Unlike wood, which can rot, or metal which can rust, vinyl products will never rot, crack, peel, fade, rust, or discolor. Simply assemble and enjoy.
Aside from being an attractive, airy addition to any outdoor space, pergolas provide natural shade. If you are looking for the traditional approach of growing climbing vines or trailing flowers on your pergola, vinyl is the way to go. The crisp white finish will resist the effects of weather, water, and rot, making it mutually beneficial for your plants and the structure. This pergola requires little maintenance to keep it looking fresh, making it wonderful for enjoying year-round.
Top Features:
Vinyl
Weather-resistant
Rust-resistant
View Daytona 9' 6" x 9' 6" Vinyl Pergola on Wayfair
This New England Arbors pergola is a great choice if you are looking to attach your pergola to an existing structure such as your house, garage, or shed. Designed with an open lattice top and sophisticated columns, it will create a natural canopy over your favorite outdoor gathering spot.
If you don't own tools or aren't a confident DIY'er, you may want to consider hiring a professional for this installation. Assembly requires two people, a drill, level, ladder, measuring tape, and pressure-treated 2x6s. If you're wondering what any of those items are, you should definitely hire a professional. To install on a wood deck or concrete patio, you will need to purchase a Bolt Down Bracket System in addition to your pergola.
The good news is that it will never need to be painted or stained. Occasionally rinse it with a hose for perfect maintenance.
Top Features:
Vinyl
Weather-resistant
Rust-resistant
View New England Arbors Freemont 12′ x 12′ Attached Vinyl Pergola on Amazon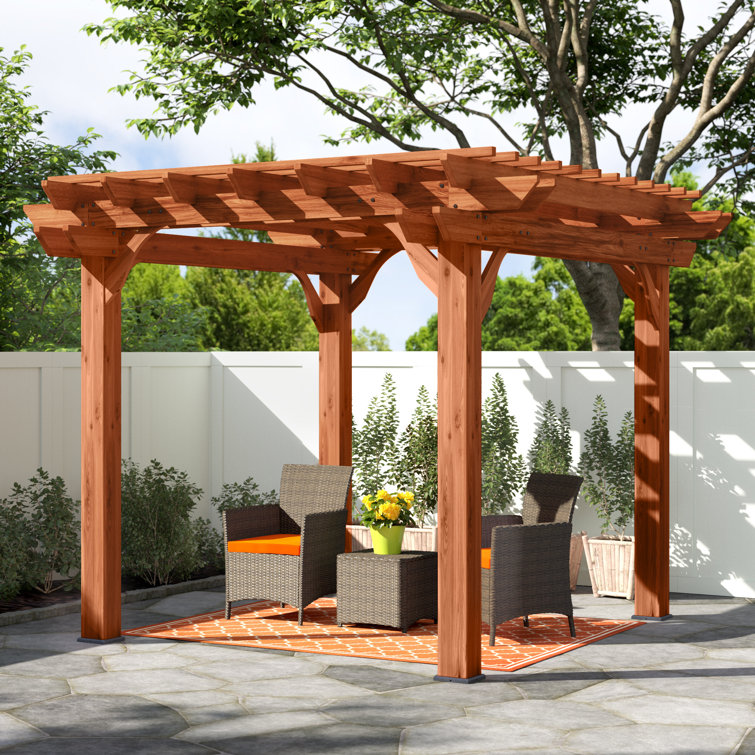 If the assembly required for our last choice totally freaked you out, this one should give you a sigh of relief. This cedar pergola is hands-down the easiest product assembly because the manual is available on the BILT app. BILT's all-in-one, 3D-guided assembly app is a fully interactive, voice-narrated app. It does everything from explaining which hardware and tools are needed to letting you zoom in, zoom out, and rotate each step to help eliminate the guesswork associated with paper instructions. How cool is that?
If your heart longs for a wooden pergola, cedar is the way to go. Its natural oils help preserve the wood and resist the growth of fungus and bacteria, making it naturally resistant to rot, pests, and decay. The sculpted beams of this pressure-treated cedar pergola provide an airy and sturdy cover all while providing the natural, variated look of knotty wood. 
Top Features:
Cedar
Pest resistant
Moisture resistant
View Cedar Solid Wood Pergola on Wayfair
Relax in the Shade
Pergolas are an amazing investment, unlocking the full potential of your backyard space and vibe. Before choosing a pergola, though, there are a few questions you should ask yourself to make sure you select one that suits you and your style.
How to Decide on the Best Pergola for Your Space?
First, measure your space and know your codes. Unless it is attached to an existing structure, most municipalities require at least six feet on each side of your pergola. It's also tremendously important to steer clear of power lines. The last thing you want to have to do is uninstall your pergola once it's already complete. A quick phone call to your local building inspector can clear up any questions you may have before starting the purchase or assembly process.
What's Your Budget?
As with any home decorating or renovating project, it is important to set a budget first. That way, when you start your search you won't end up overspending. Material is a big determining factor in setting your budget. However, keep in mind that more expensive materials typically tend to last longer. Weigh your options.
Do You Want a Canopy?
Historically, pergolas are designed to have an open-air, trellis topped "roof," otherwise they would be called gazebos. However, investing in a pergola with a canopy, especially a retractable one, will give you the option of shading yourself (and your guests) from the sun and harmful UV rays. If the material is rain-resistant you should be able to duck under your pergola if a rain cloud pops up, preventing your guests, food, and beverages from having to move the party indoors.
Are You Great at Assembling?
Pergolas are framework structures, so no matter what material you decide on, some assembly will be required. Before hitting the "buy" button, make sure the pergola you have your heart set on is also the pergola you are willing to assemble – or can hire someone else to assemble.