The Design Home is reader-supported. When you buy through links on our site, we may earn an affiliate commission.
Modern bookcases are so extremely versatile. Not only can they hold your books but they are also great storage spaces for family photos, plants, and artwork. Many of them can even be positioned horizontally and used as a TV stand or room divider. Sofa table…absolutely! Display shelf…you bet! Office furniture…of course! No matter where you plan on using your new modern bookcase, we have an option for you.
We've rounded up ten modern bookcase trends that you are going to love. Some are new arrivals and some are tried and true. No matter what size, style, or material you are looking for, we have a bookshelf for you!
What's not to love about this modern ladder bookshelf? Nothing! Which is exactly why it's our top pick! Available as a 4 or 5-shelf bookcase, this modern bookcase is perfect for any larger area of your homes such as a living room, home office, or master bedroom. Its matte black metal frame and gorgeous wood shelves hold up to 100lbs on each tier. Plus it comes with an anti-tip kit for your safety so you won't need to make an extra trip to the hardware store.
Oh, so good! If mid-century modern style is what you are after, this wood bookcase is it. Constructed out of solid hardwood, this piece not only looks like an heirloom piece of furniture, but it will also last for future generations to cherish. Featuring six shelves and two drawers, this bookshelf provides ample storage space for all of your books and home decor.
Whether you have a small space or are just looking for really great, really fun modular pieces of furniture, you can't go wrong with our budget pick. In fact, it's SO inexpensive you may find yourself buying multiple pieces for multiple rooms in your house. These cubes are perfect for not only books but also lines, clothing, toys, artwork…you name it! The possibilities are truly endless and your wallet will be sure to thank you.
While these are our top three picks, there are so many other great bestselling modern bookcases available. Here's our full list to help you choose.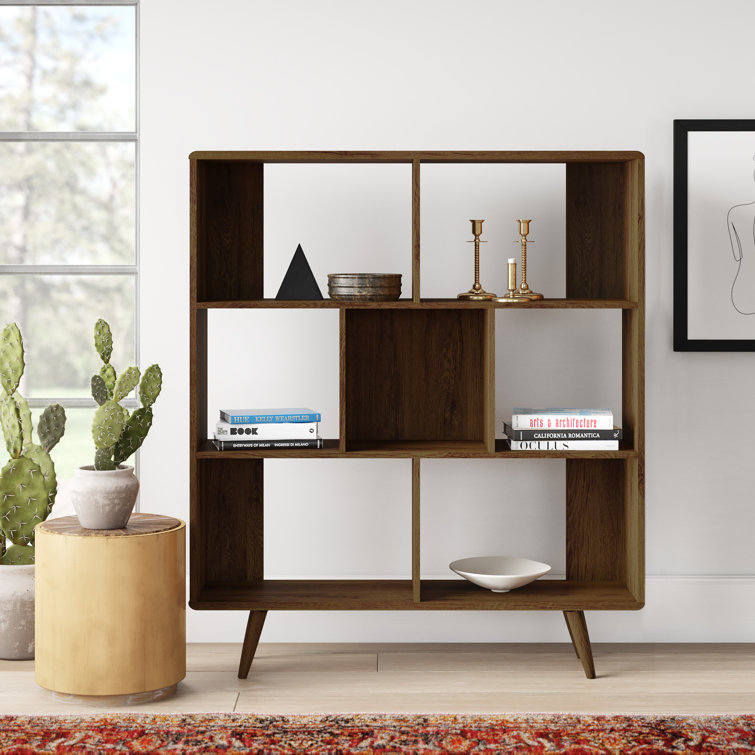 Top Features:
Splayed legs
Solid and manufactured wood
1-year manufacturer warranty
Balancing form with function, this mid-century modern etagere is a practical piece that helps you declutter while complimenting your modern style. Crafted from manufactured and solid wood, this shelving unit features a walnut veneer and stands atop mid-century modern-style splayed legs. Square compartments with open back panels can be used alone or with cube storage baskets or bins.
View Pankow 52.5" H x 45" W Cube Bookcase on Wayfair
Top Features:
Available in 3 finishes
Splayed legs
Solid wood
Speaking of mid-century modern style, this wood bookcase is handcrafted using the finest quality solid rubberwood and metal. This storage cabinet is hand-finished with a rich teak brown stain, a medium auburn stain, or a white lacquer finish and recessed antique drawer pulls. Splayed legs deliver a modern design to your living room, dining room, or home office. Each piece of furniture comes with a 1-year warranty.
View SIMPLIHOME Draper SOLID HARDWOOD 64 inch x 35-inch Mid Century Modern Wide Bookcase on Amazon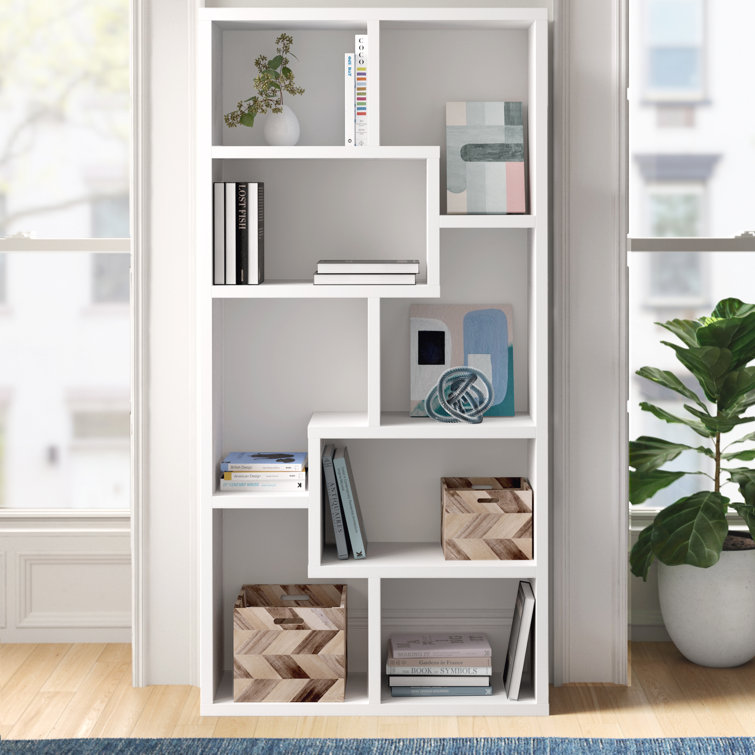 Top Features:
Available in 2 colors
Tipover restraint device included
Manufactured wood
The possibilities are endless with this geometric bookcase. Available in either black or white, this open-shelf, the modern bookcase can be positioned either vertically or horizontally, making it the perfect room divider or TV stand. Plus, a durable anti-tip kit is included so that you can easily anchor the bookcase to the wall.
View Chrysanthos 71" H x 35.5" W Geometric Bookcase on Wayfair
Sale
Top Features:
Available in 2 finishes
Available in 4 sizes
Powder-coated metal frame
This industrial modern bookshelf features a powder-coated metal frame, an x-shaped rear cross brace, and crossbars under each shelf for added stability. This sturdy bookcase comes in three, four, five, or six-tier open shelf options, all made from high-quality MDF; perfect if you are looking to add several pieces of furniture to your living room or home office.
View Hombazaar 5-Tier Modern Industrial Bookshelf with Sturdy Metal Frame on Amazon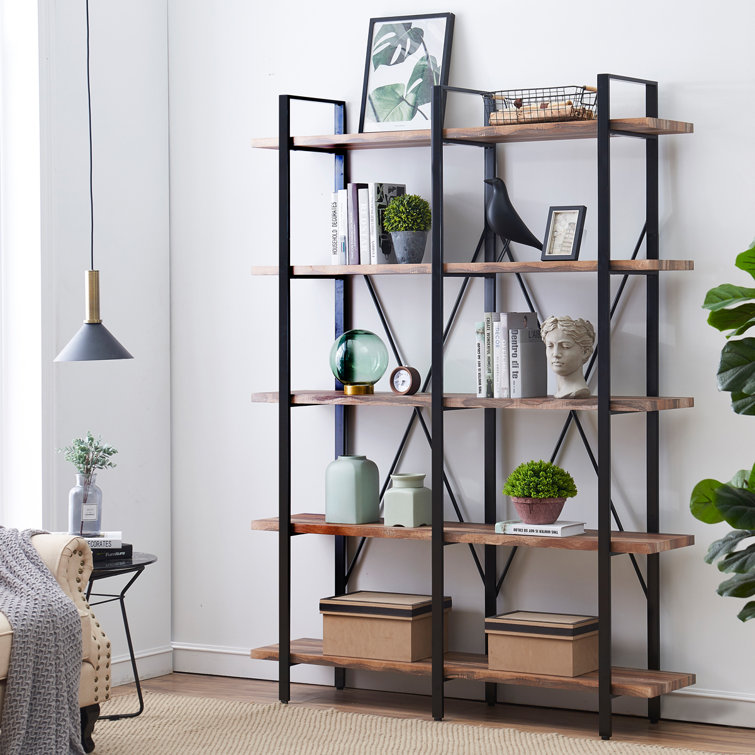 Top Features:
Tipover restraint device included
Iron frame
Manufactured wood shelves
Keep clutter under control with this large open bookcase and display shelf. Crafted from a metal frame with an x-shaped rear cross brace, this etagere bookcase features manufactured wood shelves that provide ample room for storage and display. This piece of furniture will fit perfectly in a living room, entryway, or home office. For your safety, a tip-over restraint device is included with this bookcase.
View Khat Iron Etagere Bookcase on Wayfair
Top Features:
Available in 3 finishes
Adjustable shelves
Matching pieces are available
Perfect for your modern farmhouse or modern coastal living space, this tall bookcase is available in Bing Cherry, Pure White Oak, and Washed Gray finish. This 5-shelf bookcase features three adjustable shelves for storage flexibility and two fixed shelves for added stability. If you are shopping for your home office, matching office furniture, including filing cabinets and desks are sold separately; though this piece of furniture would also be lovely in your living room, dining room, or entryway. Hardware is included for permanent, wall-mounted placement.
View Bush Furniture Key West Collection 5 Shelf Bookcase in Washed Gray on Amazon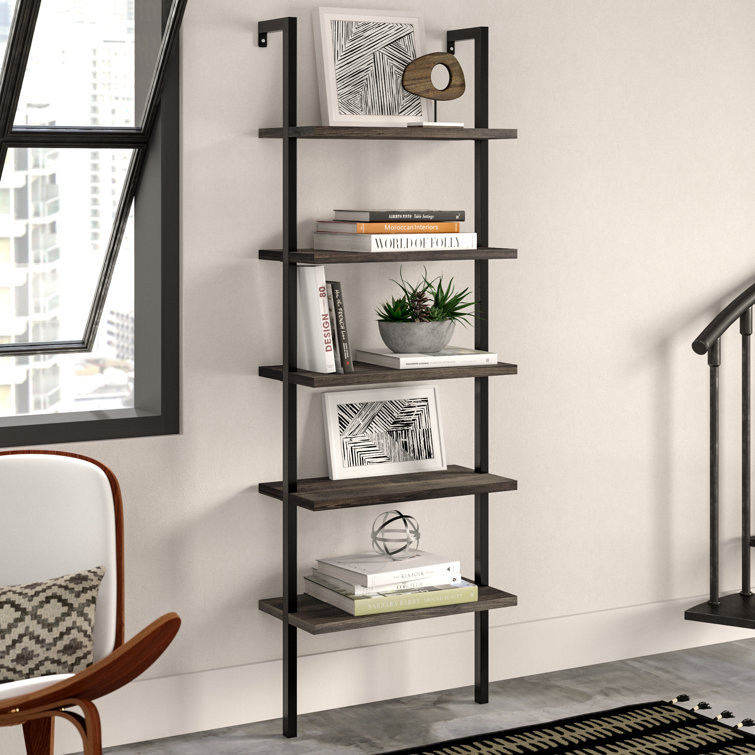 Top Features:
Available in 9 colors/finishes
Tipover restraint device included
Steel construction
Small space, no problem! This elegant 5-tier bookcase has a minimalist style that is perfect for your modern home decor. Available in nine versatile colors/finishes you may even want to purchase more than one of these wall mount, ladder bookcases to fit the modern style of various rooms in your home. For example, we love the white/gold combo for a glam modern space such as a formal dining room, or how about the dark walnut/black combo for your industrial modern living room or home office?
View Kanissa 72.5" H x 24" W Steel Ladder Bookcase on Wayfair
Top Features:
Available in 6 colors
Available in 12 sizes
Reversible
Oh, so fun! If you are looking for a storage unit in amazing colors, this is it! This open-shelf modern bookcase is available in a wide array of sizes from two cubes to eleven cubes. Plus, it comes in a ton of awesome colors including green, pink and blue; perfect for a kiddo's room, playroom, or a pop of color in your modern home decor. These pieces of furniture can also be positioned horizontally or vertically.
View FURINNO 11107WH-GR 7 Reversible Bookcase on Amazon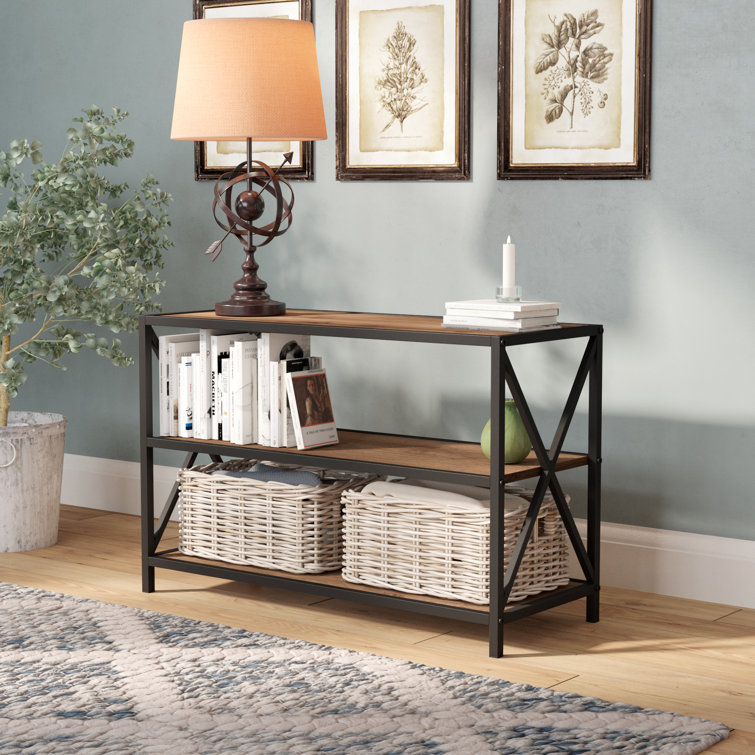 Top Features:
Available in 7 finishes
Manufactured wood
100lb shelf capacity
Low bookcases are the perfect storage solution for under windows, behind sofas, and in entryways. This industrial 3-shelf low bookcase boasts a metal frame with x-shaped side cross braces and sturdy MDF wood shelves. Available in a wide variety of finishes, from dark walnut to a gray wash/white combo, you are sure to find one that fits your modern home decor.
View Eulas 26" H x 40" W Etagere Bookcase on Wayfair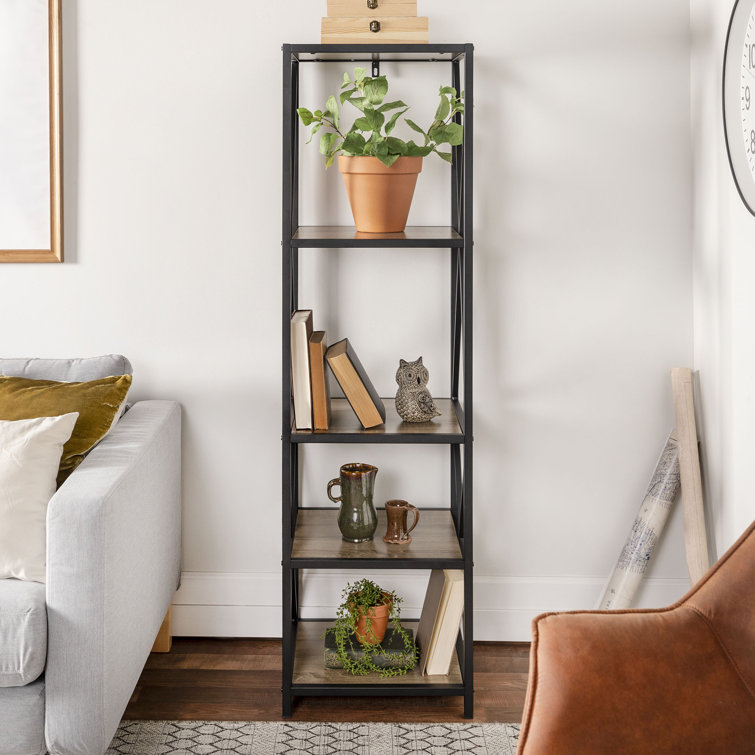 Top Features:
Available in 6 finishes
Manufactured wood
35lb shelf capacity
We're loving this tall modern bookcase! Its deep open shelves would be the perfect storage space for your favorite plants, pottery, oversized books, or even your linens if you are lucky enough to have a large bathroom. If you are looking for closed storage, but aren't really interested in a chest of drawers for your space, this piece of furniture is also a great display shelf for storage cubes, handcrafted baskets, or bowls. Crafted with a metal frame and high-grade manufactured wood, it features four shelves each with a 35lb weight capacity.
View Eulas 61" H x 18" W Etagere Bookcase on Wayfair
Modern Bookcase Buyer's Guide
Before you enter your credit card info, here are a few more things to consider when shopping for your modern bookcase.
Styles – you know that you want modern, but what kind of modern? Are you looking for a mid-century modern bookshelf? Or an industrial modern one? How about a modern farmhouse bookcase? Or perhaps something a little glam?
Materials – Weigh your options. Real wood vs. MDF vs. laminate? Do you want a piece of furniture that is all wood construction or a modern bookcase with a metal frame?
Variations – Always, always, always measure your space and research specifications! You may know that you need a tall bookshelf, but how tall?! Or perhaps you are looking for a low bookcase that can double as a TV stand…it may look perfect, but make sure you know its weight capacity before you invest. Small space? Perhaps you want to opt for a narrow bookcase that is wall mounted.