The Design Home is reader-supported. When you buy through links on our site, we may earn an affiliate commission.
Forget dining room tables — these days, it's all about the kitchen counter. It's the heart of the kitchen, and it deserves the decor to match. Take a look at your current kitchen counter stools. If they're more of an afterthought than an intentional design choice — or if you don't have them at all—it's time to level up your kitchen seating arrangements.
But if you're so over the look of boring, dated counter and bar stools, it's time to find ones that can pull off a modern look. We scoured the web for ten modern counter and bar stools that are both design-forward and practical. Scroll through our picks to find the ideal chairs to fit your style and budget.
Top Features:
360-degree swivel
Gas-lift adjustable seat height
Set of two stools
These stools are a winner at the first glance. The sleek, modern set of two upholstered bar stools is surprisingly affordable and only looks expensive. Plenty comfortable due to their padded faux leather seats and backs, these stools offer a fantastic place to drink your morning coffee or your evening cabernet in style. 
Bonus for families with kids: The leatherette surface of the stools is easy to wipe down in case of spills, so they'll stay looking nice for years to come. If anyone asks — you could say you paid a fortune, and they'll never know. 
View Vogue Furniture Direct Grey Leather Barstool Set on Amazon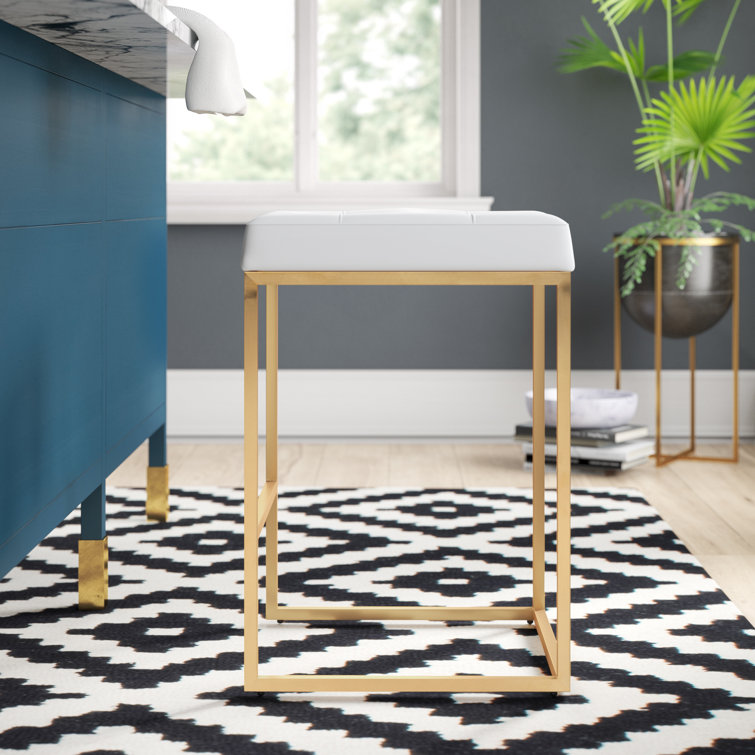 Top Features:
Sleek, backless design
Boxy, gold-look frame with footrest
Padded Naugahyde faux leather seat
The new hot spot in town is…your kitchen, thanks to these ultra-classy kitchen stools that look as though they were snatched right out of an up-and-coming cocktail bar. We love the pairing of soft, white Naughahyde imitation leather with the gold-look metal frame (there's nothing trendier than warm metals), and reviewers say the seat is as comfortable as it looks.
At the price point of this stool, you can expect a boost in quality. The steel-framed seat holds a number of certifications, including being OEKO-TEX MADE IN GREEN Certified, which is a big plus for socially- and environmentally-conscious shoppers. 
View Willa Arlo Interiors Reinoso Bar and Counter Stool on Wayfair
Top Features:
Breathable for no-sweat sitting
Easy assembly
Holds up to 300 pounds
Is this set of two chairs love at first sight for you, too? We're swooning over the light gray option and how sleek they look with those black powder-coated steel legs. Plus, they're some of the most comfortable bar stools you'll find. Check out the molded, cushioned seats and the backrest that makes you want to stick around until the coffee runs out. Built-in floor scratch protection and a practical footrest up the ante on this stylish bargain find. 
View Sophia & William Kitchen Bar Stools with Back on Amazon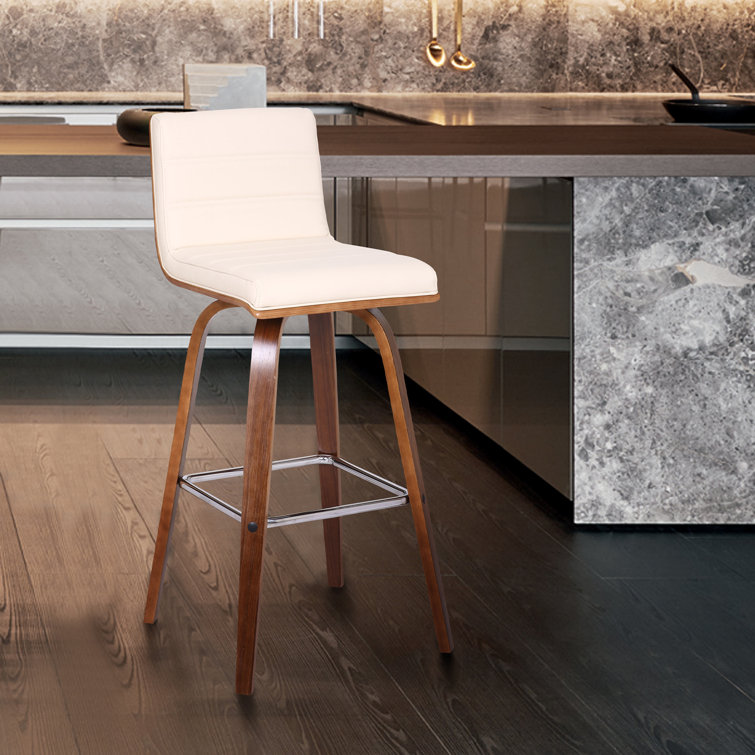 Top Features:
Swivels 360 degrees
Faux leather upholstery
Weight capacity of 250 pounds
We love the clean look of this mid-century modern stool, and we especially adore the walnut and cream finish for the classic appeal. While the build is slim, the seat is still comfy enough to hold up to weeknight meals or evenings of wine and company.
Unlike other options that come in light colors, this seat can wipe clean — so no problem if you spill merlot or drop spaghetti. With practical picks like these, your home can have scads of style and still be functional. We'd be remiss to not mention the swivel function, which reviewers loved, in addition to the overall look and comfort of the chair. 
View George Oliver Alin Swivel Bar and Counter Stools on Wayfair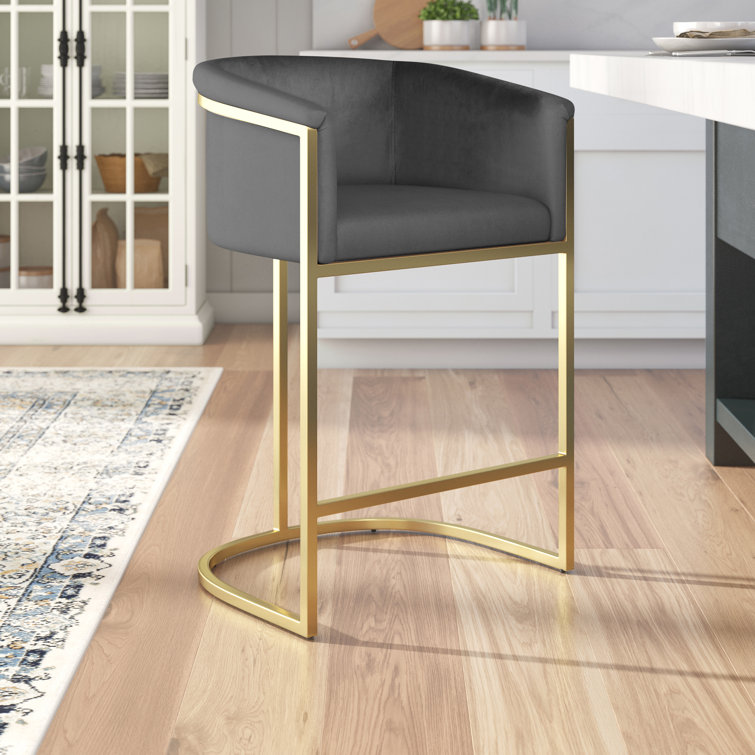 Top Features:
350-pound weight capacity
Five colors: beige, black, gray, navy, pink
Soft velvet upholstery
Everly Quinn didn't have to go and give us a counter stool with as much comfort as an armchair and as much style as a high-end accent chair, but they did it anyway. We're in love with all five classy shades of this velvet-upholstered stool, plus the gold-look steel base — and tons of reviewers are, too.
For a stool of this price, it's ok to expect a lot. With this chair, it's safe to say you'll get what you pay for, as reviewer after a reviewer raved about the accuracy and quality of this fully assembled stool. Note that this chair is on the taller side, with a 27-inch seat and a 36-inch total height, so make sure to measure your space before hitting "Purchase." 
View Everly Quinn Hani Counter Stool on Wayfair
Top Features:
Adjustable height
Cast iron and solid pine construction
Anti-rust powder coating
This stool manages to pull off retro and modern all at the same time. It takes something old and makes it new again.
Adjustable and made from solid pine and cast iron, this charming seat has built-in protection meaning it won't scratch your floor, and a protective powder coating to keep the rust away. Your friends will wonder where you got these inspired beauties.
View Topower Industrial Retro Kitchen Stool on Amazon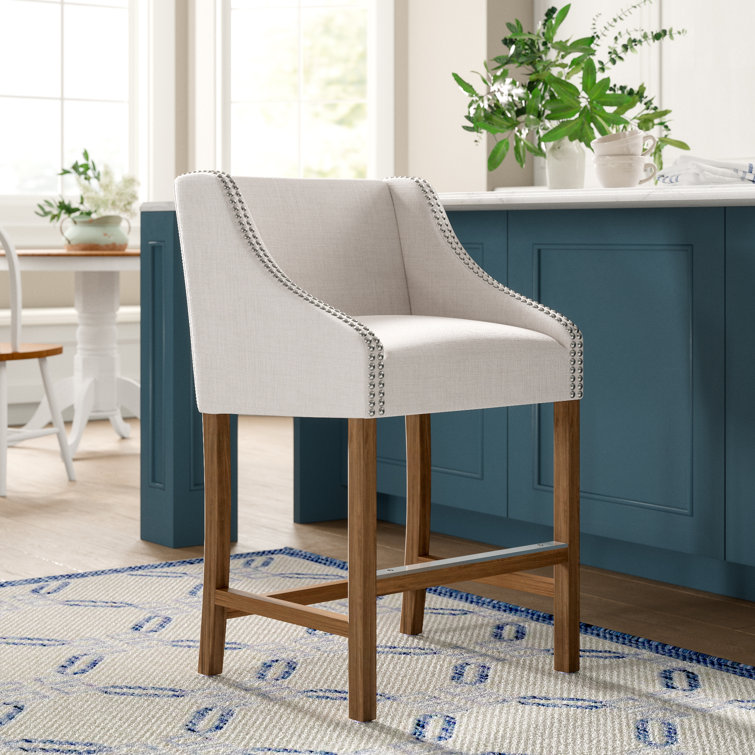 Top Features:
Solid wood and plywood frame
Bar and counter height options
Refined nailhead trim
These beige beauties owe their modern vibe to their trendy color that makes it look as if they'd be spotted in an HGTV show. If you're looking for smart design details and style that lasts and lasts, consider these counter and bar stools from Three Posts. Upholstered and accented with nailhead trim reminiscent of an old-fashioned armchair, these solid stools are a wonderful addition to your modern or transitional home.
The chairs, which come in a 24-inch seat height for counters or a 30-inch seat height for bar areas, feature linen, polyester, and velvet-blend upholstered seat and solid legs that highlight the natural grain of the wood.  
View Three Posts Counter and Bar Stool on Wayfair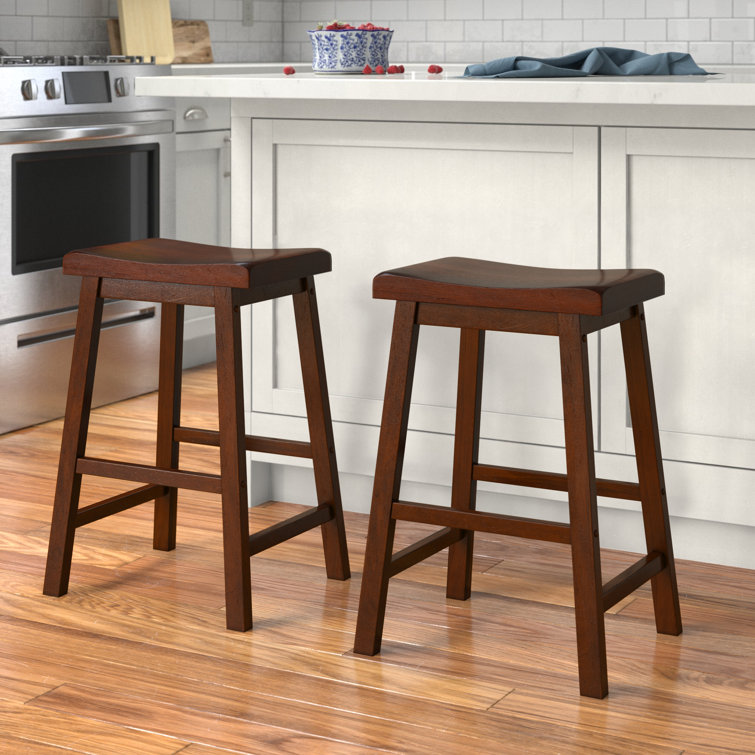 Top Features:
Set of two counter stools
Rubberwood and pine construction
Holds up to 250 pounds
Wood can have a special role in a modern kitchen, allowing more of your current finishes to shine. Sometimes you need a simple piece that allows those other design elements to take all the glory. This set of two stools tucks neatly under your counter, allowing your lighting, cabinets, and counters to take center stage.
While not adjustable, these 24-inch stools are an excellent height for counters 34 to 39 inches tall. Constructed of solid rubberwood and pine, they offer a footrest and a saddle-style seat that's wider — and more comfortable — than some other stools. Available in multiple finishes, this stool matches diverse decor styles to offer basic yet comfortable seating in your house. Reviewers appreciated several things, including the sturdiness, look, and value for the money. 
View Andover Mills Whitworth Solid Wood Counter Stool on Wayfair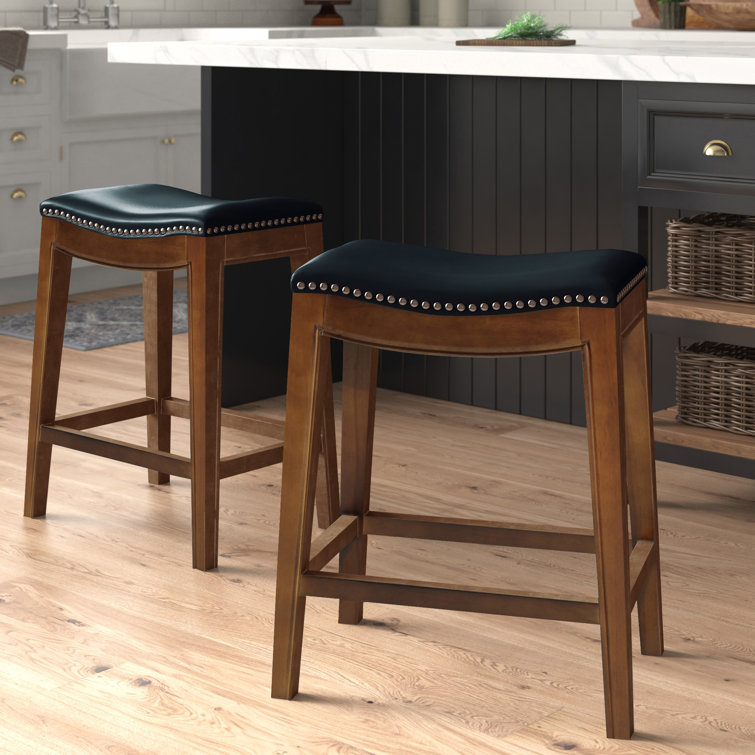 Top Features:
Choose your finish, upholstery, and seat height,
Nailhead accent on imitation leather upholstery
Solid birch frame
Finally — a kitchen stool you can customize to your design preferences. This refined, backless stool offers multiple choices for the frame (cinnamon, mystique grey, or weathered smoke), upholstery (black, brown, turquoise, and more), and height (bar and counter options), so that you can create modern seating that's just right for your home.
Classic nailhead trim adds just a touch of elegance to this otherwise simple seat, and the solid birch legs provide stability for everyday use. With a faux leather seat, this stool is easier to clean than some other options, which reviewers mentioned as a positive, alongside comfort, looks, and durability. 
View Three Posts Juelz Counter and Bar Stool on Wayfair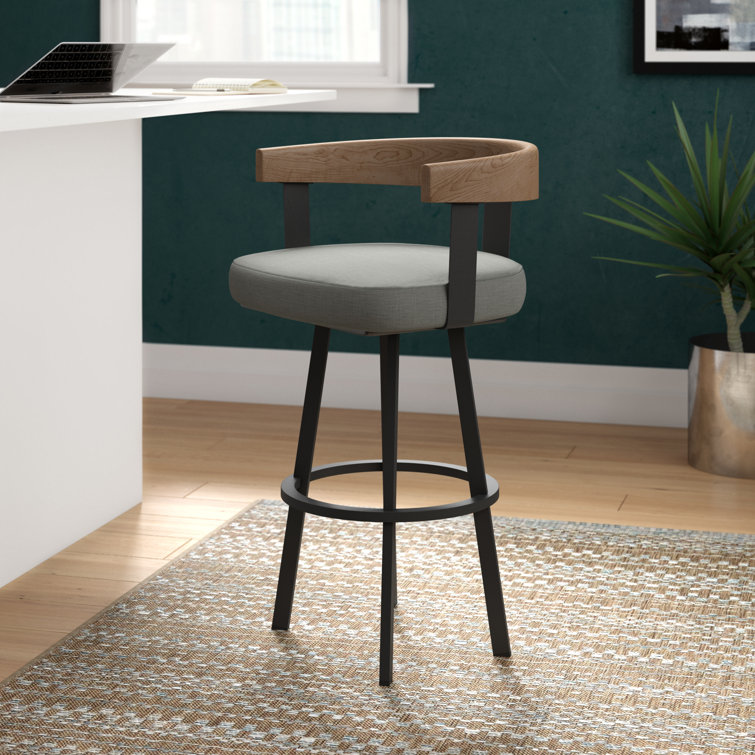 Top Features:
Stylish curved design and 360-degree swivel
300-pound weight capacity
Caramel or charcoal gray faux leather upholstery
For a Dwell-worthy kitchen, look no further than these chairs. Featuring chic faux leather upholstery options, an industrial-inspired powder-coated metal frame, and curved wood back, this stool is the splurge pick to complete your kitchen or bar decor. Bonus: this option offers a 360-degree swivel for easier maneuvering.
We'll be the first to say it — this chair is more expensive than others on this list. However,  according to reviewers, the price is worth it. They gushed over the ease of assembly, great sitting experience, durability, and the amazing design impact these chairs had (with plenty of pictures as proof). 
View Corrigan Studio Drees Swivel Bar Stool on Wayfair
Picking the Best Kitchen or Bar Stool for You
When choosing the right kitchen or bar stools for your space, you've got to think critically. Think about what you're expecting from your stool. Is it for a regular height countertop or elevated seating? What room will you use your stool in? Is a swivel design important? What kind of upholstery do you gravitate towards? These and more are important factors to consider that we'll go into more depth about below.
Counter and Stool Height
While a typical counter height is around 35 to 40 inches, you'll want to measure your counter to know what kind of chair will work. Don't assume any standard stool will work or that you have a typical counter. For example, some home builders put lower counter heights in areas for kids or people with disabilities. Or, if your house was built before the 1970s, countertops may not meet any standard building code.
Also, make sure to look at every measurement of a chair. The seat height may not tell the whole story, and you should also look at the back height and examine the positioning of the arms to know whether the chair will sit the way you want it to at your counter.
Location – Bar, Kitchen Island, or Counter?
When picking your stools, consider where you'll use them. If you're placing these in a man cave bar, you may want to go for a darker wooden look while still keeping it modern with other finishing touches. If you're using these in a bright white kitchen with white marble countertops and copper accents, you'll want to match that modern, airy feel. 
Backrest
Backrests are great for relaxing and spending a reasonable amount of time in the chairs, but stools with backrests tend to be a bit pricier and heavier. It may also make storing the chairs harder if you're trying to save space and slip them under the counter.
One hybrid approach is a low-back counter chair that gives some level of back support but isn't taller than the counter or bar itself. Low-profile backs can offer the best of both worlds.
Swivel
Consider whether the chair's radius can swivel, and remember, a 360-degree spin differs from a 180-degree pivot. The larger radius lends itself better to casual areas like bars and patios, whereas a more subtle swivel can function in a more formal space. Swivel chairs are great for parties and quickly talking to different groups of people around you. If you love to entertain, definitely prioritize the swivel.
They also allow easy entry and exit if the chairs are heavier and harder to move. We've all been to that restaurant where there's a heavy bar chair that's hard to move and awkward while you bump into other patrons. The swivel prevents that.
Upholstery/Fabric Material
Leather or faux leather? Natural or synthetic material? The list is endless, but think about how often the stools will get used, how much time and effort you want to spend cleaning these, and who will be using them. Something that will wipe clean easily is smart because it can extend the lifespan of your stool.
Framing Material
The framing of the chair or stool affects the weight of the piece, the weight capacity, and the product's lifetime. For example, cheaply made fiberboard stools will have a shorter lifespan than solid mahogany or other hardwoods. But these woods add a lot of weight and can hinder movement. However, lightweight metals such as aluminum can be sturdy and easy to move but may have a tendency to tip over.
Weight
The weight of the stools can be crucial for opposite reasons. For example, if you have younger kids, you don't want something they can shake around in if they throw a tantrum or just get a little excited. That may cause the stool to fall over and lead to injury. However, for kids in late elementary school and older, it could be helpful if they could pull up a stool to the counter to play a game or get help on homework. Most chairs also list a weight capacity, which is helpful when determining if a chair will work for your family.