The Design Home is reader-supported. When you buy through links on our site, we may earn an affiliate commission.
Your sofa, couch, or sectional should be the centerpiece of your living room. As the main piece of furniture and one that you'll be using for years to come, its purchase should not be taken lightly. Modern sectionals provide versatility, function, comfort, and aesthetics, making them a great choice for your living room.
Whether you're looking for a small or a large sectional, we've rounded up ten modern sectional sofas so you can identify the ideal fit for your modern living area.
The Rupert Sofa and Chaise is the epitome of modern luxury. Available in both polyester and velvet with sleek armrests and walnut legs, this mid-century-inspired sectional couch will take you and your guests right back to the 1950s. So chic.
If budget and space allow for it, you can't go wrong with the Chelsea Modular Corner Sectional. This 6-piece sectional sofa set can be arranged in a number of ways for sitting, sleeping, or relaxing.
This faux leather corner sofa ranks high for comfort and won't put a major dent in your bank account. A timeless classic, it would look great in a number of settings. We can't help but picture it in a home library.
While these are our top three picks, there are many other great modern sectionals out there, depending upon which features you value most. Here's our full list to give you more to choose from. 
Sale
Top Features:
Available in eight fabrics
Reversible chaise
Solid hardwood frame
This mid-century modern inspired reversible chaise sectional can be arranged with the chaise either right or left facing. It also has removable cushions, a hardwood frame and legs, thick foam padding, and supple upholstery for a beautiful, durable piece available in both leather and standard upholstery fabrics.
It can be assembled in fifteen minutes or less, making it a great choice for those who aren't super handy. A matching loveseat, sofa, and living room chair are also available if you are looking for an entire living room set.
View Amazon Brand – Rivet Aiden Mid-Century Modern Reversible Sectional Sofa (86″) on Amazon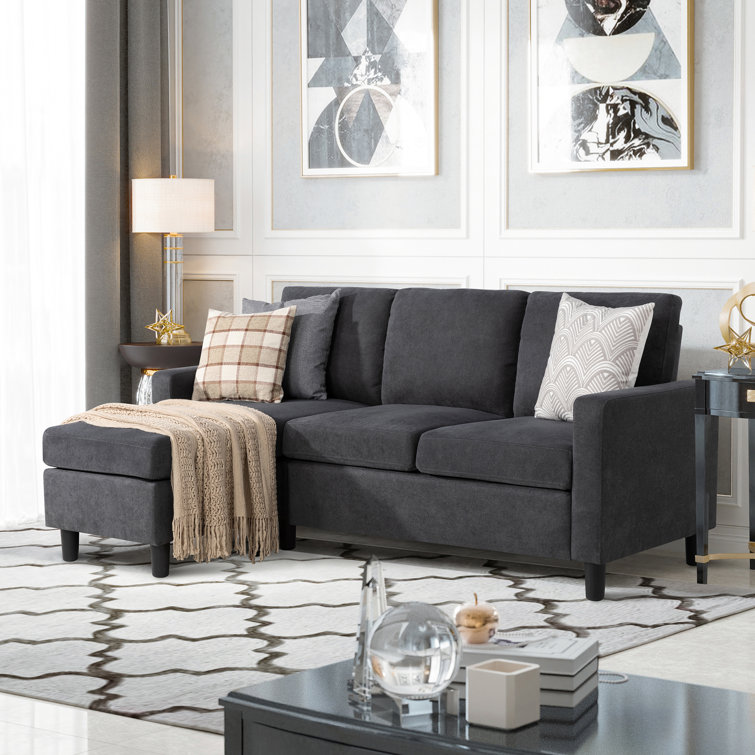 Top Features:
Available in four fabrics
Removable cushions
Solid hardwood frame
This compact, space-saving sofa with a reversible ottoman is excellent for any small space, whether it be a living room, sitting room, apartment, or home office. Its ottoman can be arranged on either the left or right side to form a chaise lounge, allowing you to easily customize depending on the configuration of your room. And its cushions, made of a UV/fade-resistant and tear-resistant cotton blend over polyester foam, are incredibly thick and supportive, giving you and your guests lasting comfort for years to come.
View Harbuck 77.55″ Wide Reversible Sofa with Ottoman on Wayfair
Top Features:
Available in three fabrics
Available in U-Shape and L-Shape
Solid hardwood frame
If you have ample space, this may be the sectional for you. Available in a number of configurations and three neutral shades – we personally think that the blue is to die for – there are so many great options for your large space. Its modern design is constructed with a sturdy solid wood frame, 100 percent polyester fabric, and filled with a high-density sponge. 
This sectional sofa is not only beautiful but comfortable too. Every seat can be moved depending on the configuration of your room, and there is a bonus storage function under each seat to store toys, pillows, blankets, and the remote control. We're huge fans of decluttering, so we definitely approve of this feature. Please note that some assembly is required and since these sofas are so large, they may arrive in several boxes over several days, so give yourself plenty of time and prepare to be patient. It will be worth it!
View HONBAY Reversible Modular Sectional Sofa on Amazon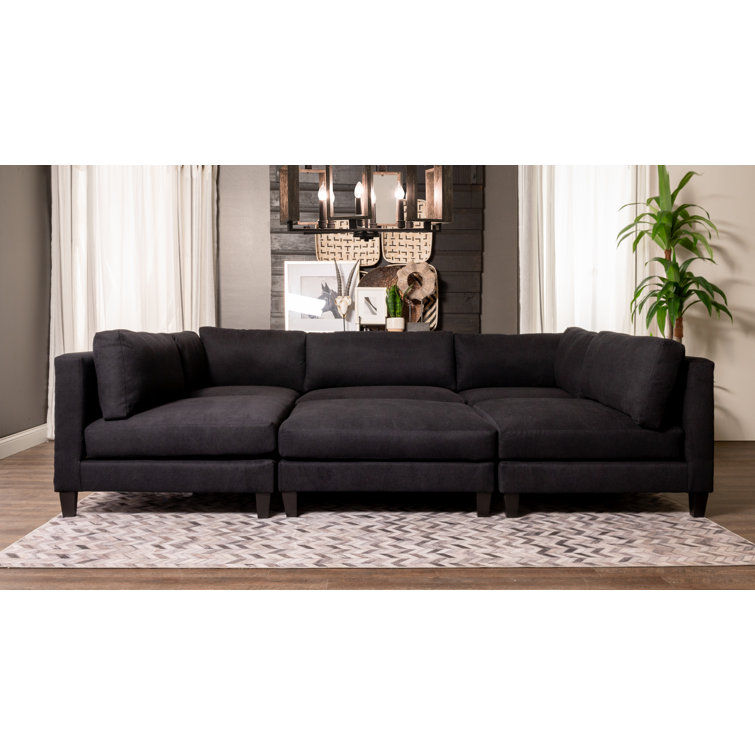 Top Features:
Available in four fabric
Removable cushions
Made from recycled material
Whoa, mama! This is the sectional of all sectionals. Available in four polyester blend fabrics, this high-quality modular sectional can be arranged in a variety of ways for comfortable sitting, lounging, and sleeping. We love that the fibers of this large sectional are made out of recycled PET (polyethylene terephthalate) bottles. This purchase helps eliminate waste from landfills and leaves a smaller carbon footprint, making it an environmentally sound choice. 
View Chelsea 120″ Wide Symmetrical Modular Corner Sectional on Wayfair
Sale
Top Features:
Available in four fabrics
Reversible storage chaise
Pull-out sleeper
Here's another great contemporary sectional if space is tight and you are leaning more towards a modern traditional aesthetic. This L-shaped sleeper sofa can be easily converted to a spacious and comfortable bed and then right back to a seating area.
Well-built with high-grade solid wood, this sectional has foam-filled seats with pocket coiled springs and cotton blended fabric upholstery that is durable, resilient, and can be easily spot-cleaned and maintained. The reversible storage chaise can be placed on the right or left side and is spacious enough to accommodate multiple blankets, pillows, or anything else that needs to be stored within reach. It ships in three boxes, so patience may be required.
View Lilola Home Lucca Linen Reversible Sleeper Sectional Sofa with Storage Chaise on Amazon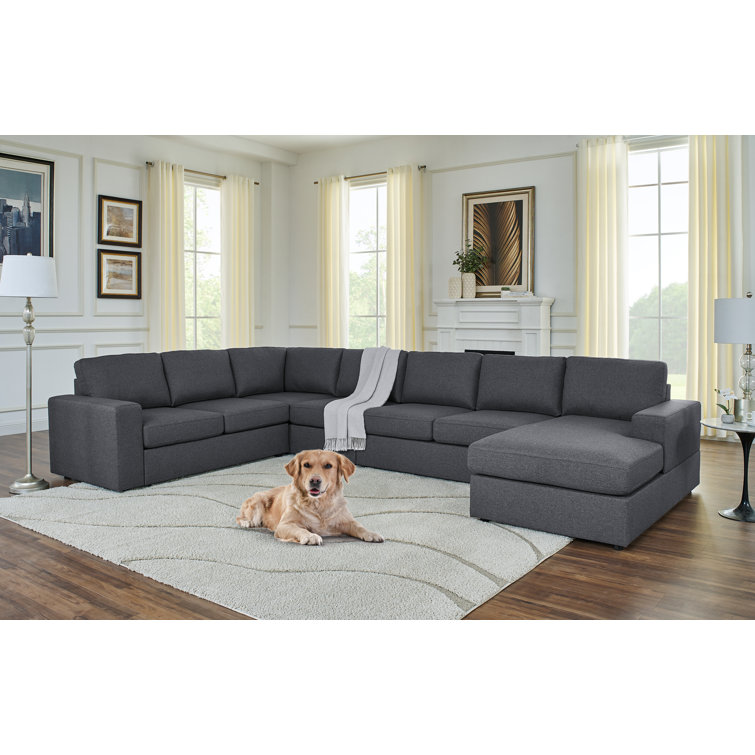 Top Features:
Available in four colors
Solid and engineered wood frame
L-Shaped, U-Shaped or rectangular configuration
This modular sectional, available in four neutral-colored fabrics, can be configured into a U-shape, L-shape, one large rectangle, or any other setup that suits your large living space. It has a solid and engineered wood frame, extremely thick, foam-filled cushions, and linen-blend upholstery. Its streamlined rectangular cushions, square arms, and low-profile design give this sofa a minimalist look that works well in any modern home.
View Culpeper 146.5″ Wide Reversible Modular Sofa & Chaise on Wayfair
Sale
Top Features:
Faux leather fabric
Space-saving design
Easy to assemble
If you are looking for a sleek modern leather sectional that requires a little footprint, look no further. This faux leather sectional with a hardwood frame, overstuffed back cushions, and comfortable foam seat cushions are excellent for any small living room, apartment, home office, or man cave. The ottoman is reversible, so the chaise could be on either the right or left side of the couch. Easy to assemble and clean, it is recommended that you dust this sectional regularly with a soft, dry cloth to prevent soil buildup.
View HONBAY Convertible Sectional Sofa Couch on Amazon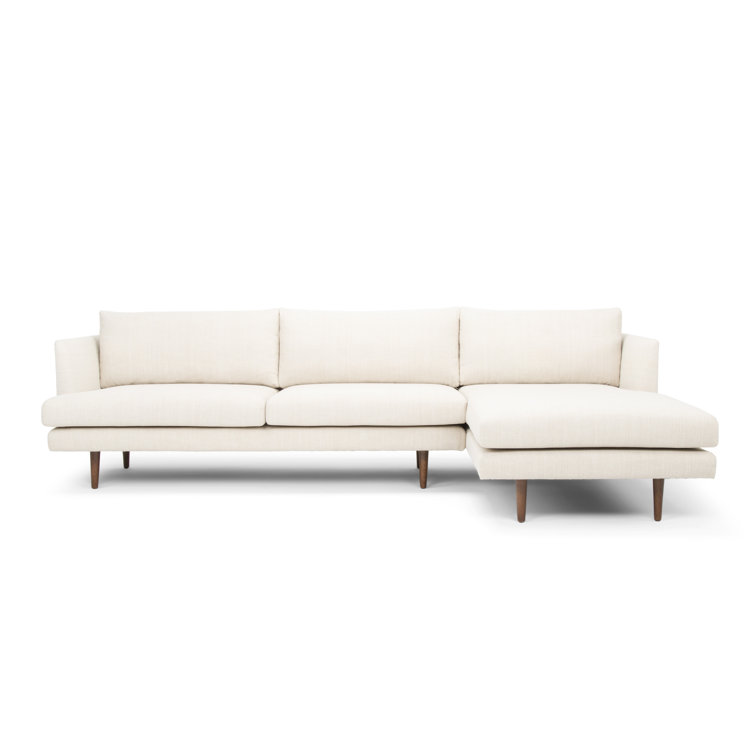 Top Features:
Available in nine colors
Available in left or right-hand configuration
Solid wood frame
This beautiful fabric sectional is available in a wide variety of polyester blends and velvet upholstery fabrics depending on whether you are going for a casual or elegant look. Crafted with a solid wood frame, this sectional features foam and fiber filling, a streamlined silhouette, recessed arms, and dowel feet for mid-century modern appeal. Unfortunately, the chaise is not reversible, so you will want to be 100 percent sure of your room's configuration before you get to the checkout page.
View Rupert 112″ Wide Sofa & Chaise on Wayfair
Top Features:
Italian leather fabric
Available in four colors
Available in left or right-hand configuration
This Italian tanned grain leather sectional sofa features a wooden frame, high-density foam with polyester filling in the back cushions, a feather-down topper on each seating surface, and solid wood legs in a mahogany finish. Each hide is unique and will vary in depth of color. The leather will scuff and develop a beautiful vintage patina. If you are looking for additional living room furniture, a matching apartment-sized sofa, regular-sized sofa, bench seat, lounge chair, and ottoman are also available.
View POLY & BARK Napa 104.5″ Right-Facing Sectional Sofa on Amazon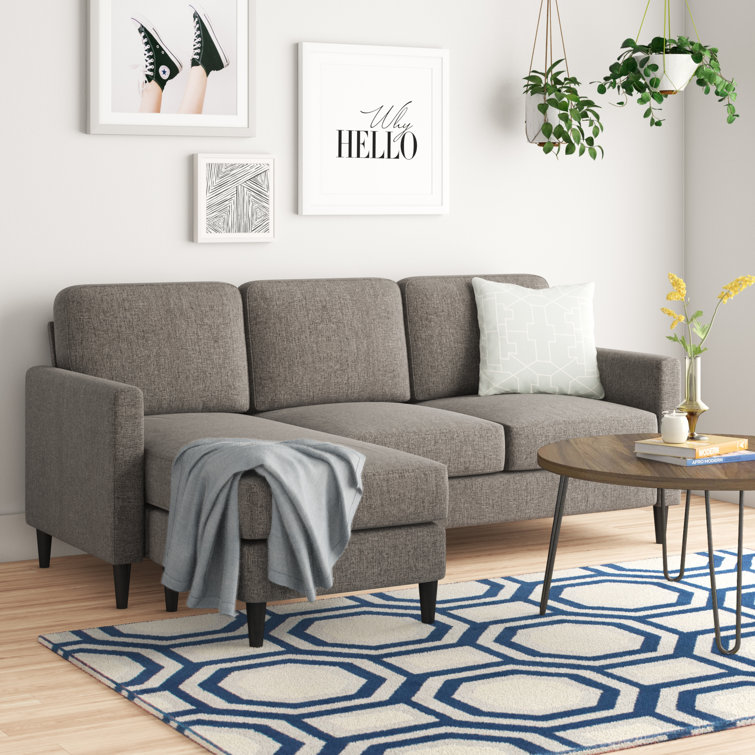 Top Features:
Available in four colors
Linen-look
Removable cushions
Last, but certainly not least, check out this sweet sectional, ideal for a smaller space. Its spring foundation and pocket coil seat cushion – upholstered in a linen-look fabric that is easy to maintain – provide spacious ergonomic seating. This sofa features an interchangeable ottoman that can be arranged on either side, allowing you to easily customize depending on the configuration of your room.
View Cazenovia 81.63″ Wide Reversible Sofa & Chaise on Wayfair
Modern Sectional Sofa Buyer's Guide
Now that you've seen a variety of bestsellers, you know there is truly so much to choose from. As always, space should be your first concern. Make sure to measure twice and purchase once! But here are some other things to consider.
Styles: L-shape, U-shape, modular, or rectangular – there are so many styles of modern sectionals to choose from. You will want to take space and accessibility into consideration when designing your living area.
Material: There are many things to take into consideration when choosing upholstery fabric for your modern sectional. The area of your home where your sectional will live and/or your family's lifestyle may dictate the kind of fabric that you choose. From microfiber to leather, linen to polyester, make sure you read care instructions before entering your credit card info.
Flow: A modern sectional will serve as the centerpiece to your room. Deciding on the placement of your coffee table, other couches, and chairs will help you decide what style of modern sectional you require.
Do your research, weigh your options, and most importantly, have fun! If chosen wisely, your modern sectional will last you for years to come.