The Design Home is reader-supported. When you buy through links on our site, we may earn an affiliate commission.
Some things just never get old: peanut butter and jelly sandwiches, the movie Clueless, the novelty of a snow day (even as an adult), and of course, timeless vintage chair designs. Mid-century modern seating is probably what you're most familiar with, but there are other classic chairs that are just as attractive and enduring. One of our favorites is the mission-style chair, which reflects an early 1900s aesthetic that prioritized minimal ornamentation and quality materials.
In this article, we've rounded up ten recliners that either imitate the classic mission style or are reminiscent of it in some way. Start browsing to find your refined recliner chair today.
Top Features:
High-quality materials
Smooth reclining system
Classy and rustic design
How classic is this Elm Lane recliner? As far as we're concerned, this is the mission-style recliner that all other mission-style recliners aspire to be. It has it all, from the long, smooth lines of the Asian hardwood and plywood arms and legs to the buttery, rustic fabric upholstery.
The hefty chair (coming in at 110 pounds) is an ideal addition to any living room as a solo addition or as one of a pair. We predict you'll spend long hours relaxing in this cushy chair, which fully reclines for those luxurious mid-day naps. This is an excellent piece for smaller spaces, meaning that even apartment owners can add a touch of Mission style to their home. 
View Elm Lane Evan Collindale Recliner on Amazon
Top Features:
Three color options
Sturdy construction
Leather upholstery
When you hear BarcaLounger, you're probably more likely to think of the cozy rec rooms of your childhood than you are of exquisite Arts and Crafts era-inspired furniture — that is, until you see this mission-style recliner. This piece takes the comfort factor of your favorite worn-in recliners and presents it in the form of an elegant mission-style chair. We love the classy leather upholstery and can 100 percent imagine curling up in this chair with a good book. This is a solid pick if you're looking for a good value chair with verified all-day comfort. 
View BarcaLounger Mission Recliner on Amazon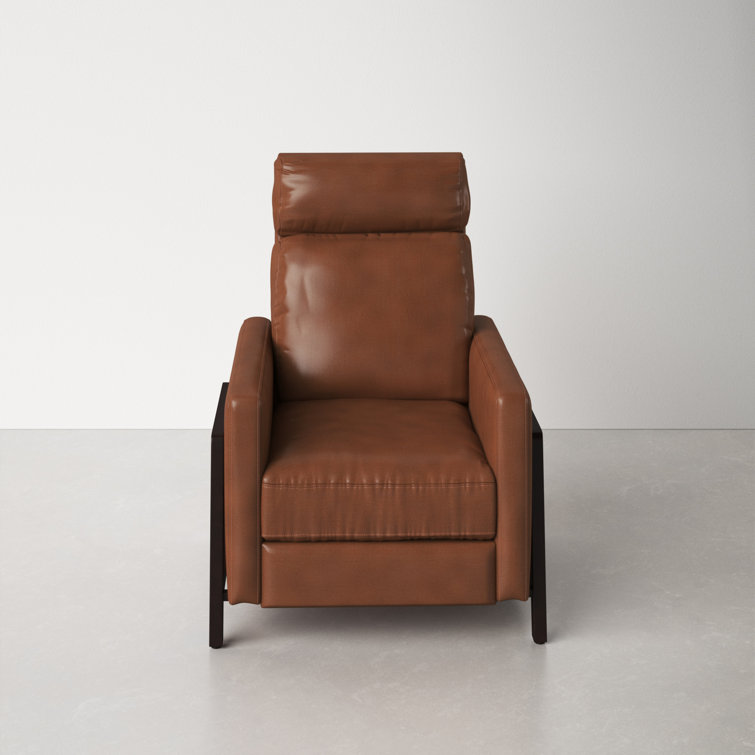 Top Features:
Real-feel faux leather
Easy upkeep
Caramel, black, and midnight blue color options
Love those clean lines of mission-style chairs but want a more mid-century look? This imitation leather recliner from AllModern may be just the thing. The Maxille model features a similar cushy backrest and boxy construction as some of the other mission-style chairs we've featured here but includes the charming addition of exposed, angled wooden legs, which are so reminiscent of mid-century modern design. We were also impressed by the no-lever reclining functionality, which keeps the design simple and streamlined. 
View Maxille Faux Leather Manual Recliner on Wayfair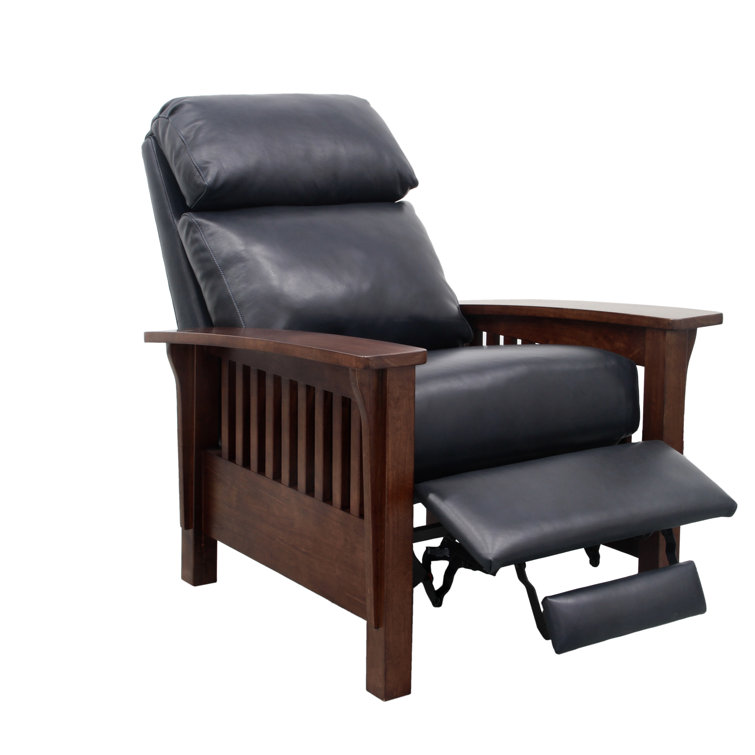 Top Features:
Pillow backrest
Black or brown
Traditional design
Looking for the right mission-style recliner to read your favorite mystery novels in, accompanied by a cup of hot chocolate? This option from Lark Manor simply screams old-world sophistication. The Arts and Crafts-inspired piece include all the features you expect from a recliner (comfortable seat and adjustable back and footrest) plus all the things you love about mission-style chairs (leather upholstery and solid wood arms and legs). Those who prefer a firmer seat may be especially happy with this option. 
View Rinker Genuine Leather Recliner on Wayfair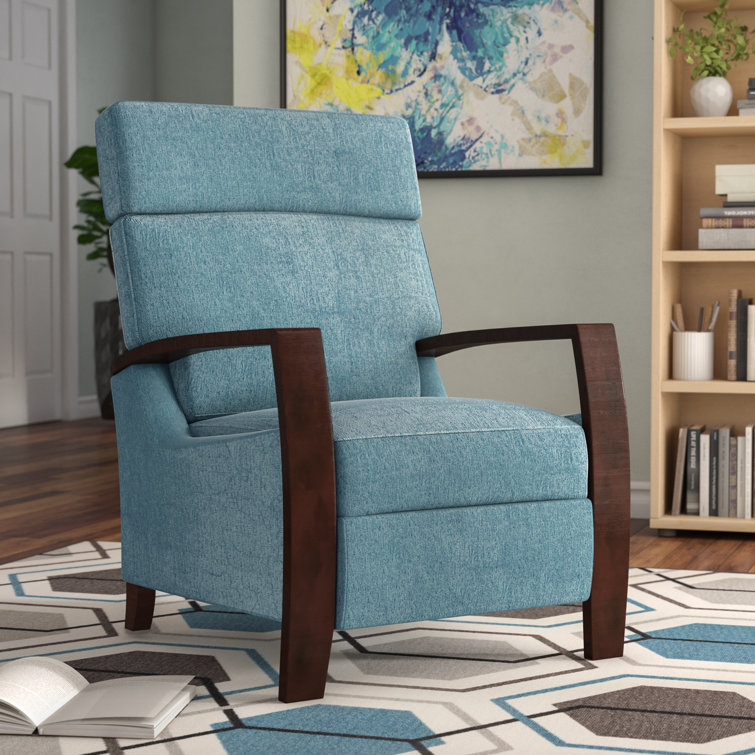 Top Features:
Modern design
Colorful upholstery
Subtle curved lines
Mission-style chairs pack a big punch, but one thing they don't generally offer is vibrant color. We love subdued, dark neutral shades as much as (perhaps more!) than the next person, but there are some situations where you need a bright pop of color to complete a room. That's where this light blue option from Wade Morgan comes in.
While not the first thing you'd think of when you hear mission style, this chair's design does give a nod to the classic design aesthetic with its shape and distinctive wooden armrests and legs. The chair is easy to assemble and gives a seating experience that's more supportive and firm than cushy and unstructured. 
View Tirado Manual Club Recliner on Wayfair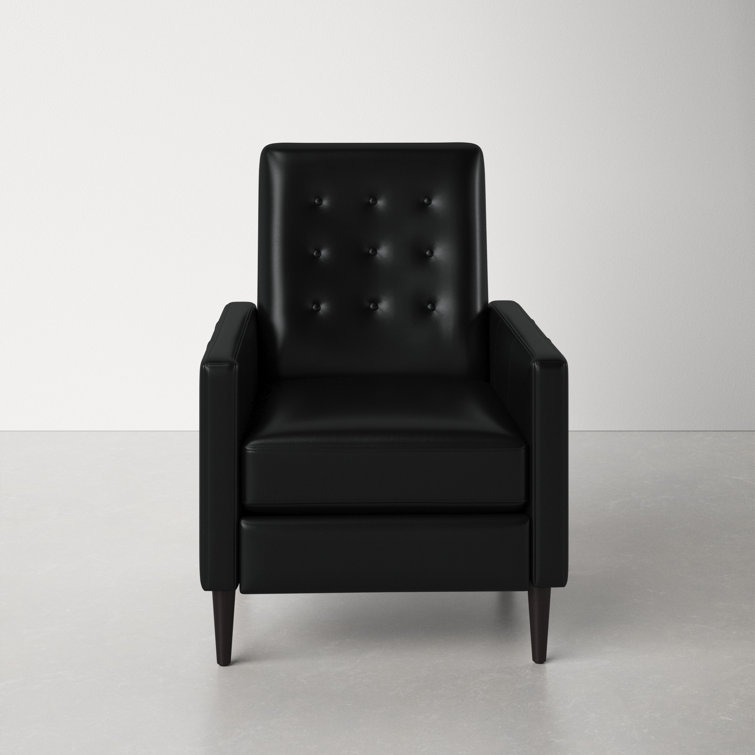 Top Features:
Multiple colors to choose from
High back
Soft texture
If you're drawn to mission-style furniture, there's a good chance you like the look of leather. And why wouldn't you? Leather brings a touch of distinguished class and signature buttery texture to any room and melds well with multiple decor styles. In this pick, we've found a chair that's a celebration of leather and still serves up that boxy, streamlined silhouette that you admire in true mission-style chairs. The manual recliner comes in multiple colors and uses leather gel upholstery for a convincing finish. 
View Pecoraro Faux Leather Manual Standard Recliner on Wayfair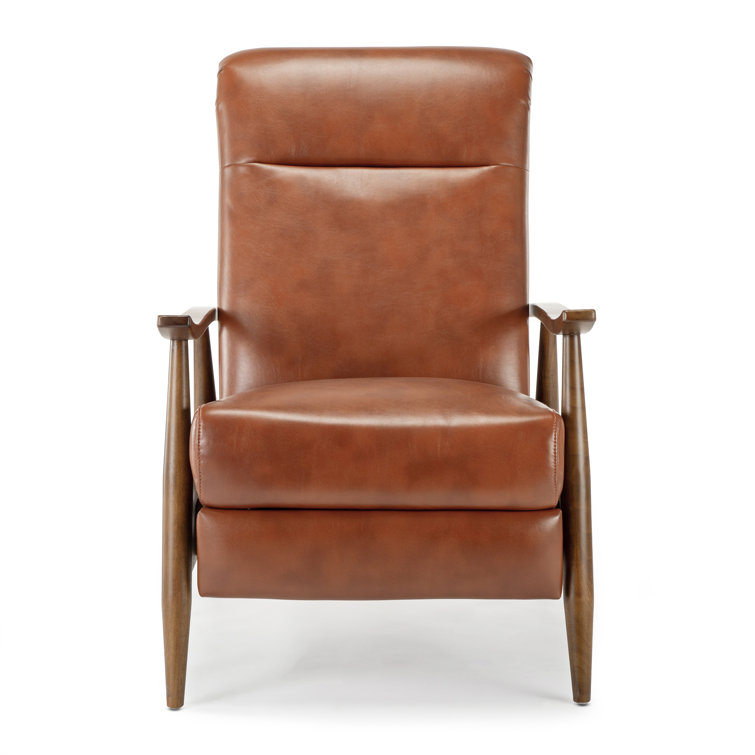 Top Features:
Lustrous design
Smooth leather seat
High-quality materials
One of the most iconic things about a mission-style chair is the lovely interplay between leather and wood — two natural materials that bring much-needed texture and warmth to any room. While this imitation leather recliner isn't your traditional mission-style seat, it does pay homage to that beautiful blend of materials. We love the sleekness of this piece and the mid-mod twist on a classic design, in addition to its comfort factor. 
View Teasley Faux Leather Manual Recliner on Wayfair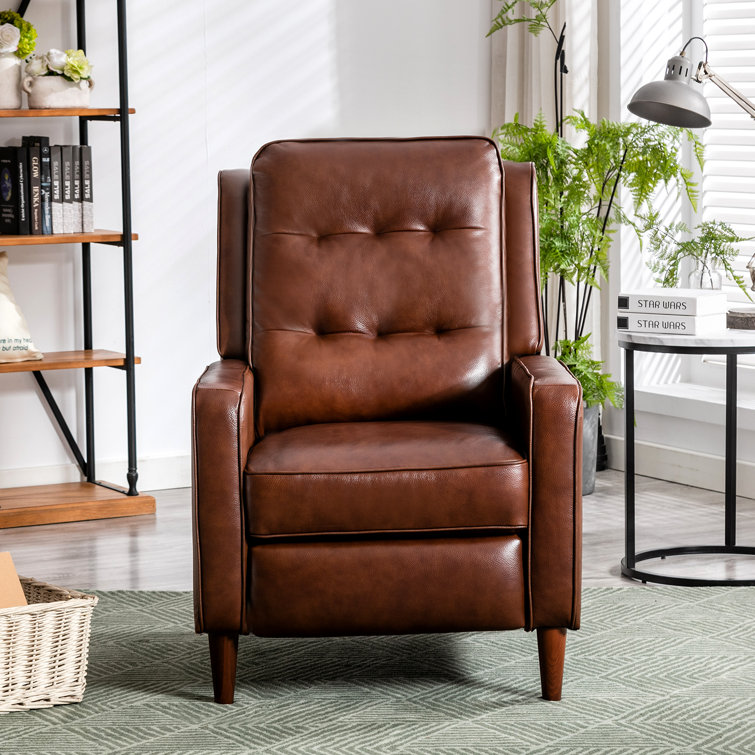 Top Features:
Real leather
Vintage-inspired design
Foam-cushioned seat
We're willing to bet you're an old soul. That could be part of the reason you're drawn to mission-style furniture and the Arts and Crafts style. If you're willing to branch away from those exact aesthetics, we have a chair to suggest. This old-school, vintage-influenced armchair (check out those characteristic mid-mod legs) is refined and traditional, yet able to mix easily with more modern surroundings. Unlike some other picks, this chair is upholstered in real leather. 
View Freese Genuine Leather Manual Recliner on Wayfair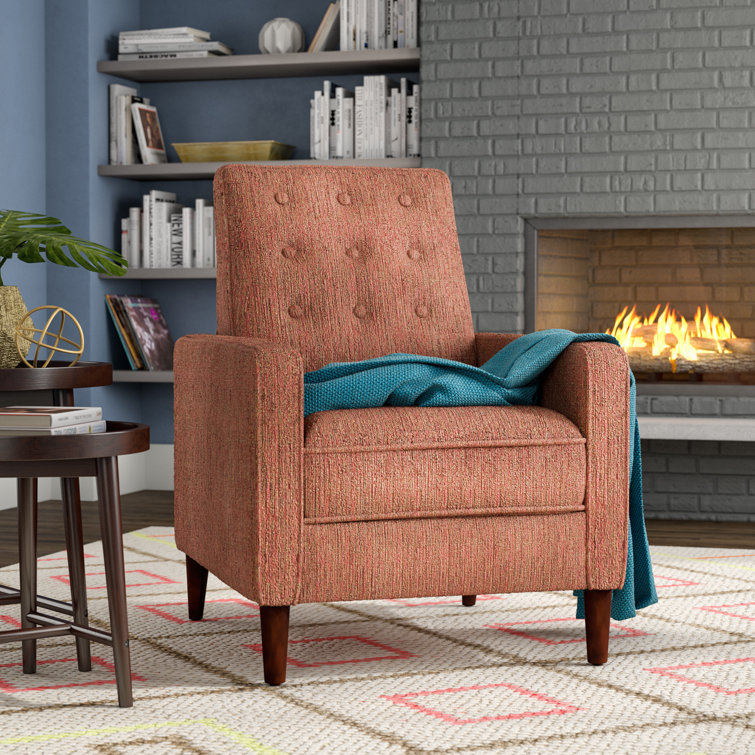 Top Features:
Mid-century vibe
Eye-catching fabric
Club-style armchair
And now for something — if not completely, then slightly — different. Leather has been the leading material on this list by far, but if you're willing to branch out from the classic mission-style recliner a little further, you could find options like this cheery fabric armchair recliner. Mid-century modern in both silhouette and upholstery choice, this recliner features details that complete the vintage look, such as a tufted back and nipped-in legs. 
View Luciana Manual Club Recliner on Wayfair
Top Features:
Leather or velvet upholstery
Push-back reclining action
Simple assembly
In addition to quality materials and streamlined silhouettes, another common characteristic of mission-style chairs is reduced ornamentation. This reclining armchair, while not a mission-style chair in the technical sense, possesses the same spirit, with its boxy shape and smooth surfaces devoid of unnecessary decoration or texture. Available in imitation leather or velvet, this chair is comfortable and of good quality for the price.  
View Novogratz Lana Pushback Recliner on Amazon
Mission-Style Recliners FAQs
How should I choose a mission-style recliner?
If you want a true mission-style recliner, you should look for certain hallmarks of the style, such as flat, wooden armrests with slatted supports, a simple, unadorned back, and seat, and usually leather upholstery. While those things are characteristic of chairs with this Arts and Crafts style, you're also free to branch out and play around with different materials, different armrest styles, and different silhouettes. If what you want out of a mission-style chair isn't just an exact replica but a chair with a vintage feel, you can be a lot more flexible. 
Do I really need a mission-style recliner?
You know your house and your decor style the best. Sometimes a mission-style recliner or another recliner with a similar old-world charm is the only thing that will complete the decor of a particular room. A recliner is also a great choice if you want more furniture that pulls double duty, providing style and comfort.
How can I check the quality of the recliner?
Buying anything online requires you to do a little research. Start by thoroughly reading the description of the materials. For example, if you're expecting wood and a part of a chair turns out to be plastic, or if what you thought was genuine leather is actually imitation, these things can be determined by simply doing a little reading. Also, real customer reviews can be very telling about the quality of the product and may even include pictures to give you a sense of what a recliner would look like in your home.