Does your loved one or best friend always have their nose stuck in a book? Book lovers are a dedicated group who love the written word with every bit of their heart and soul. To them, the characters in their books are real, and the adventures they have been inspiring. 
When you want to buy a present to bring some joy to an avid reader, there are plenty of options out there. This list of 20 gifts will do the trick, no matter what genres they enjoy.
Top Features:
Holds 11 ounces
Comes with keychain
Printed on both sides of the mug
Hardcore readers are constantly asked if they need all their books. And the answer is always a resounding yes. Readers can never have too many books. This coffee mug will hold enough tea or coffee to power through more of a book before getting too tired to carry on. The keychain says "Just one more chapter" — and that's a saying any reader can relate to. 
View Dynular Store Book Lovers Funny Keychain and Coffee Mug on Amazon
Top Features:
Features quotes
Clean burning soy
The jar can be upcycled
The classic authors are unforgettable, even when a reader doesn't take time to read their works anymore. Any reader would be thrilled to receive this beautiful candle that features a quote from one of the past's great authors on it. You'll be able to choose from beloved authors such as Charles Dickens, Mark Twain, Jane Austen, Louisa May Alcott, and more. They'll love inhaling the wonderful smell of their candle as they indulge in their favorite book.
View Paddywax Store Author Soy Candles on Amazon
Top Features:
23 books to choose from
Two size options
Conversation starter
For the women readers in your life who love bold fashion statement pieces, this literary purse could be just the thing. Chances are, it's something none of her friends have or may have ever seen. She can wear this functional purse to her book club meeting and start raking in the compliments. The purses look just like hardcover books but open up to reveal a compartment big enough to hold essentials. They feature a quote from the book on the back of the purse, making it suitable to carry either way. 
View Book Themed Purses for Literary Lovers on Amazon
Top Features:
Sentimental
Beautiful
Practical
Readers are endlessly in search of something to mark their pages. Many of us are constantly temporarily misplacing our bookmarks, making this a useful gift to give. The saying featured on the bookmark, "Thank You For Being Part of My Story" will remind the reader of you every time they use this.
View Thank You Bookmark on Amazon
Top Features:
Realistic looking
Choose between combination or key
Working safe
Readers will go nuts for this realistic book safe. It's a stylish way to keep valuables safe from prying eyes. Those who aren't great at using combination locks will like that they can choose a key option instead. The interior of the safe leaves plenty of room to stash small valuables, such as cash, jewelry, passport, or coins. 
View PACOLO Store Book Safe on Amazon
Top Features:
Unique
Lots of options
Conversation piece
Design Toscano makes a variety of book-inspired furniture that readers are sure to get a kick out of displaying in their home. You can choose between giving a book volumes end table, a global table, a library seating and book combo, a mirror framed by books, and more. This would be a wonderful gift for someone who has their own home library or a room dedicated solely to their books. 
View Design Toscano Books Furniture on Amazon
Top Features:
Clever design
Choices of colors
Great for all ages
It can be fatiguing being a reader — and this pillow bookrest can help with that. If you're reading a big, heavy book, your arms and wrists can begin to suffer from holding all that weight up. Simply place a book against the pillow and it will do all the heavy lifting for you. It can also work wonders in the kitchen, holding up cookbooks so you can follow along with the recipe easier.
View The Hog Wild Store Peeramid Bookrest on Amazon
Top Features:
Helps with back pain
Handy carrying handle
Great for reading in bed
If you know a reader who struggles with back pain or loves reading in bed, even though they complain constantly about how uncomfortable it is, this back pillow will be appreciated. It will keep them supported while they're reading, working on their laptop, watching television, or gaming. Don't be worried if you order this and it arrives compressed. That's normal — it will fully expand in 48 hours.
View Linenspa Store Reading Pillow on Amazon
Top Features:
Affordable
Good-sized clip
Flexible neck
Dedicated readers want to keep soldiering on through their book well into the wee hours of the night. People who share the bed with those readers are less than thrilled by the overhead lights being on, though. This clip-on book light will fit onto books and electronic reading devices. It will throw off enough light to keep any reader happy, while not providing so much that it keeps their partner awake. It's an amazing compromise that will keep everyone happy. 
View Energizer Clip-On Book Light on Amazon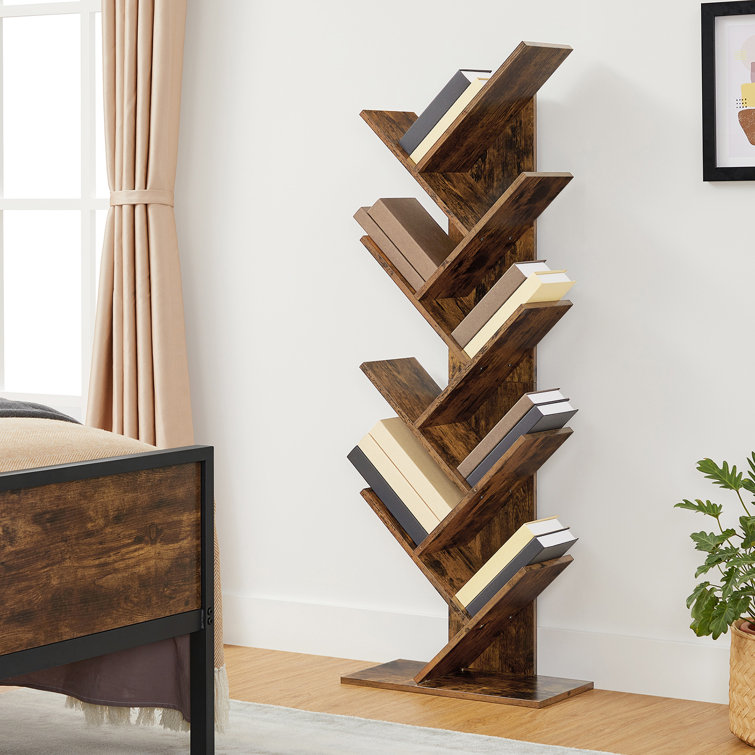 Top Features:
Unique storage
Stylish
Anti-toppling design
Many readers have stacks of books on their coffee tables, nightstands, and even dining room tables. To help a reader keep their home neat and orderly while indulging their love for the written word, you can give this geometric bookcase. It has eight branches that can hold many books without tipping over. With a small footprint, it can work in a bedroom, living room, den, or entryway. 
View Red Barrel Studio Trivette Geometric Bookcase on Wayfair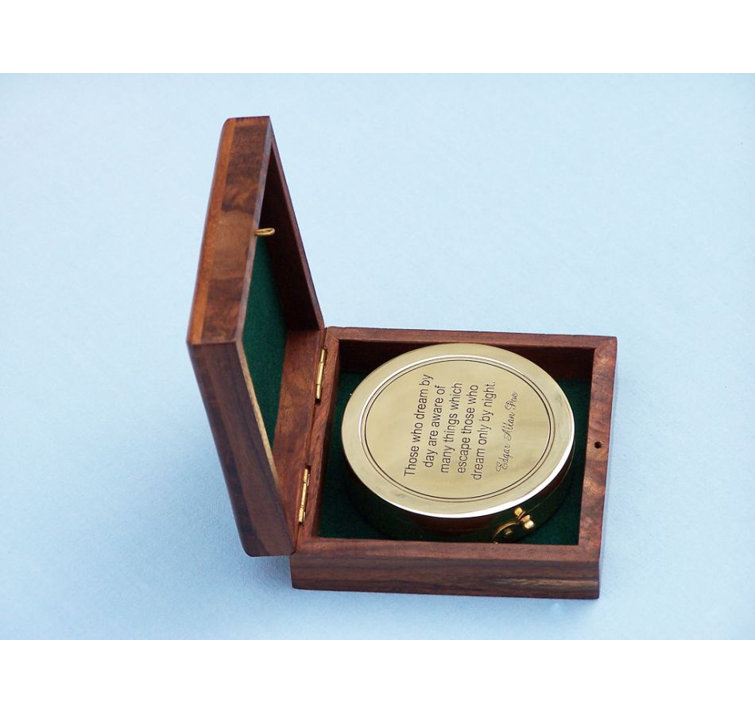 Top Features:
Heirloom worthy
Inspiring quote
Working compass
For fans of Edgar Allan Poe, this solid brass compass should become a treasured keepsake. The compass comes packaged in a decorative wooden box that is beautiful on its own. When the box is opened, the gift recipient will see their compass featuring this Poe quote: "Those who dream by day are aware of many things which escape those who dream only by night."
View Womac Solid Brass Edgar Allan Poe Poem Compass on Wayfair
Top Features:
Great for children or adults
Gorgeous
Batteries can be replaced
If the reader you're buying a gift for is a massive Harry Potter fan, you'll score some cool points by giving them this light-up potion bottle. It features a quote from the Harry Potter series on it. The lights inside the bottle are run by batteries, and they can easily be replaced when they die.
View Harry Potter Bottle Lights on Amazon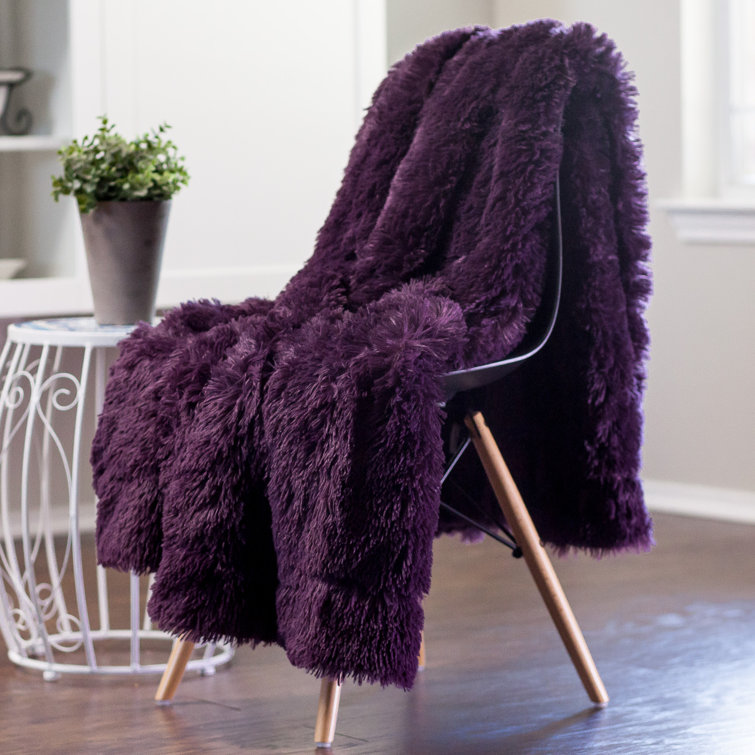 Top Features:
Many colors to choose from
Machine washable
Super soft
Readers love more than just their books — they love getting ready to read their books. Part of the allure for some people is grabbing their softest, coziest blanket and settling in with a hot cup of tea and their latest book. This blanket should quickly become their favorite because of how soft and gorgeous it is. 
View Mistana Dedrick Shaggy Sherpa Long Fur Throw on Wayfair
Top Features:
Informative
Great for trips
Beautifully illustrated
Few authors are as beloved by women as Jane Austen is. If you're buying a gift for a woman reader, it's hard to go wrong with Austen. This coffee table-worthy book is a must for any diehard Austen fan or for any reader who is planning a trip to England or wants to someday go there. At 128 pages, it's a quick read, but one that you will likely visit repeatedly, particularly if someday head to England.
View Jane Was Here: An Illustrated Guide to Jane Austen's England on Amazon
Top Features:
Tasty breakfast tea
Each bag features a quote
Wonderful packaging
Tea and reading seem like the perfect match. Combining the two increases the coziness factor immensely. The 25 tea bags in this set each have a literary quote, making it a fun gift for the reader who enjoys a nice cup of breakfast tea. Those who want to give away these teabags as individual presents in a gift bag, however, should note that they aren't individually wrapped.  
View Bag Ladies Tea Novel Teas on Amazon
Top Features:
Durable print
15 ounces capacity
Made in the U.S.
This mug is an ideal way to serve up the tea we just mentioned. Readers will get a chuckle out of the saying on this mug. They also might appreciate that, at 15 ounces, it's a bit bigger than a standard mug. While this mug is cute and well made, it should be mentioned that it is not microwave-friendly, which could be a deal-breaker for some people. 
View Bad Bananas Bookmarks Are For Quitters Mug on Amazon
Top Features:
Great for traveling
Up to 10 weeks of battery life
Adjustable warm light
For readers who have downsized their surroundings in recent years or who are trying to declutter, an Amazon Kindle makes sense. It can store thousands of book titles, eliminating the need to lug around all those heavy books. It has a glare-free display that can easily be read, even in daylight. The warm light illuminating the Kindle can be switched from white to amber. Even those who still treasure the feel of a real book in their hands should get some use from a Kindle. 
View Amazon Kindle Paperwhite on Amazon
Top Features:
One size fits most
Thick but breathable
Fun
A person's feet can get pretty cold when they sit all day getting lost in a book. These funny socks will keep your favorite reader's toes toasty while conveying a message about their love of reading. Stretchy and soft, these socks will fit men with foot sizes of 6 to 13 and women size 7 and up. 
View Lavley Store Funny Reading Socks on Amazon
Top Features:
Decor for any room
Made in the U.S.
Can be framed
This unframed book page print features this quote from George R.R. Martin: "I have lived a thousand lives and I have loved a thousand loves. I've walked on distant worlds and seen the end of time. Because I read." To up the level of enjoyment, your gift recipient gets from this print, you can pick out an antique frame, so the print is protected and can be mounted anywhere they want. 
View Unframed Book Page Print on Amazon
Top Features:
Vintage style
10 inches tall
Heavy enough for larger books
Bookends always come in handy for readers. These vintage-looking bookends have a bit of heft to them and would look super cool in a home library, office, or den. These would especially be appreciated by people who love to write or have always wanted to try their hand at it. 
View Bellaa Typewriter Bookends on Amazon