Tea might very well be the healthiest drink there is. Whether your favorite tea is green, white, black, oolong, or herbal, the health benefits of tea are praised constantly by medical experts. Even without the health benefits, tea is a delight all on its own. There's possibly nothing more relaxing than kicking back after a long day with a steamy mug of tea. And if you're looking to kick your daily soda habit, you can always get your morning jolt of caffeine from a cup of black or green tea.
With so many tea drinkers worldwide, it's hard to go wrong with a tea-inspired gift. From one tea drinker to another, here's a list of my favorite 20 tea products your gift recipient should love to try.
Top Features:
Infuser included
Can be used for other drinks
Made of stainless steel and bamboo
Some tea fans think loose leaf teas taste better than bagged teas — and they love that these teas produce less waste. This double-walled tea flask comes with an easy-to-remove strainer and infuser basket, so you can brew a wonderful cup of loose leaf tea even while on the go. It can also be used for making cold or hot coffee and fruit-flavored water. The leak-proof bottle will keep your tea hot for up to 12 hours.
View The Love Bamboo Tea Tumbler With Strainer and Infuser Basket on Amazon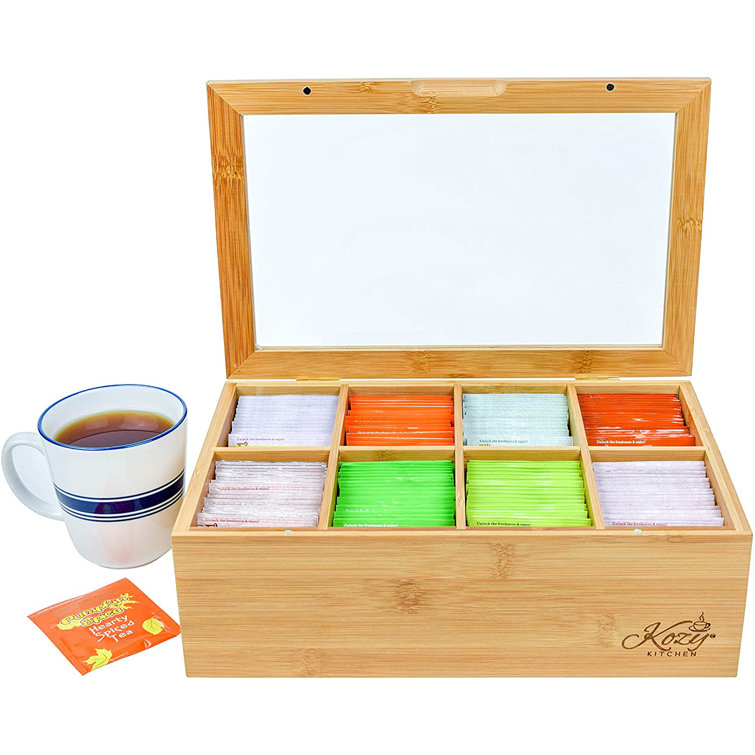 Top Features:
Organic bamboo
Eight compartments
See-through lid
Made of organic bamboo, this beautiful tea storage box will hold up well year after year. The eight roomy compartments hold a lot of teabags, and the shatterproof lid is clear so you can easily see your stock of teas. Any tea drinker would love to have such a gorgeous storing method for keeping their tea handy and orderly.
View Kozy Kitchen Bamboo Tea Box on Wayfair
Top Features:
Caffeinated
Multiple sizes to choose from
Loose leaf
Coffee, chocolate, and black tea combined? Sounds like heaven to us. This loose leaf tea tastes fabulous on its own, or with some Irish cream. Once you add the water, your tea is ready in three minutes, or if you like a stronger brew, you can let it go longer. 
View Tiesta Tea Cocoa Mocha Loose Leaf Tea on Amazon
Top Features:
Holds 1.25 liters
Stainless steel
Removable limescale filter
Tea drinkers all seem to have one common problem — waiting for their water to get hot enough to make their magical drink seems to take forever. Speed up the process by giving them this pretty electric kettle that holds 1.25 liters and boils water rapidly. With a removable lid, it's easy to fill and clear this kettle, and any tea drinker will appreciate how much time it saves them.  
View KitchenAid Electric Kettle on Amazon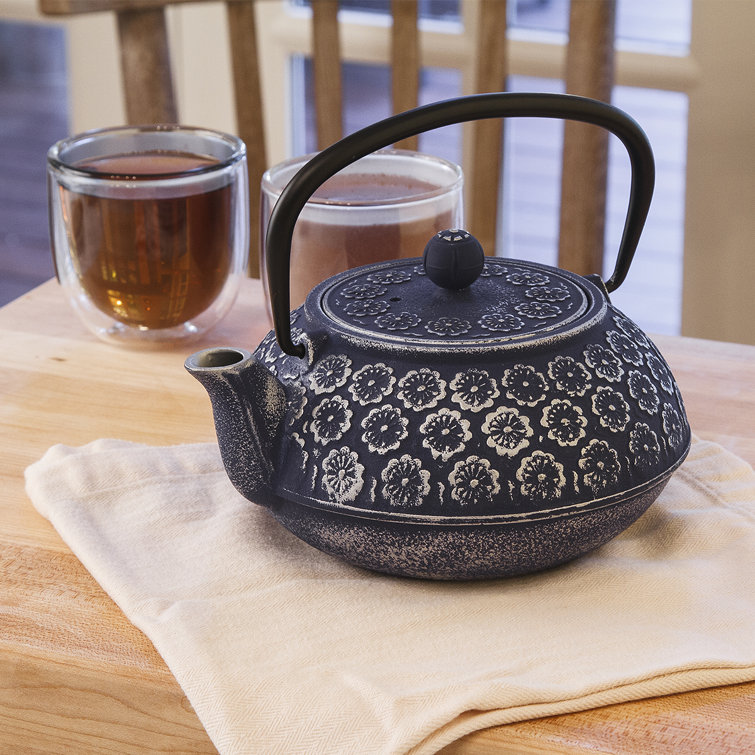 Top Features:
Gorgeous
Keeps tea hot for a long time
Can hold 40 ounces
Keeping tea hot has never been prettier, thanks to this cast iron teapot. It comes with a strainer, so you're free to make bagged or loose leaf tea. With its 40-ounce capacity, it'll hold five 8-ounce glasses. Set this out when you have a friend over and you're likely to get compliments every time. 
View Muflier Floral Cast Iron Teapot on Wayfair
Top Features:
Comes with infuser
Includes lemonade
No sugar in the tea
You can't go wrong with any teas you order from Plum Deluxe, a loose leaf tea company in Oregon — their concoctions are hand-blended and delicious. The magic butterfly herbal tea blend is just one of the company's triumphs. Sure to delight tea drinkers, especially children, this tea turns into a beautiful lavender color when lemonade is added to it. A lemonade mix is included in this set, so you have everything you need to make mouth-watering and beautiful tea.  
View Plum Deluxe Butterfly Pea Flower Tea Kit on Amazon
Top Features:
Organic
Caffeine-free
Bleach-free tea bags
If you love the convenience of steeping tea from bags but hate the chemicals that can be used to bleach them, you'll like that Buddha Teas uses bleach-free tea bags. They have many tea flavors to choose from, but this elderberry tea may be the place to start, particularly if you want to give your tea drinker something different than the standard black or green tea they likely drink. Elderberry is a wonderful way to sneak in antioxidants, potassium, copper, zinc, and vitamins B, C, and A. To make it even more special, each tea bag has a message attached to it like a fortune cookie. 
View Buddha Teas Elderberry Tea on Amazon
Top Features:
Unique
Several patterns to choose from
Whimsical
If you have a lovely garden or backyard where you like to drink tea and entertain your friends, it's time to upgrade from your mix-and-match tea mugs. This elegant and unbelievably intricate set will produce the wow factor that will turn your afternoon tea into the talk of the town. With this delightful set featuring a teapot, a sugar container, milk or cream container, stirrers, and four cups, your backyard will look like a fairytale come to life. 
View FEIYABDF 15-Piece Tea Set on Amazon
Top Features:
Borosilicate glass
Holds 40 ounces
Comes with two blooming teas
Part of the fun of tea drinking is seeing the beautiful color of the tea as it steeps. Tea drinkers can accomplish that with this elegant glass teapot. It comes with a tea infuser they can use for loose leaf teas, tea bags, or fruity waters. The set also includes two stunning blooming tea flowers that will open up and delight the drinker when they add hot water.
View Teabloom Glass Teapot on Amazon
Top Features:
40 flavors
Honey sticks included
Contains both caffeinated and non-caffeinated tea
Those who think variety is the spice of life should love this Twinings assorted tea bag pack. It comes with 40 different teas to try, including an assortment of blacks, greens, herbals, and more. As a bonus, the buyer also receives a small pack of honey sticks to sweeten some of those cups.
View Twinings Assorted Tea Bag Variety Pack on Amazon
Top Features:
40 tea bags
Helpful mood classification
Organic
New tea drinkers may not know which teas contain caffeine, which ones help with relaxation and more. This set serves as a cheat sheet by letting people know which tea they should choose according to their mood. They'll be able to choose from the following categories — inspire, balance, energize, refresh, invigorate, sleep, focus, and reflect. 
View Numi Organic Tea by Mood Gift Set on Amazon
Top Features:
Comes with a lid
16 ounces
Four color options
Sometimes a tea drinker only wants to make one single cup, not a whole pot. This clever mug comes with an infuser that can hold loose leaf tea and a wooden lid to hold the infuser when you want to take it out. The cup — but not the filter — can go in the microwave, and the cup and infuser are dishwasher safe. 
View COYMOS Ceramic Tea Mug with Infuser on Amazon
Top Features:
Infuser included
Two sizes available
Dishwasher safe
Cold brewing tea is a great way to cut down on the acidity and the overly bitter taste of steeping tea for too long in water that's too hot. This cold brew tea maker is easy to use with loose leaf tea or with tea bags. The stainless steel infuser is rust-proof, and the set can be enjoyed by coffee drinkers, too. 
View Ovalware Store Cold Brew Coffer and Tea Maker on Amazon
Top Features:
Hand carved
Carrying handles
Mango wood
Carrying all your tea essentials takes some work, and it's much easier when you use a tray capable of carrying your teapot, cups, and accessories. This simple hand-carved tray is a stunner. Made out of seasoned mango wood, it has two carrying handles to help you get a good grip. 
View Tree of Life Wooden Serving Tray on Amazon
Top Features:
Holds 10 ounces
Set of four
Dishwasher safe
For those who have small kitchen counters or not much storage space to work with, this teacup tower can make the most out of the room you do have. These four teacups make the image of the Eiffel Tower when fully stacked in the right order. Because of the gold trim, these super cute cups can't go in the microwave, but they are dishwasher safe. 
View Grace Teaware Stackable Tea Cups on Amazon
Top Features:
Informative
Interesting
272 pages
Some people drink tea for the flavor, but others become hardcore tea enthusiasts because of the health benefits. This book will help beginners figure out which teas are best for certain medical conditions or moods. Plus, your tea drinker will receive information about creating their own tea blends.  
View 20,000 Secrets of Tea Book on Amazon
Top Features:
Introduction to plant-based medicine
292 pages
Beautiful pictures
This intro book about plant-based healing comes with charts, recipes, and instructions that any tea lover should find interesting. While some books fail to include photos, this one uses stunning photography that is helpful to the reader. It makes a wonderful coffee table book for those afternoon tea parties. 
View The Herbal Apothecary Book on Amazon
Top Features:
Set of 9
Different lengths of spoons
Stainless steel
All tea drinkers need spoons for stirring in their sugar or honey. These beautiful spoons come in a set of nine that has two different lengths of spoons — some are 4.9 inches and others are 6.9 inches. These delicate stainless steel spoons won't rust and give you three colors options — rainbow, gold, and silver. Practical enough for everyday use, they add a touch of glamour and whimsy to tea time. 
View Flower Spoons for Tea on Amazon
Top Features:
100 tea bags
Can be used for coffee too
Drawstring closure
Once your tea drinker begins dabbling in making their own blends, they may want to give away some of their concoctions. These disposable tea bags are a wonderful way to do that. Also, they're a great gift for anyone who enjoys taking a relaxing soak in the bathtub with their favorite tea. A chamomile lavender bath might be just the ticket to help them sleep better at night. The bags have a drawstring closure that will stop tea leaves from making their way out. 
View TamBee Disposable Tea Bags on Amazon
No products found.
Top Features:
42 pieces
Made with green tea extract
15 calories each
If you know someone who loves the taste of green tea, these candies will make an affordable and much-appreciated gift. Made with real green tea extract, they have a sweet and creamy taste that makes them a crowd-pleaser. And at only 15 calories apiece, it will be easy to enjoy these in moderation without hurting anyone's diet or weight loss program. 
View Bali's Best Green Tea Candy on Amazon