Mark Twain, Charles Dickens, and Jane Austen are regarded as some of the world's greatest writers, and their works continue to stand the test of time. But once, they were ordinary people who had a dream of writing their first story. You may know the next big, undiscovered author — they could be your relative, friend, coworker, or neighbor. Maybe they just need the encouragement to get started on their path to greatness.
Help influence the would-be authors in your life with this list of the 20 best gifts for writers. These gifts range from practical to inspirational, and they are sure to be treasured by any writer, whether they are published or not.
Top Features:
15.6-inch display screen
Windows 11
Lightweight
Any writer needs a place to collect their stories and prepare them for sharing or publication. This Lenovo excels at that. It's an affordably priced laptop that can easily be set up anywhere a writer wants to practice their craft — at home, a coffee shop, a hotel, or the local park. This Lenovo will give them a big screen and plenty of memory for writing the next great American novel. 
View 2022 Lenovo IdeaPad 3 Laptop on Amazon
Top Features:
Pillow bottom for comfort
Phone holder
Holds up to 15.6" laptops
Sometimes writers don't find it comfortable to sit at a desk for hours on end as they write their thoughts down. This cleverly-designed lap desk lets them work comfortably anywhere they want, even kicked back in a recliner. With several fun patterns to choose from, these lap desks even have a phone holder and allow laptops to stay well ventilated.
View LapGear Designer Lap Desk on Amazon
Top Features:
Can hold laptops
Nine pockets
Adjustable straps
If the writer in your life gets inspired by writing in places other than home, this gender-neutral messenger bag is a wonderful way to cart around all the wordsmith essentials. It can fit a laptop, reference books, notepads, and plenty of pens inside. And if they're the sort who always likes to keep a copy of their manuscript handy in case they want to hand it out, there's room for that, too. 
View NEWHEY Store Messenger Bag on Amazon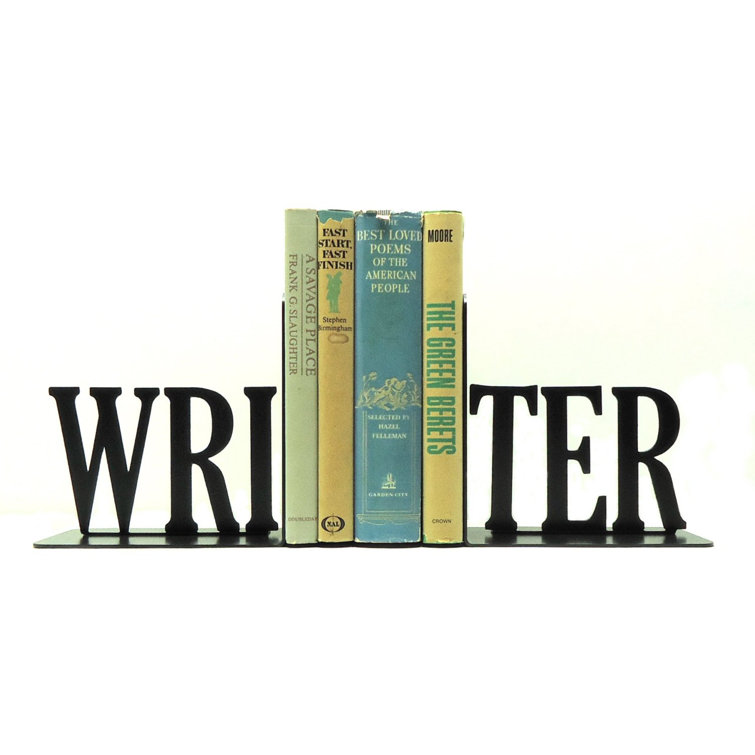 Top Features:
Black powder coated
Visually appealing
Clean lines
As a writer, you need plenty of reference books. This set of two bookends will keep those reference books from falling over while reminding your writer of their overall task — to keep plugging away every day at their work. The bookends have an urban industrial vibe with their black powder coat paint and clean lines. 
View Writer Bookends on Wayfair
Top Features:
There's something so appealing to writers about the old-fashioned typewriters that have fallen out of favor. Romantic and yet wildly inconvenient compared to modern-day computers, any writer should appreciate this nod to the past. While they may not want to use an actual typewriter these days, they'll love the practicality of a penholder featuring one. 
View Retro Typewriter Pencil Holder on Amazon
Top Features:
Inspiring quote
Twist retractable
Refillable black ink
If the writer in your life is an Ernest Hemingway fan, you can't go wrong with this pen. It is filled with black ink and is engraved with Ernest Hemingway's signature. It features his famous quote, "In order to write about life, first you must live it." When the ink runs dry, they can insert an ink refill and happily keep writing. 
View Ernest Hemingway Inspirational Quote Pen on Amazon
Top Features:
Entertaining
Informative
Helpful writing advice
Whether or not Stephen King is the type of author your writer friend reads, they'll still find something useful in King's book about writing. Part of it is a memoir, but once you get past that, he'll offer plenty of instructional advice that may be handy in helping your gift recipient write the novel they've always dreamed about putting down on paper. 
View On Writing: A Memoir of the Craft by Stephen King on Amazon
Top Features:
Listings for publishers
Submission information
Finding agents
Every writer's dream is to get published, whether it's in magazines, books, or some other medium. This comprehensive book has 912 pages of all the information a writer needs to make that dream a reality. It contains current listings for agents, publishers, contests, and helpful tips on how to promote your writing. The reader also will see sample query letters to help them market their work. 
View Writer's Market 100th Edition on Amazon
Top Features:
Easy to move around
Stable
Double sided
Some writers love to have a big whiteboard at their disposal for keeping track of characters, plot, outlines, and more. This large double-sided dry erase board will help writers keep everything straight. With several sizes to choose from, there's one that will fit in every writer's available space. 
View Large Whiteboard with Stand on Amazon
Top Features:
For men, women, or youth
Multiple colors
Extended plus sizes
Half the fun — and the terror — of being a writer is putting it out there for the world to see. This shirt will make the announcement for your writer friend who might be too shy to bring up their passion in a normal conversation. The cotton, machine-washable t-shirt is super comfortable, and it should be appreciated by any writer. 
View I Am a Writer T-Shirt on Amazon
Top Features:
Inexpensive
Suitable for indoor or outdoor
Works on all standard door knobs
Sometimes the hardest part about being a writer isn't writer's block — it's finding some peace and quiet to practice your craft. Spouses, children, and roommates can seem to have no respect for a writer's need for uninterrupted writing time. This plastic doorknob sign politely lets people know you're working and would like to be left alone. 
View Do Not Disturb Door Knob Sign on Amazon
Top Features:
Stainless steel
Double-circle rings for more strength
Won't tarnish
This keychain will remind your writer about how important their job is to inspire readers everywhere. It comes with a pen charm attached to the keychain to remind you that the pen truly is mightier than the sword. Made of stainless steel, the keychain will never rust or tarnish. 
View I'm a Writer Keychain on Amazon
Top Features:
Breathtaking
Won't bleed ink
Comes with bookmark
Give your favorite writer a place to put their most treasured ideas or thoughts. These 200-page leather writing journals feature the most gorgeous 3D covers, and you can choose between an elephant, phoenix, sunflowers, trains, and trees. The interior is just as interesting as the outside, with alternating beige and vintage yellow pages. 
View JEWPHX 3D Phoenix Leather Notebook on Amazon
Top Features:
Includes a workbook section
Helps with sales and marketing
450 pages
If the writer in your life dreams of writing movie screenplays instead of novels, this is the book they should read first. The book includes everything they'll need to know to get started, including screenwriting basics, a workbook to help with the writing process, a formatting guide, a spec writing guide, and a sales and marketing guide. 
View The Screenwriter's Bible Book on Amazon
No products found.
Top Features:
Humorous
Fun
Multiple sizes
A writer's work is never done. We always have some sort of looming deadline — whether it's set by our clients or by ourselves to reach our goals. Remind your writer to keep plugging away with this colorful and funny unframed wall art. Available in various sizes, you can order one that will fit well into their home office or den. If you want to up the wow factor, you can frame it before giving it to them. 
View I Will Write 500 Words Wall Art on Amazon
Top Features:
Creative exercises
453 pages
Tons of ideas
Just when a writer is crushing it and thinks things are going well, they might be struck by a serious case of writer's block. Writer's block is crippling, affecting confidence and productivity. Help a writer remove that common stumbling block by giving them this 5,000 Writing Prompts book. It offers plot ideas, dialogue, setting, and character prompts, and even blog post ideas for the online writer. 
View 5,000 Writing Prompts Book on Amazon
Top Features:
Sizes for men, women, and youth
Three colors
Comfortable
Help a writer get in the zone and in the right state of mind for writing by gifting this t-shirt, which can become a uniform of sorts. When the t-shirt goes on, it's time to write and do nothing else. It's soft for them to wear, and when they're done, it can be tossed in the washing machine for a no-fuss cleaning process.
View This Is My Writing Shirt T-Shirt on Amazon
Top Features:
Dual noise sensor technology
Smartphone compatible
Comfortable
To write, sometimes you need to block out the rest of the world and get lost in what you're creating. These noise-canceling headphones are champs at doing that. With a quick charging process and as much as 35 hours of battery power at a stretch, these will outlast any author's writing session. They are also smartphone compatible and offer wireless Bluetooth streaming.
View Noise-Cancelling Headphones on Amazon
No products found.
Top Features:
Maps featured on the glass
Made in the U.S.
Dishwasher safe
Many writers turn to other authors for inspiration, and if the writer in your life is a fantasy fan, there are few greater inspirations than J.R.R. Tolkien. These beautiful glasses each feature a different map from the Lord of the Rings series. Choose from Mordor and Gondor, Erebor, Middle Earth, Mirkwood, or the Shire. As a writer sips on their drink, they may find enough inspiration to create their own masterpiece. 
View Lord of the Rings Cup on Amazon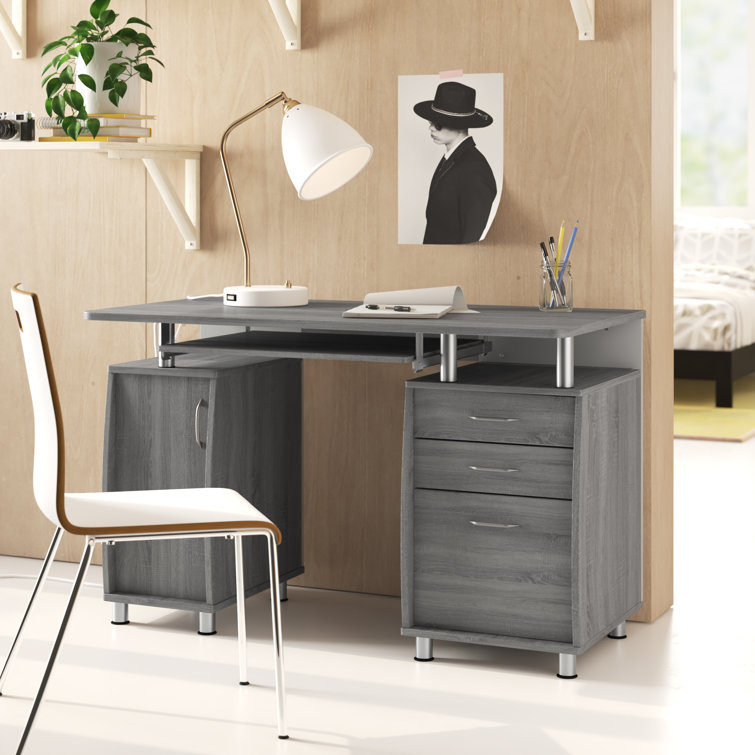 Top Features:
Plenty of storage
Cable management
Neutral palette
Having a designated writing space you can turn to each day makes the process of writing much easier. It becomes a pleasurable habit when you get to sit at a beautiful and comfortable desk. The Harris desk has a sliding keyboard tray, three drawers, a cabinet, and is made out of durable manufactured wood.  
View Zipcode Design Harris Desk on Wayfair